Let's go ahead & say it…they aren't the highest quality of shoes. But I think after their little make-over they turned out rather sassy, myself.
I'll put this out here as well…they have rubber soles. One would never know by looking at them. After the twins' pregnancy my feet have never been the same. Cute rubber sole shoes makes me happy.
*Not pictured* hot glue gun – to attach the rosettes to the shoes.
P.S. You can find the matching bag & order a custom monogram by going to Bag Full of Posies.
😉
linking with: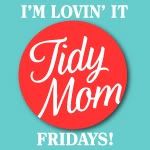 Hello! I'm so glad you're here & reading my posts! I've started truncating my posts, so please click over to read the rest of the story!
THANK YOU!