So often, I'm left speechless by your sweet comments or emails.  But I was truly blown away by all the emails & comments I received about my last post of making & painting a chevron curtain.  I will say proudly, this room was decorated on the cheap, & over time.  A lot of time.  It's not a grand designer room, it's a real lived in room, that tons of time & memories are made in daily.
So here's the scoop:
The plates are from Pottery Barn, a few years back. Given to me by my beautiful friend, Leah. Who always seems to bring the best gifts.
The red EAT letters, are also from Pottery Barn. However, I found them on Ebay 3 years ago. They are thick, bold & the perfect shade of red. I couldn't find this exact lettering on Ebay, but
this sign
would be fun as well & looks like it's the same true red color.
I've loved this color from the very first stroke that went on the wall & I still love it to this day.  Not too bright, not too dark.  It's just happy to me.
Especially coming from the most uneven & messy painted room(S),  I've ever seen in a house.  These below pictures really doesn't do the "BEFORE" justice.
(dark, flash, terrible pictures – before I knew better & before blogging.  that's my oldest, who is now 5.)
We bought the house with intentions of fixing it up within a year or so, well…babies changed those plans.  Soon those plans, just moved to the back burner or still have yet to be done.
Thankfully:
Here's the wall AFTER that you saw above.  A few things have changed…even the addition of another high chair.  😉  But it's all one brighter cheery happy place.
My oh my, how I love a clean line of paint & trim.  😉 It makes all the difference in the world.  About those placemats, that some of you asked about.  Well, those are also a gift from my sweet friend Leah.  Turquoise & red toile placemats from Williams & Sonoma.  And let me tell ya, I love them even more as a fun contrast again the chevron curtain!  I could only find
these styles
on ebay for now.
When I started answering the emails in particular about the fan, I told some of you I used the MATTE finish.  Well, it's the FLAT finish, but I'm assuming it's all the same???  I had the most emails about the fan!!!
All I can say is, Ceiling Fan Houses UNITE!  Just flip those blades over to the smooth side & spray paint away.  2 coats is all it took.  ***You only have to remove the BLADES, not the arms that hold the blades.***
You'll thank me later for this, I promise!
The fabric painting MEDIUM is a mix that you mix in with any craft paint & it makes it a fabric/textile paint.  Basically so you can care for it & wash it.  See instructions for the deets.  Again, the fabulous
Jen from Tatertots & Jello
uses it often & that's how I heard about the medium.  I used duck fabric in white, which made it look even more professional & I also used the duck fabric to line the curtain.
(I ended up not using the cording, like I originally thought.)
And finally, I meant to put this in the first post, but these late night posting hours, get the best of me.  The most important thing that helped me was that my painter's tape was the SAME width as my ruler.  There's several different sizes of these rulers at Hobby Lobby & of course there's several widths of painter's tape to match accordingly.  Save your mental state & make sure you have the same size for both pieces.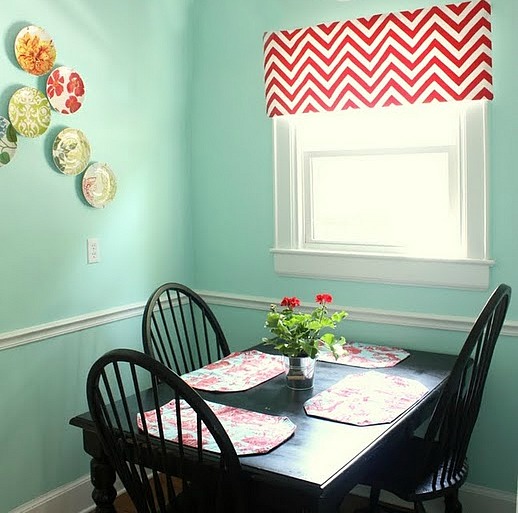 Hope this answers all the questions.  I figured this would be better & more time efficient to just make a post & list it all.