Because roasting a marshmallow isn't always an option…
I decided I would try to make some S'mores Popcorn.
Ingredients:
1/2 box of Golden Graham cereal
1/2 bag of miniature marshmallows
1 & 1/2 bags of Tender White Orville Redenbacher Popcorn
a whole bag (of course 😉 of chocolate chips – melted
meaning = that's only 4 ingredients to a salty, sweet, very chocolaty treat.
Pop your popcorn.
Blend your cereal, popcorn & marshmallows in a bowl.  If you're like me, you wont have a bowl big enough for all the dry goods – so I blended the dry ingredients twice.
Melt your chocolate in a microwaveable bowl.
Spread your dry mixture on a large baking sheet.
Drizzle your melted chocolate over the dry.
Wait…
Wait for it…
Wait for your chocolate to get firm, and…
Devour a bowl full.
Don't hate me.
linking with: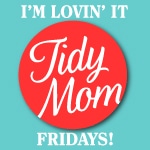 Hello! I'm so glad you're here & reading my posts! I've started truncating my posts, so please click over to read the rest of the story!
THANK YOU!