1.  My husband & I celebrated our anniversary last week.  It was a rare day, one for the record books: no kids, a movie, shopping, fine dining & wonderful local food.  I'm still trying to figure what sort of herbs they put in this simple but divine tomato & cucumber salad served with local goat cheese.  I really could have licked the bowl.  It was so good.
Here's a pic of the fun restaurant – in an old warehouse with high ceilings.  It was a nice change from our normal Chicky Wicky outings.
2.  Don't hate – but I got a pair of TOM wedges at a local shop for 60% off!  Love them! (if you have a local shop that carries TOMS, check them out – they might be marked down as well.)
P.S.  Have you seen the new
Cord style
for Fall?  They're next on my list.
3.  New fabric arrived today for more scarves!
Can't wait to make some fun color combos with these!
4.  She loves the camera & she can't control herself.
5.  I saw this idea on
Tatertots & Jello's
round up for Back to school ideas & I loved it.  It's from
Jac o'lyn Murphy's blog
.  Both of G's teachers love coffee, so it's a win win for me.  I'm a little late giving this to them, but I think a shot of "pick-me-up" is welcome anytime.
Btw,
Sam's Club
has a
double
pack of Starbucks VIA for only $4.91!
That's .49 cents a serving.  Hello!
Here's the one I made.  I wanted something bigger so I could give it in a bag instead of a topper style.  Feel free to print it out – just double click on the pic.

don't forget…Fall Festival starts on Wednesday!!!
(well…probably more like late late Tuesday night 😉
I know many people are working on some Fall projects this weekend!!!  Can't wait to see what you've been working on!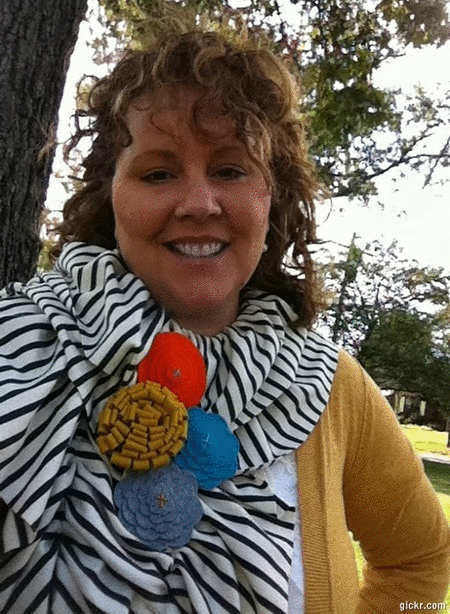 Hello! I'm so glad you're here & reading my posts! I've started truncating my posts, so please click over to read the rest of the story!
THANK YOU!