You'll be surprised how easy these DIY Valentine Envelopes are to make!  Seriously.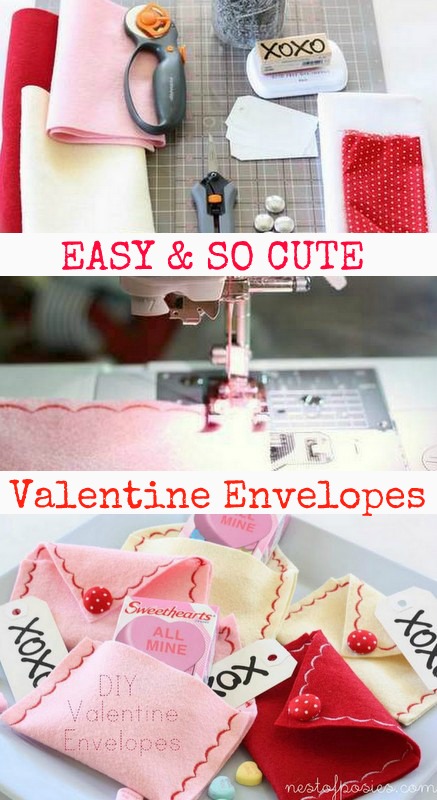 Think back to when you were a kid and how you would draw a house on paper.  You would start out with a square or rectangle on the paper for the house, right?  Then you would add a triangle on top for the roof, is that how you would draw a house?  That's how I did it, and still do!
That is exactly the pattern for these envelopes.  But use more of a rectangle than a square for your base.  It's that easy.
Now for the scoop on the DIY Valentine Envelopes.  Really they're quite simple to make.  They take a few supplies that most of you probably have on hand & really, this post took much longer to write than these little envelopes took to make.  I promise!
For your supplies, you'll need:
felt
sewing machine -or- needle & embroidery thread
cutting mat, ruler edge & a roller cutting blade
buttons
fabric
stamp & ink *optional
lavender *optional
You'll cut your felt in a shape of a house with a pointed roof.  (That's the simplest way to explain it 😉  Then using a sewing machine (or needle & thread) stitch along the edges.  I used a decorative stitch, but any stitch will do.  Follow along the point of the envelope with a stitch if you so desire.  I used covered buttons to embellish the envelopes, but plain buttons will look just as cute!  Honestly, after I finished cutting, sewing 5 of these envelopes took less than 15 minutes.  They really are that fast & simple to make!
I also made little sachets of lavender to place in the envelopes to give to all the grown ups in our lives.   The kids can't have all the fun, now can they?
I made a simple rectangle cut.  One that would fit inside the Valentine envelopes.  I used the same decorative stitch to seal the envelope, but  I left the edges raw.  Lavender to me, is a little luxury gift that you can give your friends.  It doesn't matter how big or small, the smell is also so lovely & refreshing.   Believe it or not,  I buy my lavender from a vendor on eBay & I just store the leftovers in a jar until the next project comes along.
So no matter what you decide to put into these envelopes they'll be a sure hit!
Remember, just think of your basic pattern being a rectangle house, fold half of it up to meet the triangle part & then you just stitch the two sides!  It's so easy & they will turn out incredibly cute with your decorative stitching!