When I was growing up, I hated raisins & cranberries.  They were just plain YUCK to me as a kid.  And it never failed on Thanksgiving & Christmas either my mom or my Grandma would ruin a pie by adding one or the other.
Truth be told, I'm still not a fan of raisins.  But cranberries, I love them now!  I can also remember to this very day my Grandma telling me that the berries (cranberries) signify the blessing we've been given throughout the year.  So in her words, "We need to add a lot because we've been given so much, Kellie."
Hence the name  ~ "Thankful Pie"
Here's what you'll need:
6-8 cored, peeled & chopped apples
2 Pillsbury Pie Crusts (or you can make your own if you prefer)
1/2 cup of brown sugar – I used brown sugar Splenda
1 – 1 1/2 teaspoons of cinnamon
1 teaspoon of vanilla
1 tablespoon of lemon juice *I usually use lemon juice when I bake anything with Splenda.  To me it just tastes better with a little lemon juice.*
2 Tablespoons of unsalted butter
1 Tablespoon of flour
1/2 – 3/4 cup of dried cranberries
Preheat oven to 350*.
Basically, combine all of the above in a large mixing bowl other than the pie crusts & butter.  Stir & blend together.  Using a seasoned Iron Skillet place one pie crust in the bottom of the skillet & pour the seasoned apple & cranberry mix on top of the pie crust.  Then had your butter in little dabs along on top of your apple mixture.  Then place your other pie crust on top & mold the sides as much as possible.
Bake for 30-35 minutes.
I highly recommend serving warm with vanilla ice cream, of course.
Why an Iron Skillet???  Well, I don't want to bore you all with more stories in this post, but I will say I used to hate cooking in Iron Skillets!  When I married my husband, he had more cooking pans than I did!  But they were ALL Iron Skillets!  He we have about 10 different shapes & sizes!  They are so heavy & a pain to clean.  But let me tell you something, I am a believer in them now.  I cook with them every.single.day!  They make everything taste better, I promise!
I'm linking with one of my favorite parties of the year!  It's Tidy Mom's Love The Pie Party!  Starting Tuesday Nov 13-19!  She is also giving away a Whirlpool Stove during this party!!!  So get your pies ready & join in!
Come join Love the Pie with TidyMom  sponsored by Whirlpool and enter to win a new Whirlpool Range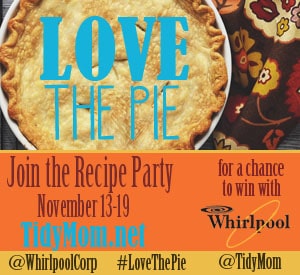 I'm social as can be!  Are you?  Follow along if you like.
Hello! I'm so glad you're here & reading my posts! I've started truncating my posts, so please click over to read the rest of the story!
THANK YOU!