Is it just me or do you all shake your head in awe of technology?
There's smart phones, iPads, computers, microwaves that can pop popcorn perfectly, cars that can start & heat up with a touch of a remote & now there's a singing tooth-brush that will help your kids know how long to brush their teeth.  Really & truly, a singing tooth-brush isn't a "major technology" break through, but it is if you argue with your kids (3 to be exact) on how long they need to brush their teeth every.single.day.
ARM & HAMMER™  Tooth Tunes™  has come to the rescue for all the mothers of the world!  Let's go ahead & get this out of the way…it's pure genius!
And to all the moms who loved the boy bands way back when, it's alright…I know you're secretly wishing we had these when we were growing up.

*  Each toothbrush features two minutes of music to encourage longer brushing and ensure that kids achieve the dentist's recommended brushing time!
*  ARM & HAMMER™  happens to be the number #1 maker of battery toothbrushes
*Tooth Tunes features one of a kind Music in Mouth technology.  This proprietary technology streams sound vibrations from the bristles of the toothbrush through the teeth allowing kids to hear the music while they brush.
In other words —> they can jam out while they brush their teeth!
ARM & HAMMER Tooth Tunes featuring One Direction is the only toothbrushes that plays One Direction in North America. 
So when I gave this toothbrush to Madi to test out, she immediately knew that it would play music.  And her response to it was, "Cool Mom, thanks!"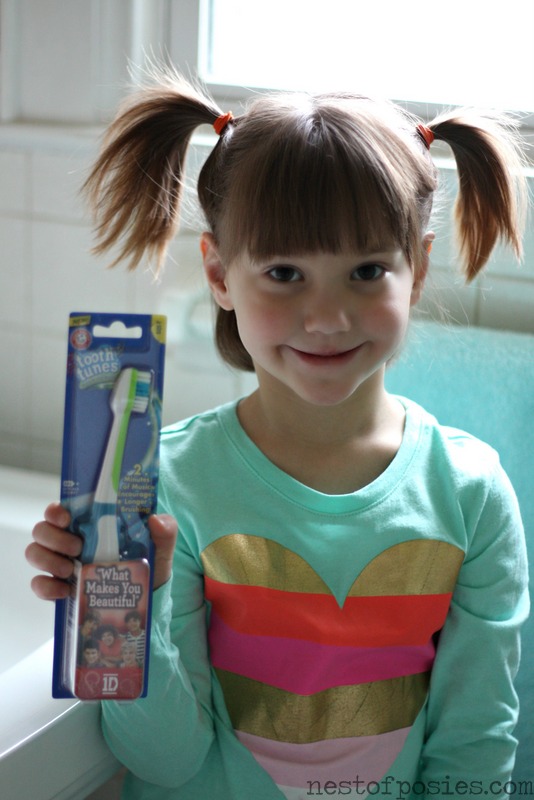 She was so excited to test it out & brushed her teeth the entire time to the song by One Direction, "What Makes You Beautiful."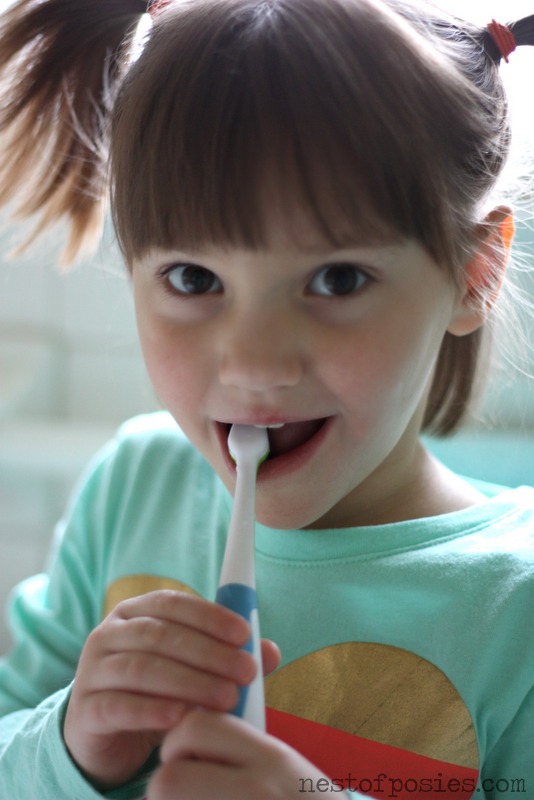 Because this girl likes her music & she LOVES to look at herself in the mirror, this 2 minute song from One Direction will be the perfect combo to her morning & night routine.  As her mom, I happen to love the song choice & the helpful reinforcement for her to brush her teeth longer.  It's the perfect thing!  You can find the ARM & HAMMER Tooth Tunes Brushes in all major mass food & drug retailers.  The suggested retail price is $9.99.  You can also keep up with the latest products of ARM & HAMMER by liking their FB page.
And….for your viewing pleasure…here's Madi brushing her pearly whites & jamming out to "What Makes You Beautiful."  silly girl.
taken with my iPhone
ARM & HAMMER™  Tooth Tunes™
 has made several song options for their brushes…"All Day" by Cody Simpson, "Dynamite" by Taio Cruz, "I Gotta Feeling" by The Black Eyed Peas,  "If I Ruled the World" by Big Time Rush, "Round & Round" by Selena Gomez and The Scene, "Tonight, Tonight" by Hot Chelle Rae and "We Will Rock You" by Queen.
Disclaimer: I am part of the Mom It Forward blogger network.  Mom It Forward and ARM & HAMMER™ Tooth Tunes™ partnered in support of this campaign. ARM & HAMMER™ Tooth Tunes™ compensated me for participation in this  campaign.  However, all thoughts and opinions are my own