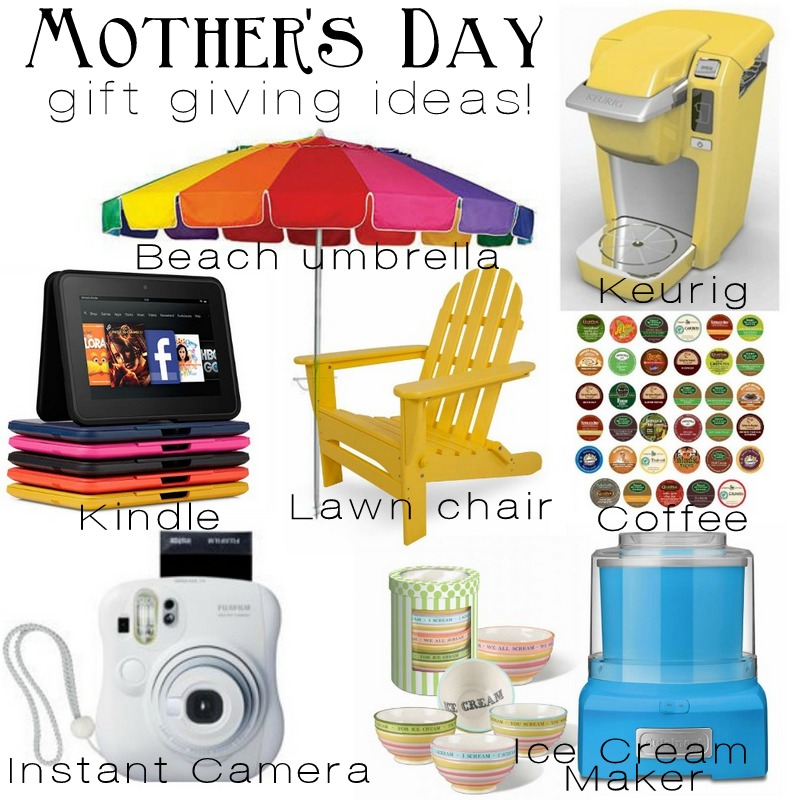 This post contains affiliate links.
Sometimes, you can't help but think about the dear ol' Dads trying to scramble to get "just the right" Mother's Day gift for the wife.  I realize I don't have many male readers, but you ladies could always direct your husband here  – or text this picture to him to give him ideas.  🙂  That's what I do – text a photo & talk about it non stop until hopefully, it's mine.  😉
I'm a practical wife.  I don't require jewelry for gifts or items I'll rarely ever use.  I want something that I'll use, but that's fun & out of the normal, that I wouldn't purchase for myself.  So I've complied a few things that I think most Moms would love to have, if they don't have already!
Kindle Fire HD Tablet $199.99
Fuji Film Instant Camera $105.95
Beach Umbrella 8 ft. with 50+ SPF
Lawn Adirondack Chairs (in many color choices) 
Yellow Keurig Coffee Maker
Kcup sampler coffee pack
Cuisinart Ice Cream Maker (in many color choices)
Ice Cream bowl set
Now trust me, I don't always want an "appliance" as a Mother's Day gift, but if it's something I would use & a fun color – you betcha!  Also, if by some small chance my husband offers to take me on a trip, in lieu of a gift…well, you better believe I would gladly take the trip!
Hint Hint, dear ol' husband of mine.
p.s.  YES!  there's still time to order these gifts!  especially if you selected 2 day shipping!  so hurry.