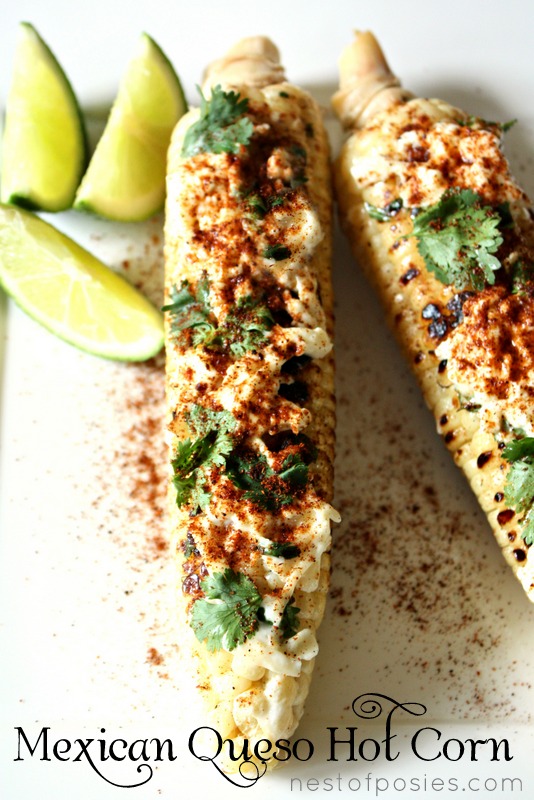 You know when you taste something for the first time, and it's sooooo good & you find it hard to express your feelings?
Other than using words like: "MMMMM, oooooo, that's sooooo good, or OMG!"
Well, that my friends is how good this Mexican Queso HOT Corn is!  I promise you will love it!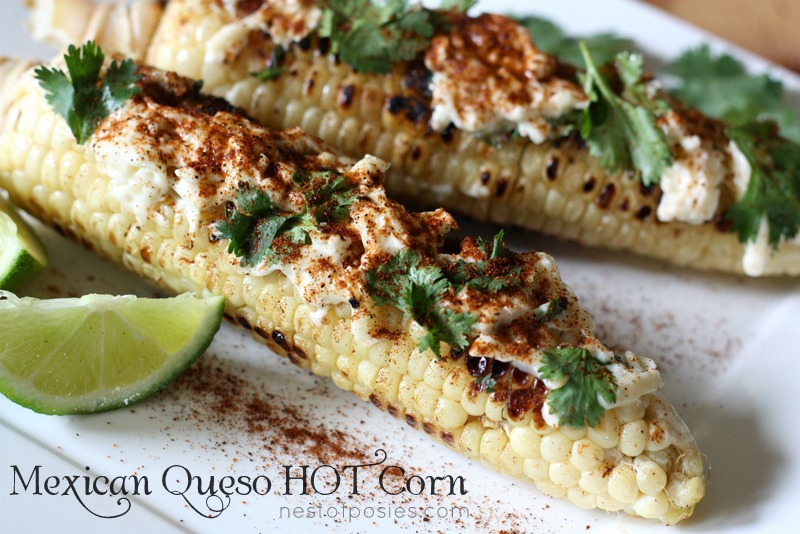 First, let me welcome you to our Progressive Summertime dinner party!
This post & recipe is one of many in the progressive dinner that you'll see listed below.  We also have an amazing giveaway (also at the end of this post) sponsored by KitchenAid, Cost Plus World Market, and the brand spakin' new Woot Froot!
Here's what you'll need to make Mexican Queso HOT Corn:
4 corn cobs, husked
spray oil or some olive oil
1/4 cup mayonaise
1 cup queso (crumbled Mexican Cheese)
Ancho Chili Powder, to taste
1 lime, cut into wedges
Cilantro leaves, to garnish
The unique thing about corn is that you can cook it so many ways.  But my absolute favorite way is to grill it.  However, our grill is not hooked up yet, so I used the next best thing!  An iron skillet!  It did make the house a little smokey, but the flavor was just as good.  Mix your mayo & queso together in a bowl.  If you have to have corn on the cob with butter, you can definitely add some as well.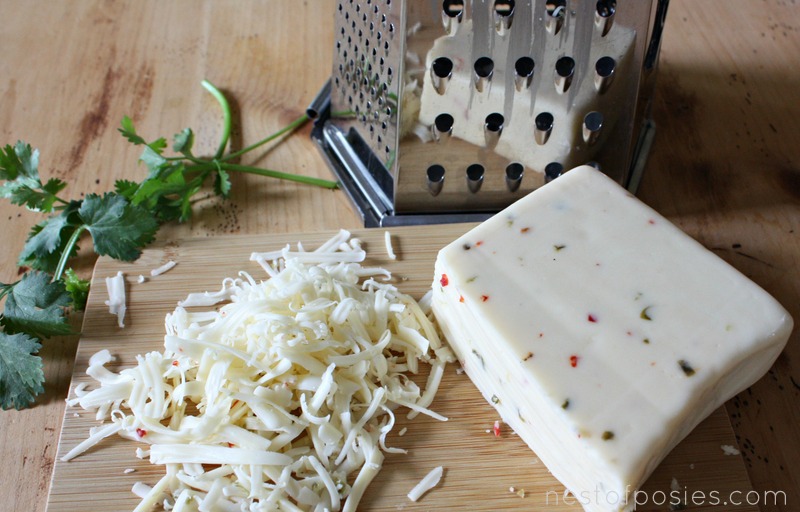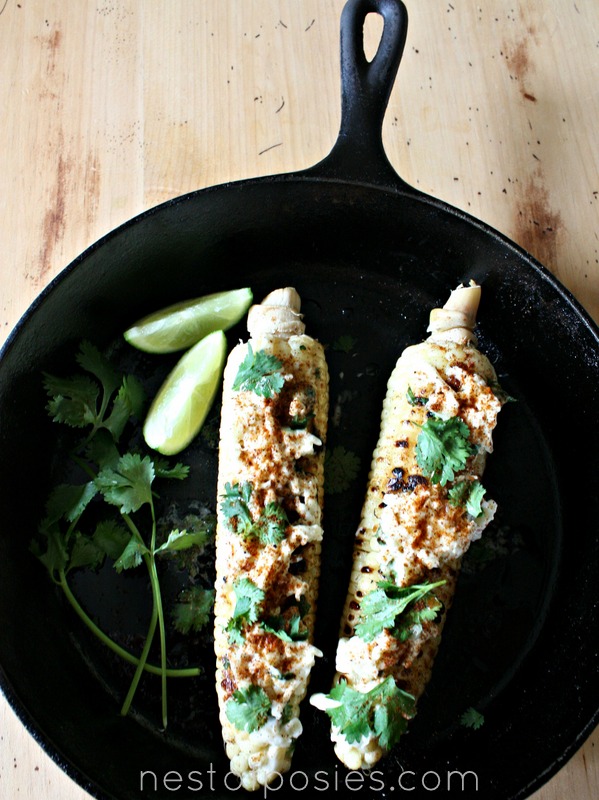 Once you are done grilling or making it in the skillet, add your mayo & queso mixture to your corn.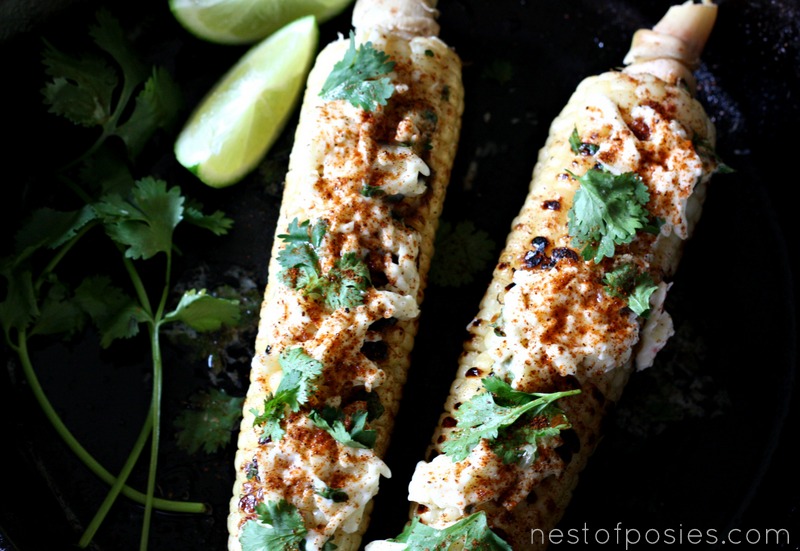 Then sprinkle your Ancho Chili Powder on top of your corn & queso mixture, add a squirt or a lot of lime & I highly recommend the cilantro.  But for those of you who may not know, I am a Cilantro fanatic!   You can never have enough Cilantro!
This I can assure you will be an added side to your weekly meals.  It's soooo good!
As I mentioned above, this recipe is one of many participating in our Summertime Progressive Dinner.  These recipes listed below are mouthwatering good!  Plus, each & everyone of these bloggers are so amazingly creative.  You will love them all!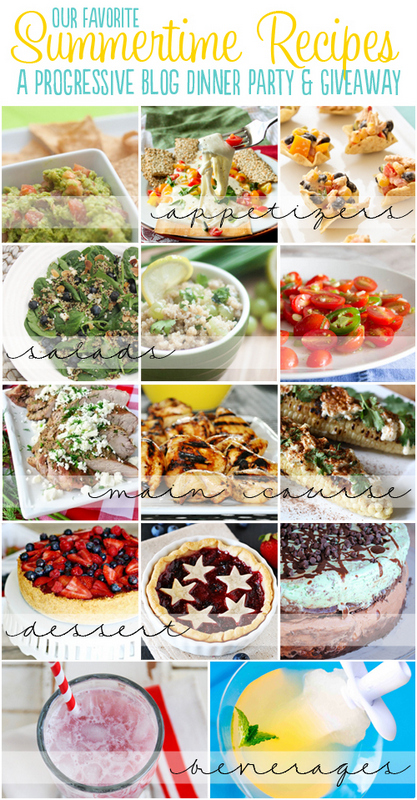 Check out all of the fabulous recipes that are rounding out our summertime dinner party! (from left to right):
Appetizers:
Salads:
Main Course:
Desserts:
Beverages:
Now about our FABULOUS GIVEAWAY!!!

Woot Froot is excited to bring you the ease and convenience of fresh cut peaches and nectarines just in time for summer.  Perfect for summer snacking, dishes and drinks – like peach margaritas.  Fill out the rafflecopter below for your chance to win this Margaritaville Margarita Maker and get the party started.  A $200 value.
a Rafflecopter giveaway