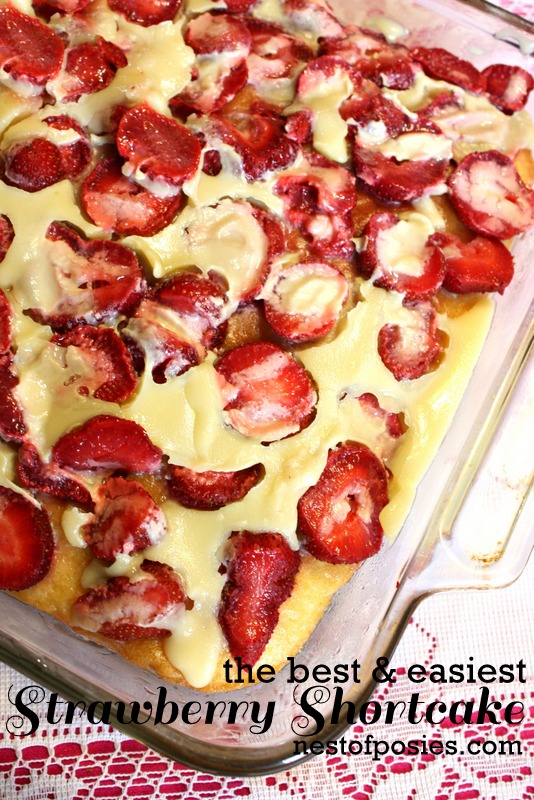 For the record, during the months of July & August the only thing "on" in my kitchen is a fan.
I strategically avoid making anything in the oven anytime after noon.  I do all my baking in the morning, because I personally start melting around 12:14 everyday & for some strange reason the pool always needs my attention around 12:30 or so.  😉
So my crockpot is always going & I typically have a "cool" dessert made & ready in the fridge by dinner time.  This Strawberry Shortcake is the easiest & I can almost guarantee the best you've ever tasted!
First you must know, it is served cold.  Which makes it even better during the hot, hazy & lazy(?) days of Summer.
Here's what you'll need:
CAKE:
a box of yellow cake mix (we use Ducan Hines)  make the cake according to the back of the box in a 13×9 inch baking dish
TOPPING:
2-3 pints of fresh strawberries sliced
1 1/4 cup of sugar
1/2 cup of Evaporated milk (I used PET milk)
4 Tablespoons (half stick) of butter
1 teaspoon of vanilla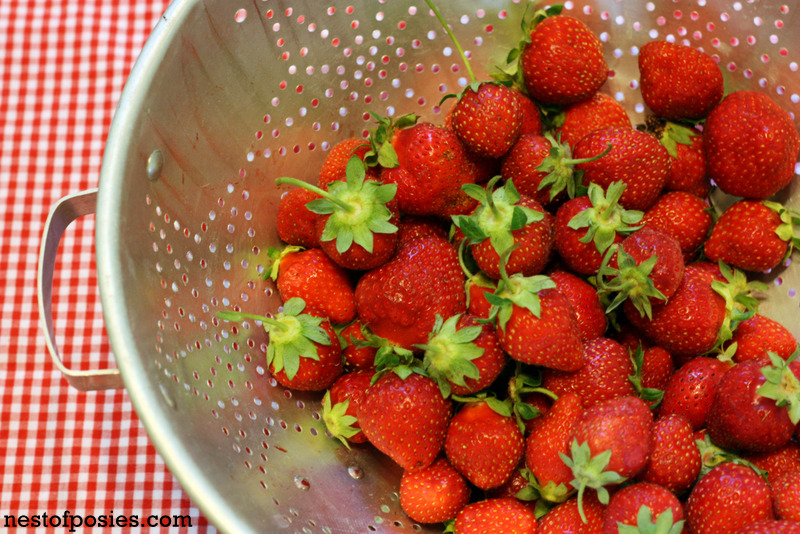 While your cake is baking in the oven, cut & slice your strawberries & set aside.  When your cake is almost done baking combine your sugar, PET milk & butter in a sauce pan and heat to a boil.  Stirring & mixing together continually, add your vanilla right when the sauce start to come to a boil.  Allow your mixture to boil for 3 minutes.   Once your cake is out of the oven for about 5 minutes, place your sliced strawberries on top of the hot cake.  Then allow your heated sauce to cool slightly, about 5-7 minutes & pour your very warm/hot topping mixture over the strawberries that are on top of the cake.
(Basically everything happens quickly once you get your cake out of the oven.  You want a very warm sauce mixture on top of a very warm cake to allow the heat to soak in all that sauce goodness along with the juice of the strawberries.)
Cover & place in the refrigerator to cool overnite or you can serve if the cake has been in the fridge for several hours.  This is one of those recipes that the older it is the better it is.  – love that kind of recipe, don't you?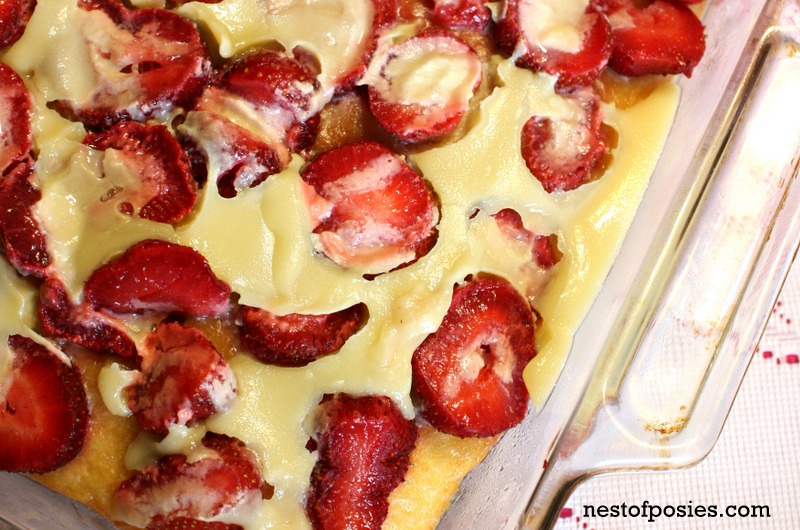 The sauce molds around the sliced strawberries beautifully & the taste…oh. my. heavens!  So so good!
Linking with:
Tatertots and Jello, Tidy Mom, I Heart Naptime, Tip Junkie, Today's Creative Blog, 30 Handmade Days, Home Stories A to Z