I've been eating this Chocolate Zucchini bread for 5 years now.  It NEVER gets old, in fact it gets better tasting year after year.   Of course, as with most of my recipes (and clothes for that matter) there's a story or two there & memories that can always coordinate when sharing the recipe.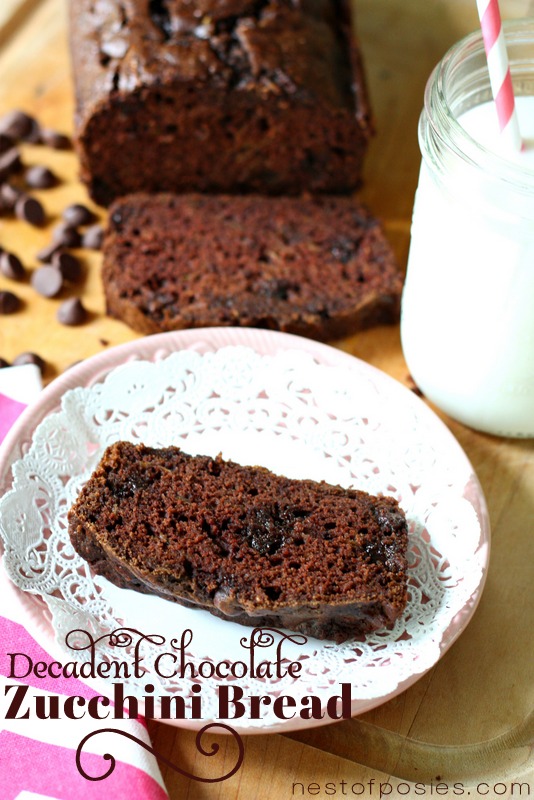 I wont say the recipe is the easiest, but if you rate it on 1-10 level of difficulty it would get about a 3.  It's easy to make, but as always there's steps when you're making something from scratch.
Speaking of making things from scratch…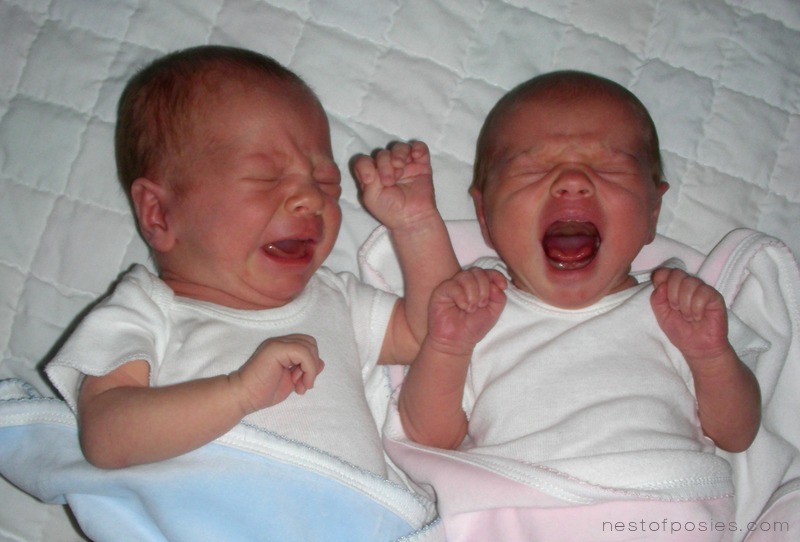 You see, my mom made this Chocolate Zucchini Bread for us right after I had the twins (5 years ago) and I guess you can say I ate every.single.thing in sight back then (well, I still do for that matter.)  I was breastfeeding the twins & needing snacks on an hourly basis.  I also needed something to keep my strength up in dealing with the above.  For the record, they were r e a l l y good at crying.
btw, if you want to read more about my adventures of breastfeeding the twins go here.
Okay – back to the recipe for the Decadent Chocolate Zucchini Bread.  😉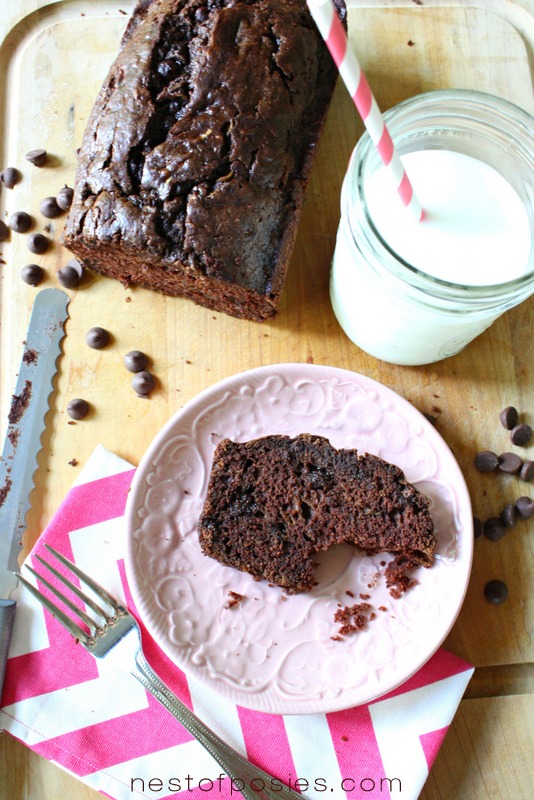 I'll put it this way, outside of making a regular cake from scratch, the only extra thing you have to do is grate the Zucchini.  Plus this recipe is for 2 loaves!  So you can freeze one for later, or give to a friend.  If you find your zucchini has a extra amount of water when your grating it, you can always use a sieve & drain the liquid.  Other than that ~ the prep is easy.
Decadent Chocolate Zucchini Bread
Ingredients
4 cups grated zucchini (from about a pound and a half of zucchini)
2 1/2 cups all purpose flour
1/2 cup unsweetened cocoa (use natural unsweetened cocoa)
2 teaspoons baking soda
1/2 teaspoon salt
1 teaspoon cinnamon
1 cups granulated white sugar
1/2 cup of brown sugar
2 eggs
1 1/2 sticks of unsalted melted butter
1/2 teaspoon instant coffee granules
2 teaspoons of vanilla
1 bag of milk chocolate chips
Instructions
Makes 2 loaves

Preheat oven to 350* - grease & prep 2 bread pans
Whisk together the flour, unsweetened cocoa, baking soda, salt, and cinnamon in a large bowl. Whisk until there are no more clumps and the ingredients are well combined.
In a separate large bowl, beat together the sugar and eggs until smooth, about a minute. You can do this with mixer on medium speed, or with a spoon. Add the melted butter, instant coffee granules, and vanilla extract and beat until smooth.
Mix the shredded zucchini into the sugar egg mixture. Add the flour to the zucchini mixture in 3 additions, stirring to combine after each addition.

NOTE: you may find you have to add a little water to your mixture. If so, add gradually.

Once everything is mixed, add your chocolate chips & fold in together with your batter.
Once the batter is mixed completely, divide it into the 2 prepared bread pans & place on the middle shelf in the oven.
Bake at 350* for 50 minutes or until a knife or skewer stick comes clean.
Let cool completely before slicing.
https://www.nestofposies-blog.com/2013/07/decadent-chocolate-zucchini-bread/
I love a recipe that makes 1 for me & 1 for later.  Back when the twins were babies, this bread & our normal groceries didn't last long.  I ended up nursing the twins for 22 months.  The hardest but most rewarding thing I've ever done.  I sure hope my coordinating story to this Zucchini bread didn't gross you all out.  I tend to remember more details about significant milestones in my life when they're centered around food or a great outfit.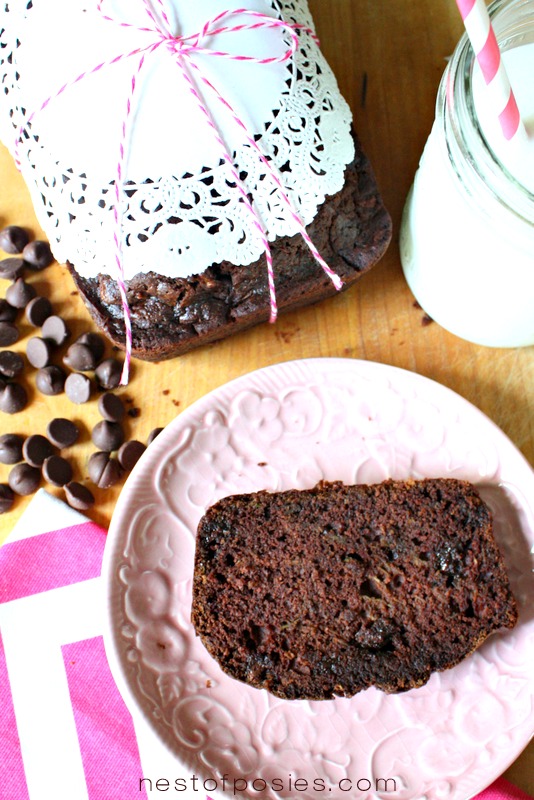 As I mentioned it makes 2 loaves.  It's the perfect thing to bring to a new mama, a new neighbor ~ or just because.  I love paying it forward, especially when it comes to food.  The gift of homemade is always the best gift to receive or give.  Luckily, I've been blessed to be both the receiver & the giver in my life.  It always makes such a incredible impression on me, and a sign of pure hospitality & caring at it's best.
But trust me, it's R E A L L Y hard to give this bread away.  It will make you fall to your knees.  😉