There's something about Fall that brings out some amazing recipes of pure comfort food.  Tie that in with football & tailgating and you have an amazing combination!  Another thing about Fall that I love, is that it always gets me outdoors!  I love that part especially!   So when food, football, tailgating, kids & exploring happen together, there's bound to be a few messes, wouldn't you agree?
So when Tide reached out to me about writing a sponsored post about their new Tide plus Febreze Freshness Sport detergent, I knew that it would be the perfect thing for our active household with 4 males (if you include the dog!)  All of my boys love to play football.  They'll roll around in the grass, get dirty & get right back up & do it again.  As for me, I don't play football.  But I can make a mean mess in the kitchen.  Which typically includes spills & stains on my clothes.  It doesn't matter what I make or how neat I try to be, I can never keep a clean shirt on.
All I know is I sure do love to watch SEC Football in the Fall.  (Sorry, I'm a little biased about my football.)  I also LOVE to make special football foods to anticipate a great game.  One of our very favorite things to eat while watching a game is Chili!  It's always a classic crowd pleaser!  Last year, I decided I would serve Chili & Cornbread in a mason jar & it was a huge hit!  And since Fall & football are fast approaching…I thought it would be fun to share this idea on the blog.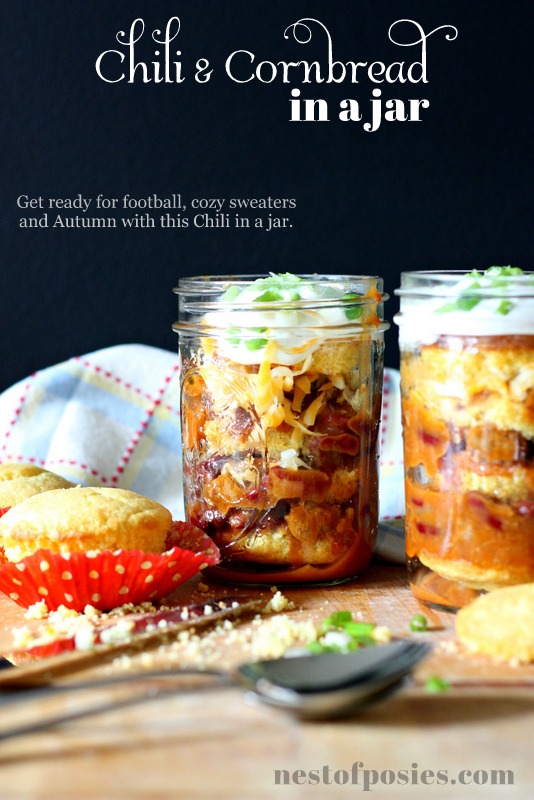 This is one of the funnest things to serve while watching football!  It's all complete & packed into one jar!  All that's needed is a drink & napkins.
Chili & Cornbread in a Jar
While your chili is simmering, bake your cornbread muffins. I typically just use a box mix for my cornbread for convenience, such as Jiffy. Once they are slightly cooled, slice your muffins in half & layer your cornbread & chili into mason jars. At the top of the mason jar, add in grated cheddar cheese, sour cream and green onions for a fun topping. My husband would also say, add several drops of Tabasco sauce, but only if you dare.
Ingredients
1 lb of cooked & drained ground turkey or hamburger meat (whichever you prefer)
1 yellow onion chopped
1 yellow bell pepper cored, seeded & chopped
1 red bell pepper cored, seeded & chopped
1 can of green chilies
1 teaspoon chili powder
1 teaspoon ground cumin
1/4 teaspoon dried red pepper flakes, or to taste
1/4 teaspoon cayenne pepper, or to taste
2 teaspoons salt
1 large can of diced tomatoes (unflavored)
2 cans of your favorite beans (drained & rinsed) pinto, black bean, kidney bean - whichever
black pepper to taste

Cornbread Mix

for convenience
Grated Cheddar Cheese
Sour Cream
Chopped Green onion
Instructions
Cook your meat until it's done thoroughly. Drain & set the meat aside while cooking your onions in oil over medium-low heat for 10 to 15 minutes, until translucent. Add the bell peppers, chili powder, green chilies, cumin, red pepper flakes, cayenne, and salt. Cook for 2-4 minutes.
Add your can of tomatoes & drained beans & cooked meat. Bring to a boil, then reduce the heat and simmer, uncovered, for 30-40 minutes, stirring occasionally.
https://www.nestofposies-blog.com/2013/08/chili-and-cornbread-in-a-jar/
One thing is for sure – eating football food, while cheering on your team can be a little messy.  Or even more so when all your boys like to get dirty while playing outside!  That where Tide plus Febreeze Freshness SPORT comes in!   Lets be honest, laundry is sometimes a daily task.  It's not my favorite thing to do, but when you have something that will help you fight the stains & odor, that makes it a little easier & faster.  Of course, eating something really messy that tastes amazing makes it a little easier too!  😉
This post was sponsored by Tide through their partnership with Circle of Moms. While I was compensated to write a post about Tide Plus Febreze Freshness Sport, all opinions are my own.
Linking with:
Tatertots and Jello, Tidy Mom, I Heart Naptime, Tip Junkie, Today's Creative Blog, 30 Handmade Days