If  I was ever made for a season, it would be Fall.  It speaks to my soul.  And hair for that matter.  Because out of all the seasons, I have more "good hair days" in the Fall than any of the others.  And that my friends, is reason enough to celebrate a season.  But there's also the patterns, textures & colors of Fall that make me go weak in the knees.  I mean, r e a l l y  weak in the knees.  I love it all.
Given my past fashion & cosmetic background, you would understand how a Fall loving girl like me can get a little crazy when it comes to glitzy, sparkle & rustic all combined into one presentation, outfit or room.   You see, I can remember all the significant things that happened in my life very vividly when I had a cute outfit on.  Details are just what makes life so fun, ya know?  Speaking of details…this post & wreath are brought to you by Simplicity.  You know Simplicity is the company that makes all the gorgeous detailed trim like:  sequins, rosettes & ribbons among many other things.  So when I received a box full of goodies from them, I knew one of the things I would make would be a Fall wreath for my home.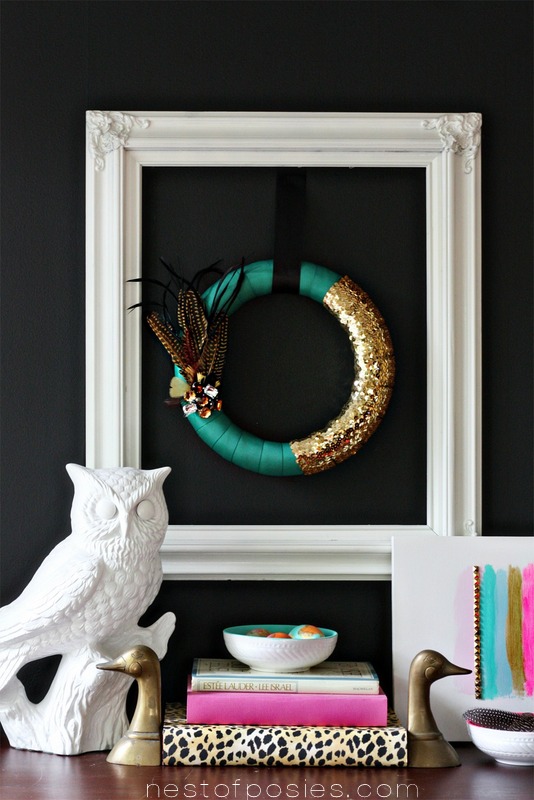 If you've been following me on Instagram, then you know I kinda went dramatic & painted my dining room wall black a couple of weeks ago.   A post will be coming soon, about my inspiration I've gathered for my black wall.  To be honest, I haven't done much to my wall since painting it black.  I am determined to get the look I'm going for by thrifting, DIYing, or bartering for goods.  Because I really do want it to be full of art.   So in the meantime, I thought why not inaugurate my new black wall with a shiny new wreath?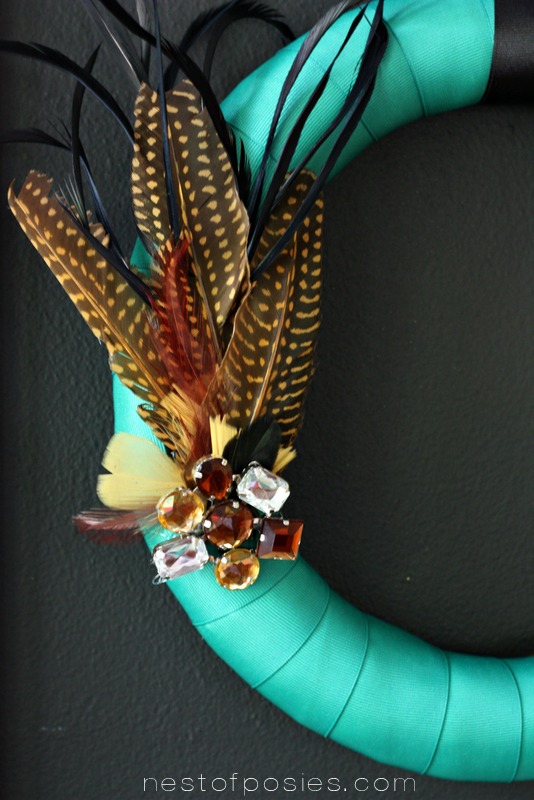 It was just calling for something scrumptious.
So…you see that yummy gold sequins trim,  it's from Simplicity!  The ribbon, yep that too!  And the fun jeweled embellishments are as well.  All combined are the perfect trio to create a fall fashion wreath.  I tend to do that with my Fall wreaths.  For the past few years, I have based my Fall wreaths off of fashion trends or colors.  It makes it much more fun to create when I do that.  Because again, I dearly love Fall fashion!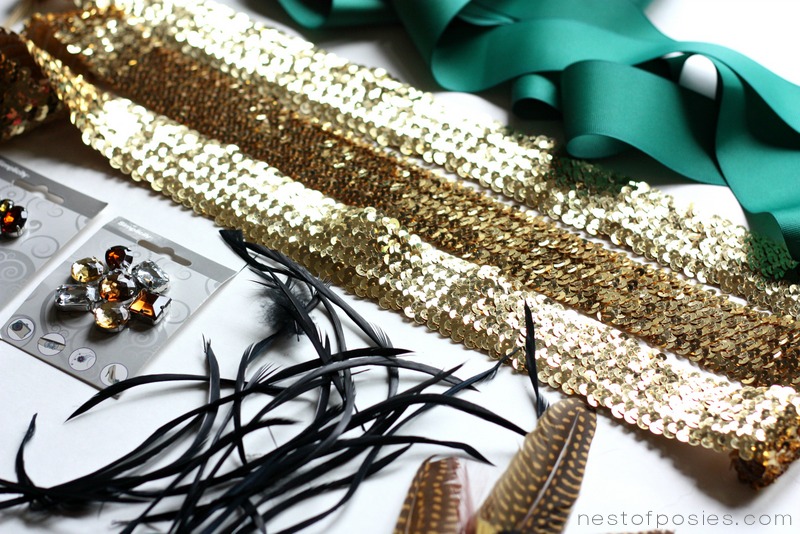 I based the ribbon color off of Pantone's color of the year, Emerald Green.  When I first saw that Emerald Green was going to be the color of the year, I immediately thought, I cannot wait until Fall.  Emerald Green goes with so many fun textures & patterns like:  leopard, feathers, leather, sequins, suede & so many fun pops of color.  So when August finally arrived, I knew I was going to be in heaven playing with all the colors & textures.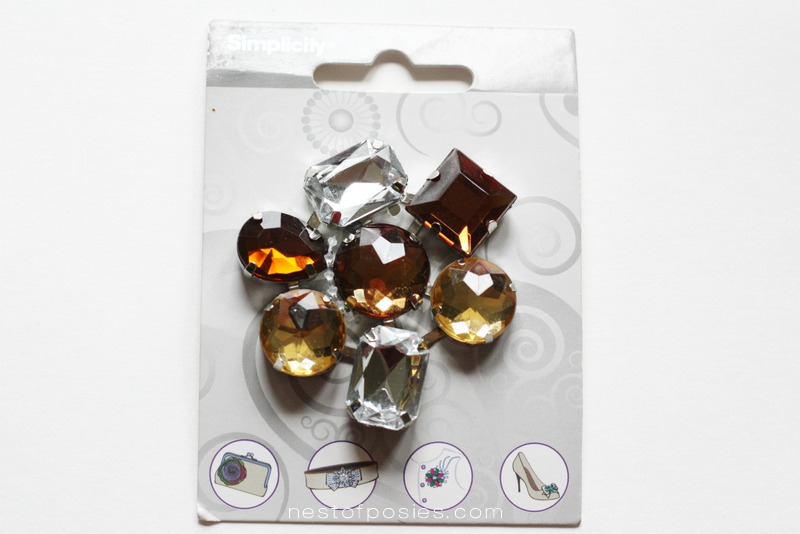 The jeweled embellishment from Simplicity can be used for so many fun things.  The back side is flat, so like the picture above shows you, it can be attached to many fun accessories.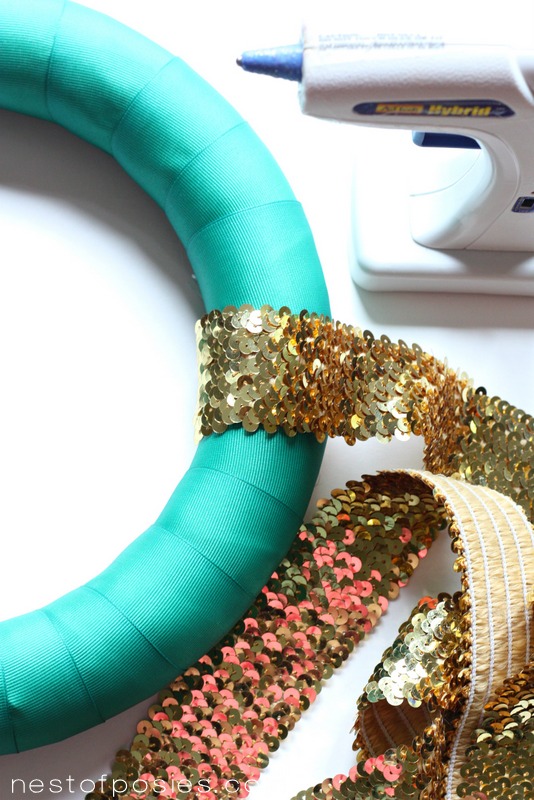 I simply wrapped my emerald green ribbon around a wreath form & hot glued it here & there.  Then I used 1 yard of Simplicity's delicious gold sequin trim & wrapped it around half of the wreath.  After you have your sequins glued, cluster & layer your feathers.  I used 2 different kinds of feathers for added texture and layering.  Once you have your cluster of feathers formed & glued, hot glue your jeweled embellishment to the top of the feathers.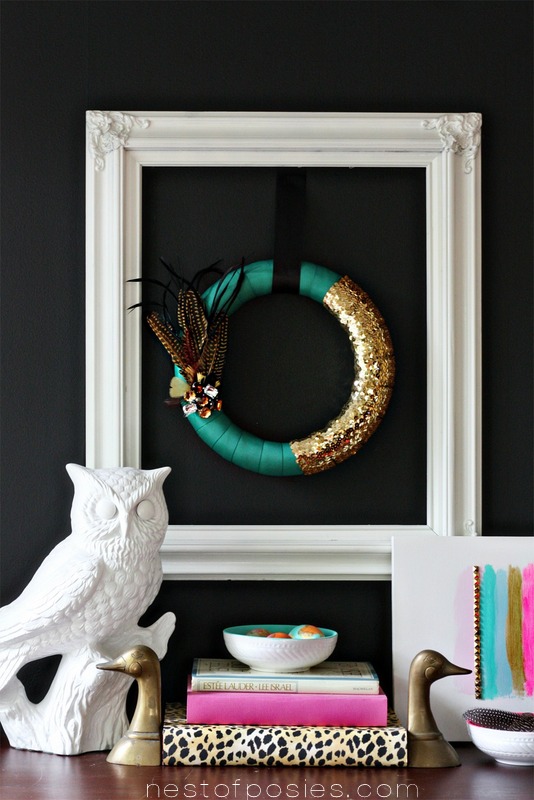 To be honest, this wreath puts me in overdrive with excitement for Fall.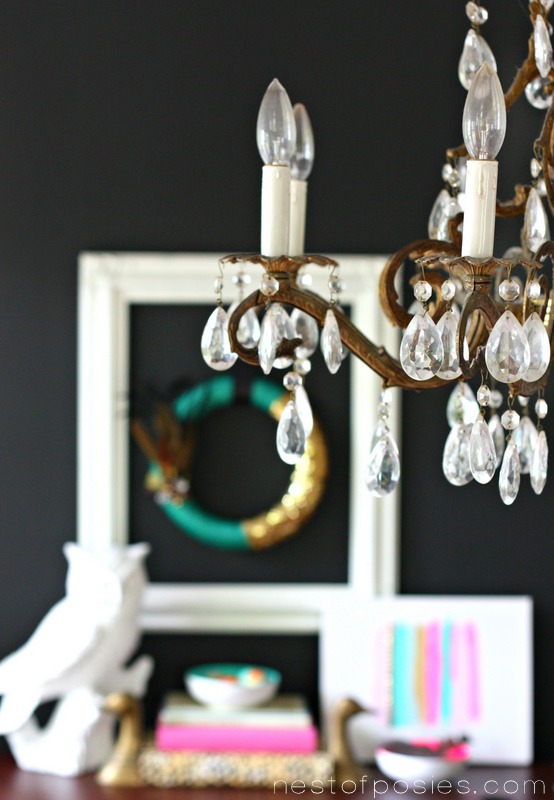 I have always loved having a wreath both inside & out for Fall & the holidays.  All the layers together make for a dramatic statement for Fall.  Of course you can make a wreath using any of Simplicity's color of trim, ribbon or sequins to match your home's decor.  The possibilities are endless.
p.s.  Stay tuned for my inspiration post about my black dining room wall.
p.s.s.  *This post is sponsored by Simplicity.  All designing, crafting, love for things that sparkle & opinions are my own.*