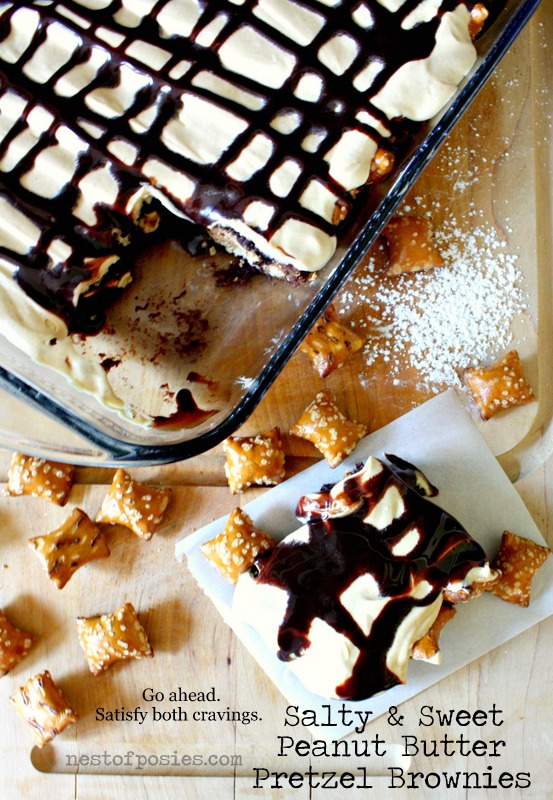 Salty & Sweet. (check)
Peanut Butter & Chocolate. (check)
Incredibly easy. (check)
Taste = out.of.this.world (check)
You'll thank me later for this, I promise.  It's all my favorite flavors in one amazing dessert.  Peanut Butter Pretzel Bites, Brownie dough, homemade light & creamy Peanut Butter frosting with chocolate syrup drizzled on top.  What's not to love???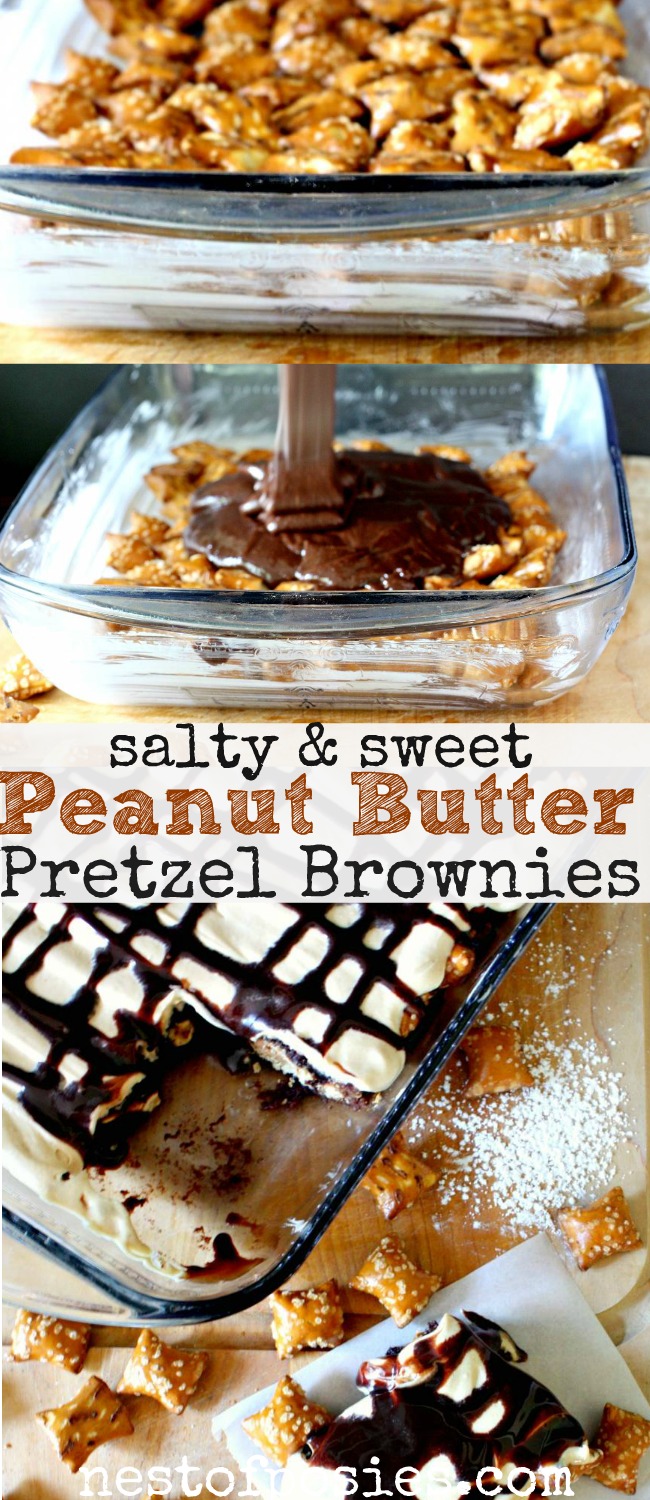 Salty and Sweet Peanut Butter Pretzel Brownies
This recipe is a juxtaposition of all my favorite flavors together. What could be better, you ask??? An extremely simple semi-homemade recipe, to boot! I highly recommend storing your brownies in an air tight container once you have finished baking & preparing. They are amazing!
Ingredients
30 or so of your favorite Peanut Butter Pretzel Bites
1 box of brownie mix (follow the directions on the back of the box)
-Frosting-
2 cups Powered Sugar
2 Teaspoons of Vanilla
1/2 cup butter softened
1 1/4 cup Peanut Butter
6 Tablespoons Milk
Chocolate Syrup for drizzle (optional, but so good!)
Instructions
Preheat your oven to 350* and grease 13x9 baking dish.
Spread your pretzel bites across the bottom of the baking dish.
Prepare your brownies per the package. Make sure your brownie mix will work for an 13x9 dish.
Pour Brownie mixture over the pretzels & bake according to the back of the box.
-Frosting-
In a mixing bowl combine all ingredients together with an electric mixer. Continue beating until you have a light & fluffy frosting. Once your brownies are cool, spread your frosting over the baked brownies.
Then drizzle chocolate syrup (such as Hershey's) over your frosting. Serve immediately or store in the refrigerator.
I highly recommend you place the brownies in an air tight container, because the pretzels may become stale when exposed to the air.
http://www.nestofposies-blog.com/2013/08/salty-and-sweet-peanut-butter-pretzel-brownies/
The nice thing about this recipe, is that most everything is mixed in one bowl & baked in another.  So you're only getting 2 dishes dirty in exchange for an incredible dessert!  Grease & prep your baking dish & spread your pretzels out.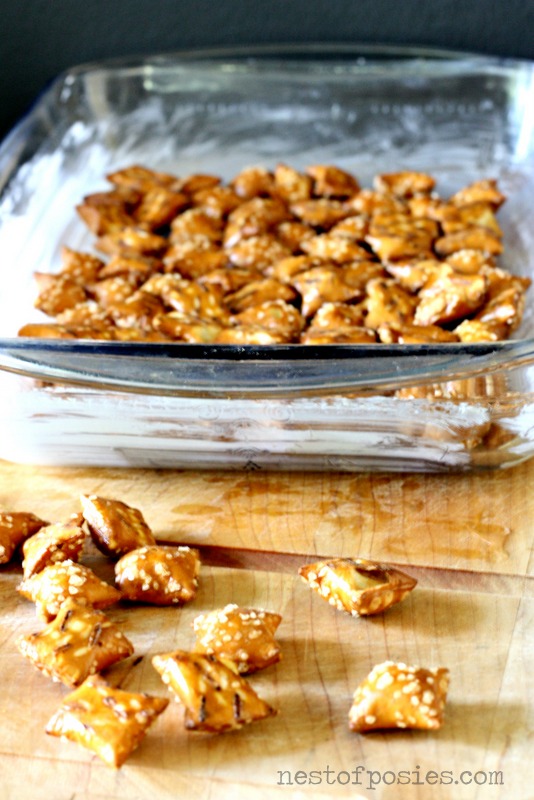 Mix together your favorite brownie mix & pour over the pretzels.  Bake per the back of the box.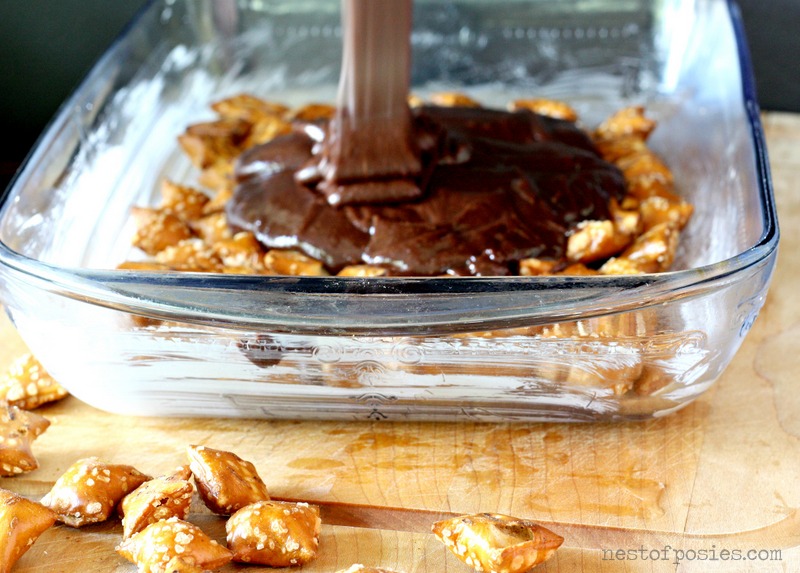 Prepare & mix all your frosting ingredients in one bowl & beat together with a hand mixer.  The frosting is out of this world.  It's so amazingly good & rich, but light tasting as well.  It's one of my favorite toppings for anything!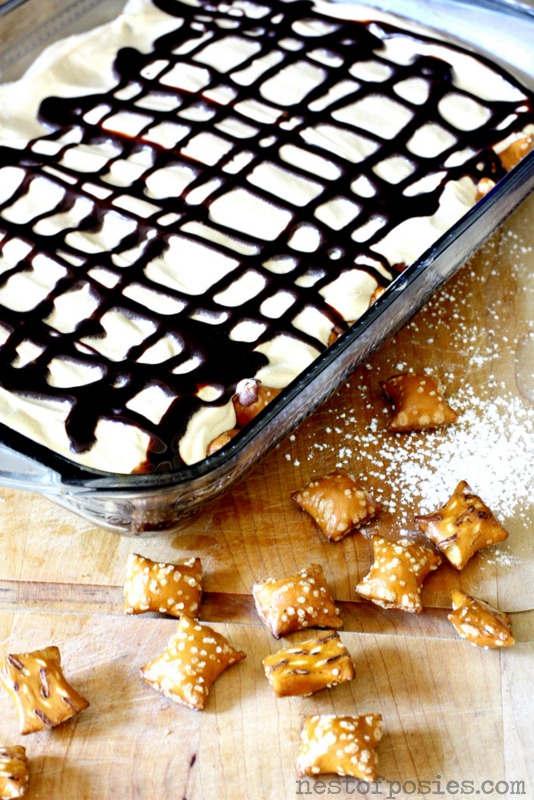 Drizzle chocolate syrup on top of the frosting & you are ready to indulge your cravings!
Perfection in flavors!