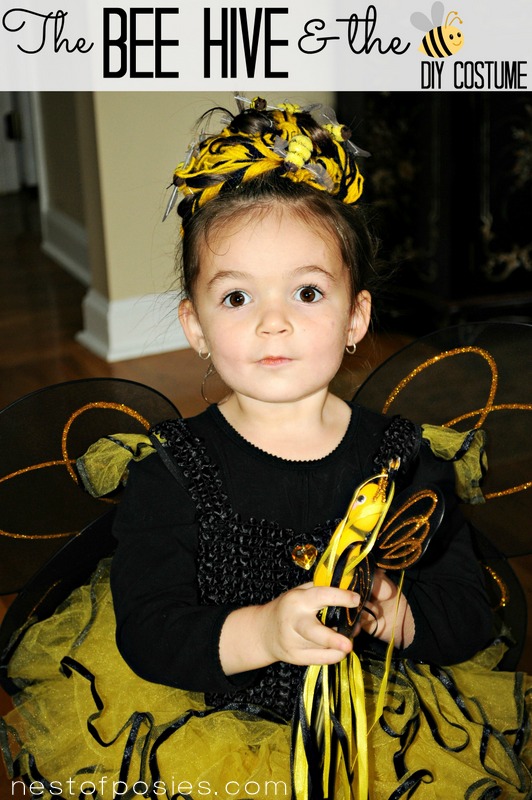 Sometimes, all it takes is a little imagination, a few supplies & a happy little girl to create the cutest costume ~ ever!  After she figured out what she wanted to BEE for Halloween, it only took some supplies around the house, some yarn, fun inspiration, an apple & a few treats to finish off the costume!
Speaking of inspiration…I honestly & truly don't know of any other place than Pottery Barn Kids & Martha for absolutely adorable & creative Halloween Costume Ideas!  So when Pottery Barn Kids reached out & wanted to sponsor this post, it's was truly a no brainer!  Because I think we all can agree they have spooktacular ideas!  Whether I'm buying a costume, or need inspiration they are the place I head to first!
Have you seen they're latest ideas? They have so many costume ideas!   Head over here to see them all!  – You will truly feel so inspired!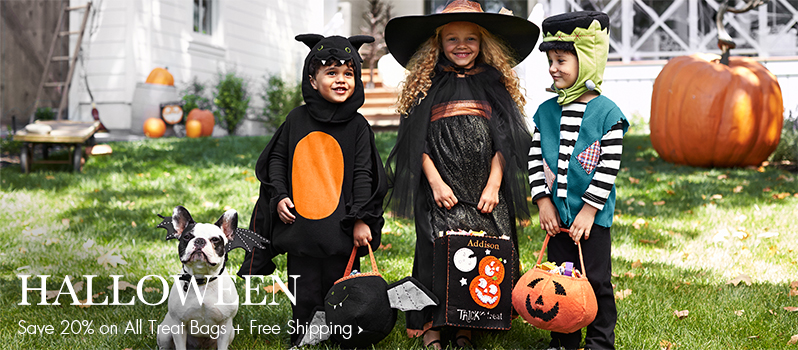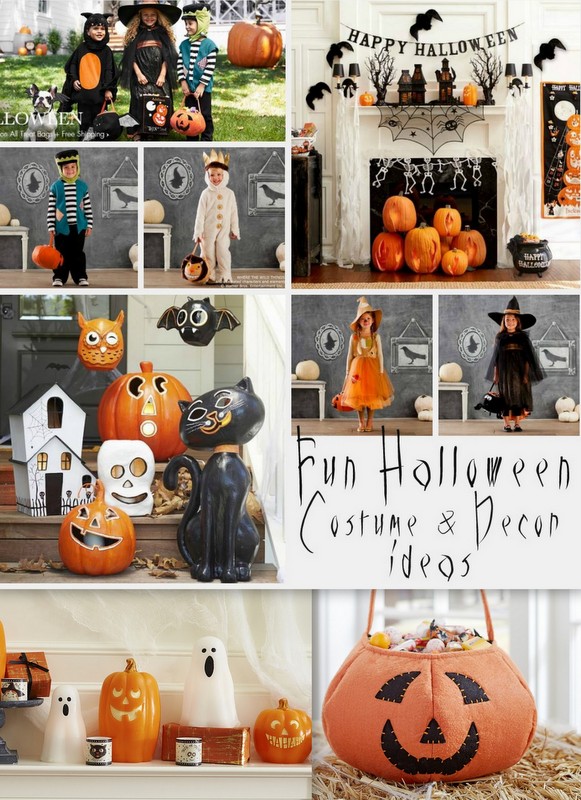 Aren't they ALL amazing?
Pottery Barn Kids is offering 20% off plus free shipping on all Pottery Barn Kids treat bags online.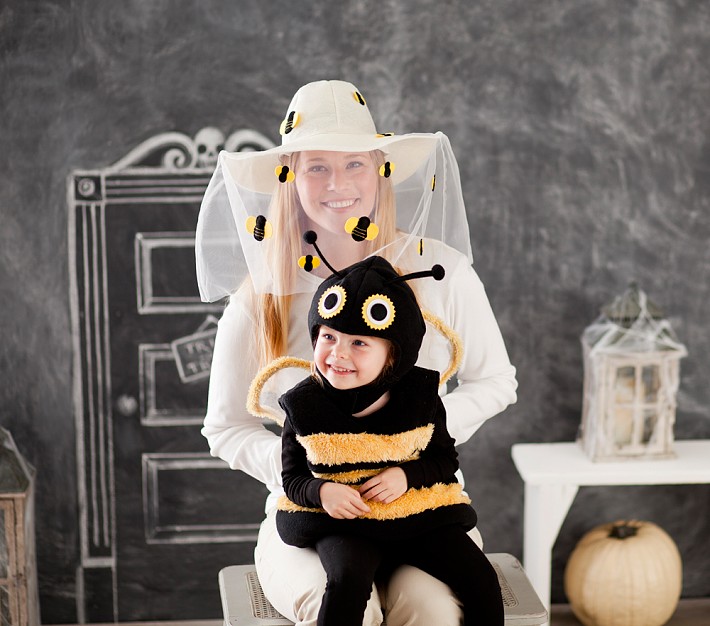 My BFF & I always drool over their ideas.  We (she more than I) try to think of fun things we can do to add to Pottery Barn Kids' ideas.  So hence, the idea of a BEEHIVE hair do, was born!
Depending on the length of the your child's hair, here is the supplies you'll need to do a DIY BEEHIVE.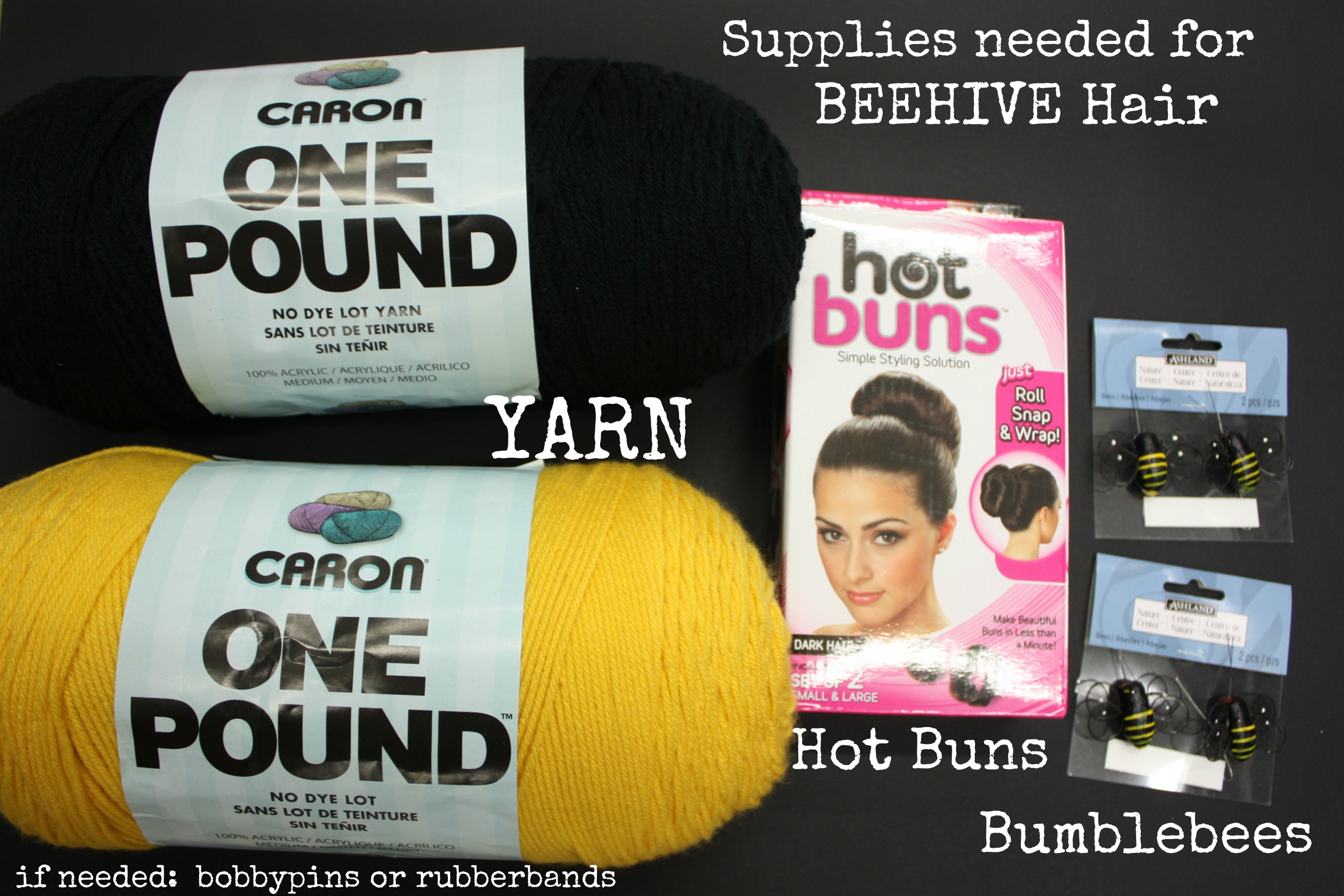 black & yellow yarn
Bumblebees from your local craft store (these were from Michael's above)
if your child's hair is long enough the Hot Bun would work really well in creating a BEEHIVE look
bobby pins or rubber bands to hold the hair in place
an apple or a treat to keep your child still while creating the BEEHIVE
comb or brush
Here's our little Bumble Bee herself getting her "BEEHIVE hair on"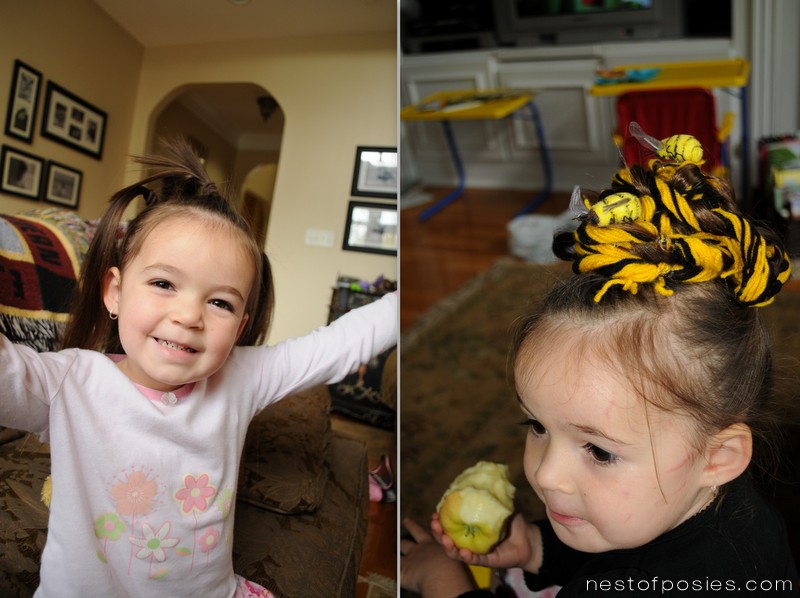 Start by cutting the same length of yarn & grouping in clusters.  Divide into 5-7 clusters.  (depending on amount of hair)
Have your little bumblebee put her costume shirt on, first!
Part hair into 5 ponytails if hair is thin, or use the hot buns to pull hair up into a high bun.
Give her an apple or a snack, to keep her occupied! – every important.  ;)
You want to secure the middle of the yarn cluster with the middle of the hair in the pony tail & start braiding or twisting them together.
Apply bobby pins or rubber bands when needed.
Once you've cluster the yarn & the hair together if you're using the pony tail method, start forming the beehive.
If you're using the hot bun, just braid or twist the yarn clusters together & start wrapping the yarn into a beehive.
Secure with bobby pins or rubber bands when needed.
Attach bumblebees in various places through out the beehive with several bobby pins.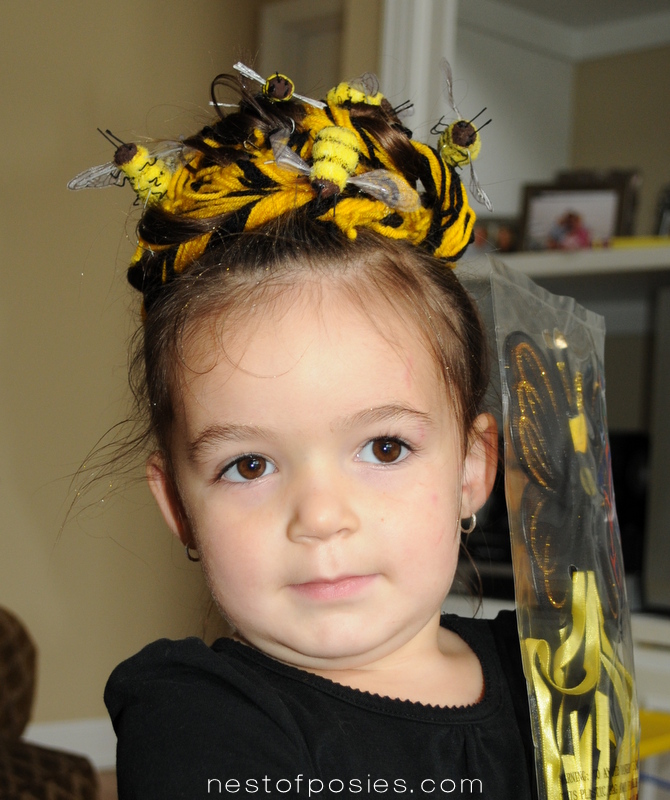 Spray with hair spray or double check everything so that the BEEHIVE is secure.  Because she'll be doing a lot of buzzing while she's buzzy doing trick or treating!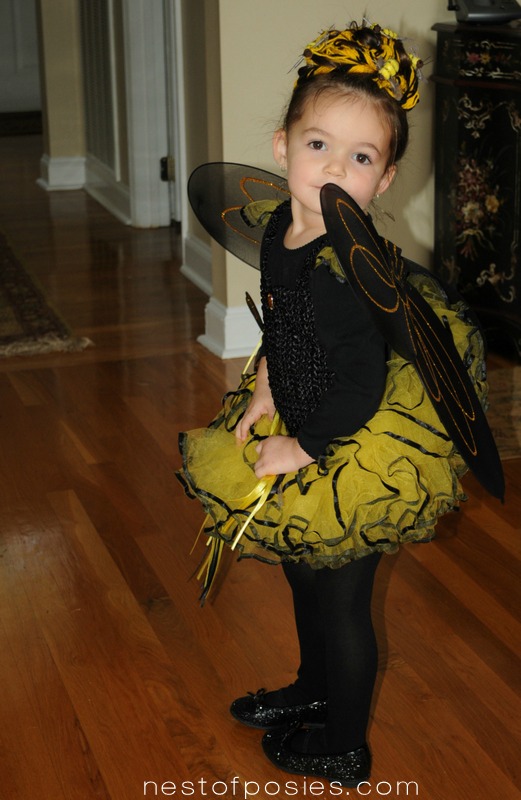 Dress in a yellow tutu, black tights or leggings, black shirt & wings & your bumblebee is good to go!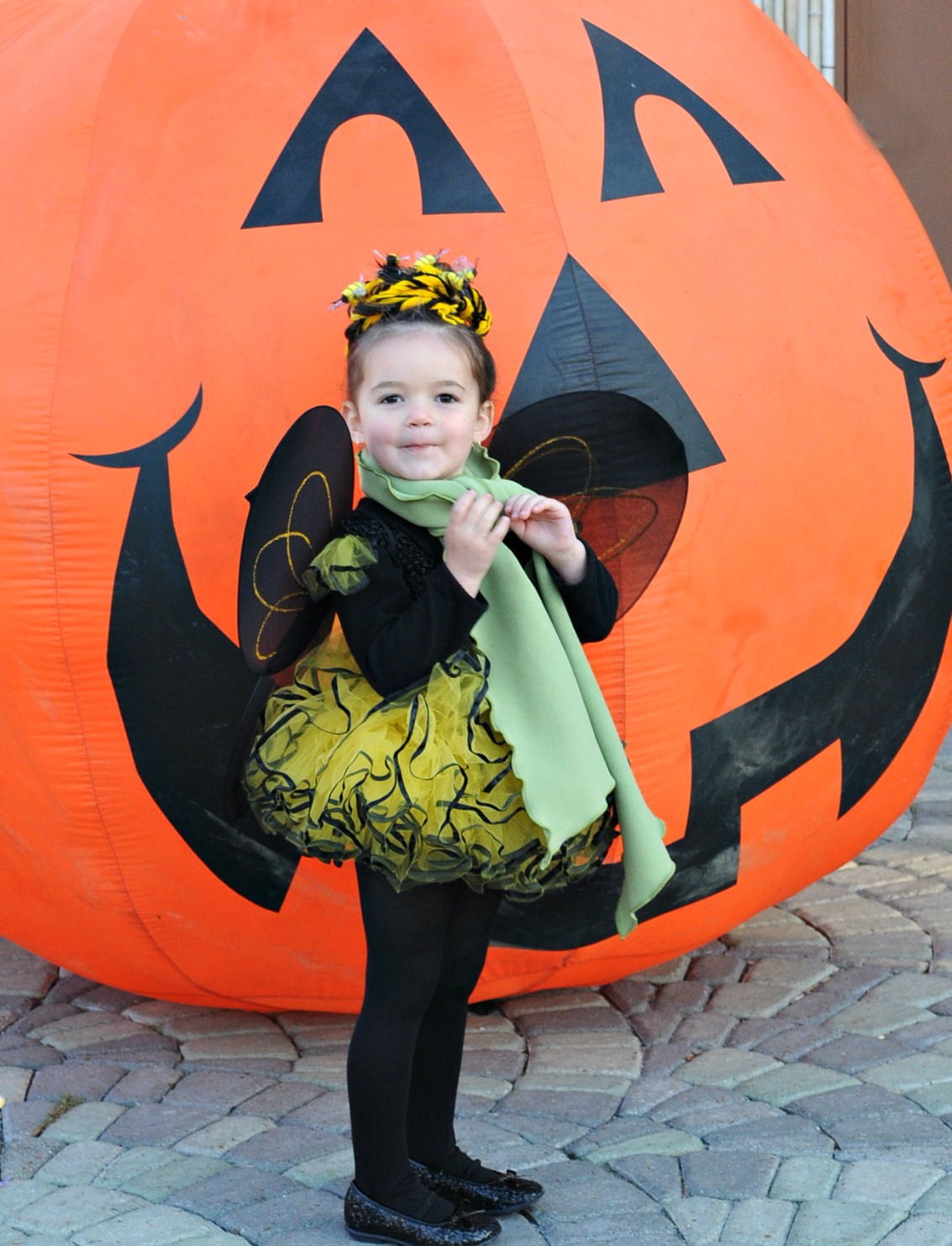 She'll be all ready for all the Halloween festivities looking cute as can BEE!  
For more inspiration of Halloween costume ideas or just to make some cute accessories visit Pottery Barn Kids.
Pottery Barn Kids sponsored this post – but my love for all things Halloween & creative is 100% my own!