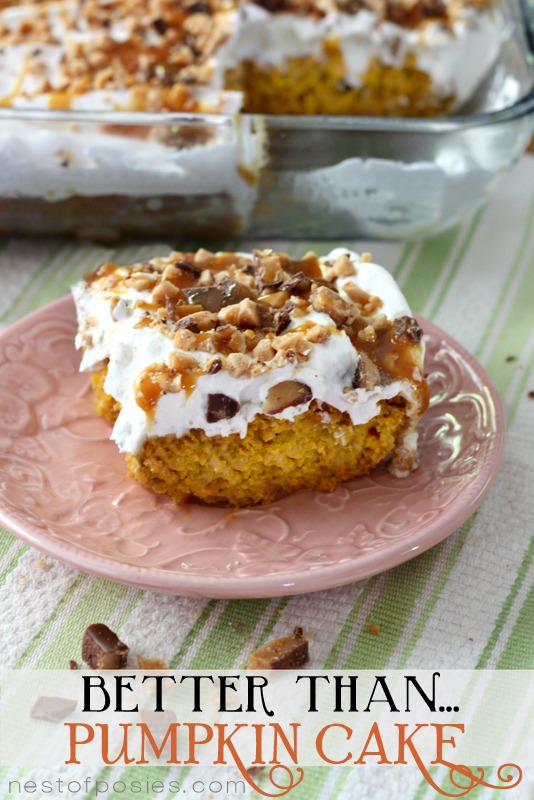 On the first day of Fall, it's tradition around here.  It's pumpkin everything…in the oven, the scent of a candle burning, pumpkin nail polish, and let's not forget glorious pumpkin decor on the porch.  So…on the first day of Fall, the beautiful aroma of pumpkin is every where.  And I couldn't be happier.
Hence… Better Than…Pumpkin Cake happened to be in the oven this morning & maybe if there's some left over there will be pumpkin tomorrow as well.
Better Than...Pumpkin Cake
Ingredients
1 yellow cake mix
1 16 oz. can of pumpkin puree (not pumpkin pie filling)
1 teaspoon of pumpkin pie spice
1 teaspoon of vanilla extract
1 can of sweetened condensed milk
1 tub of whipped topping
3 Heath Candy Bars (crumbled)
Caramel topping for drizzle
Instructions
Heat oven to 350*.
Mix box of yellow cake mix & can of pumpkin puree together along with the pumpkin pie spice and vanilla. Do not add the ingredients on the back of the cake mix box. You only need to add the pumpkin, spice & vanilla. Bake for 25-30 minutes in a 9x13 inch baking cake dish. Depending on your oven. (check to make sure the center is cooked)
Once cake is finished baking, allow to cool for about 5 minutes, and then poke holes with a wooden spoon all over the top of the cake.
Pour the entire can of sweetened condensed milk over the cake & allow to cool.
Once cake is completely cooled, add the whip cream & crumbled Heath Candy Bars. (I recommend the actual candy bars instead of the already crumbled Heath packaged kind.)
Drizzle caramel topping over the cake or the individual slices when ready to serve.
https://www.nestofposies-blog.com/2013/09/better-than-pumpkin-cake/
It's a delicious, mouth watering, combination of yummy Fall flavors that will make you love Fall even more, if that's possible.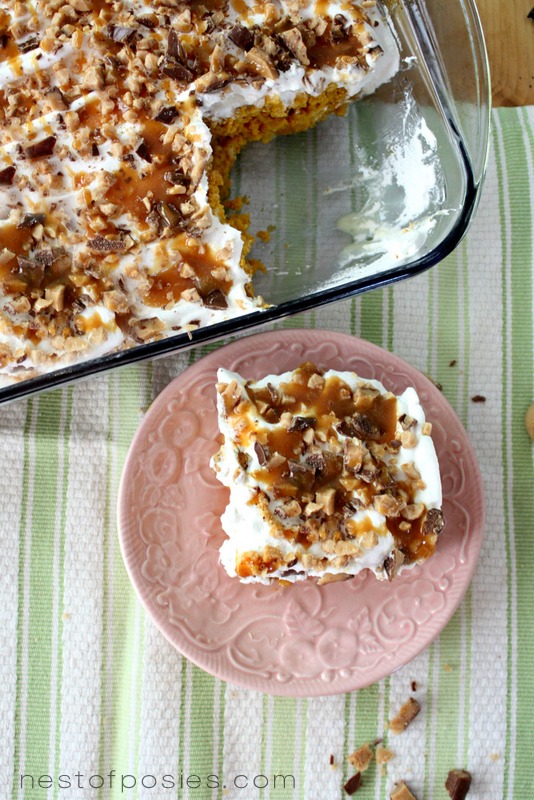 The beauty of this cake is that it's so easy, in fact you stir for maybe a minutes & place the mixture in a baking dish & bake…and you're almost done!  The older the better when it comes to this cake.  Refrigerate overnite, if you like or for a few hours before serving.  It's simply delicious any way you serve it.
Happy Fall, Y'all!