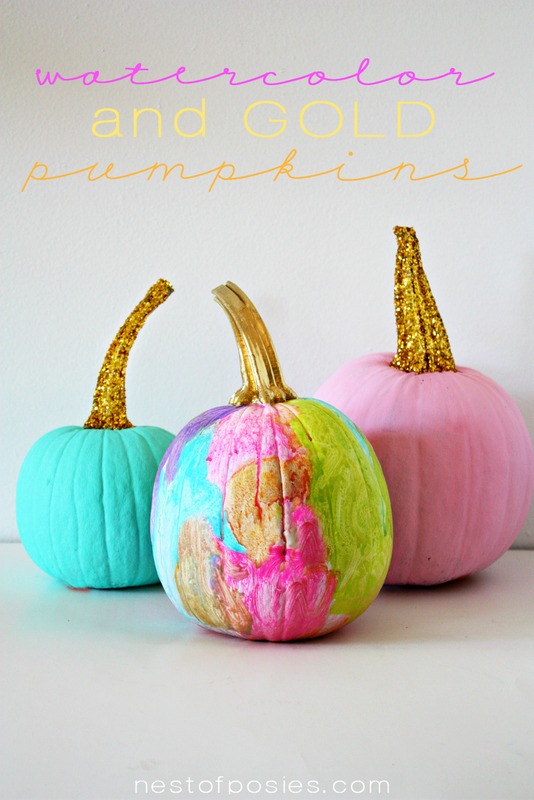 I think most of you know, I love color.  And of course, I happen to love glitter too.  So when two of my favorites things happen on to be on the same projects, I tend to squeal a little in delight.   Don't get me wrong, I do love the natural hues and textures that this time of year provides us in all things related to Fall.  But to paint them for fun or add glitter, or to give to a friend that is a Breast Cancer Survivor, makes the creation process even more amazing & meaningful.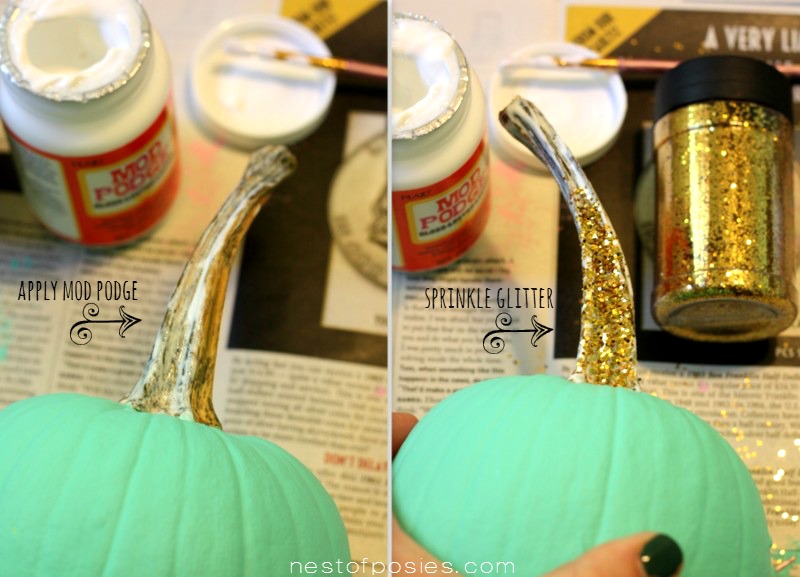 It's really quite simple, paint your pumpkins with traditional craft acrylic paint & allow it to dry (overnite is best.)  Then brush Mod Podge Glue on the stem & immediately sprinkle glitter on the stem.  You'll be pleasantly surprised how well this works & holds the glitter.  You will naturally have some glitter fall off, but the Mod Podge Glue will hold the glitter in place.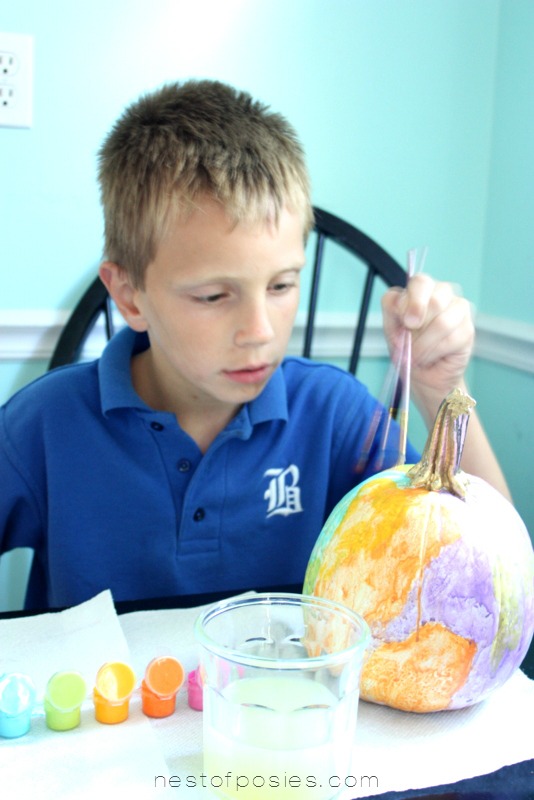 And then there's this…… one of the funnest things for kids is to use a pumpkin as a blank canvas & let your kids run with it!  My oldest son, is truly a master in watercolor painting.  I could never do as good of a job as he does.  All he asked is that I don't put that "girly glitter on his pumpkin" and of course, I didn't.  I asked if we could paint the stem gold, and he didn't seem to mind it at all.  This pumpkin was a 2 day project for him.  It's such a calming project to do right after coming home from school before settling into homework.  As we all know, that transition from school to home is not the easiest, so sometimes we'll paint to get the "calming" creative juices flowing while I prep for dinner.
To see some of his other watercolor designs, head over here and here.
I personally think it's a work of art.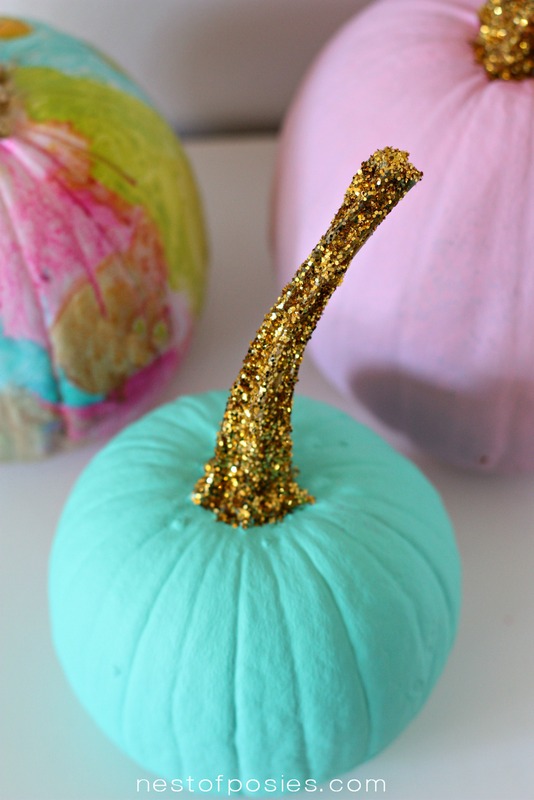 And then there's the glitter.  My oh my how I love the combination of these 3 together.  They make quite a statement, don't you think?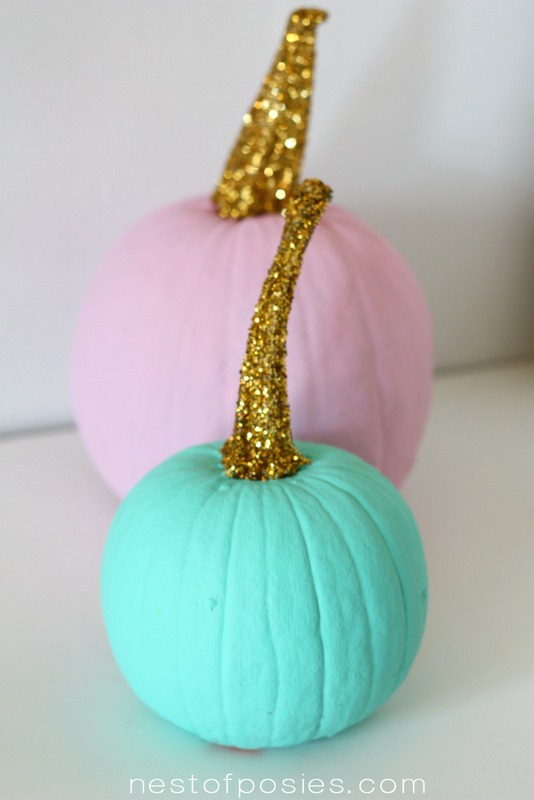 Soft but bright pastel colors paired with shiny gold.  Just looking at them makes me squeal just a little more.  😉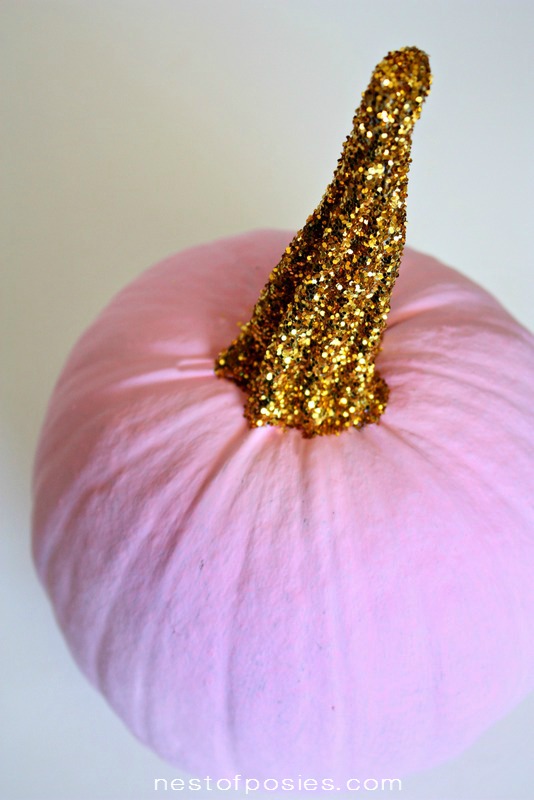 This #thinkpink pumpkin is headed to a dear friend's home today.  She is a 5 year Breast Cancer Survivor and I thought a pink pumpkin was the perfect way to celebrate her 5th year of thriving!