Hello Lovelies!
This post is my official kick – off to the holiday season!  Myself along with several other bloggers are hosting a LIVE Pinterest Party this evening.  I posted about it last Sunday.  The #holidayideaexchange is where ANY blogger can post a new holiday post and then when they tweet using the hashtag #holidayideaexchange their project with be pinned onto a huge community pinterest board known as the #HolidayIdeaExchange from 8pm-10pm CST.  But if you are not a blogger, this is where you will find inspiration for the holiday season!  I am so excited to see all the posts that will be pinned!  I always get so inspired at the beginning of a new season!  So turn on some Christmas music & let's have some fun.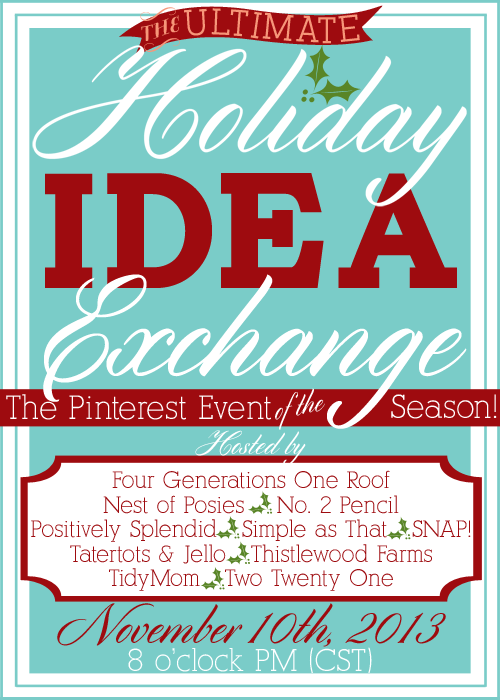 While you are at it, you may want to follow all 10 creative bloggers on pinterest!!
Four Generations One Roof | Nest of Posies | No. 2 Pencil | Positively Splendid | Simple As That | SNAP | Tatertots and Jello | Thistelwood Farms | TidyMom | Two Twenty One
Here's the live feed of the pin board below so you can follow along or find pins to pin for yourself!
That's one of the many beauties about wonderful friends.  I want to surround myself with people who are willing to give back, or pay it forward.  Even if it's just as simple as a pin.  That pin could mean the world to the person who made the project, or to the person inspired by the project.   You just never know.
Speaking of friends…
When you have friends that know your style, it's a beautiful thing.  They can shop for you, send pics of things you might like via phone, or they can tell you if something looks terrible & makes you look like you have an extra 5lbs on your hips or if a color makes you look dead to the world because your friendship is that good.  Yes, I do have friends like that & I totally trust them, because the last thing I need to do is look like I weigh 5 more pounds than what I already do.   They get you completely and it's almost as comforting as hot biscuits with homemade apple butter.  (Sorry, I tend to compare things to food & now you know why I try to avoid anything that makes me look heavy-er.)
Well, 2 years ago my friend Stacy who knows my style so well, sent me a picture of something I should re-create using my posies.   So with the combination of this gorgeous inspiration, my friend's vision, and help from Simplicity I was able to create my version of  a Pom Pom and Posie Wreath.   The best part about this story, is that Stacy & I have never met in person.  Nope.  We are true online friends.  She is the sweetest, and she totally gets me.  And I love that about her.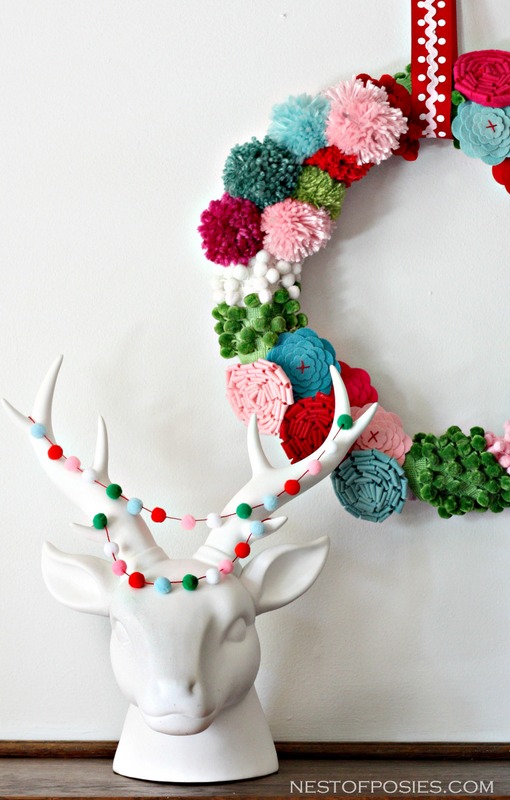 So I kinda went Pom Pom crazy over the weekend.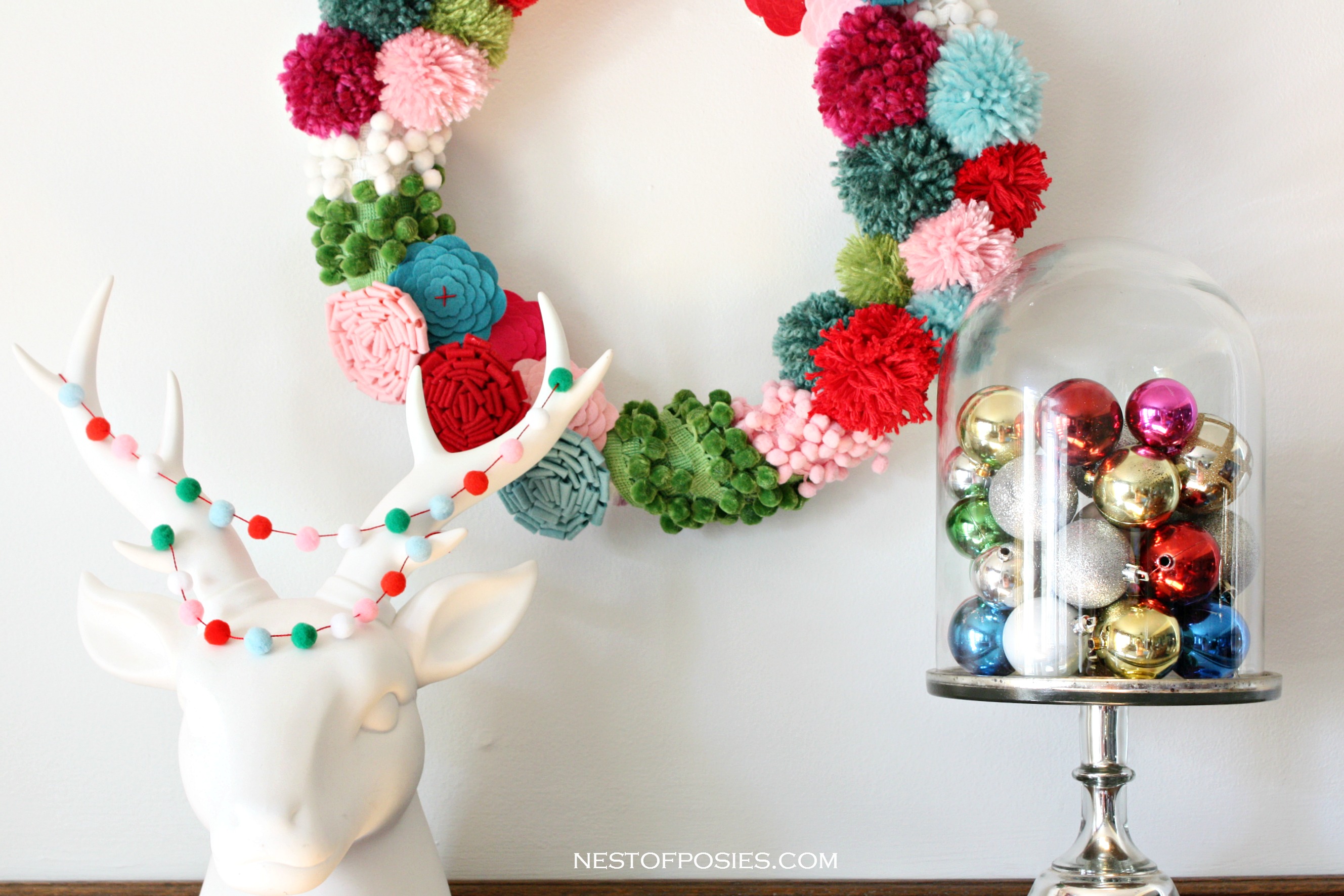 And had the funnest time, doing what I love best.  Creating.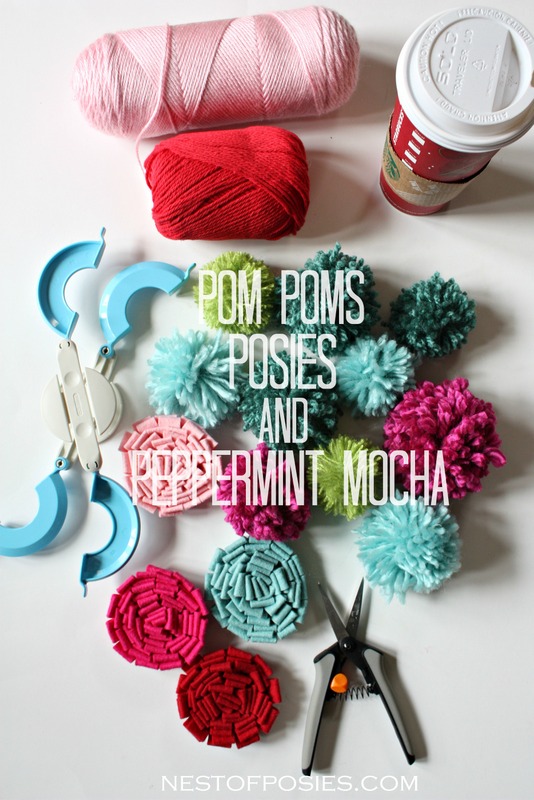 One of my favorite things about making pom poms, and posies for that matter, is that you can make them while you're watching your favorite show (S&C) or a football game (Go Big Orange!)  But I highly recommend a Peppermint Mocha to go along with your crafting afternoon.  Because they do take a while to make.  I cannot lie.  But more excuse for you to watch an entire season of S&C on the dvr.  😉
If you've never tried a Pom Pom maker, I highly recommend getting one.  It just makes it that much faster.  I used both sizes in this set & they were so easy.  In fact it's so easy…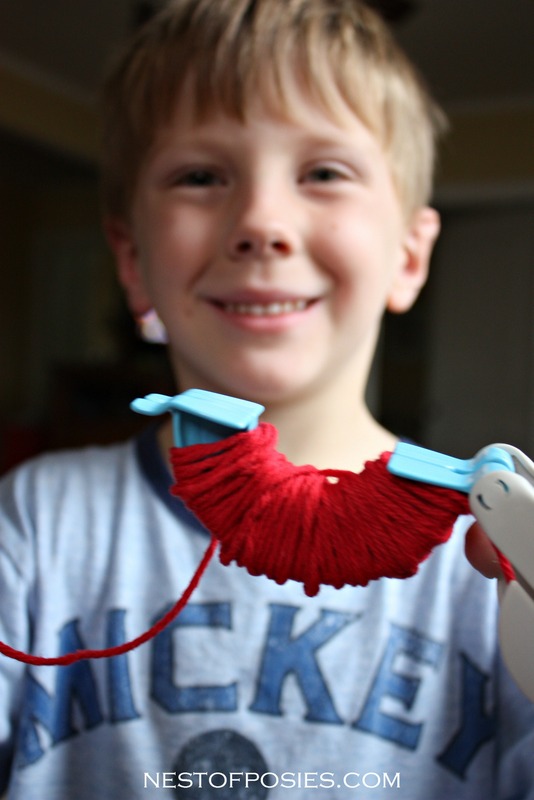 My little 5 year old shadow helped me do at least half of them.  You don't have to be neat & tidy while making them, you just wrap, cut & tie.   Easy!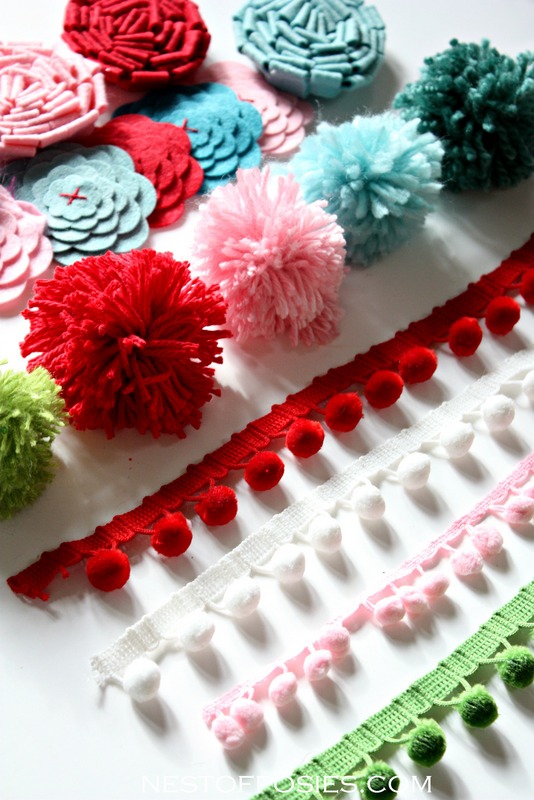 Like the inspiration, I wanted a combination of pom poms for my wreath.  Simplicity makes the best ball fringe trim.   And it was the perfect trim to alter in between the pom poms and the posies.  So I just altered & layered in the different textures and used hot glue to keep them in place.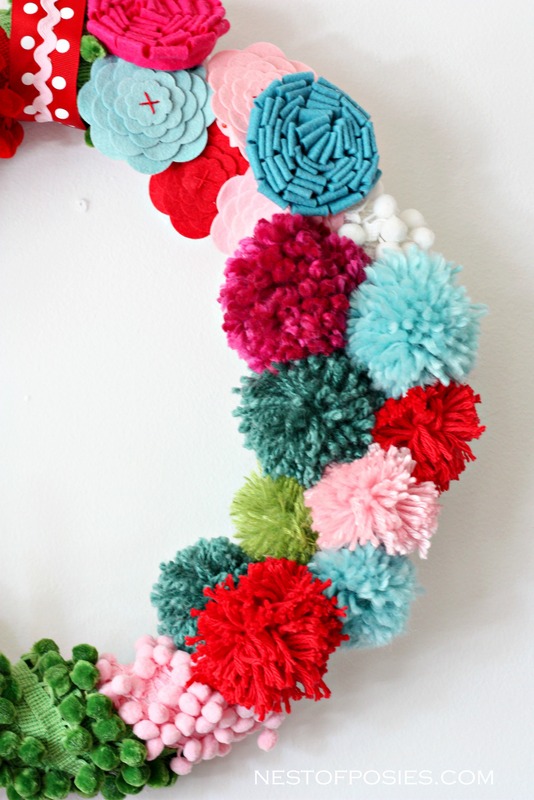 The textures and colors make me a little weak in the knees.  Y'all know how I love some color!  And add pom poms to the mix & let's just start decking the halls because it's starting to look like Christmas around here.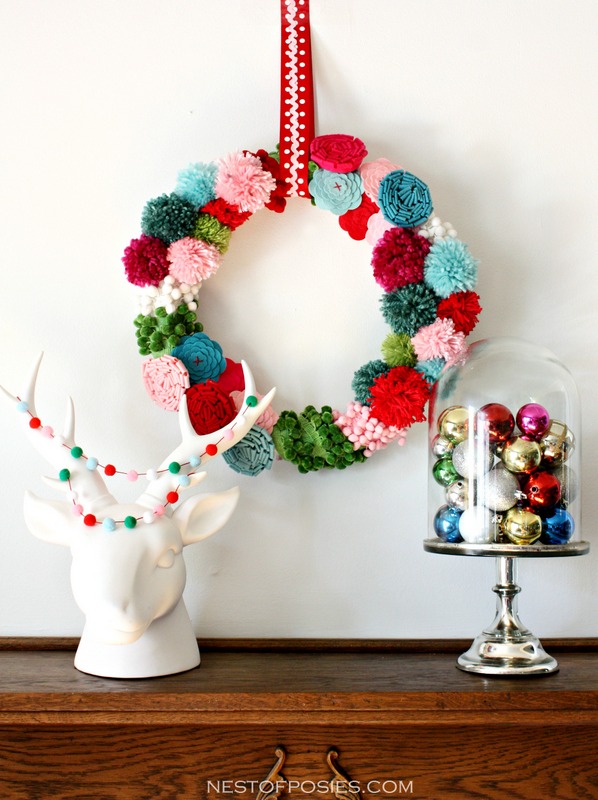 Yes, I do believe this is a great way to kickoff the holiday season!  Fun & festive plus hanging out with friend for a LIVE party = that's my kind of fun.
Do you like to pin crafty things, home decor, recipes, kids stuff?  Me too!  Let's pin together!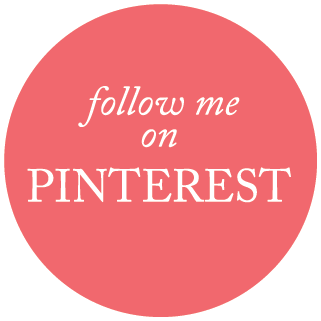 Follow Nest of Posies on Pinterest. 
While you're here, you might want to check out my new 2013 Christmas Chalkboard Printables!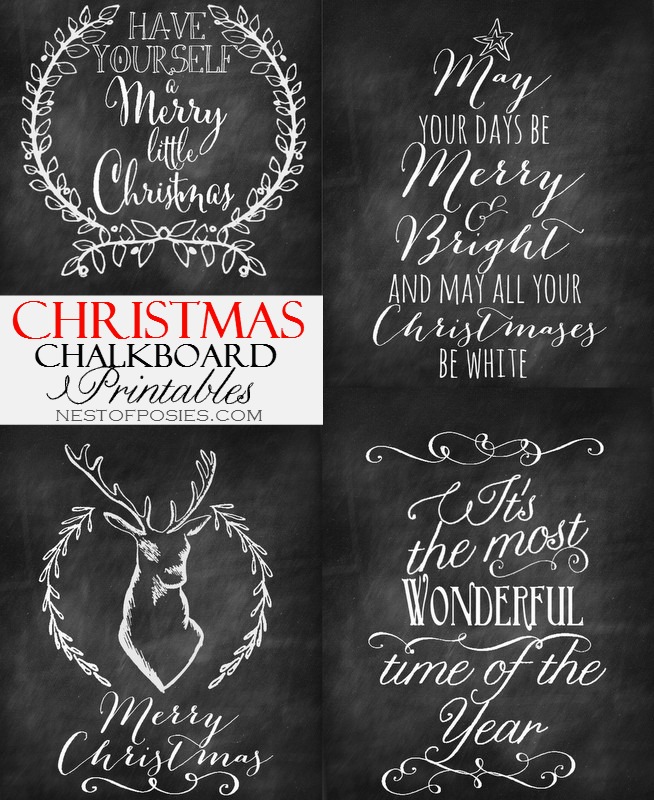 Or my most favorite thing I did last year for Christmas…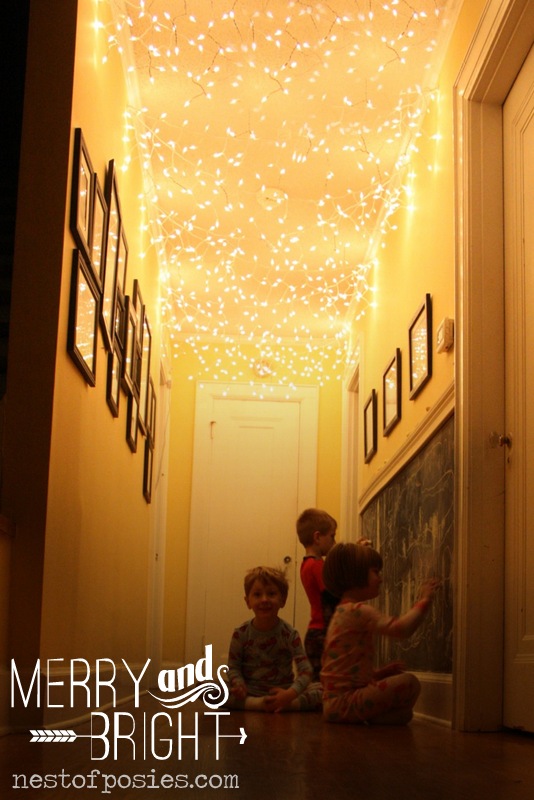 Click over to see how I added twinkle light to our hallway.  It was the best!
This post also contains affiliate links.