Y'all.
The very best Christmas present I ever received was my Canon camera.
When it arrived 2 days before Christmas a few years ago, I carried it around like it was a newborn baby.  I think I even gave it kisses.  I love it that much.  Some how some way, I managed to talk my husband into getting a 50mm lens with it as well.  It was like my Christmas + Birthday wrapped up into one big day.  I'll never forget it.  Outside of lipstick, that 50mm lens is the best accessory you could ever carry.
So it gives me GREAT JOY, like squeaky J O Y to offer a Canon Camera + a 50mm lens for a G I V E A W A Y to one lucky reader!
Yep, this is a group giveaway.  I think most of you know how these things work.  You enter the widget box down below to enter.  But it's important to know that these lovely ladies listed below are offering this giveaway.  All of these ladies are amazing bloggers, that you will love to follow, I can assure you!  I haven't done a group giveaway in quite awhile & I am so glad to be partnering up with all of them!
Sweet C's Designs , DIY Candy , Whipperberry , 30 Handmade Days , Bombshell Bling , Nest of Posies , LollyJane , Kojo Designs , SNAP!
 If you already have a camera that you love, you can always enter for a chance to win as a gift to give to someone you love!  Either way, my Canon camera is like my baby.  I adore mine, and when I capture a great picture of the kids, I am always reminded how thankful I am to have such a great toy!  Because it captures time & will help us remember those moments years from now!
Here's all the details & what you'll get: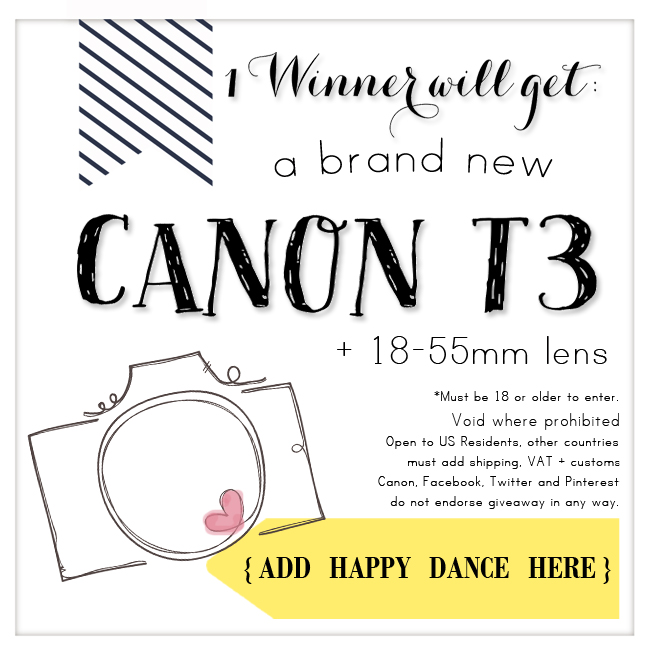 To enter, use the widget box below!   Please allow time for the Rafflecopter to load.  Sometimes it takes a few seconds.  Be sure to follow everyone, because they are all truly great gals!
a Rafflecopter giveaway