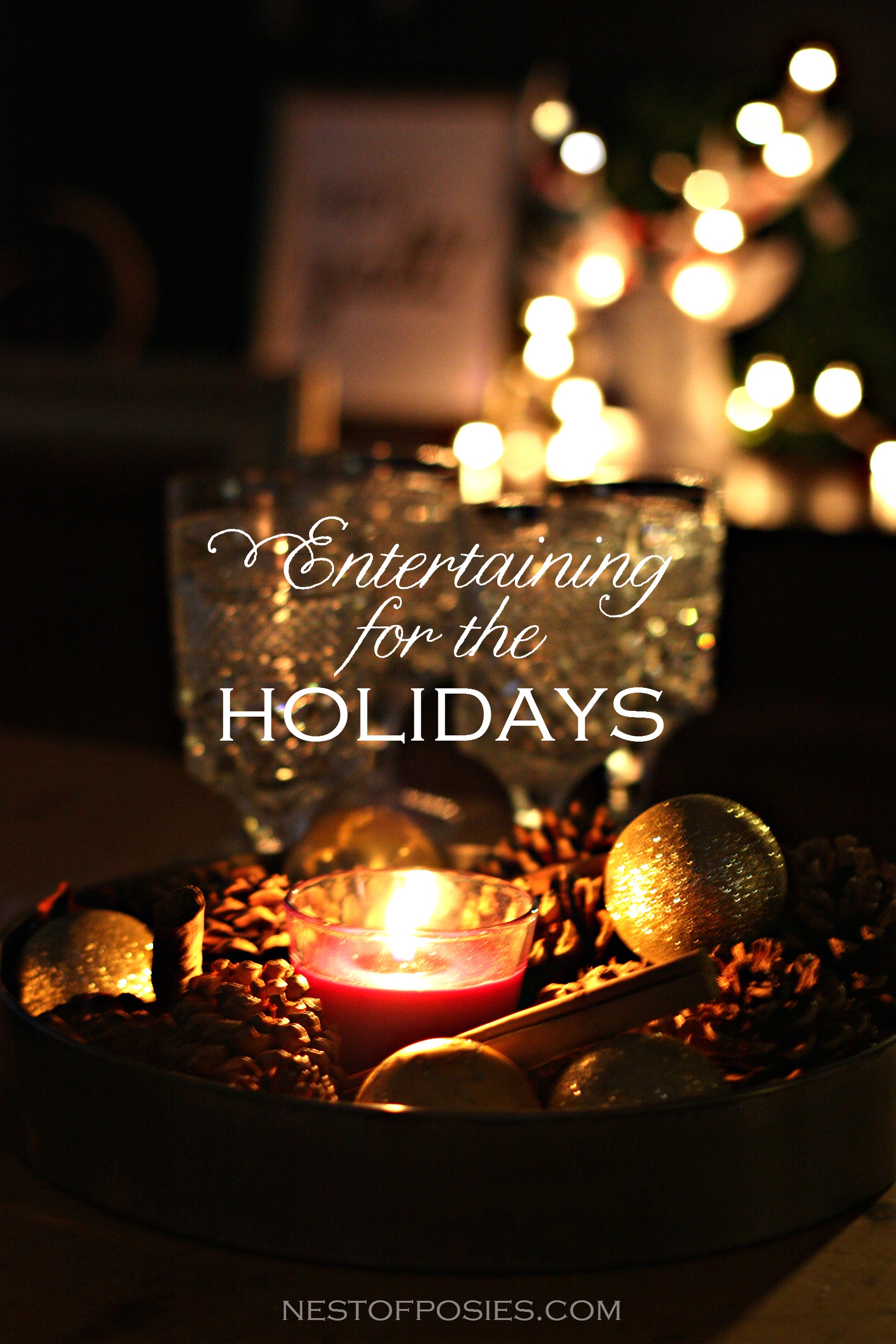 This post & glowing candle is sponsored by Glade®
It's the holiday season…time for family, food, parties, guests, decking the halls, perhaps a little bit of glitz and maybe even some glam?
I think when you're entertaining for the holidays there's always steps you can do before hand to make the event or even the entire holiday season less stressful.    For me personally I always focus on one word for my home when I'm preparing to entertain,  Ambiance.  It doesn't have to cost a lot of money, in fact it may only take a few dollars, but when you focus on classic elements it will always create a warm & inviting home.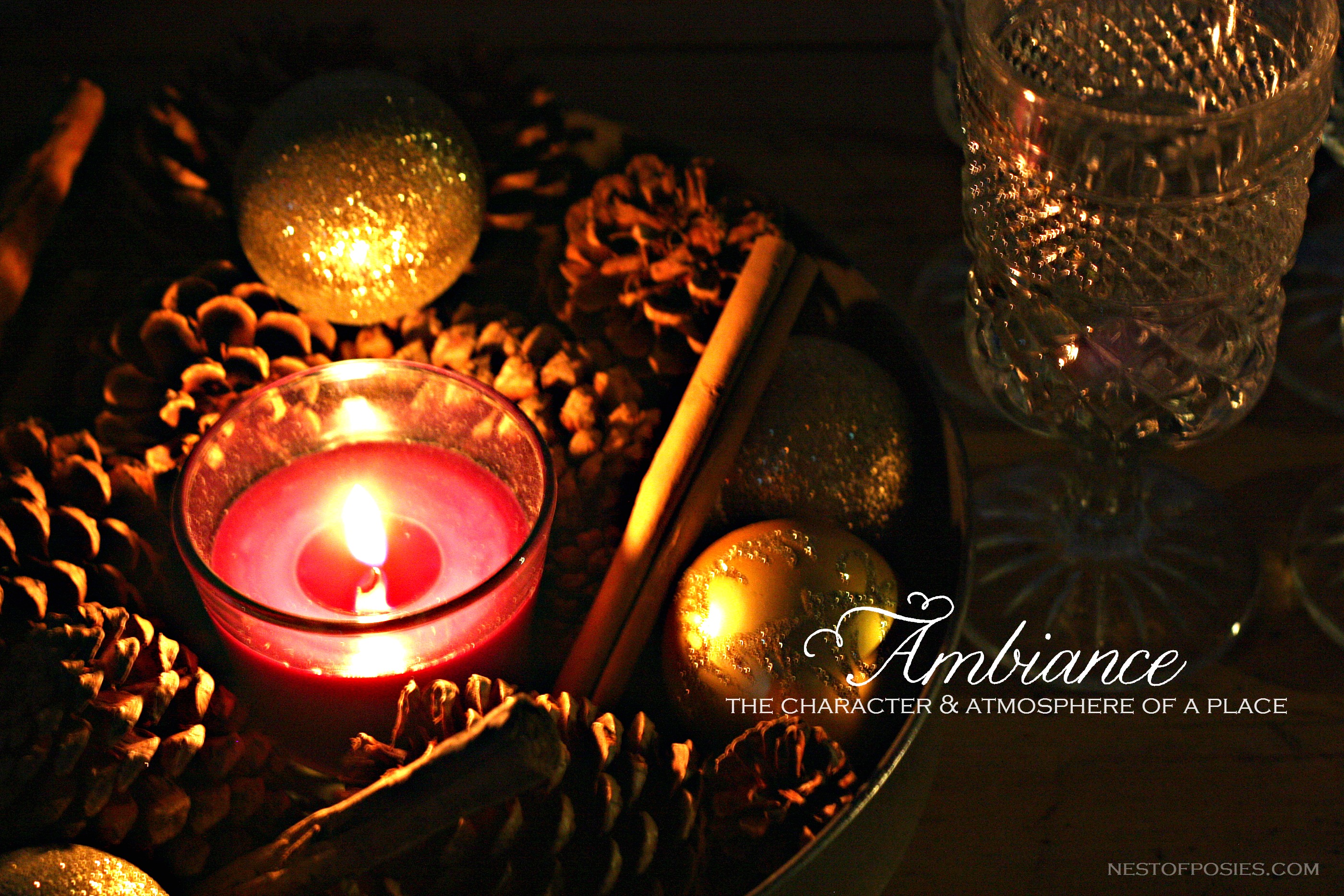 *One of my most favorites is candles.  The glow, the warmth,  and of course the ambiance they give creates a glow you can never get from anything else!  Glade® has a beautiful collection of holiday candles that are exclusive to Target.  One of which is their new Sweet Holiday Treat™ Candle.
*Of course, another element in creating an inviting home  is scent.  The Sweet Holiday Treat™ Candle offers the scent of irresistible hot cocoa, toasted nuts,  and creamy caramel all in one candle.  It smells wonderful & who wouldn't want to smell that in a home?
*The other glow you can give your home is white (clear) lights displayed here and there.  They too, bring an amazing glow to your home & are great for backgrounds in holiday pictures.  Do you think about how your home looks in pictures?  You should.  It can really help you in what to add and what to take away decor wise.  Because everyone takes pictures during the holidays!
*Another favorite is music.  There's so many places & options nowadays where you can play your favorites songs for free.  Music will always stir the heart & memories of your guests.  It is a must, in my opinion and is always good for conversation.
*Whether you're having guests in the morning, day or at night I always have drinks on hand or that I can mix up depending on the time of day.  Orange juice served in beautiful goblets (that you probably rarely use) along with bagels & homemade jellies can be prepared easily when time is an issue.  Planning ahead and making an extra bundt cake & freezing it so you'll have it when your company arrives is always a great idea.
*For me, I don't stress too much on my decor, because my home will already be decorated for the holidays.  But I do focus on comfort.  Things like lotions in the bathroom, paper hand towels if you haven't done the laundry, fun comfy pillows, bringing platters & chargers down that can be easily accessible will all help you which in turns helps create comfort.
*I also use a mix of natural elements things like pine cones, cinnamon sticks, and fresh greenery in clusters with ornaments & a Glade® candle to make beautiful displays on your tables or countertops.   For some reason, people remember natural displays and when you add a candle to give it a glow, you've created a beautiful ambiance that they will remember and that they'll want to do in their home as well.
*I know for me personally, the more I plan ahead the calmer I am when I'm having guests.  It doesn't have to be a huge spread of food, or a huge perfect home, what matters is how they feel and how you feel while entertaining your guests.  You can't laugh when you're stressed (or at least I can't) and I always want laughter to be part of my home's ambiance.  I feel laughter is a character trait every home & every room should have.  So do a little planning, have things on hand, get some candles, play your music, make a couple of cakes ahead of time and know you'll be good to go when it's time to entertain for the holidays!
Glade® has a product for every moment – Every Glade® product brings true to life fragrance into your home, while the wide variety of devices assures there's one for all your life's needs.
Additional scents:
Apple Cinnamon CheerTM
Sparkling SpruceTM
Pure Vanilla Joy
Frosted Berry Kiss
Get festive this holiday season with the Glade® Limited Edition Winter Collection available exclusively at Target. Inspired by the best feelings of the season, the Glade® Sweet Holiday Treat™ scent lets you indulge in the irresistible scent of rich cocoa, toasted nuts, and creamy caramel. The 2013 Glade® Limited Edition Winter Collection was inspired by the nostalgic, spontaneous, snowy, moments that build up to the holidays. Creating memories with loved ones defines the season and the holiday lineup from Glade® is just as memorable.
This is a sponsored conversation written by me on behalf of Glade®. The opinions and text are all mine.