Y'all.
I feel like I should say that this post is sponsored by hours…days…weeks…months…
of  thrifting…
of searching…
Ebaying….(if that is even a word)
Painting…
And a few pieces that are decades old…
So it gives me a whole lotta joy in sharing my Black Eclectic Gallery Wall with you all.  Finally!!!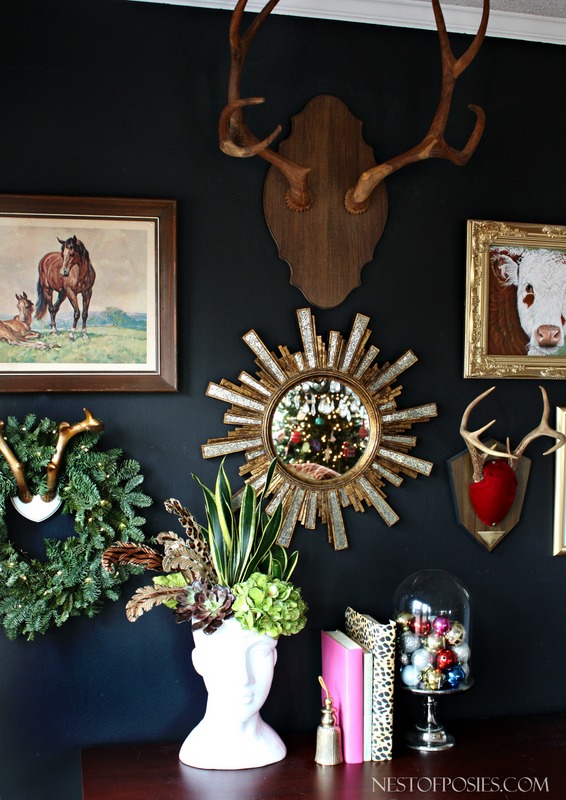 I've shared a few glimpses on instagram & I even showed the beginning (dirty & gross) stages, paint wise in the before post here.  But today is the big holiday reveal.  I had been dreaming of a black wall for a while now, and I've been wishing for it to be eclectic in style with perhaps  a little Southern tone to it as well.  I love when decor tells a story.  The story will always draw me in.  I know this may not be everyone's style, but that's the best thing about this entire post & this entire wall…it's my style & I love it.
When I started to think about actually redoing this wall, I knew I wanted a true, one of a kind painting.  And without a doubt I knew I wanted it to be of a cow.  I love cows, and they have played a part of our family for quite a while.  I looked for cow paintings on ebay & searched thrift stores and never found anything I liked.  So it finally dawned on me to just have one painted, that would be the perfect size & profile that I wanted.
It was very important to me that my cow have eyelashes for days.
Because every girl needs long eyelashes.
She also needed to have all the charming features that cows have, like those fine hairs around her mouth & ears…and I wanted her to have a big beautiful nose & maybe a few curls in her hair, like me.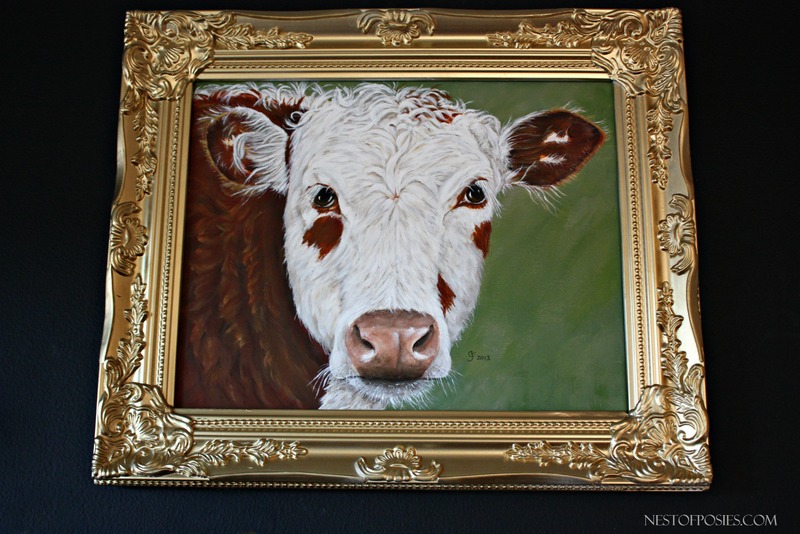 So I asked the most talented artist I knew…who also happens to be one of the sweetest people I know, Colleen Jorgensen to paint a cow for me.  Her blog, Just Paint It kinda speaks for itself, doesn't it?  She has years of experience in painting & even though I have never met Colleen in person, nor had I seen any of her paintings in person, I knew she was the one that was suppose to paint my cow & give her long eyelashes.  I was at peace about it the entire time while she was being created.  Colleen would send me pics or updates, wondering if she needed to change anything, and I never had any requests.  It was like Colleen knew exactly what I wanted.  Colleen lives in California & I live in Tennessee, so being able to see MayBelle come to life through social media was a thrill for me.
Yes, her name is MayBelle, because she is definitely a Belle up there surrounded by black & gold.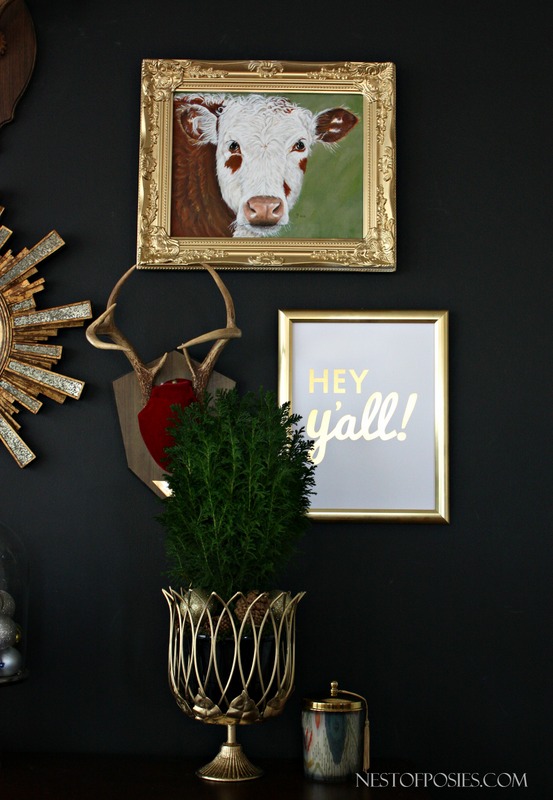 MayBelle is definitely the crowning glory up on my wall, but she's also surrounded by other treasures as well.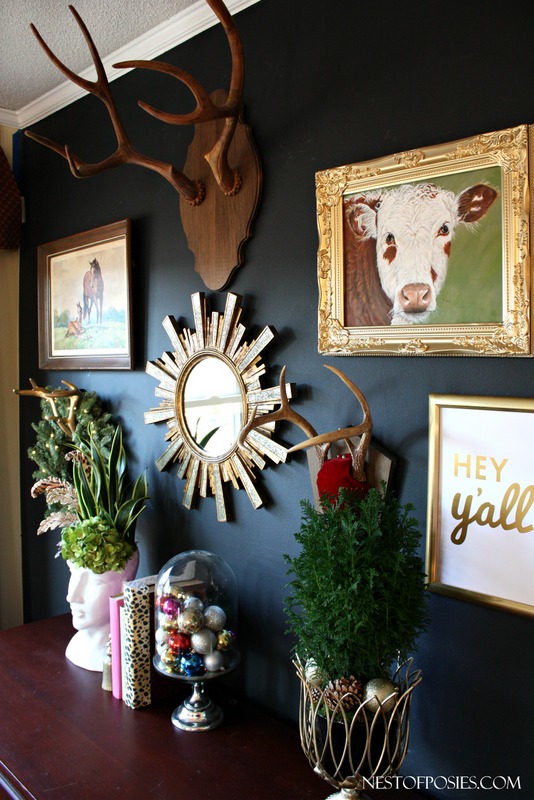 Like I said, there's a mix of thrift store & eBay up there, along with a few new items.  I get asked all the time about my mirror.  It's from Hobby Lobby.  The other beautiful treasure is the paint by number Horse painting that was in my husband's room when he was a little boy.  Same frame & everything.  I think it fits & mixes perfectly with this wall.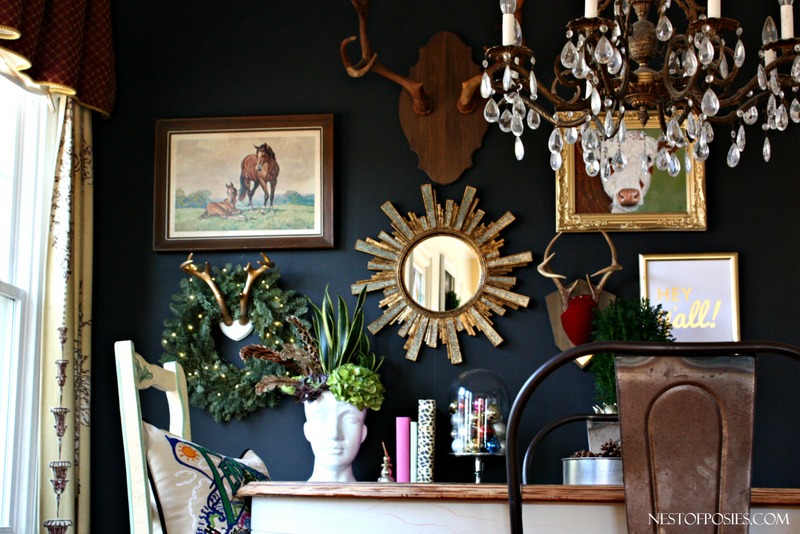 The wall happens to be in our dining room.  My almost 100 year old home is full of windows in the front room that also has our family room (if you care to read about my estate sale drapes, here's that post.)  It's one large room.  So this is most definitely the focal wall of the entire large room.  My dining room chairs are a mix, I found my table at a thrift store & it only had 2 chairs with it when I purchased it, so I have mixed in those metal industrial style chairs you see everywhere, but I believe they really work in this space.   Or at least, I think they do.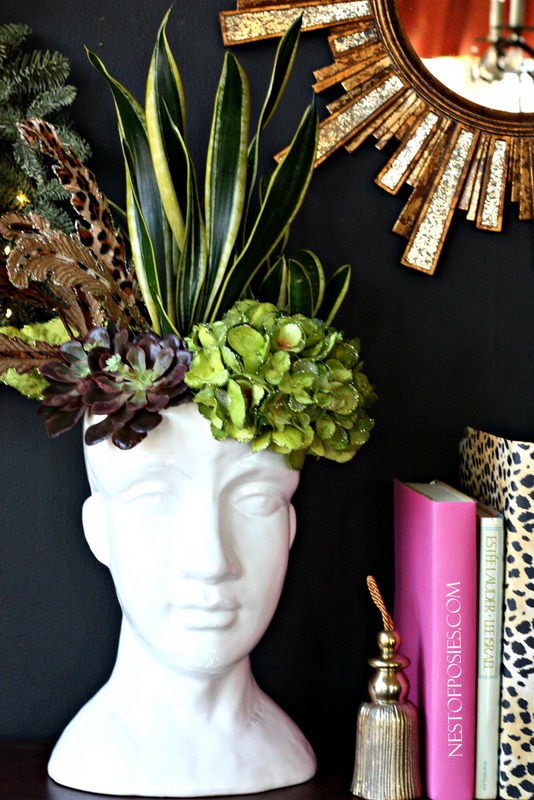 And finally, I added a Pot Head Girl to our space.   I spray painted in high gloss over all her "scuffs" and she is now good to go!  She wanted to get all dressed up for Christmas, so I put some feathers in her hair along with her succulents, so she is ready to paaaarty!
I truly believe I'll always be adding to or rearranging this wall, but for now it's staying like it is…at least for a month or so.  😉  I positively love it, and the story it tells.
I thought I would list the resources down below just in case anyone is curious:
MayBelle the cow painting, painted by Colleen Jorgensen, FB, email
Gold Antlers from Target – online
LED battery operated Fairy lights around the wreath
Gold Sunburst Mirror – Hobby Lobby
Ceramic Pot Head Girl
Hey Y'all Gold Foil Print
Antlers – eBay
Chandelier – rescued from my friend's trash!!!
Dining Room Table & 2 chairs – thrifted
Tennessee State Pillow
*this post contains affiliate links*