I think we can all agree that Christmas as a child holds a lot of memories for us.  I can get all sentimental on you all, make you tear up something fierce, and even make you do an ugly cry with some of my glorious memories of Christmas.
Seriously, I could make you do an ugly cry.
Because I have the.best.memories.ever. of Christmas as a child.
The wonderful thing about this is, so does my husband.  And I guess it's important for you to also know that my husband & I are like night & day opposite.  I mean really he is cold, I am hot.  It doesn't matter, he and I will always be opposite.   But we can also agree on so many things.  We are also an old-er couple who have young kids.  That used to be unheard of, but at least in "my circle of people" it's becoming pretty common.
Anyways…
I posted this picture on my FB page & so many wonderful comments were made that I thought I would share it on my blog as well.  So this post is basically written to say that  – we break every single rule of parenting on Christmas Break!
And we live to tell about it.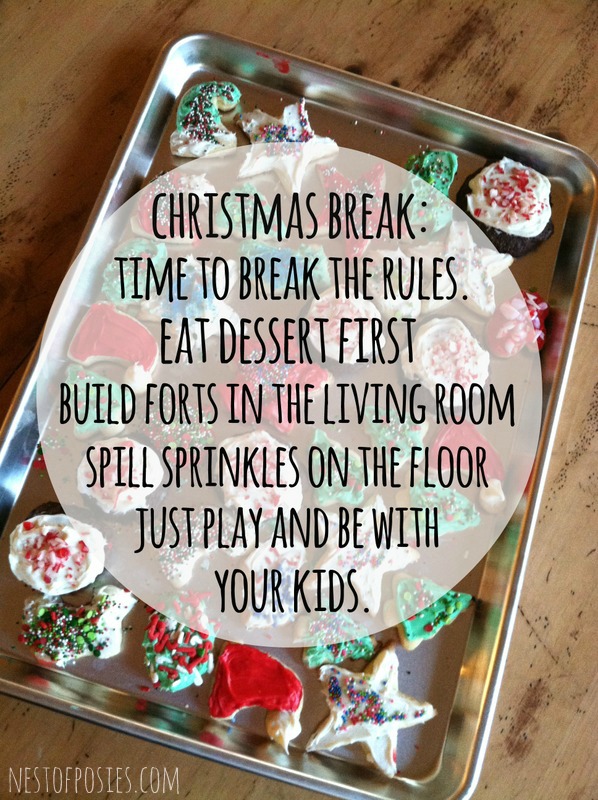 We simply just want to be with our kids.
Do they get on my nerves during the break?  Sure, you betcha!  But we prioritize our goals while the kids are home, and our goals are them & to play with them.
No alarms.  (it's so wonderful)
Paper plates.
Video games – yep, you bet!
Board games
Cards
Books
Travel
Whatever floats our boat or whatever we have saved up money wise, we do.   Last year, we spent our entire Christmas break at home.  We didn't even leave the house for 6 straight days!!!  And the only reason why we left was because we needed supplies!  😉
We will try our best to do this every single year, until our kids want nothing to do with us.   Yes, we have to work for it, and plan for it all year long.  This year we're taking a trip with them right after Christmas that we have saved all year for, but next year we may do nothing again.  All we want to do is just be with our kids & make the best Christmas memories that they'll remember forever.
But trust me, by the end of the break, I'll probably be singing this verse…"And Mom & Dad can hardly wait for school to start again…"  but until then, I plan on just being with my kids.
Wishing you all an awesome Christmas Break!!!