You know how sometimes nothing else will hit the spot like a warm chocolate chip cookie?   Well, this warm & amazingly delicious pizookie will hit the spot and let's not forget to say how incredibly easy it is to make.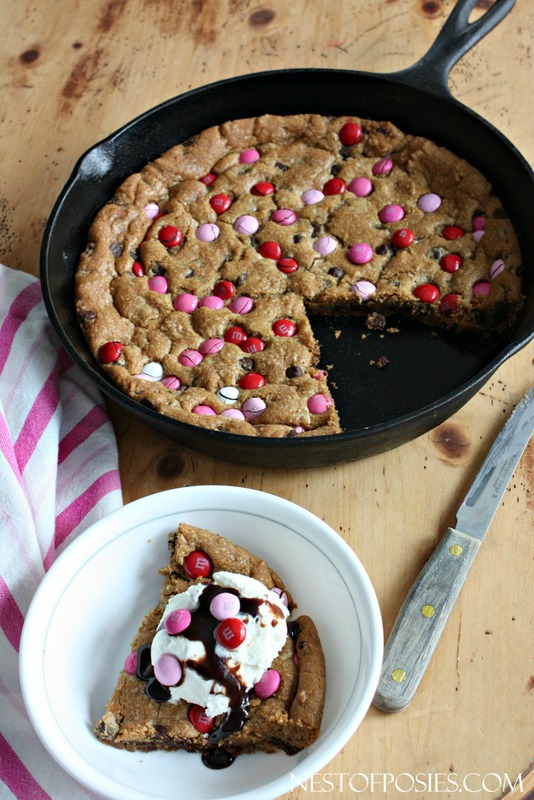 You see here in the South last week we had an incredible amount of snow!!!  As in almost 2 inches.  Ha!  That's a big deal for us here in Tennessee, because it rarely happens.  It even stayed around for 2 days and schools were out!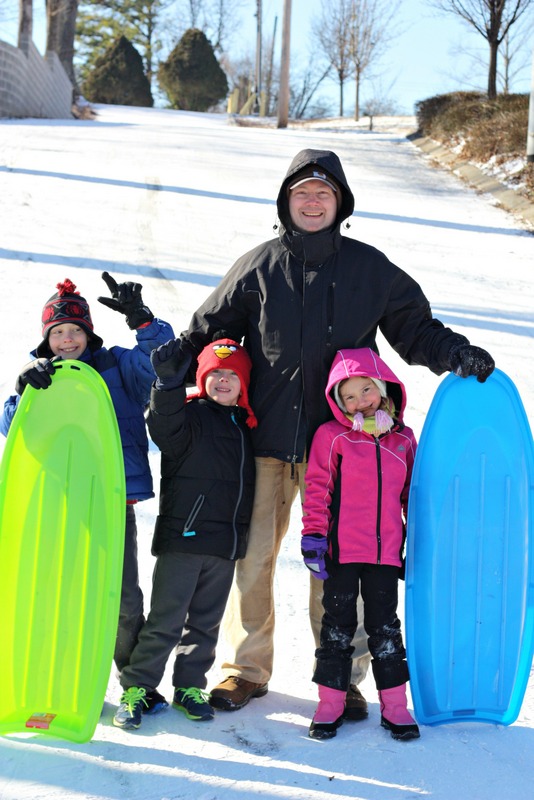 There was lots & lots of sledding.
Lots & lots of snowball fights.
An amazing terrible amount of laundry to do!
and…
4 bottom-less tummies to feed.
Their hunger was non-stop, and thankfully I hit the grocery store before this "snowmageddon" hit our town.
I know you Northern people are laughing at us here in the South.  But snow is very rare for us.  I even had to take a selfie of myself on Instagram. Because I too, am guilty of dreaming of snow!!!
As with all of us, I love a good short cut or a quick meal.  Don't get me wrong, I really do love to cook, and it truly brings me a lot of joy to feed my family a warm homemade meal.  But I also believe in making things easy for yourself, too!  So this cheater style Pizookie hits the mark for being easy & delicious in about 30 minutes from start to finish!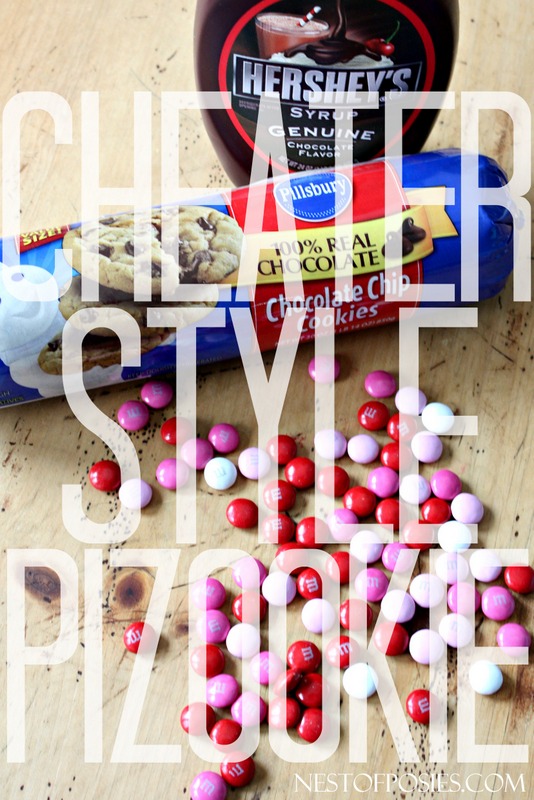 How to make a Pizookie Cookie – the cheater version
Ingredients
Refrigerator cookie dough
a handful of M&M's *if desired, but not necessary
Vanilla ice cream
Chocolate topping
Instructions
Preheat your oven to 350*
Grab a skillet, preferably a cast iron and spread a thick layer of cookie dough into the skillet.
Bake for approximately 20-25 minutes* this truly depends on how much cookie dough you use. So the more dough the longer it will take, so watch closely.*
Cool for a few minutes.
Serve warm with vanilla ice cream & chocolate syrup if desired.
https://www.nestofposies-blog.com/2014/02/how-to-make-a-pizookie-cookie/
The beauty of this recipe, is that my husband called me when they were on their way back to the house from sledding down a neighborhood hill.  I was able to assemble this in a matter of 2 minutes + heat up time for my oven, and by the time they came home, got all their snow gear off & changed clothes it was ready!  Extra bonus points for Mom if you serve it with hot chocolate!!!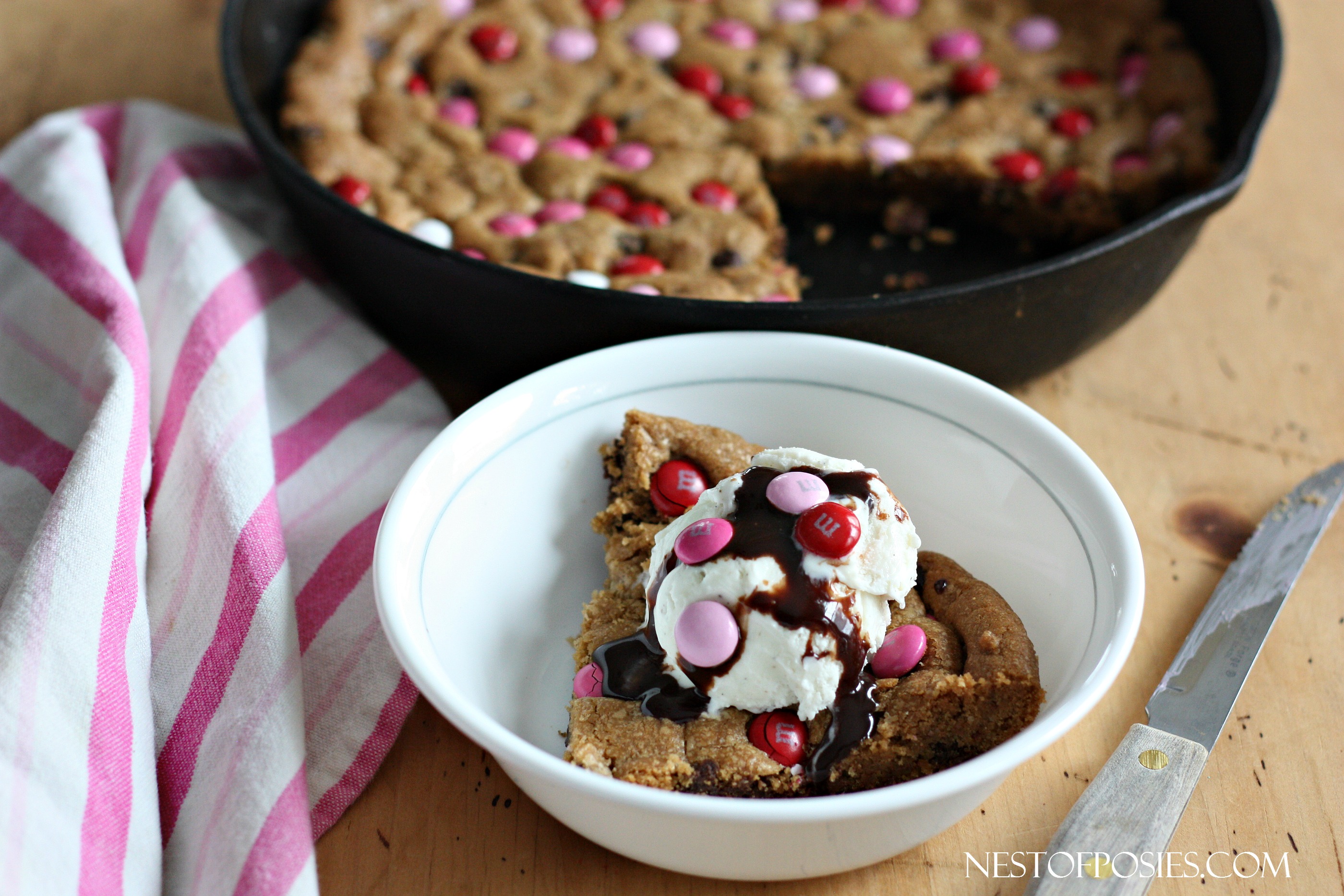 We truly had the best 3 days ~ ever!  It was so fun!  We broke every rule of parenting there was!  We let them sleep where ever they wanted, we ate dessert first, played videos games, had a few impromptu dance parties, and stayed up way too late, and made the best memories.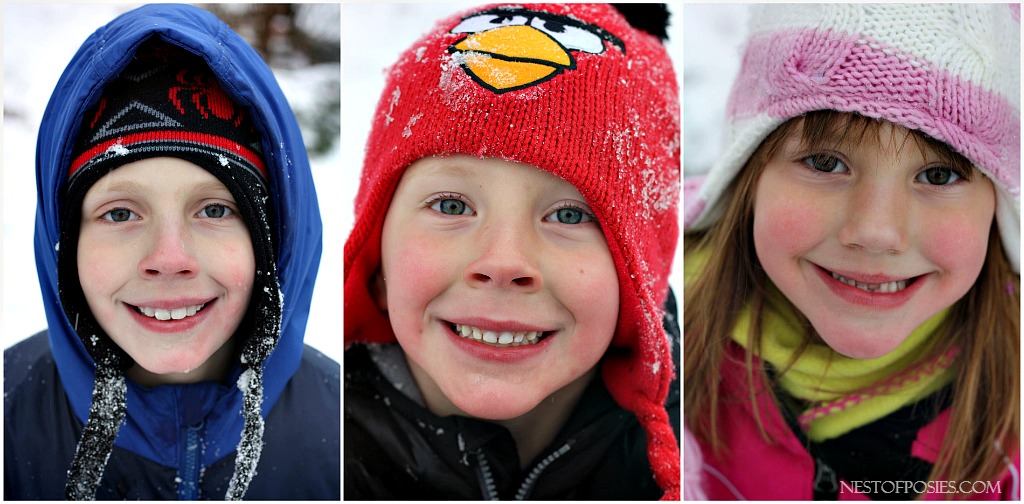 We are keeping our fingers crossed for more snow before Winter ends & of course planning on making this pizookie a few more times as well!!!