Weeknights are TOUGH!  Yes, I am right there with you, trying to multi task as much as you are, all while trying to find balance & remain calm.  Sheesh, it's hard.   Because it's like gangbusters when the kids come home from school or from practice!!!
Even harder is finding time to make a warm, homemade meal for your family.  But I can assure you, that I have at least one meal covered for you this week!  Make this Mexican Skillet Chicken in about 30 minutes, and you'll HAVE time to actually sit down & enjoy it, and then be able to move on and help with the homework.
I think I forgot to mention that it's healthy, and there's hardly any carbs.  I know you are loving me right about now, aren't you! 😉
Oh yeah…there's only one skillet to clean too!
S.C.O.R.E!!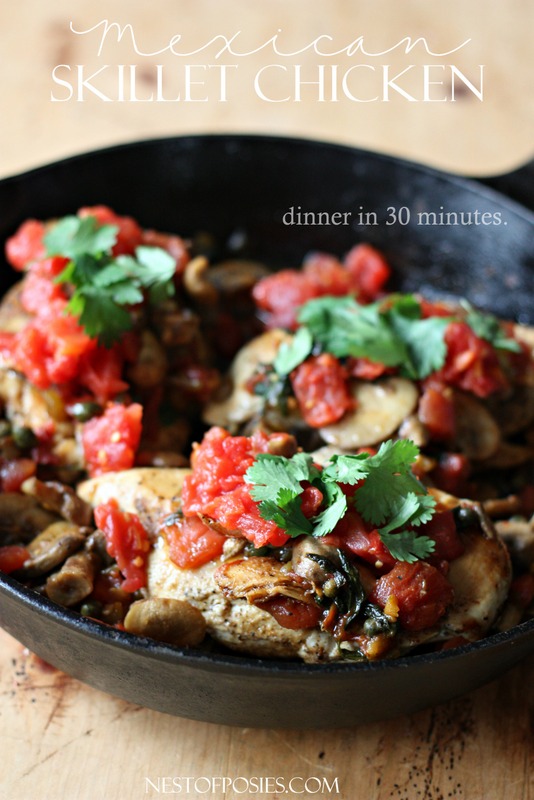 Now obviously, you can serve this chicken with black beans, rice, a salad or whatever your heart desires, but truly there's nothing bad in here for you.  In fact, I bet you probably have most of these ingredients on hand  already!  With Spring right around the corner, I like to eat this on a bed of lettuce or spinach, and that's all I have with it.  It's so good and very flavorful that you wouldn't need anything else!
This recipe can be made easily in 30 minutes. It is infused with wonderful Mexican flavors and blends perfectly with rice or black beans. It's a perfect dinner for busy nights, hardly any prep and ready in 30 minutes. Cooking times may vary with size of chicken pieces.
Ingredients
3-4 Boneless Skinless Chicken Breasts
2-3 Tablespoons of EVOO (extra virgin olive oil)
salt & pepper to taste
Cumin - to taste
Mexican Chili Powder - to taste
Fresh Cilantro
Mushrooms - 8 oz. carton
Diced Tomatoes, drained - Fire Roasted is my favorite!
Juice of one lime.
Instructions
I personally recommend that you use a cast iron skillet for this recipe. The heat carries evenly throughout the skillet, which allows for a quick cooking time, and the flavor it gives the chicken is outstanding.
On medium heat, pour 2-3 Tablespoons of EVOO in a cast iron skillet.
Add your chicken breasts to the skillet.
Sprinkle all your spices on each chicken breast. (S&P, Cumin, Mexican Chili Powder)
Cook & simmer for approximately 7-10 minutes on each side and COVER your skillet. Covering your skillet will allow for a quick cooking time, in addition to keeping your chicken breasts nice and moist.
Flip your chicken over to cook on the other side, and sprinkle your spices on the flipped side as well. Cook and simmer while covered for approximately 10 minutes. Chicken breasts vary in sizes so please check and make sure the center of your chicken is not pink. You want a thoroughly cooked chicken.
Once your chicken is cooked completely, take the breasts out of the skillet and set aside on a plate covering with foil so they wont dry out.
In the same skillet and still under medium heat, add your can of drained (fire roasted) diced tomatoes, a handful of washed cilantro, and your mushrooms. Allow to cook and simmer together for about about 7-10 minutes.
Add your chicken breasts to the mixture to reheat a little, add more fresh cilantro for garnish and the juice of one lime* if desired.
https://www.nestofposies-blog.com/2014/02/mexican-skillet-chicken/
The trick to making this, is to keep it covered while on medium heat.  It will cook much faster, and I always find whether I'm cooking chicken or pork, that my meat is always more moist & tender when keeping it covered.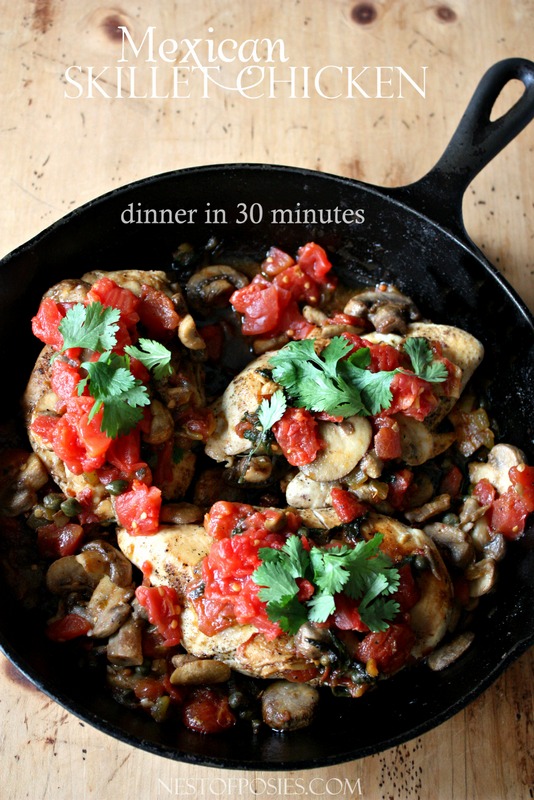 I have a HUGE love for cilantro and lime, so I love cooking with it!  The cilantro and the lime juice added at the very end, is what makes it (in my opinion!)  Another good thing about this recipe is that you can make it all year long!  You can make it more hearty on Winter days with beans and rice or keep it light with a salad.
Let's pin together!  Do you like to pin yummy recipes, crafts, kids stuff and home decor???  Me too!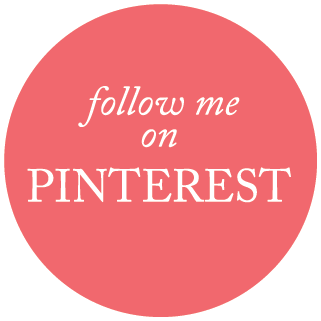 Follow Nest of Posies on Pinterest!
::
::
You might also like…..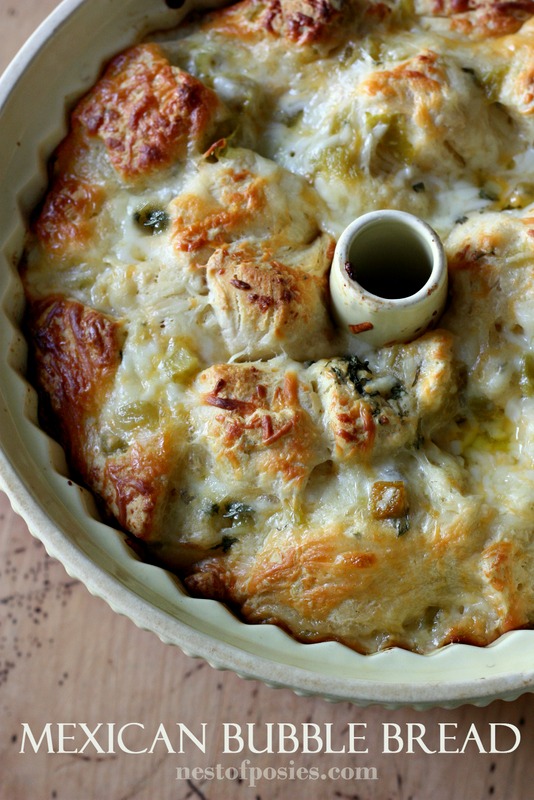 My Mexican Bubble Bread – it's one of my most popular posts & it is amazing (if I do say so myself ;))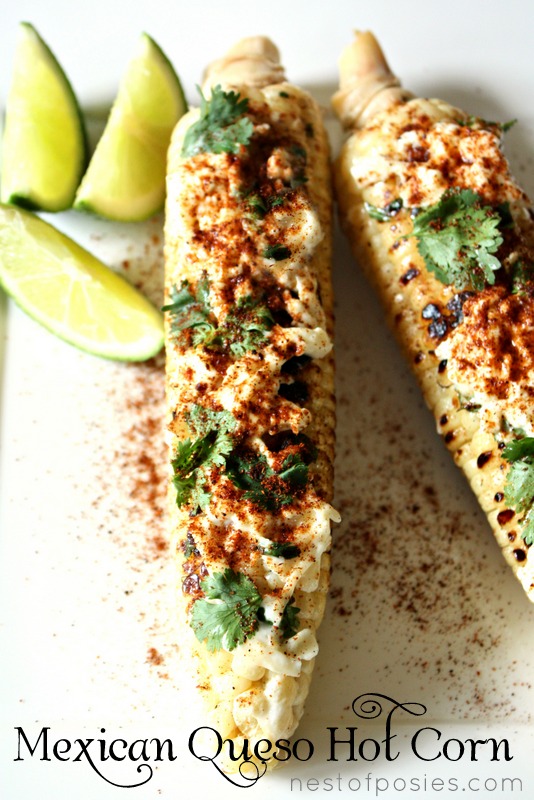 Mexican Queso Hot Corn – all I know to say, is that *THIS* my friends, is out of this world, if you like Corn on the Cob!
(see, I told ya I LOVE cooking with cilantro & lime ;))