It's an addiction, I tell you.
I like big fonts and I cannot lie.   I also like old dance songs too.  They both make me happy.
So I decided to combine both of my addictions in one place.  😉
So let's just call this:  The Font Happy Dance Collection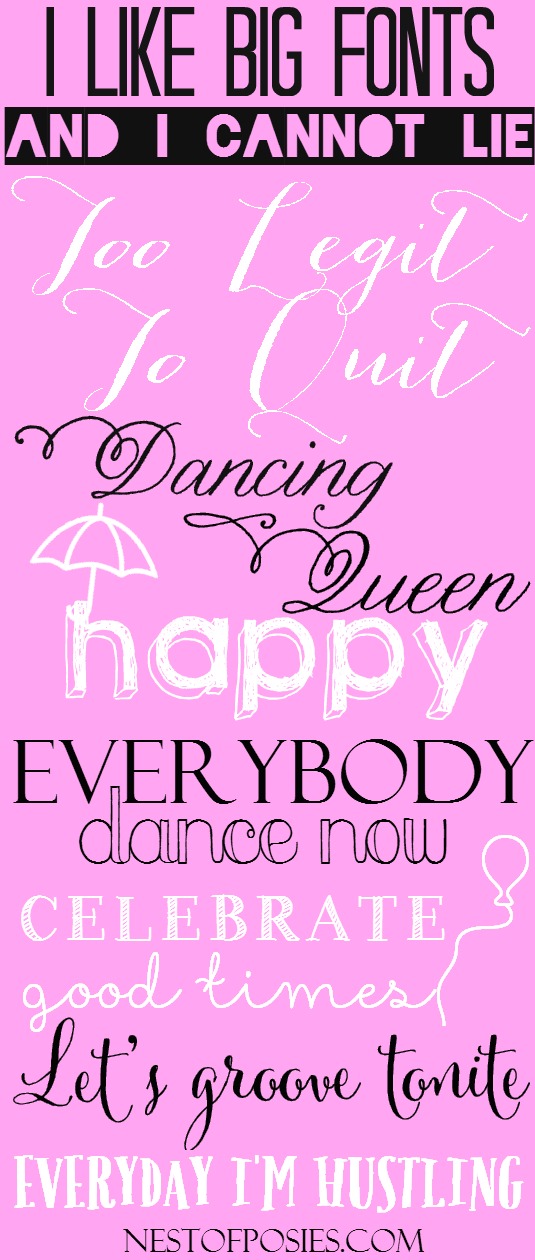 I know I am not alone in both of my addictions, and that is very comforting to me.  If you search Pinterest there's all sorts of font collections that have been created that feed my addiction.  I pin those like crazy to my Paper Lovelies and Printables Board and I reference them all the time!  It's a font sickness, I tell you.
Follow Nest of Posies's board paper lovelies and printables on Pinterest.
But I thought it would be fun to create a current collection of all my personal favorites & attach some favorite songs as well.  So here's the rundown & link of where you can find the fonts in my graphic above.
*Please note that some of these fonts are free & others were paid for.*
I LIKE BIG FONTS = Tall Dark and Handsome (like my hubby, haha!)
AND I CANNOT LIE = Blackout
TOO LEGIT TO QUIT = Bombshell Pro
DANCING QUEEN = Nelly Script
HAPPY = Green Piloww
EVERYBODY = Felix
DANCE NOW = Peach Sundress
CELEBRATE = Handy George
GOOD TIMES = Showcase
UMBRELLA and BALLOON = Showcase
LET'S GROOVE TONITE = Cantoni
EVERYDAY I'M HUSTLING = Pacific Northwest
Let's pin together!  Do you like to pin crafty stuff, yummy recipes, kids stuff and home decor???  Me too!