Y'all. we bought a house!
I am so excited that I can finally share it with all of you.   So many things have taken place in the last couple of weeks, that has left my head spinning.  It's been hard to focus on anything else.  The funny thing is, we weren't really "looking" to buy a house.
It's a foreclosure, and needs lots of work, elbow grease and TLC.  But as far as we are concerned (or know) this will be our forever home.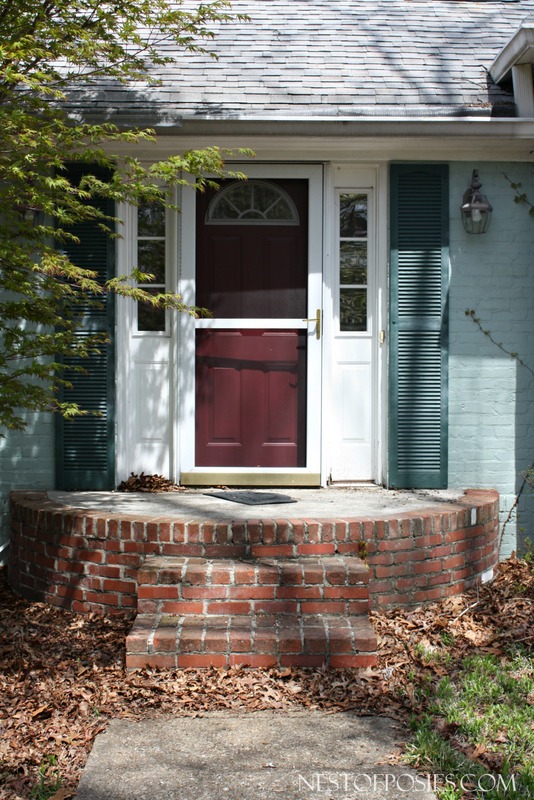 It's a 75 year old painted brick rancher.  It has 4 bedrooms & 3 baths, and it was truly love at first sight when I peeked in the window.
(Surely, you all do that too, when you see a house for sale, don't you???  😉  I'll admit it – I'm a window peeker!)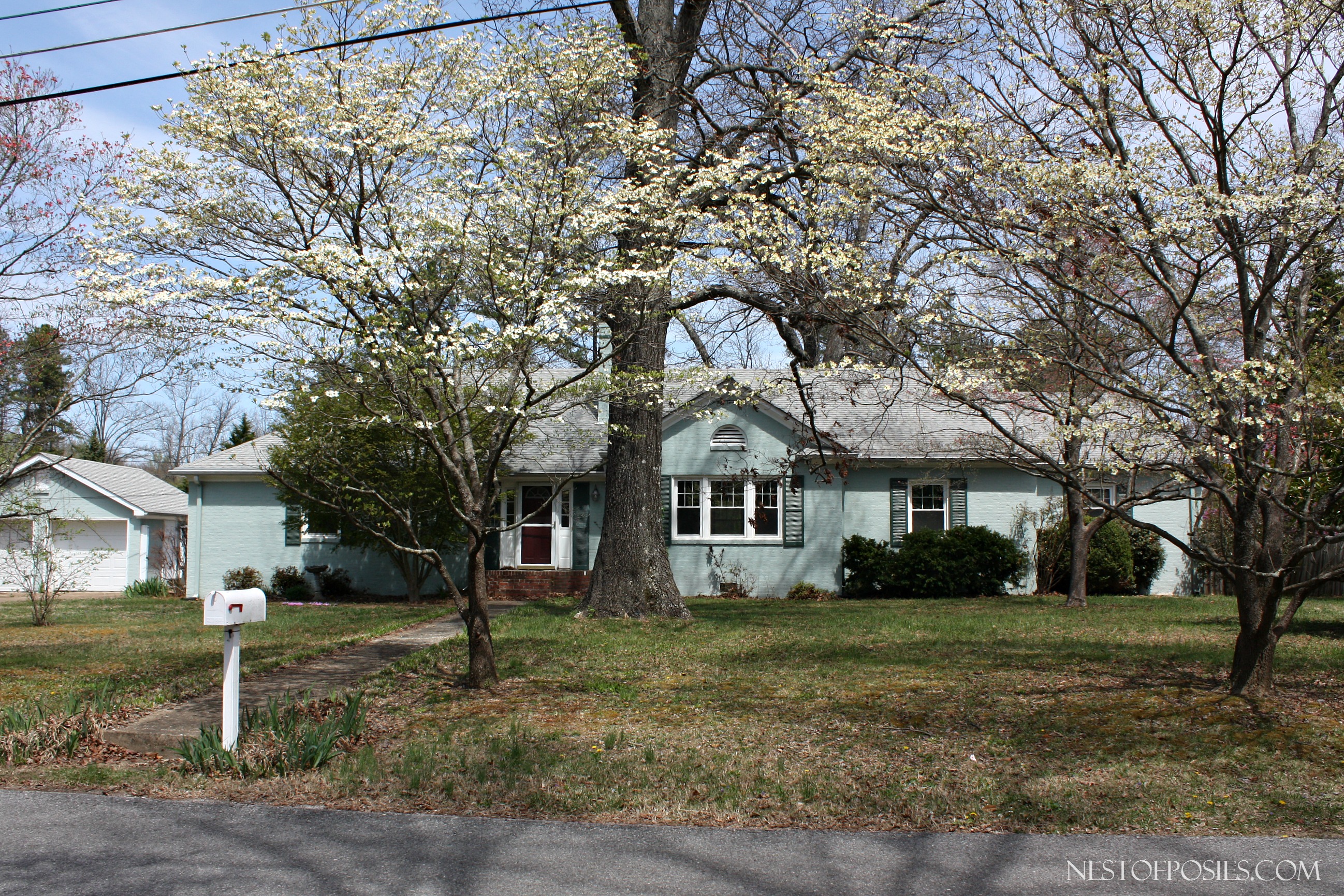 We had an inspection last week, and we are scheduled for a 30 day close!!!  Ohmygosh!
It needs a major cosmetic makeover in the most serious way in every.room.of.the.house!  Both inside & outside.
Like Elizabeth Arden and Estee Lauder would probably run away from this kind of cosmetic makeover!
It even needs some serious botox treatments – on a house kind of level!  It's been vacant for around 3 years!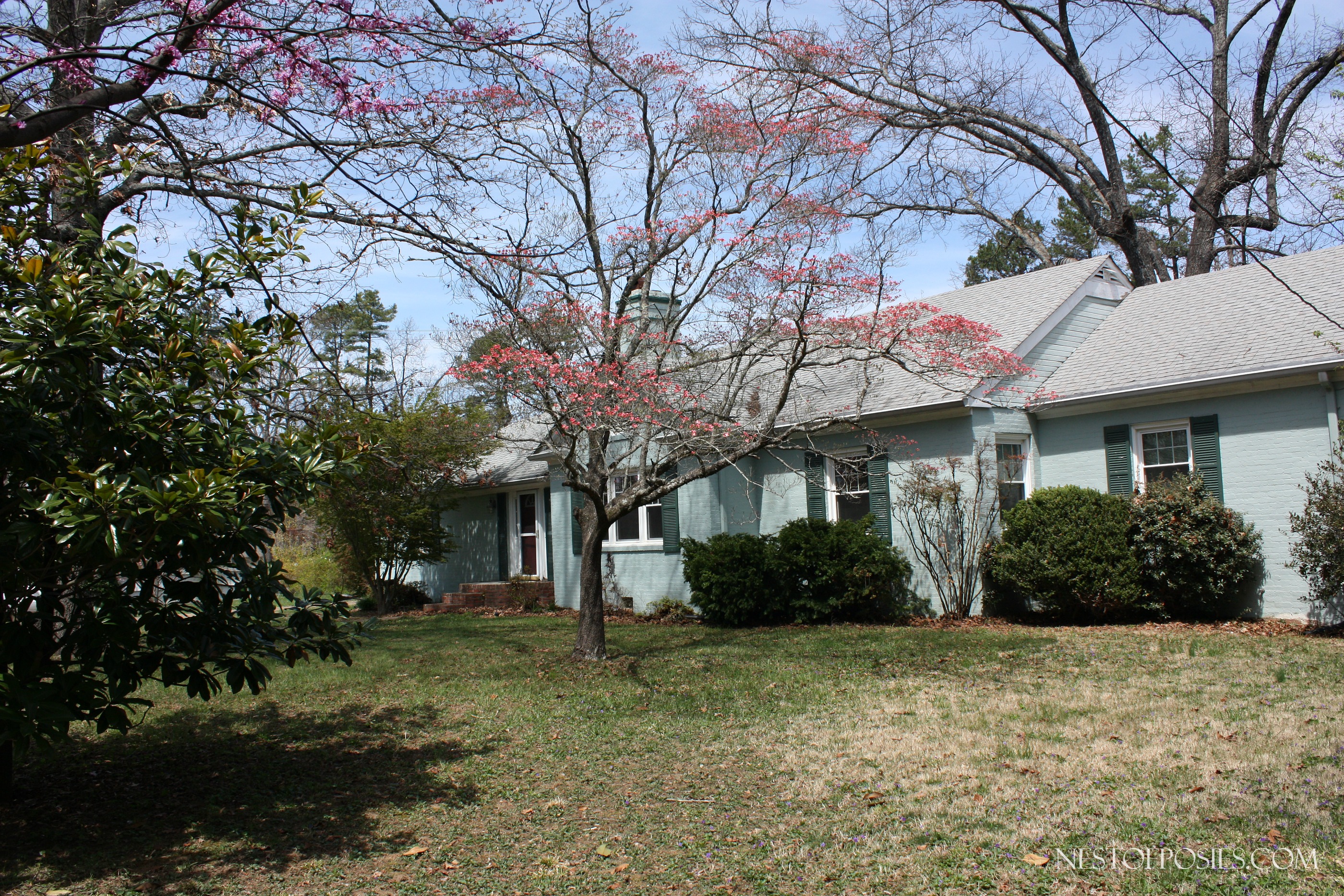 The lot is almost an acre up on Signal Mountain in Tennessee.  If you are familiar with that area than you probably know how beautiful it is up on Signal.  It's a quiet, gorgeous, small Southern town that I can't wait to live in.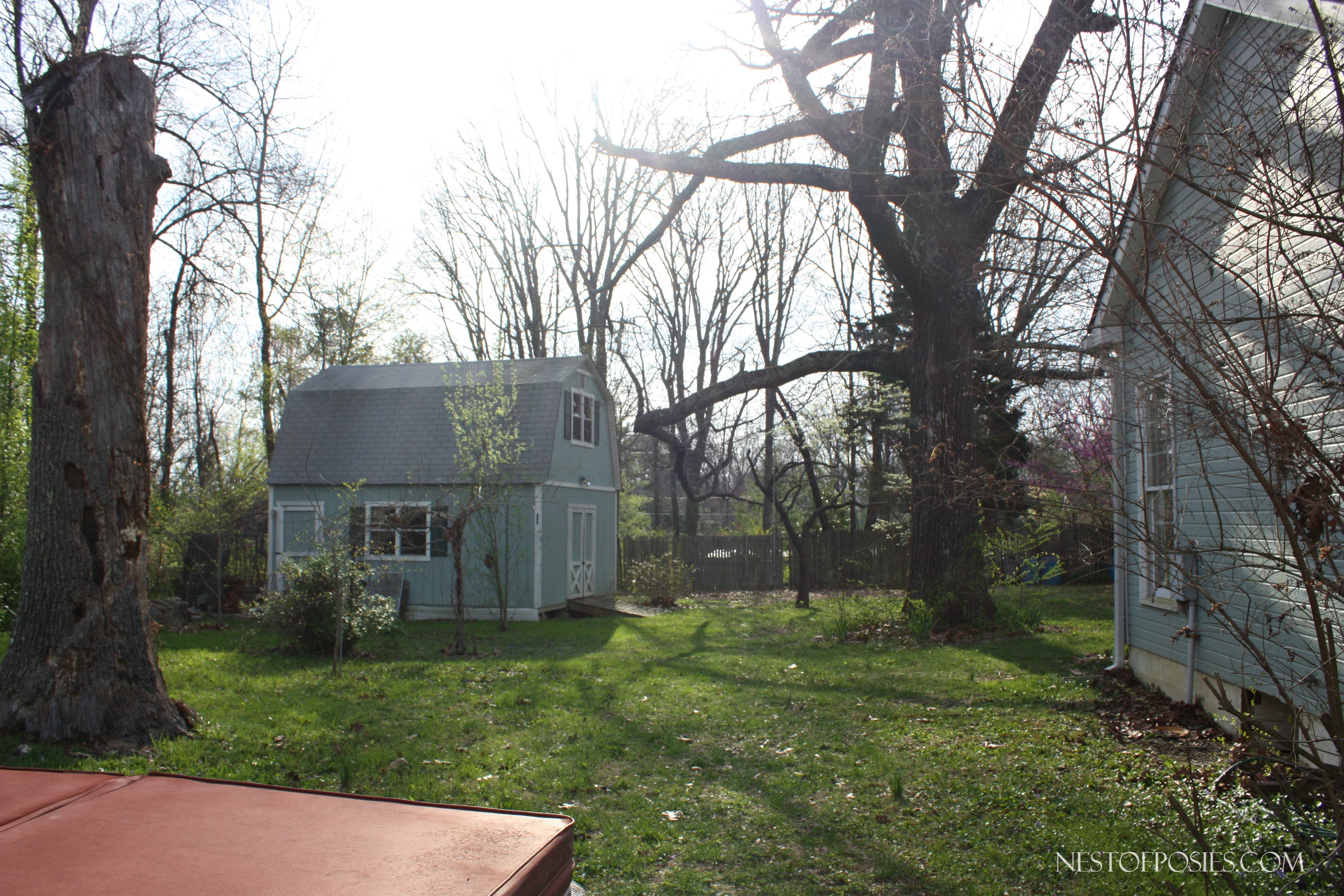 Here's our new back yard.  That shed right over on the left will be my Studio/Office.  I cannot wait to get started on the house & my office.  The office has a little box window A/C unit, electricity and has all kinds of shelves & storage up on the second level of the shed.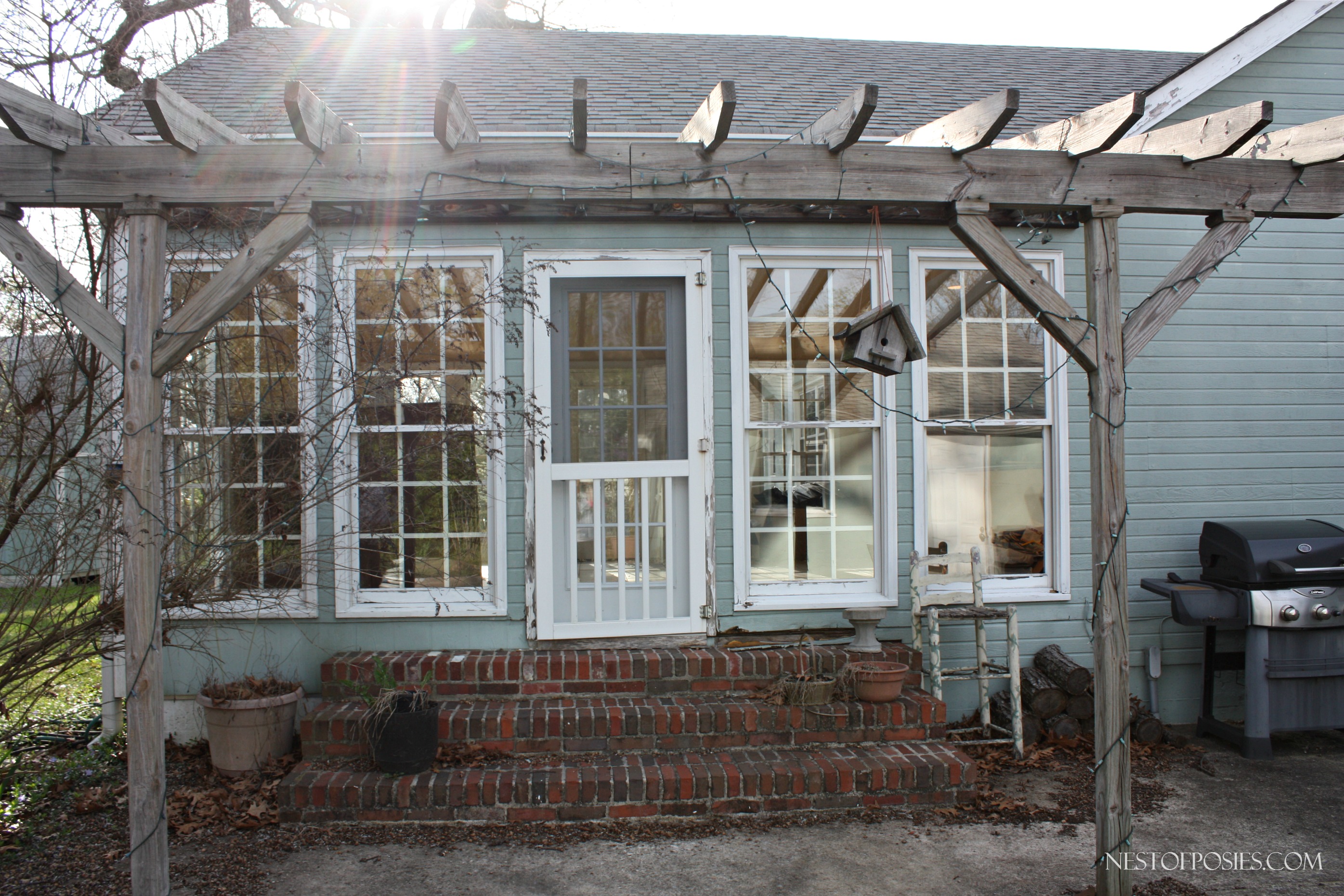 This door leads to a sunroom that has been added to the original house in the past 10 years, we think.   These are the windows I peeked through about 3 weeks ago and immediately fell in love with the house.  We have looked on & off for houses up on here for the past 7 years, and that feeling of "love at first sight" has never happened to me other than the house we currently live in now.  So I kinda knew immediately when I peeked in these windows that it was meant to be.
I guess this verifies even more to me, that I am such a visual person.  I can see beyond all the leaves, the weird green on teal exterior, the landscaping that needs to be done, and all the other interior issues.
I can see it's beauty.
I can see our family living here.
I can hear laughter, untold stories and am already anticipating all the memories that will be made within these walls.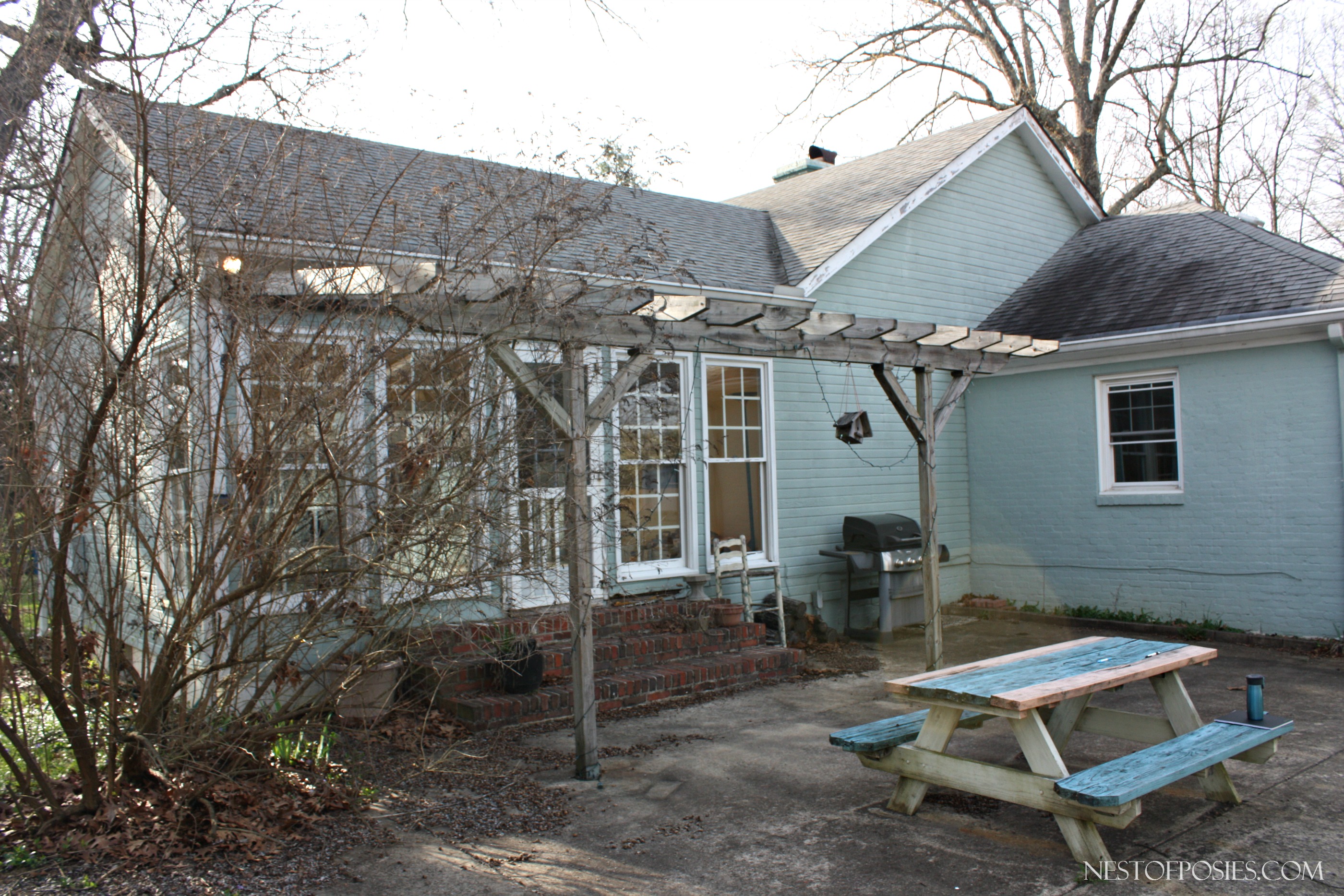 That window over there on the right…that's the master bedroom.
May I pause for a moment & comment that our bedroom window is right there, not the kids' rooms, OUR bedroom.  So if we want to stay up late outside & have a fire in the firepit we can.  Are you with me on this???
My husband & I can have adult conversations outside on our patio without worrying about waking up the kids.
We can't even watch TV in our current home without waking up the kids!!!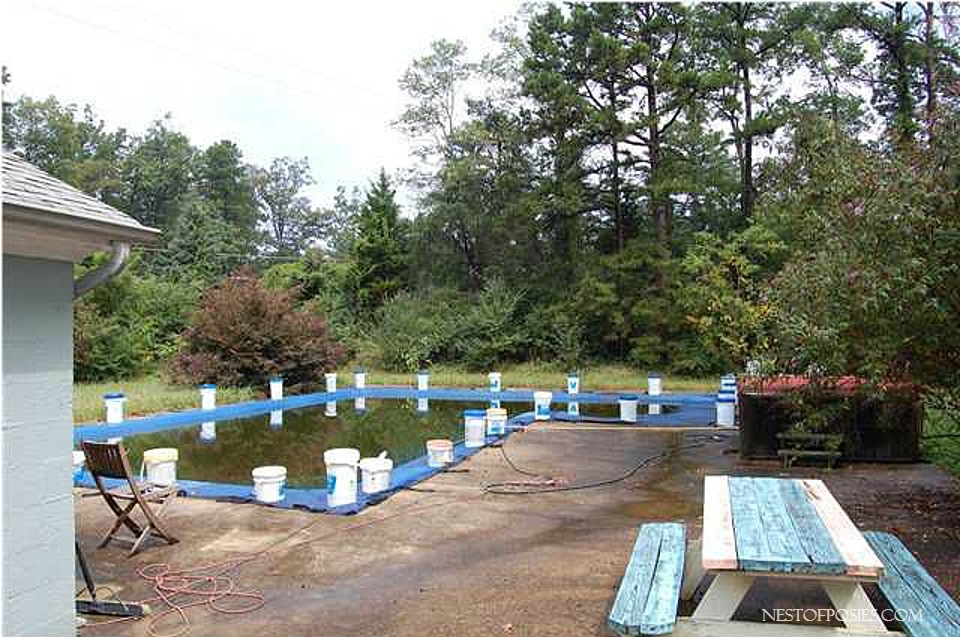 My oh My!!!  Do we ever have our work cut out for us.  That's a built in pool.  I forgot to ask how deep it was, but I'm sure we'll be finding out soon.  The structure on the left that you can barely see is the detached garage.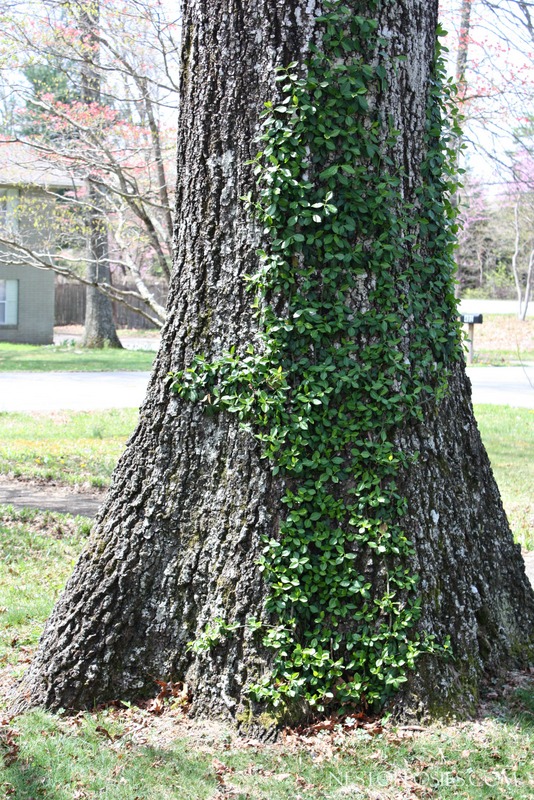 We have land to play & run.  It's all level.  We have trees, many many trees.  I have Dogwoods in every color, maple, oak, cedar and many more.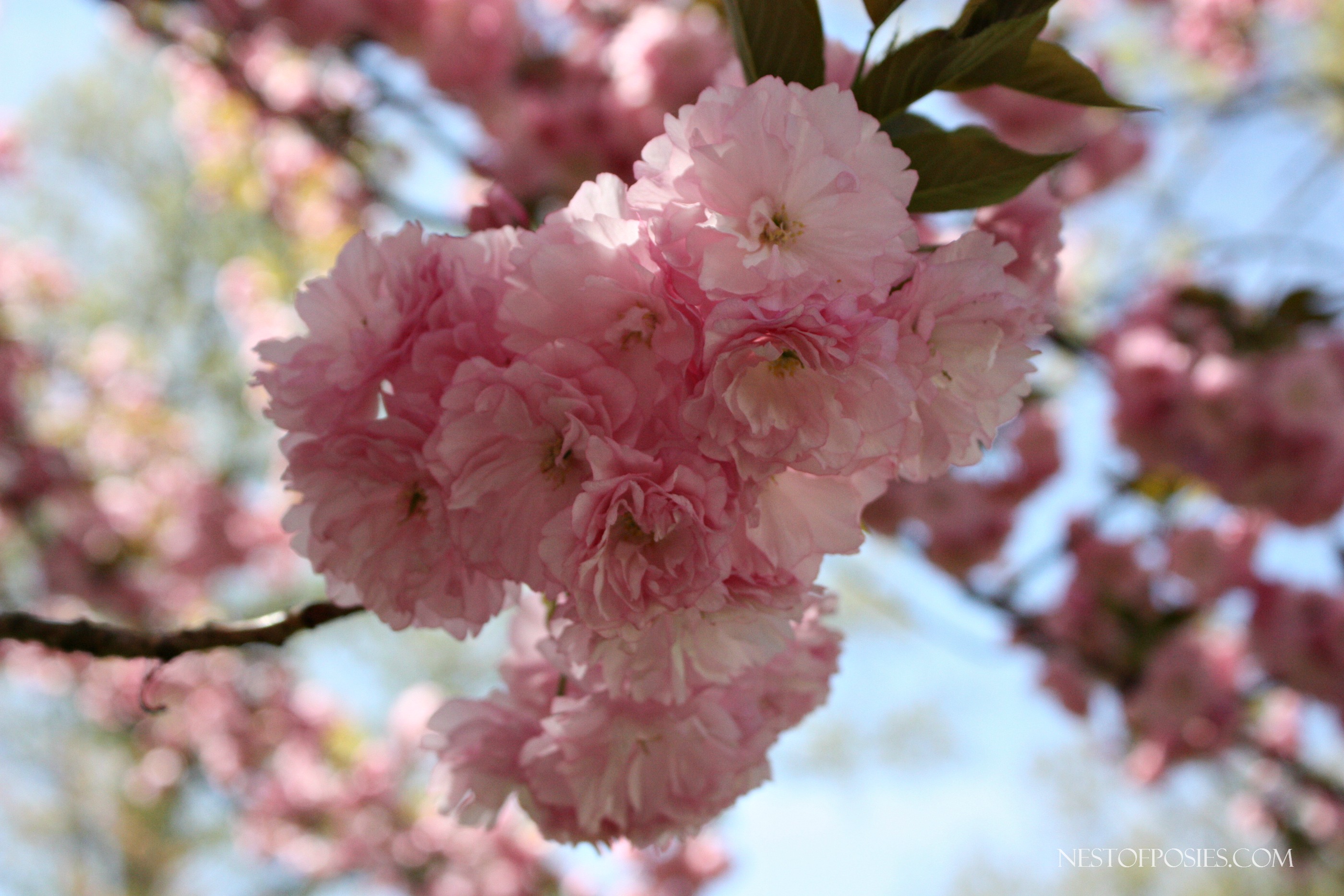 And I couldn't believe my eyes, when I saw my most favorite Spring blooming tree of all.  A non bearing Peach tree.
Y'all it was meant to be.
It's going to be A LOT of work & lots of trials, and elbow grease but I am so humble by how it has all come to pass.
God is so good.
For more posts about our new house click the links below:
The kitchen & sunroom/family room combo = my favorite room of the house!
Let's pin together!  Do you like to pin DIY, craft stuff, home stuff & yummy recipes???  Me too!
I also will be pinning all sort of renovation ideas along the way while we're on this Remodel – Fixer Upper Journey!