This BBQ in a jar will be a hit this Summer for all your outdoor entertaining!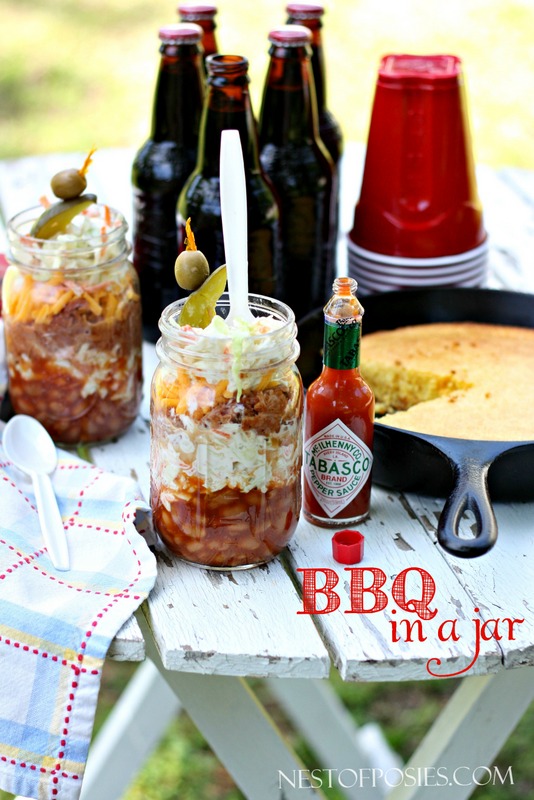 BBQ in a jar, you ask???  YES!  It's the next best thing since sliced bread if you were to ask my husband!  But what I personally like about it, is that it's packable, and perfect for any party, picnic or church function you may have.  Just use your your mason jar lids, and pack it up!
It's also the PERFECT thing to serve on Father's Day as well!  When my kids get older & in their teenage years, and want something all they'll have to do is serve my husband BBQ, and he'll say yes to anything!  He loves it that much!
This is such an easy thing to make as well!  You can use all your favorite recipes for beans, slaw, pork or beef.  Or if you are in a rush, you can always pick up everything pre-made at the stores.  I personally have made them both ways!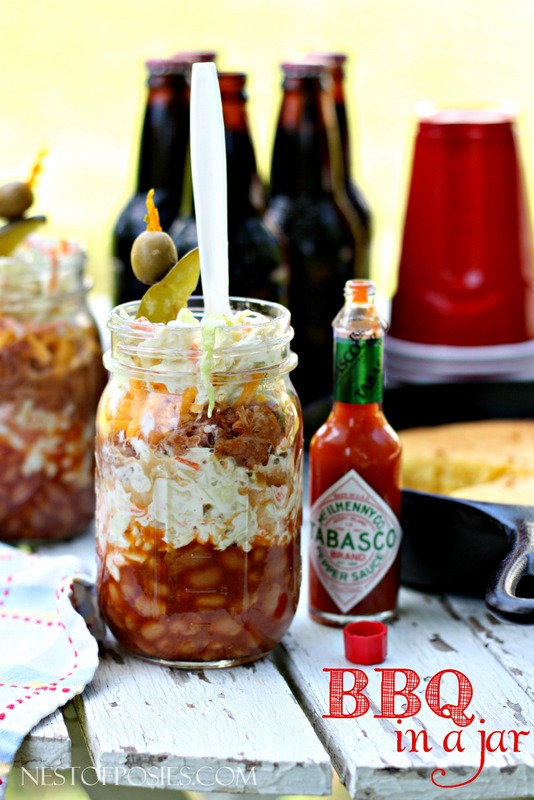 I start with the beans, add a layer of slaw, layer in some shredded pork (or beef) add some cheese if you like & top with more  slaw & a pickle.  I also make cornbread whenever I'm serving BBQ either by pan or cupcake style.  It's totally up to you, it will be delicious either way!
And speaking of celebrations & parties…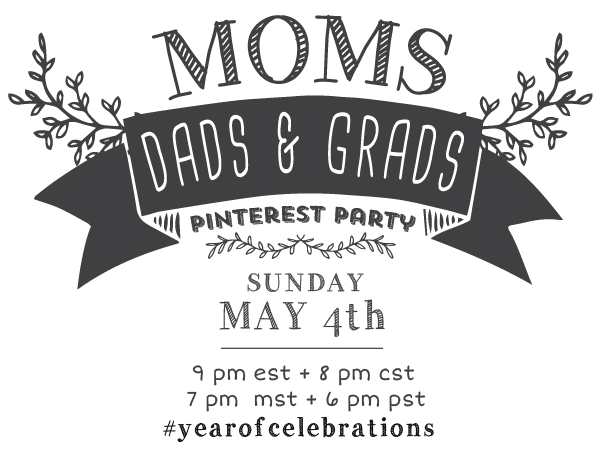 The Mom/Dad/Grad-themed Year of Celebrations Pinterest party will be held this Sunday, May 4, and you all are all cordially invited to join in!
Hosted by…
The monthly Year of Celebrations Pinterest Party is the place to find THE most comprehensive, inspiring Pinterest board on the block. Each and every month, we'll be focusing on a different holiday or celebration, and this month is all about Moms, Dads and Grads! Here are all of the details for how YOU can participate:
What: A Pinterest Party to celebrate all things Mom/Dad/Grad!
When: THIS Sunday, May 4, 2014 at 9 p.m. EST/ 8 p.m. Central/ 7 p.m. MST/ 6 p.m. PST
How you can participate:
Round up YOUR favorite Mom, Dad or Graduation projects and recipes. Anything goes: crafts, decor, sweet treats, and more!
When the party kicks off, tweet YOUR favorite project and/or link using the hashtag #yearofcelebrations. Helpful hint: We highly recommend putting the hashtag at the beginning of your tweet to ensure it doesn't get cut off.
On Sunday, May 4, tune in at 9 p.m. EST and watch as we build a board full of amazing ideas – including yours!
Be sure to follow along during the party to repin and comment on the board's posts using the hashtag #yearofcelebrations.
We are so excited to PIN and SHARE all of your amazing projects!