Once again, I am so grateful for my partnership with HomeAdvisor to help us finish off the kids' bathroom & for sponsoring this post!
First, just for old time sake…let's revisit what we were dealing with.
As I have said for many years, we truly had Cottage Cheese Walls!
So gross!
WHAT were the previous owners thinking???
And then, their choice of paint color – it just wasn't pretty – AT ALL!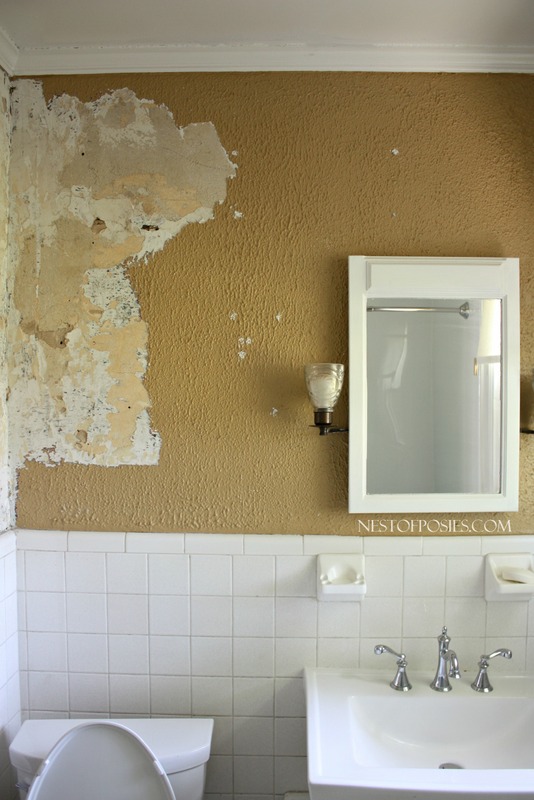 You can see we tried – we really did to fix the walls ourselves as I talked about in this post a few weeks ago.  But we knew we desperately needed to admit defeat & raise the white flag & get some help from a Pro.
That's where HomeAdvisor comes in.  I have worked with them before on various home repair projects, and have always been so pleased.   So I immediately went to their site, entered our city & put in the type of work that we needed help with to finish off our bathroom.  Which in our case was remodeling wall and plaster repair.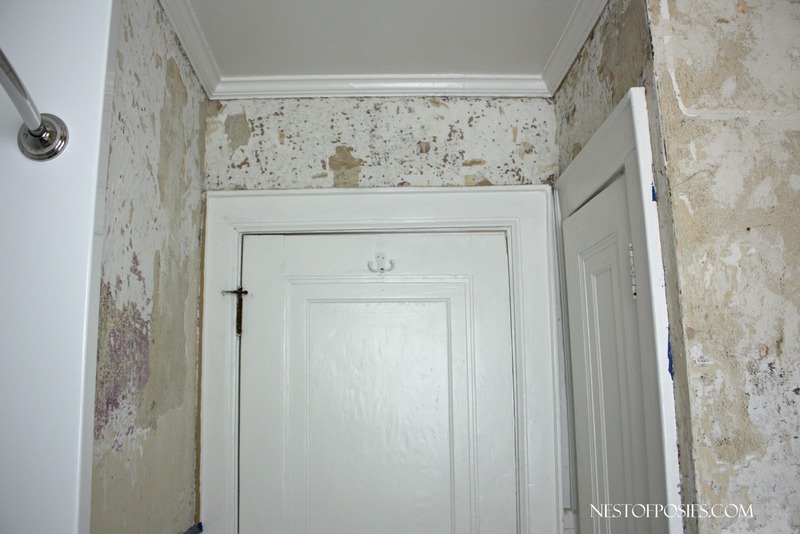 Gross, right???
If you aren't familiar with HomeAdvisor, it's a site that will help you find a Pro in your area for any type of home repair or even a brand new project you may need.


You know that saying, "Seeing is believing???"
Well, here she is, in all her glory!!!!!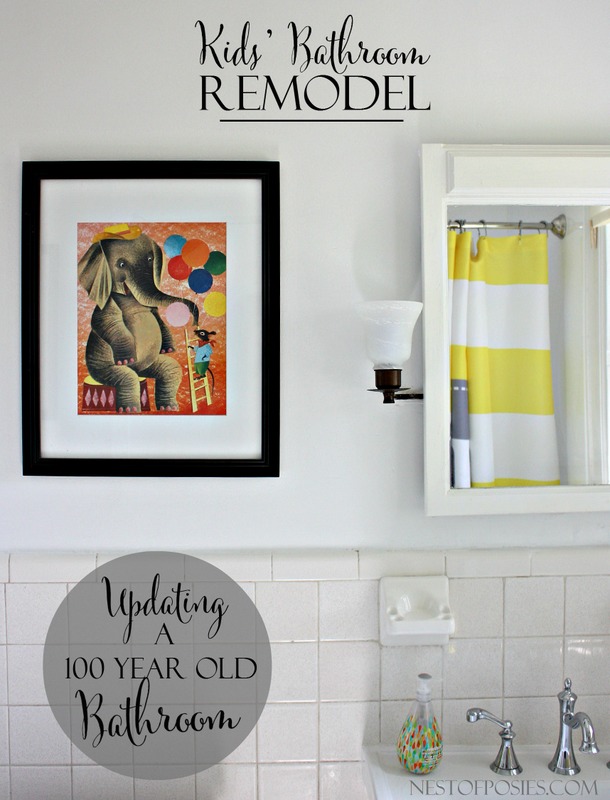 Needless to say we are positively T H R I L L E D with the results of our bathroom walls that a local Pro refinished, thanks to HomeAdvisor.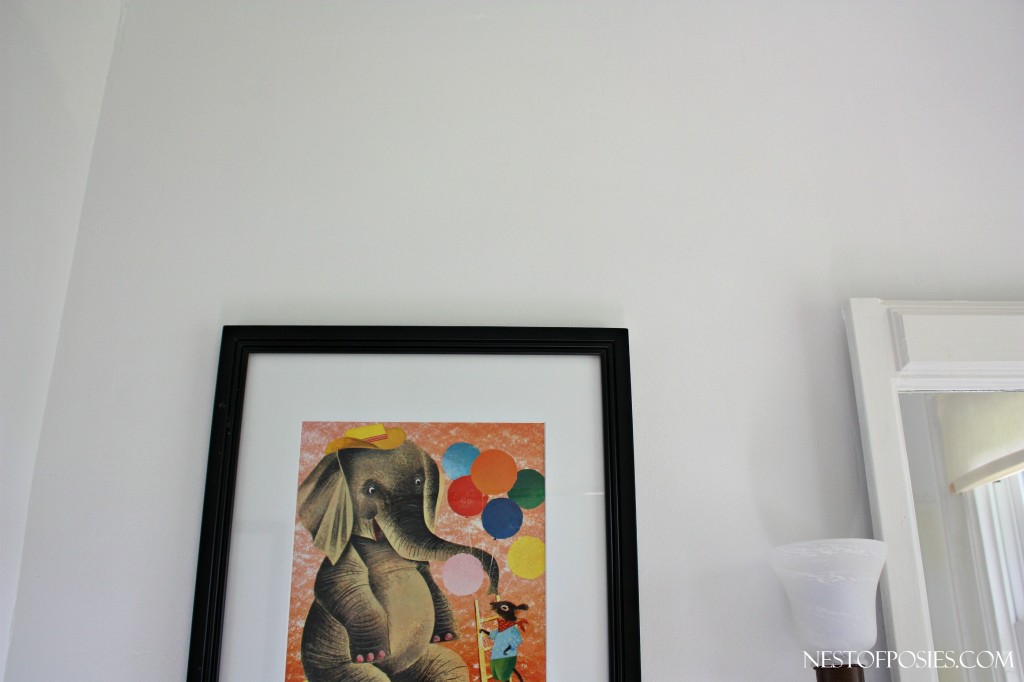 Y'all…
I have baby smooth walls.
I wanted to kiss them when they were done.
In fact, I have many times!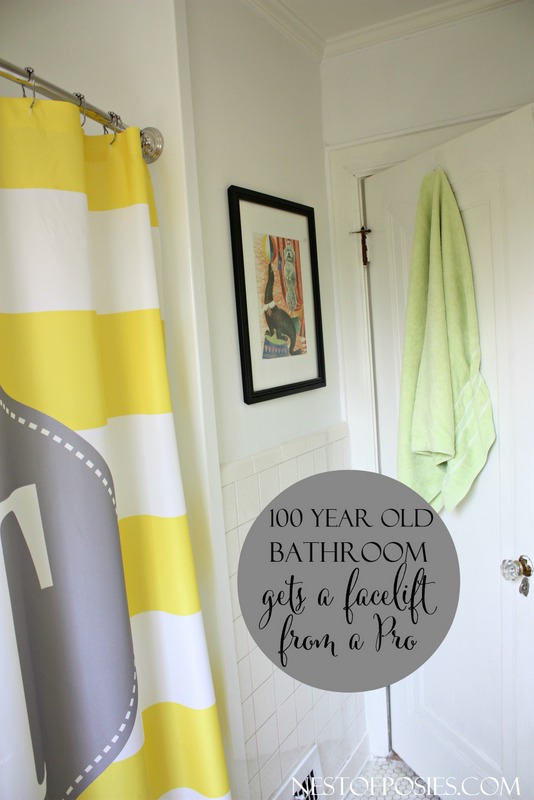 Some my be thinking – there's no way this bathroom can be 100 years old.  Well, obviously somewhere along the way, or a few homeowners ago – they updated this bathroom.  But yes – yes indeed our house is 100 years old, and I am proud to say we have taken it into the new millennium  and have upgraded the toilet, sink, faucet & bathtub.  And now, our walls are finally smooth as can be!  Hallelujah!
I knew all along I wanted to paint my walls white.  I had lived with that caramel yucky beige color for far too long.  I wanted white walls to allow colorful bathroom accessories to shine and make the room bright and cheery!  Because this room hasn't been bright & cheery in I don't know how long!
For example, I have dreamed of a yellow and white stripe shower curtain for like – forever!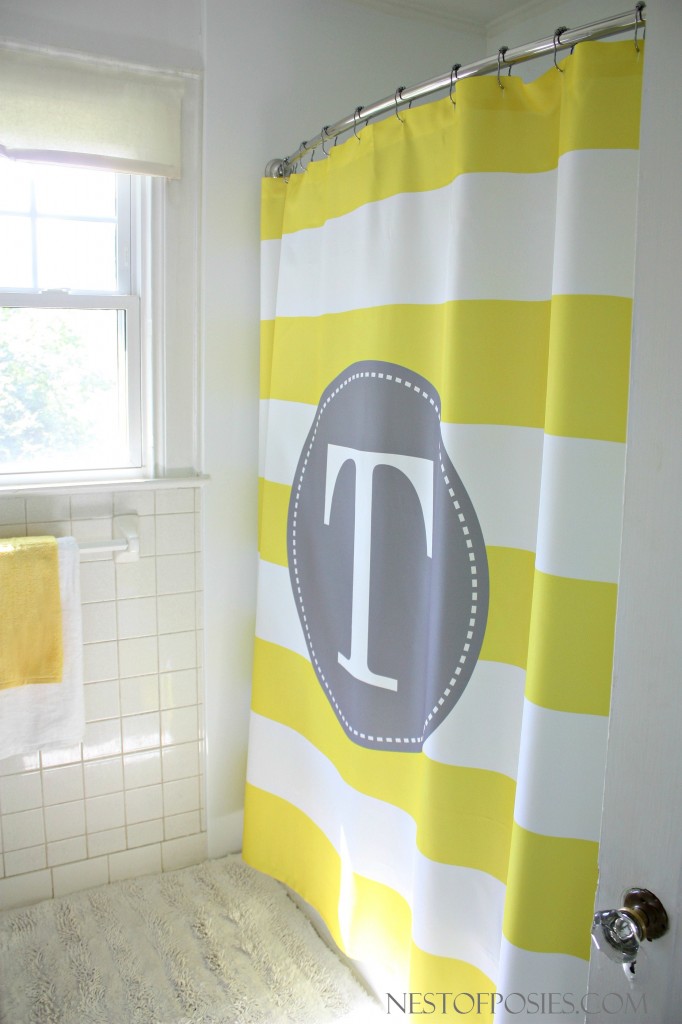 I was able to find this one including our last name initial (what every Southern girl wants, a monogrammed shower curtain ;)) from Gathered Nest Designs.   It makes a big impact in this room, while also allowing it to look clean & crisp.  Two adjectives (clean & crisp) I never had in this bathroom before.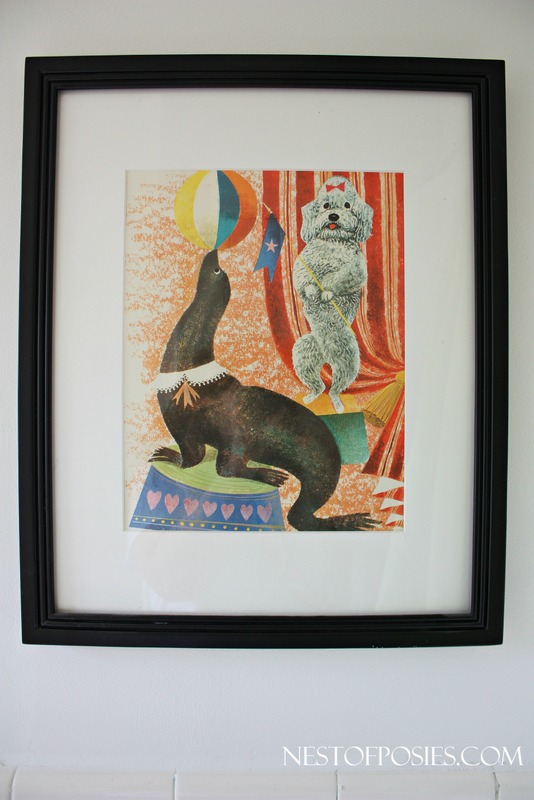 Since we are putting our house on the market soon, I didn't want to overdo it with accessories.  So I had these vintage Circus posters from the twins' nursery and thought how fun it would be to tie them in with the wide yellow & white stripe shower curtain.  Kinda like a Big Top Circus Tent with the vintage graphics!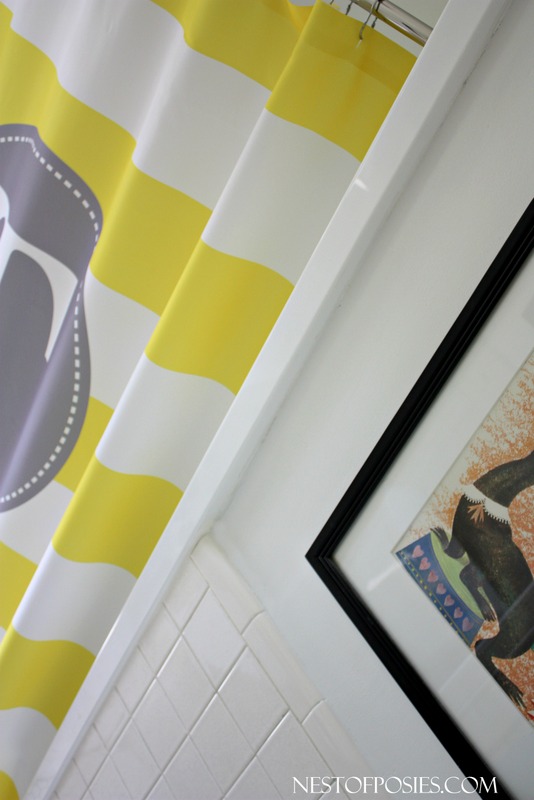 What I can't get over the most – is that you could never tell we had cottage cheese walls prior to these smooth walls.  I L O V E looking at all the corners!  It really is quite a transformation!
Since Summer is at our door steps, I know many of us are working on home repairs or even new projects!  Whether you're going to do most of your project yourself or you need one to do all the work, HomeAdvisor has a Pro that can help you achieve your goals!  Even if you just want to get an idea of how much the project will cost – you will usually get 3-4 names of Pros, and can receive quotes from all of them!  That's exactly what we did, and decided after we received all 3 quotes.  Just click on the button below to get started!  I promise, you'll be so glad you did!

This post is sponsored by HomeAdvisor.  All opinions and experiences are 100% my own, and as I always do, I highly recommend their services!
The shower curtain was provided by Gathered Nest Designs etsy shop!  If you're in the market for a bright & cheery shower curtain, you will LOVE their shop!