We'd like to thank Glidden® paint for partnering with us, to help bring some pink and pixie dust to a certain someone's bedroom!
She said, "Pink, some purple and pixie dust for my room, Mama."
And of course, being a pink & glitter lover myself, I said, "Sure thing, sweetie!"
So here's part 1 of decorating a girly bedroom with paint and glitter powered by coffee.  😉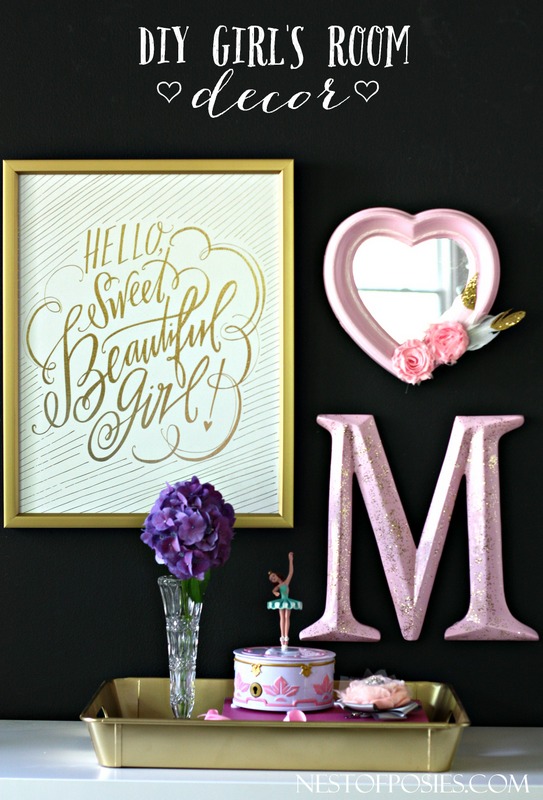 After being in front of paint samples for all of 5 seconds, I knew immediately which color I was going to pick to add some color to her decor accessories, it's called Glidden's paint 
Bubble Gum Pink

.
   Truth be told, it really is a great color.  Not too bright, and not too soft.  Enough color and beautiful against her black chalkboard wall.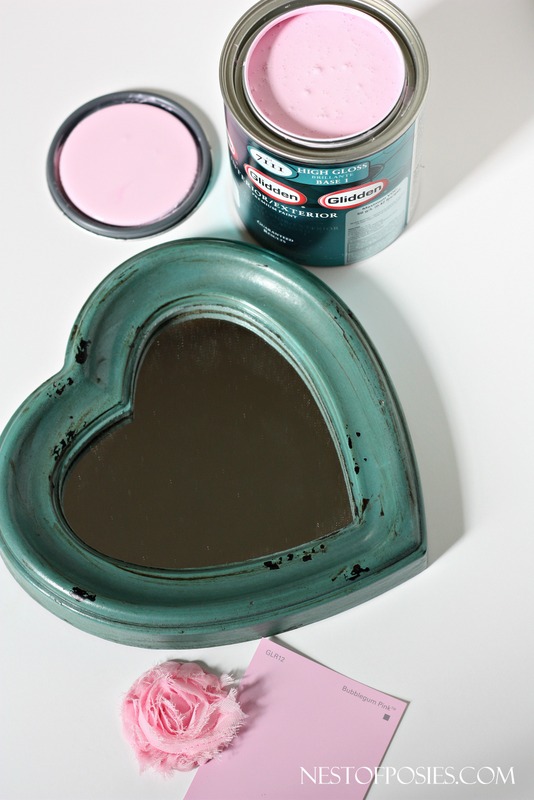 I knew I wanted to start part 1 of her room with a small gallery wall.  So we found this sweet heart shaped mirror, but the color didn't do anything for me and we already had the initial "M" so we went to work using
Glidden Premium with high gloss finish
.
  She has always LOVED the
gold dipped feathers
that I have made for a few other projects, so I thought I would surprise her and make her some for her own room!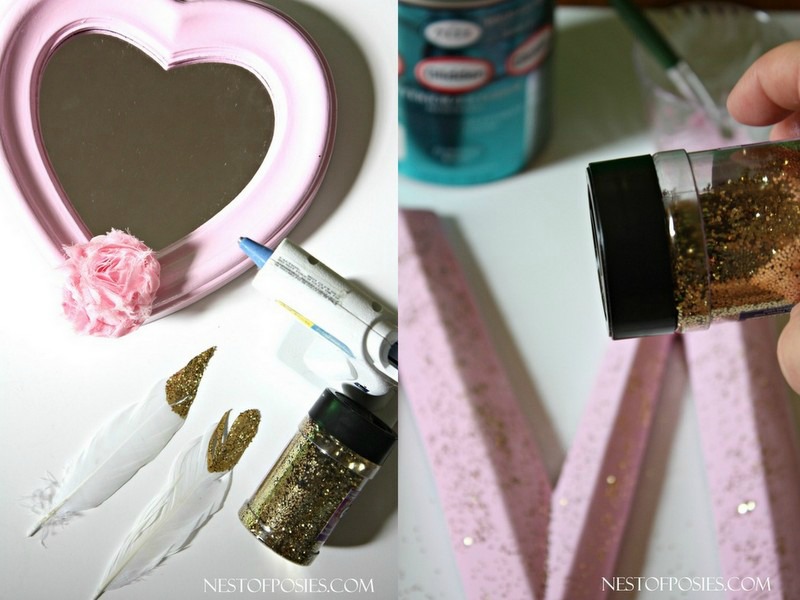 Since she loves "pixie dust" (who doesn't?) we also added gold glitter to the initial "M" while the paint was still wet.  We used 2 coats of
Glidden Premium with high gloss
 to both the mirror and the initial and allowed to dry over night.  Both pieces did so well!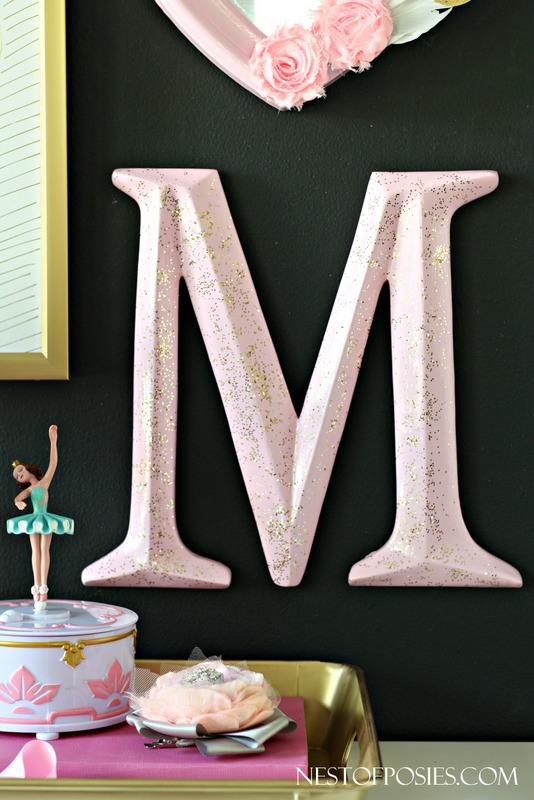 The next day, I simply hot glued the feathers and rosette flowers together on the mirror so they would stay in place.  I love how the rosettes and feathers give the mirror a whole new look!  And so girly too!!!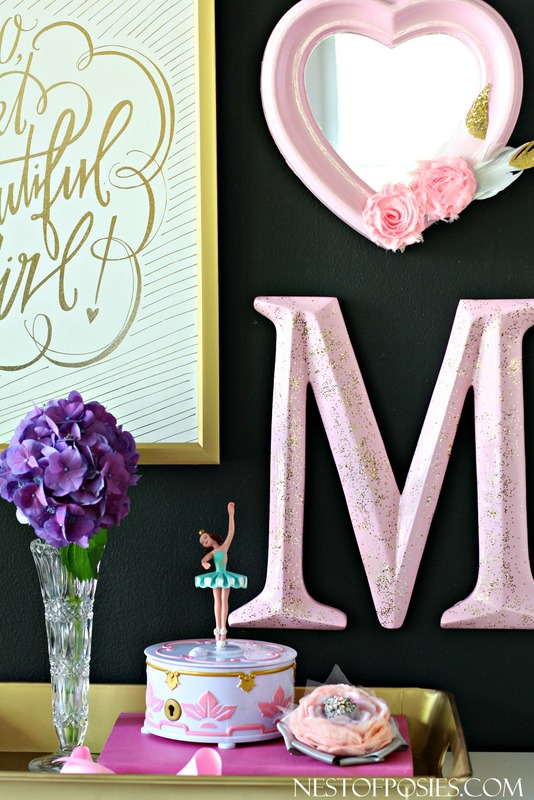 Is it okay to say, that I also love the bold contrast of  
Glidden paint's Bubble Gum Pink
against the chalkboard wall???  So fun, right?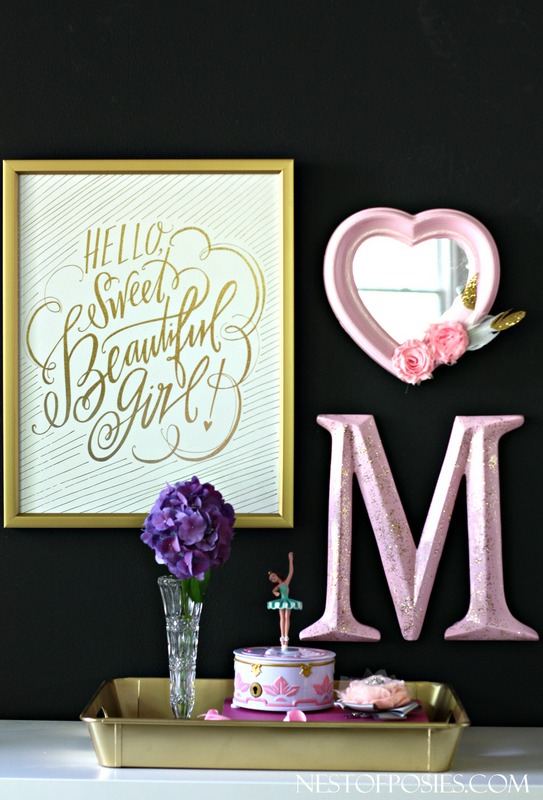 All so girly and beautiful for my girl who loves pink, purple and pixie dust!
This post was sponsored by Glidden paint through their partnership with POPSUGAR Select. While I was compensated to write a post about Glidden paint, all opinions are my own.