This post is sponsored by Disneyland.  Otherwise known as The Happiest Place on Earth.
Just don't tell my feet that part, because they might disagree that it's the happiest place for feet.  😉
We recently had the privileged of visiting Disneyland & California Adventure.   It was our first time to the California Adventure side & it did not disappoint us, at all!
We loved every.single.minute.of. it.
We all love it for various reasons.  The kids, of course for the rides and the characters.
Me?  I love it for the nostalgia & seeing my kids' faces light up.
My husband?  Well, he may not use the word love to you when he's discussing it, but trust me – I think he likes it just a little.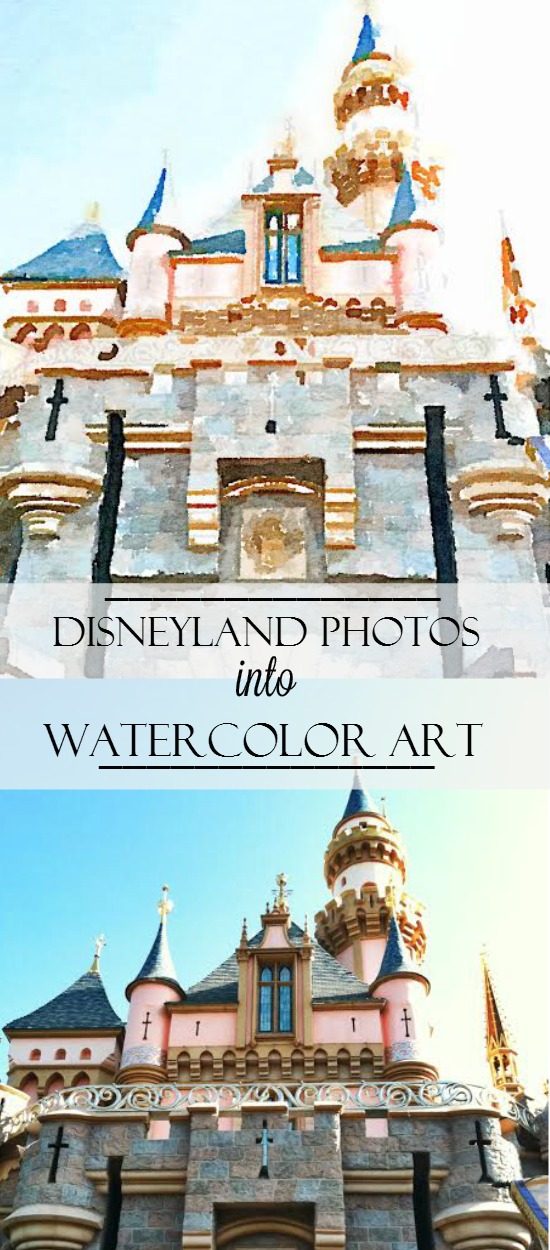 I personally love to take photos everywhere in Disney!  Who doesn't, right?  But I couldn't wait to test out the Waterlouge App with some of my Disneyland pictures and see how they turned out!  I discovered the Waterlogue app from reading Thistlewood Farm's tutorial and knew I wanted to give it a try!
I can assure you, as soon as we move into our new home ~ this one below will be matted & framed for sure!  Don't you love it?  I'm kinda wondering to myself if I should make it a free printable???  Anyone interested?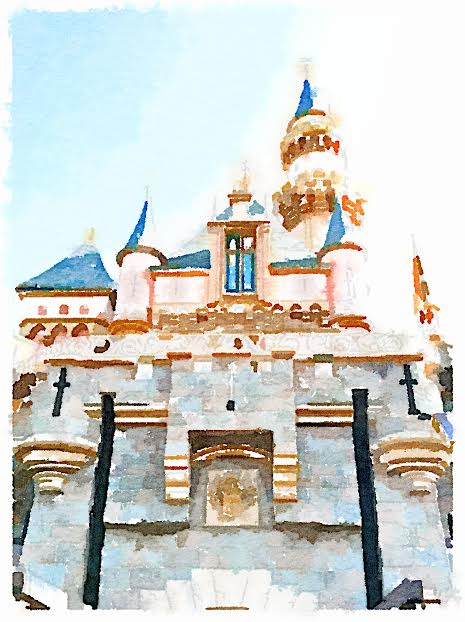 We all have our favorite rides, but I can honestly say this one below, is one of our family's favorites!  Perhaps it's one of my personal favorite photo as well from this visit!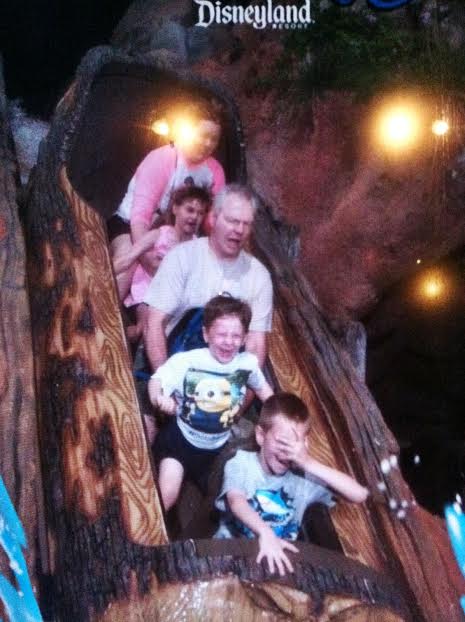 Without a doubt, the Disneyland Magic Kingdom side is still my favorite.  All the rides from my childhood bring back a flood of memories that I L O V E to revisit each time I'm there.  But of course, as with anything there are some noticeable changes.  But most noticeable is the fast pass.  Which can totally make your life easy if you plan & think ahead & use your fastpass card to your advantage.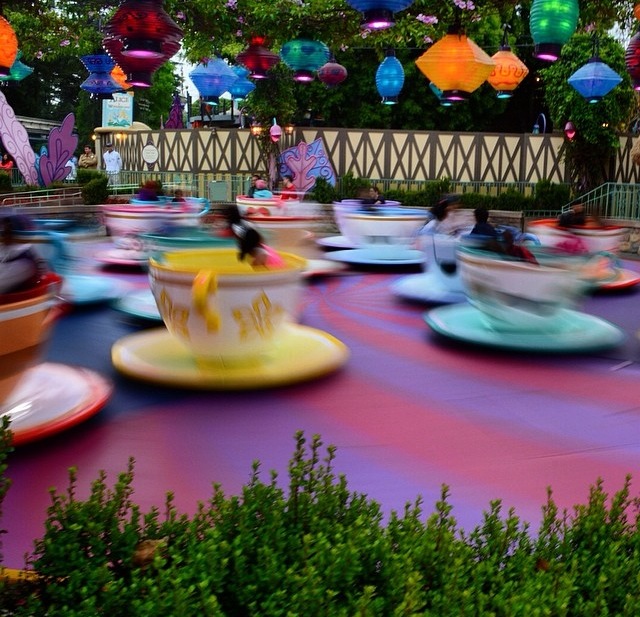 The California Adventure side is absolutely amazing though!  Their food selection and restaurants are far better than the Magic Kingdom side.  You'll find more variety and fresher items on the CA side.
You'll also lose your stomach somewhere on turn #3 of this ride below, which is California Screamin'.   So make sure you have eaten one of the fresher meals from the CA side an hour or two before you ride this baby!!!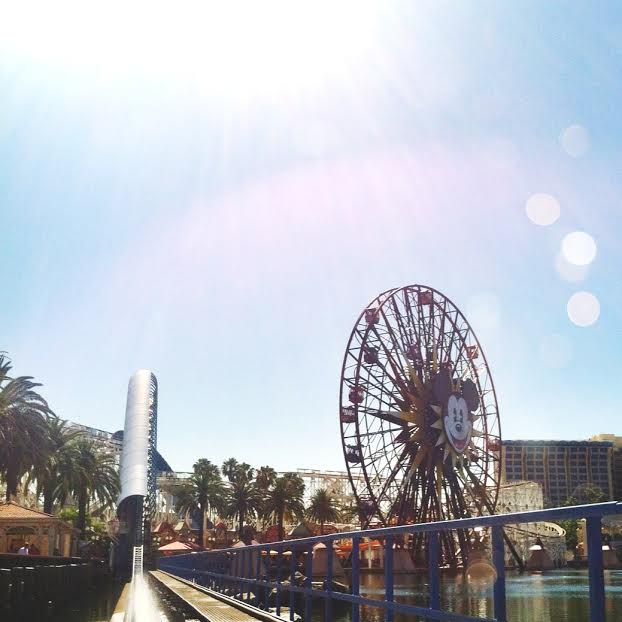 The World of Color show is positively amazing!  Think fireworks show turned up 100 notches!  It's amazing.  We happened to be standing by 3 teenage boys while this show was going on.  Those boys knew & sang every Disney song that was played during this show = Loved watching them!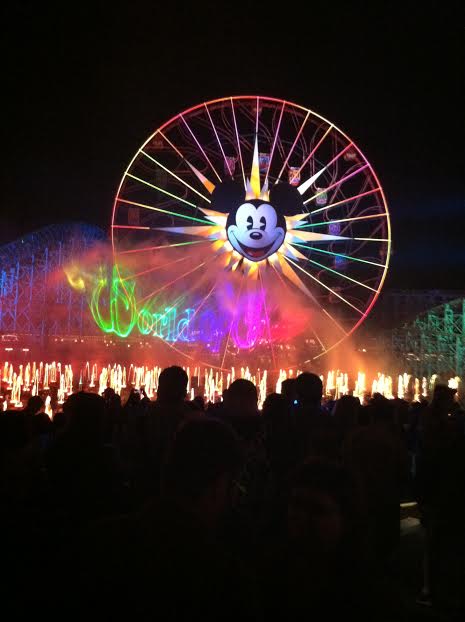 I admittedly try to soak in every detail & feature while visiting the parks!  I so enjoy looking at the roof lines and all the amazing details.  It's a feast for your eyes everywhere you look!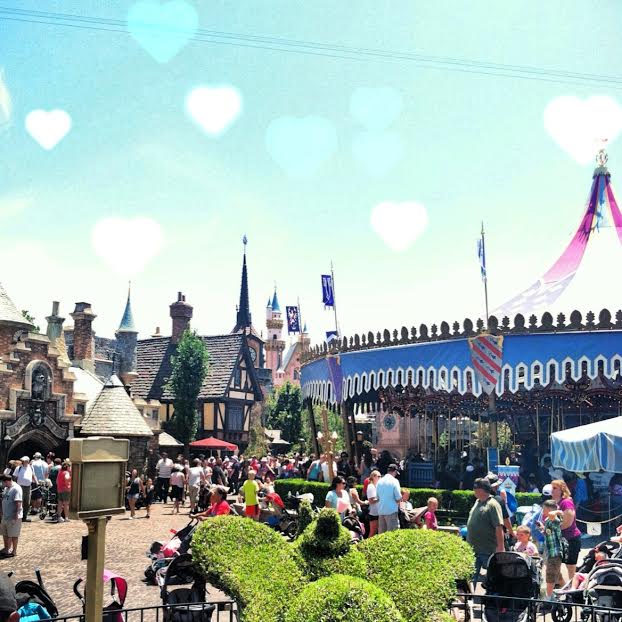 One of the highlights from our trip to Disney was meeting up with Melissa from No 2 Pencil Blog!  Here we all are below – from Tennessee and California, bloggers who became online friends and then who met for dinner…at Disneyland!  It was such a fun evening!  It was also my first time to try the Monte Crisco Sandwich.  Have mercy – such an amazing sandwich!  I didn't want the meal and company to end!!!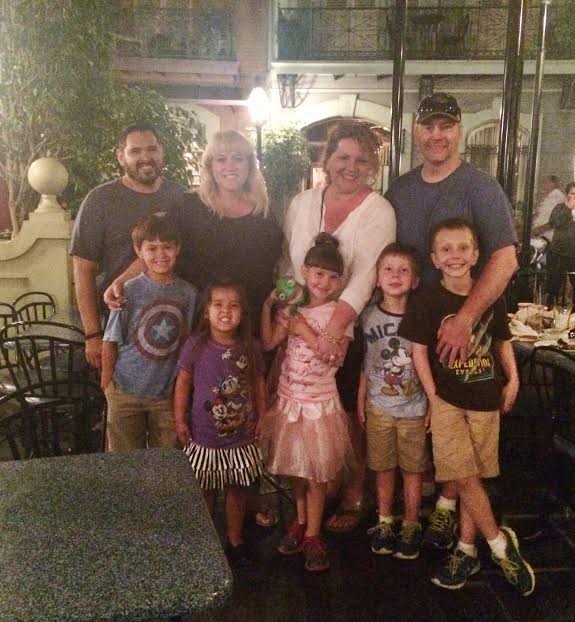 Here's another fun picture I turned into a watercolor art with the app.  Can you tell what it is?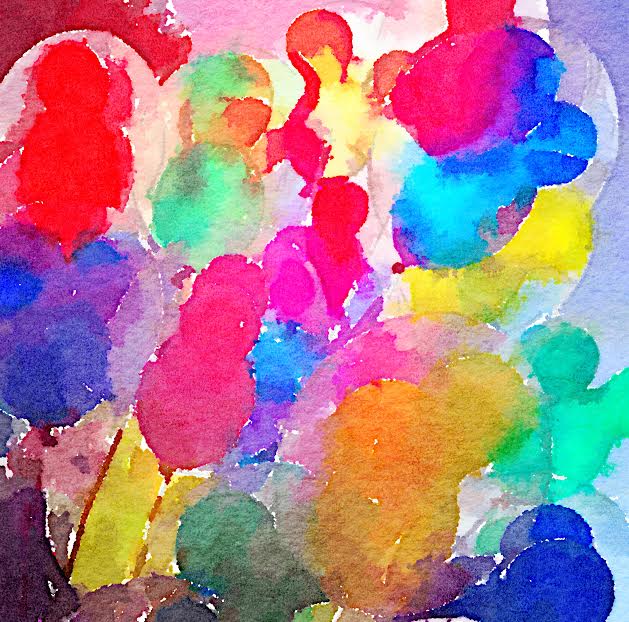 Mickey Balloons!!!  Love seeing that sight when the balloons hit Main Street!
Until next time…we hope to see you real soon, Mickey!
We received Park Hopper tickets in exchange for this post.  All opinions and recommendations are 100% my own!