This Bacon, Squash and Corn Blender Soup is one of my all time favorites to make!
I realize it's still Summertime, and some of you may be thinking I've lost my marbles for sharing a hot soup.  But truth be told, sometimes there's nothing like the comfort of soup whether it be cold or warm outside!
This soup also uses most of the fresh ingredients you probably have from your Summer garden or things you can easily find in the farmers' market.  Or on the flip side – during the Winter you can purchase frozen corn or use your canned tomatoes.  So it's perfect for any season – really.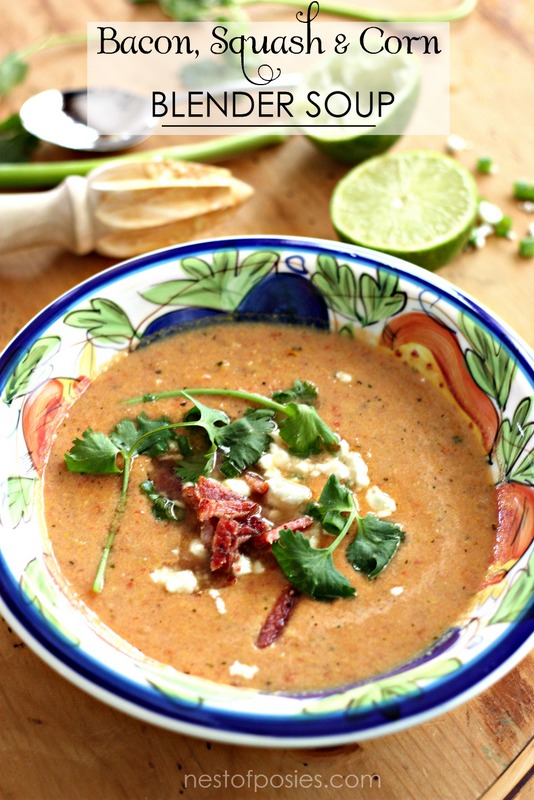 I believe I have confessed my undying love for all things cilantro + lime with you all before.  And of course, this recipe uses…you better believe it, BOTH of those amazing ingredients!!!  It truly is a burst of all your Summer favorite ingredients all in one bowl.
Bacon, Squash and Corn Blender Soup
I LOVE to save time, and using just one stock pot for everything other than the blender, makes this so easy and a breeze to clean.
Ingredients
1-2 Tablespoons of EVOO
4-5 Medium Summer Squash - sliced
4 Shallots - chopped
Corn from 3-4 ears or 1 1/2 cup of frozen corn
32 oz Chicken Stock (in a box)
3 tomatoes chopped or 1 can of chopped fire roasted tomatoes
Salt and Pepper to taste
4 oz chopped Feta cheese
3-4 pieced of cooked bacon - chopped +

some for garnishing

a handful of fresh cilantro

some for garnishing

juice of one lime
1 cup of half and half
chopped green onion for garnish
Instructions
In large stockpock or frying pan cook your bacon. Set aside bacon for later.
Drain your bacon grease. If using a stockpock for frying your bacon, you may find you don't need as much EVOO. But once you're done with your bacon add and saute your squash, corn and shallots together until soft.
Add salt and pepper.
Add most of your rinsed fresh cilantro - leaving some for garnishing later.
Add juice of a lime.
Add your tomatoes. Drain the juice when using canned tomatoes.
Now in a blender add all the ingredients from your stock pot into your blender. In addition add your half and half plus 1 cup of your chicken stock. Pulse until mix thoroughly. Should be much thicker than a bisque consistency.
Once everything is blended together, pour back into the stockpot.
Add and stir remaining chicken stock.
Add your cooked bacon (leaving some for garnishing)
Add your chopped Feta cheese.
Stirring until it's all mixed together.
https://www.nestofposies-blog.com/2014/08/bacon-squash-corn-blender-soup/
As I mentioned above in the recipe, I love to use just one pot whenever possible.  Who likes cleaning up the dishes, anyways?
So for the record, I fried the bacon in here first.
Then I drained it.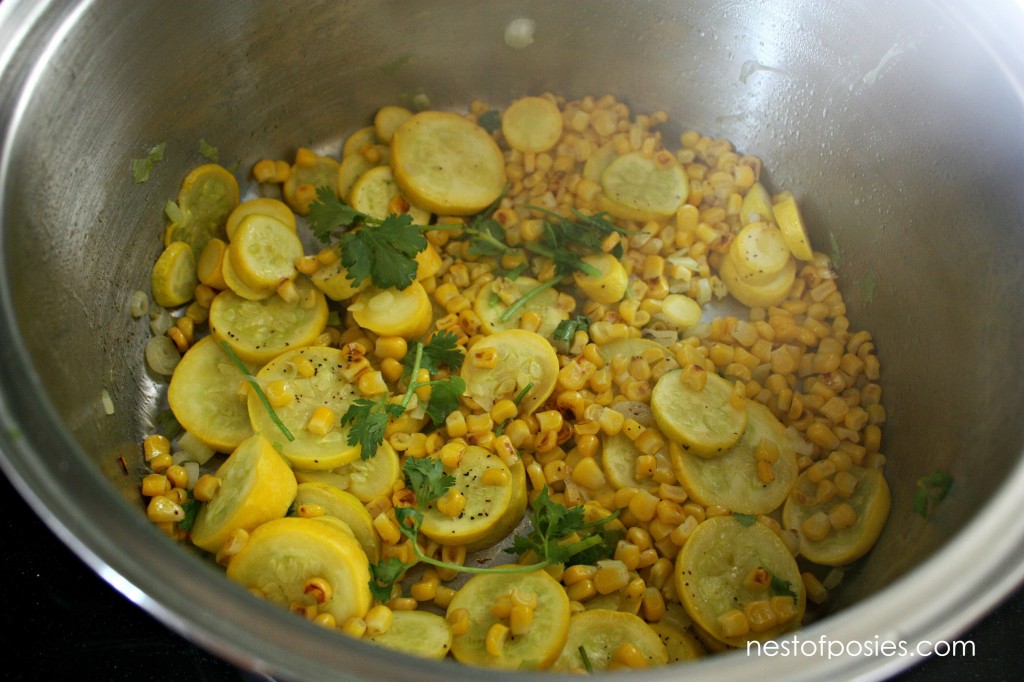 After that I added all the veggies & then mixed them altogether in the blender.
So easy, right?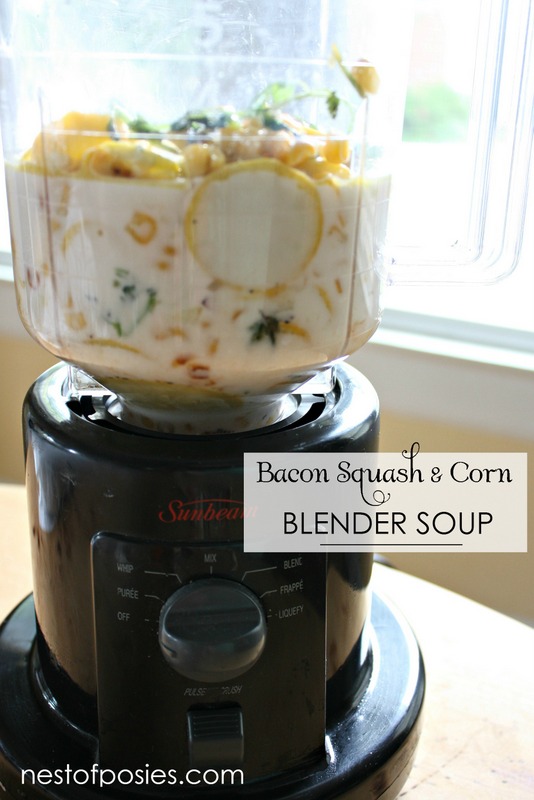 The cilantro and the lime make this the perfect Summer soup.
Of course having bacon involved is always a good idea!

Cook & simmer time time totally depends on your preference.
I always love to simmer soups in the Fall & Winter, but for Summer I tend to heat them up quickly & dig in when I can.
***please note, sizes of squash vary – so use the Chicken Stock accordingly.***
if you think the soup may be too thin, add more squash & corn to the blender