I could name off a thousand things for this Summer edition printable…
But really, these things in a beach shell (notice what I did there?) really are my favorite things.
I mean, even the 2 colors that this Summer Favorite Things Printable comes in screams S U M M E R to me!
I love the sunshine!  I'm always in a better mood when the Sun is out.
The only time I'm not is when it's 90* outside with 900% humidity.  And my hair is also 900% too big & frizzy.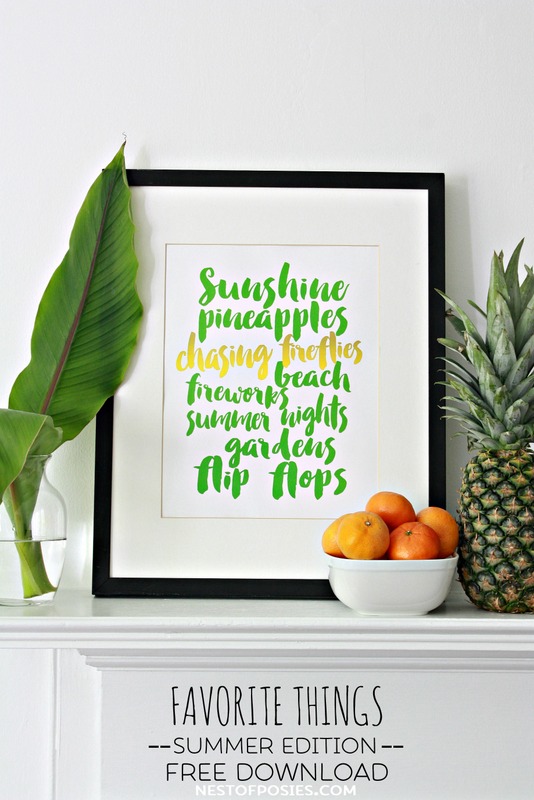 Let's talk about pineapples.  😉
Man, they are trending right now & I absolutely love anything with pineapples.  But put them in home decor & they can totally whimsy up the room.  ~ love that!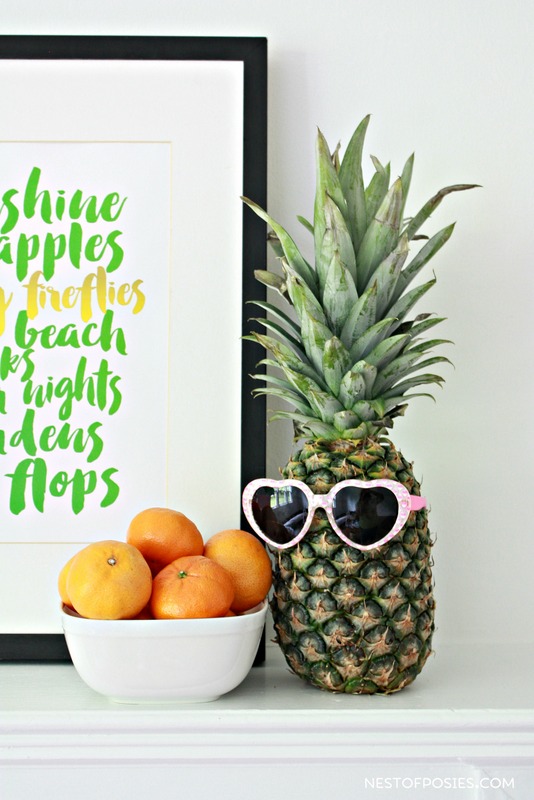 They really are their own person!
Chasing Fireflies.  Really need I say more?  No.  But I'll share a picture instead.  *it's blurry, but you'll get the idea*
Below is my little garden fairy chasing fireflies in her jammies.  She positively loves doing this every night, and I positively love watching her.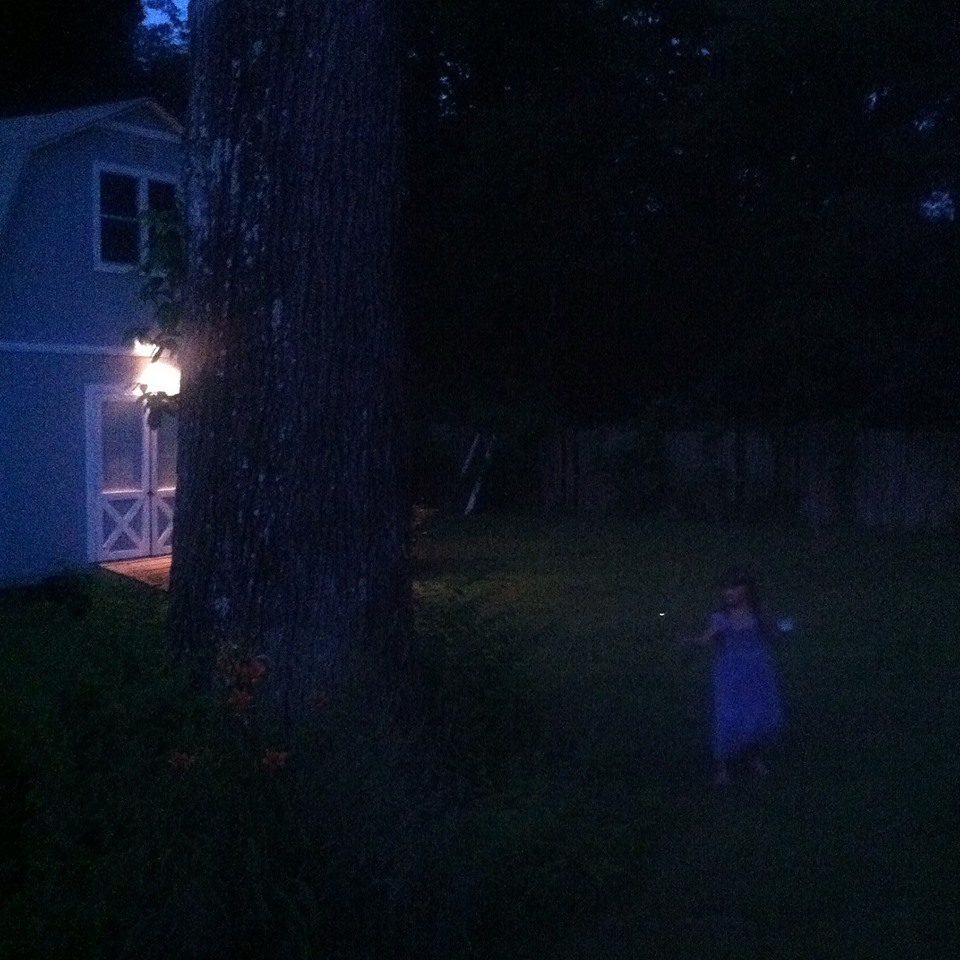 The magic of the beach.  It doesn't matter if it's morning, noon or night.  It's always my favorite place to be.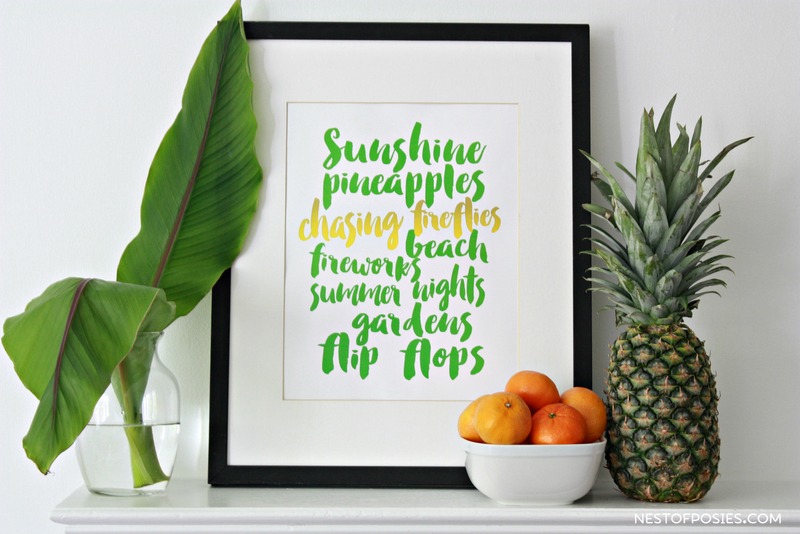 Fireworks.  The smell, the sounds & oh the delight of seeing them.  There's nothing better than to end the day with a bang.
Summer nights?  Yes, please.  Probably my favorite time of day.
And the only time of day I get to "exhale."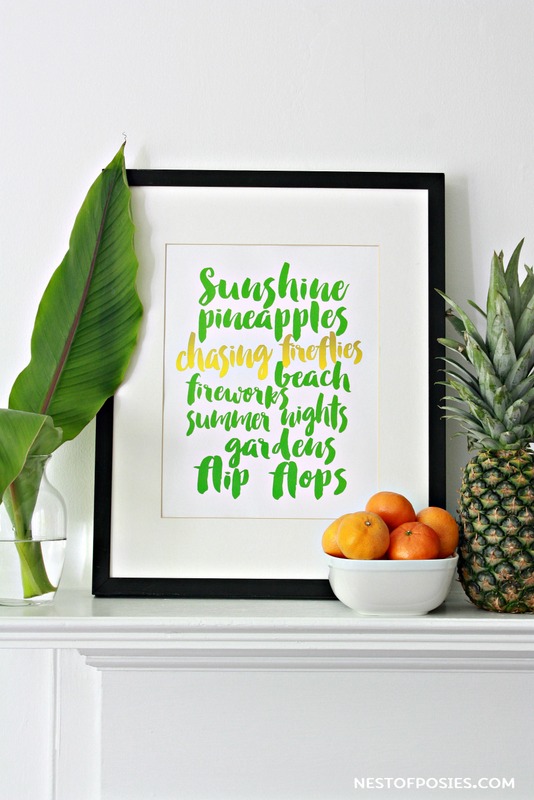 Flower gardens or fruit & veggie gardens – it doesn't matter.  We all love to see the fruits of our labor & witness the amazing creation from start to finish.
Flip flops?  Oh my.  I could kiss the person who invented the flop.
Nothing better on my feet & there's nothing faster to put on.  They're always a win-win!
Now getting back to this printable, and using it in your home decor.  I promise the only thing I purchased was the pineapple for a $1.50 at Costco.  My 11×14 printable was also the same price at our local FedEx store.  So for $3 you can have this look as well.  I also think it would be fun at a party!

I partnered with my Designs by Spec to create these printables.  Stephanie Lynn is the gentle genius behind Designs by Spec.  I love working with her.  She's so easy, always willing to make edits and has such a fast turn around time!  She is now creating designs for blogs, etsy shops or any kind of shop + her fabulous custom or premade printables!  If you need any of these things or invitations = Stephanie Lynn is your go to gal!
She made these printables for us in 2 sizes.  8×10 or an 11×14 & as you can see in 2 color options as well!
These printables are for personal use only.  Of course you can always give one to a friend as well.
Just hover over the box to click to download.
Green & Gold in 8×10
Green & Gold in 11×14
Teal & Gold in 8×10

Teal & Gold in 11×14