This is one of my favorite go-to recipes to kick off Summer.  In particular, Memorial Day and obviously it can be used throughout the entire Summer.  You can make this Summer Berry Angel Food Cake with melted chocolate the easy way…or the hard way.
It's totally up to you.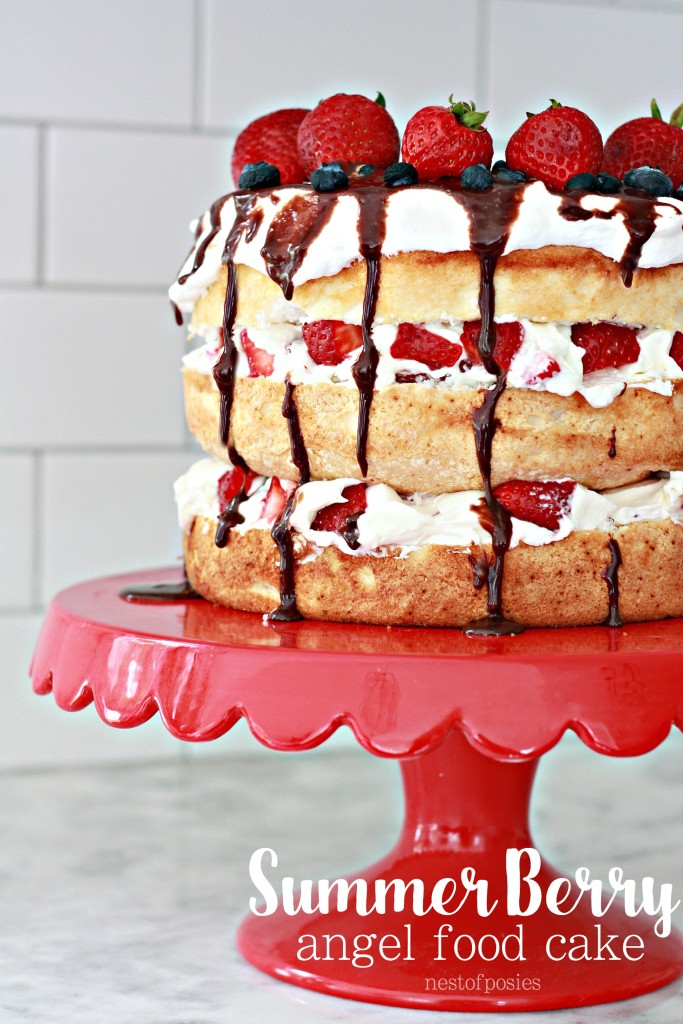 But if you're like me, I'm typically running around like crazy on Memorial Day because my kids have just got out of school for the Summer and we are planning a fun Summer holiday.
Plus, let's not forget sometimes it's nice to take advantages of those shortcuts when you're a mom.
So yep!  You can totally cheat & buy the store made Angel Food Cake or an Angel Food Cake mix.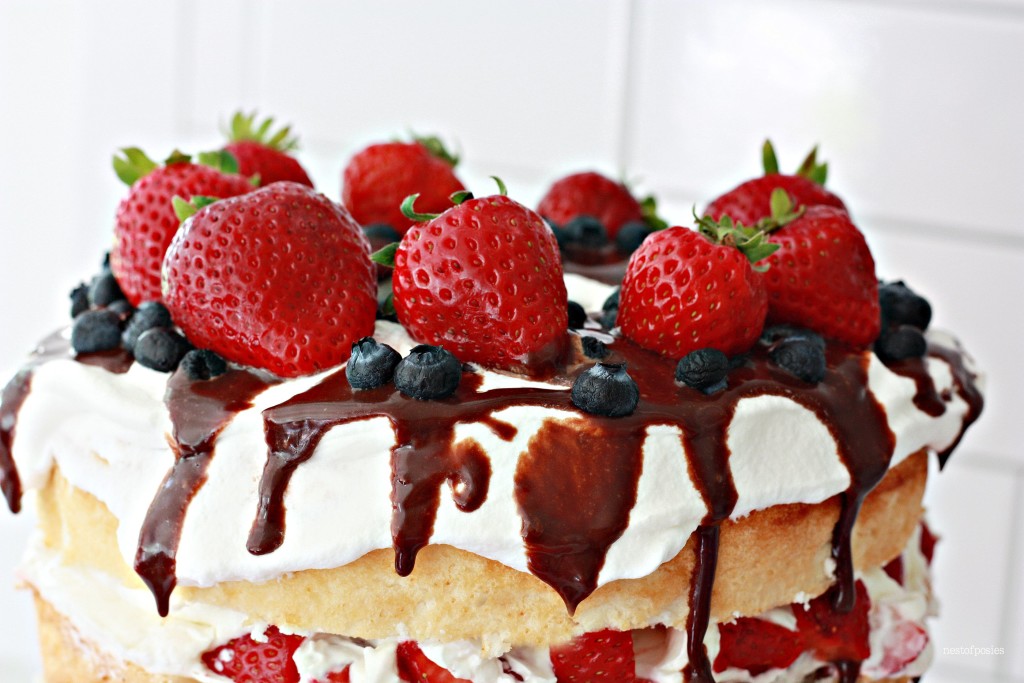 So this is truly a "semi-homemade" recipe & I'm not ashamed to say it.  😉
There's probably a few things I should explain…
I mix half of a can of sweetened condensed milk in with the whipped topping.  If you add the entire can of sweetened condensed milk – your topping will become too runny.  So I add the remaining half of the can by drizzling directly on top of the cake layers.
So this Summer Berry Angel Food Cake with melted chocolate becomes even more delicious while soaking in sweetened condensed milk.
Summer Berry Angel Food Cake with melted chocolate
Ingredients
2 premade* Angel Food Cakes or an Angel Food Cake Mix
1 cup washed blueberries
1 pint of washed Strawberries (sliced and a few let whole)
1 large container of whipped topping (or 2 small containers)
1 can of sweetened condensed milk
11/2 cup of milk chocolate chips - melted
Instructions
If you're buying premade Angel Food Cakes (like I do) I buy 2 and slice them in half. So you'll have 3 gorgeous layers of this cake (and 1 left over)
In a bowl mix 1 small container of whipped topping with 1/2 the can of sweet condensed milk. Gently folding together until it's all mixed.
Begin the process of layering the cake - start with half of a cake and drizzle lightly some of the sweetened condensed milk that you have left over on top of your Angel Food cake half.
Spread a thick layer of your whipped topping and sweetened condensed milk on top of your layer.
Spread slices of sliced strawberries on top of the whipped topping mixture.
If you are serving it immediately - you can also use sliced bananas and mixed with your sliced strawberries.
Add another layer of the Angel Food Cake and drizzle the remaining sweet condensed milk on the 2nd layer.
Top with more sliced strawberries (and bananas if desired)
Add the 3rd and final layer of the Angel Food Cake and top with remaining whip cream mixture OR add plain whipped topping on top of your 3rd layer. Drizzle your melted chocolate over your 3rd layer and whipped topping.
Add your whole strawberries and your blueberries on top of your melted chocolate.
Serve immediately or store in fridge.
https://www.nestofposies-blog.com/2016/05/summer-berry-angel-food-cake-with-melted-chocolate/
Trust me, you cannot mess this cake up!  Just layer it as high as you can stack it.
That's my motto, at least.
If you end up having an extra layer of Angel Food – eat it for breakfast with your coffee.
I'm sure it won't go to waste.  😉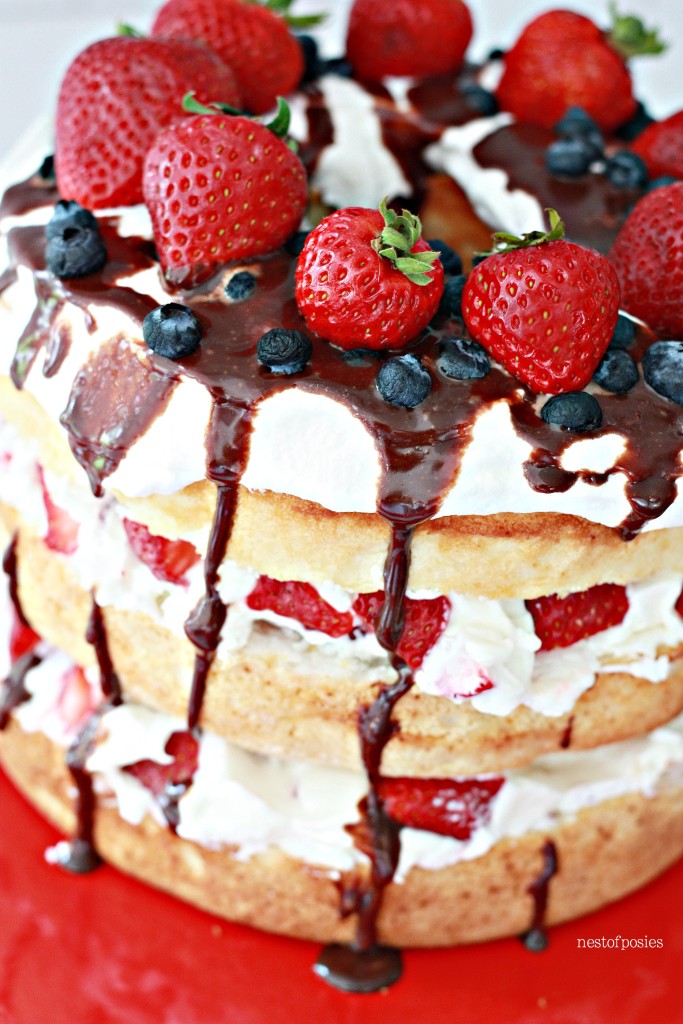 My kids are big fans of the melted chocolate, and I think my favorite part is the whipped topping mixed with the sweetened milk.  It goes perfectly with those sliced strawberries & blueberries!

It's the perfect cake to to have for a holiday picnic & show off your red, white & blue pride.