Sometimes blogging can be about creating, baking, decorating or even what we wore.  Other times it can be about kids or mommy tricks you want to pass along.  But on the rare occasions it's about the ultimate DIY or the hardest project you ever tackled in your whole entire life!!!  Like our fixer upper pool and patio transformation.  Like you happen to be so proud you want to scream it from the roof tops.
*This* is that moment.
I'm screaming from the roof tops, y'all.
This was our before….
(I mean seriously, WHAT were we thinking???)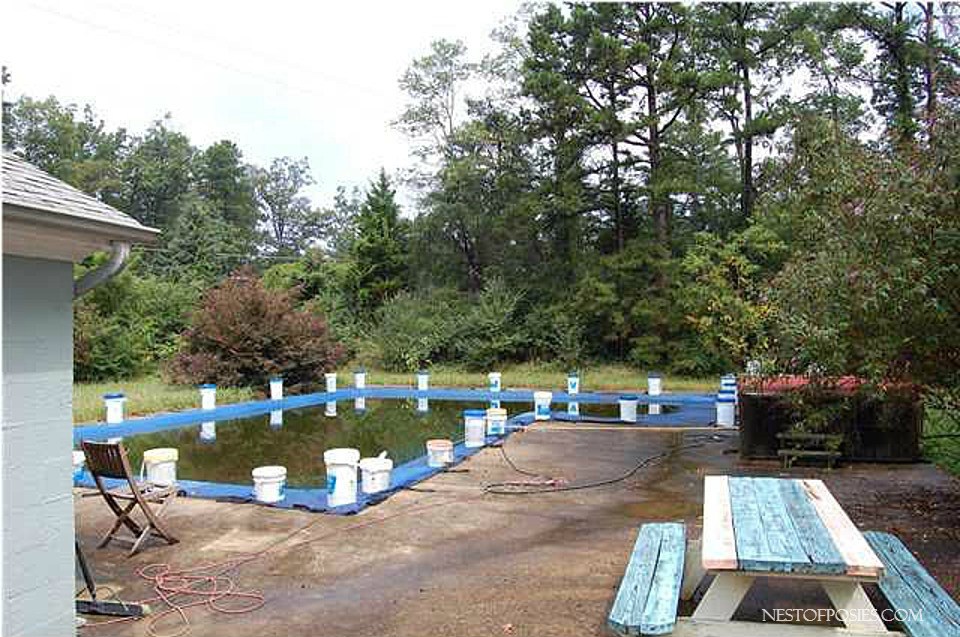 About 2 years ago we signed papers on this disaster of a mess.  We bought a foreclosure that had been empty for at least 4+ years.  You can read all about it in various posts like this one, or here, or even here.
If I were to be fair, I would say that 50% of the remodel on our house was not too bad.  Paint, floors refinished, updated the lights, switches & plugs.
The other 50% was the hardest, most frustrating, most blood-sweat-and tears part of our lives.  I mean – it seemed nothing was easy on 50% of this house, especially this Fixer Upper Pool and Patio Transformation. It was one of the worst!
But let's talk about this pool………………..
OHMYWORD, y'all!!!
It was so hard.
So gross.
I've never sweated so much in my life as to clean up this pool from the gross, dark, black water and then proceed to pressure washing the almost black patio that surrounds our pool.  The patio/concrete area could seriously hold about 10 cars.  I sometimes call it a parking lot.  Now, don't get me wrong…I'm so thankful for it's size!  But I sure wasn't when I was pressure washing it!
We did have friends that helped us get the cover off of the pool and chain saw the old jacuzzi spa so we could haul it off.  But after that – it was my husband & I working like crazy to get this pool up & running.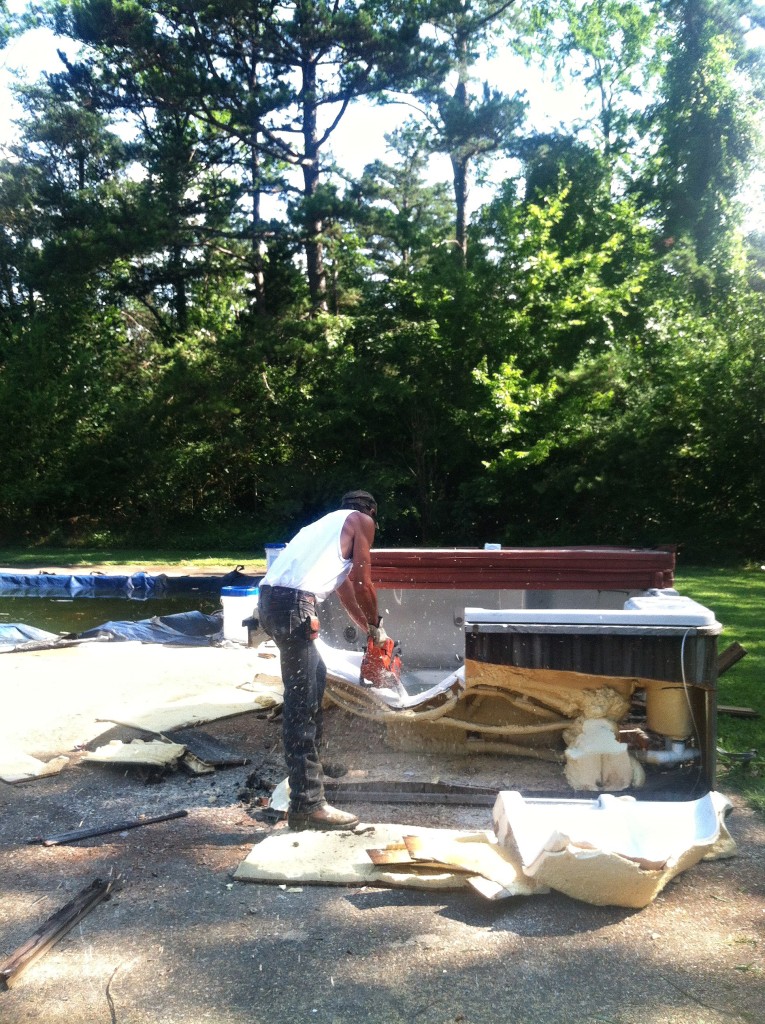 The picture above – if you look to the left – you can see how the cover was really under TONS of water.  Getting that cover out of the pool was so hard!!!  Because it was loaded down with the grossest water & it was so heavy!  Of course the pool was loaded with frogs & snakes as well.
So there were many times, that I went running away.
I don't think my feet touched the ground when I saw the snakes.
So gross!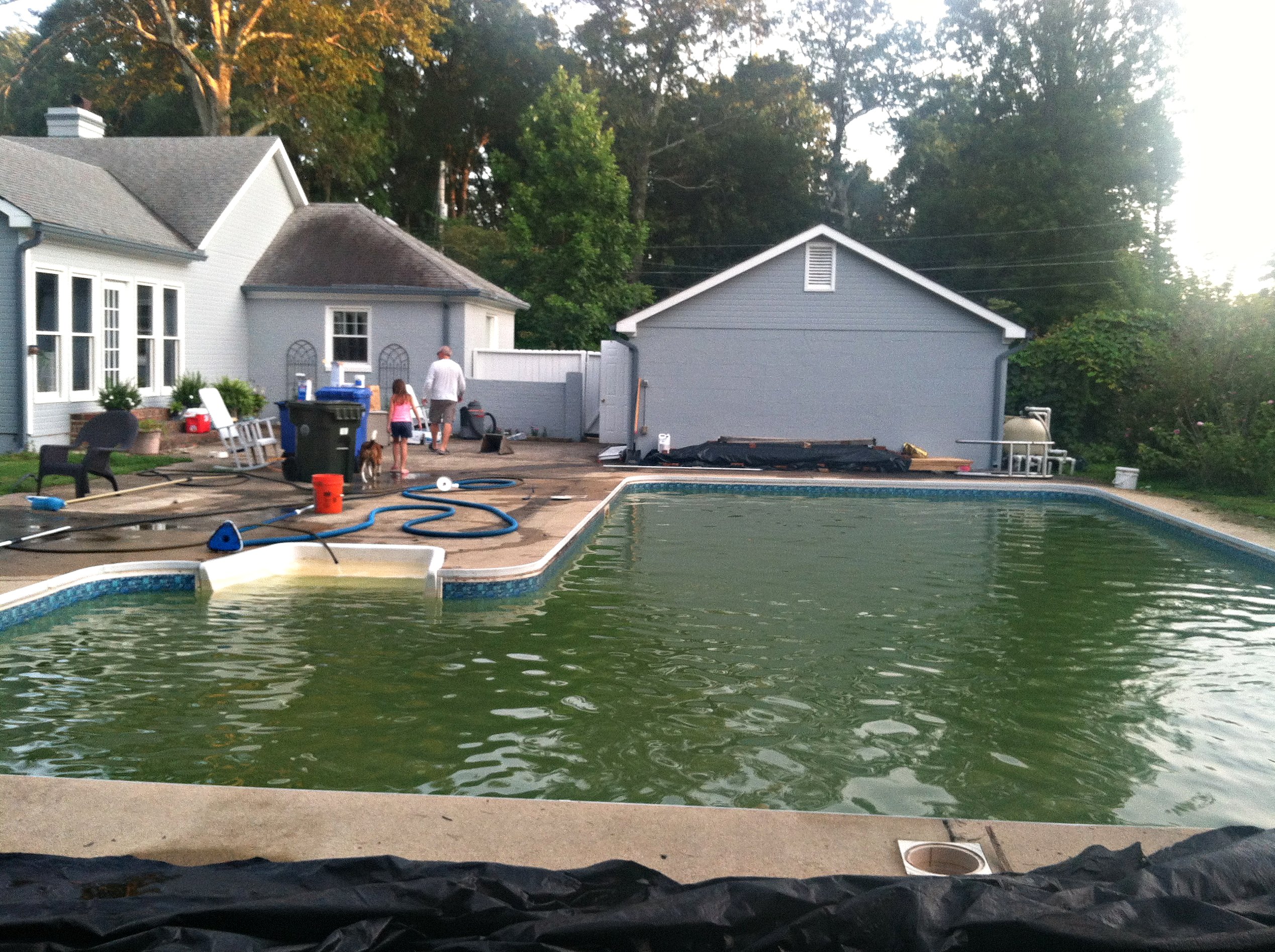 The pictures are NOT pretty in the least, but they tell a story…
Of a lot of work & trials!
We started on the pool last year & we were so close to getting it going, but of course the motor went out on us.  At that point we were in late July & we basically said – next year.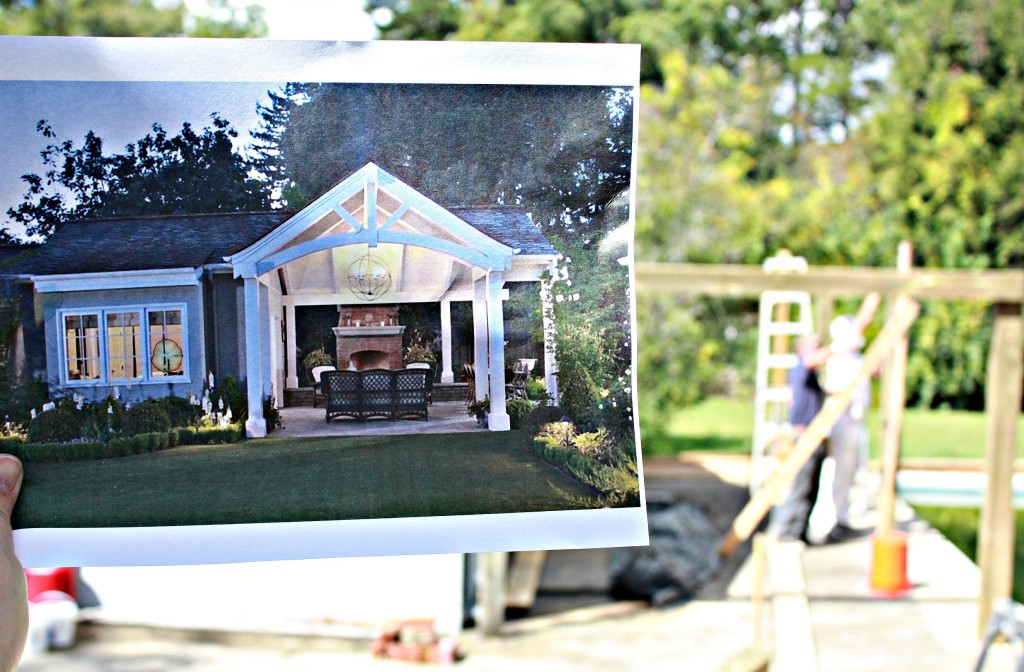 I had an idea of how to extend out the roof line of the back of our garage so we could have a covered area.  My inspiration photo is above.  Our pergola is not nearly as fancy, but of course I have big plans to make it as pretty as possible.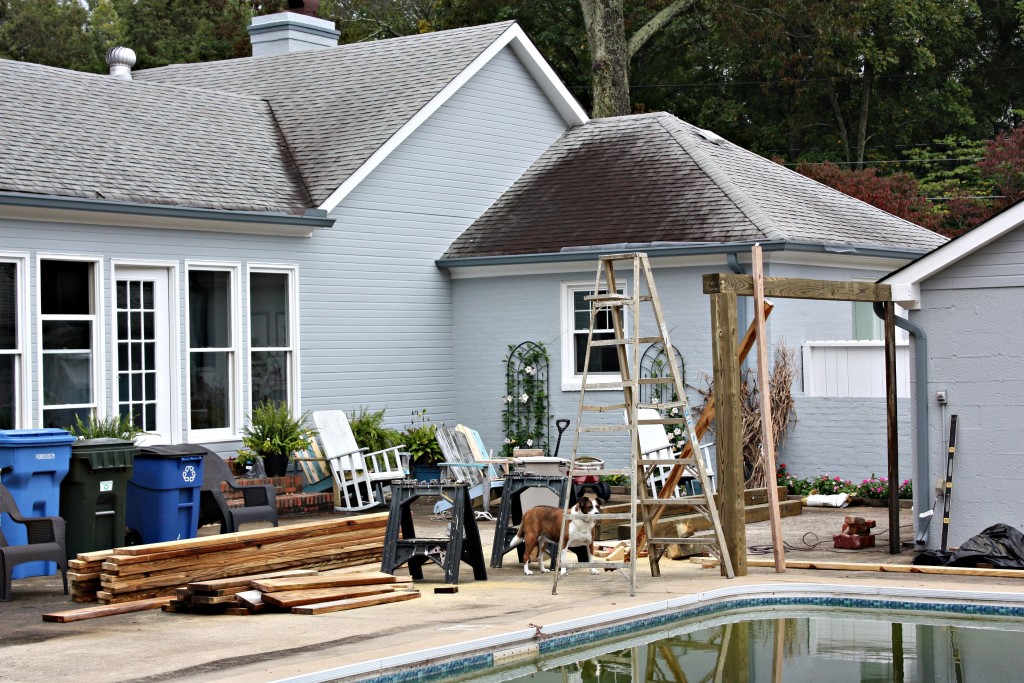 We have plans to get a new roof on the entire house & we'll have the roof extend out over our new pergola.  When we ever get to that point, that is.  But for now, I'm grateful we have it even if it's a rough frame for now.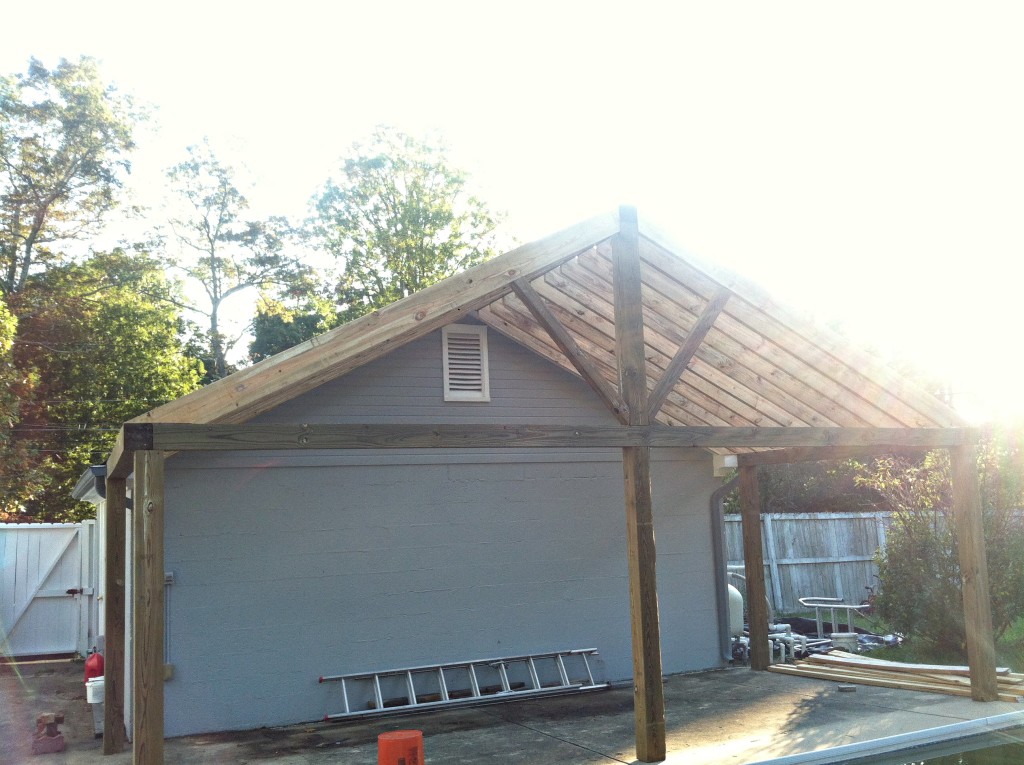 For the past week, I've been pressure washing our parking lot – I mean patio.  I felt like my arms were going to fall off!!!
We finally…
Have beautiful water in our pool…
To us of course, it's the prettiest sight for our sore eyes of looking at black water!!!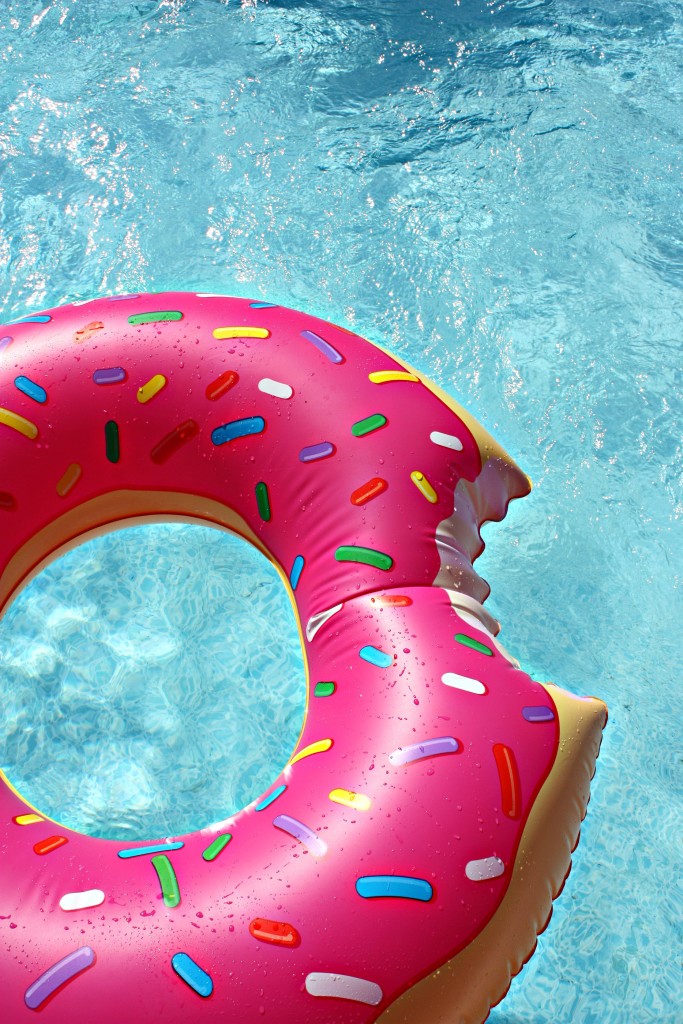 There's still a lot I want to do, but for now we are stopping to smell the roses.
Literally.
We have been in our pool for about 2 weeks now & even though I see projects we still want to do.  You just have to stop once in a while & take a break, ya know???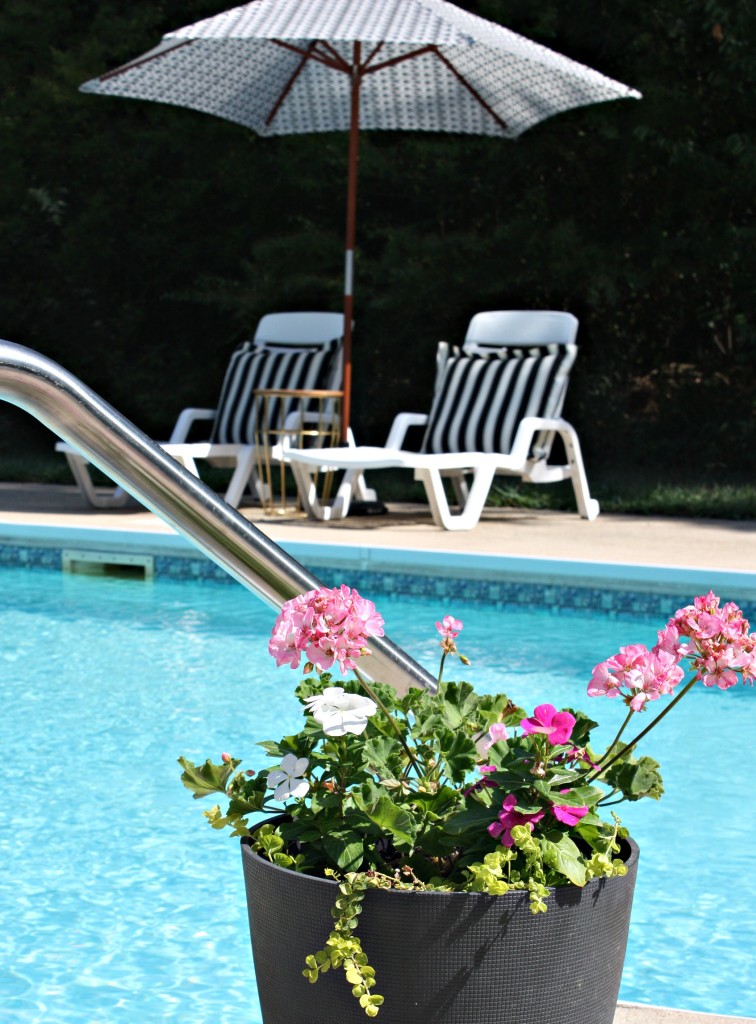 Because the view is amazing for us!
The warm & fuzzy feelings runneth over!!!  😉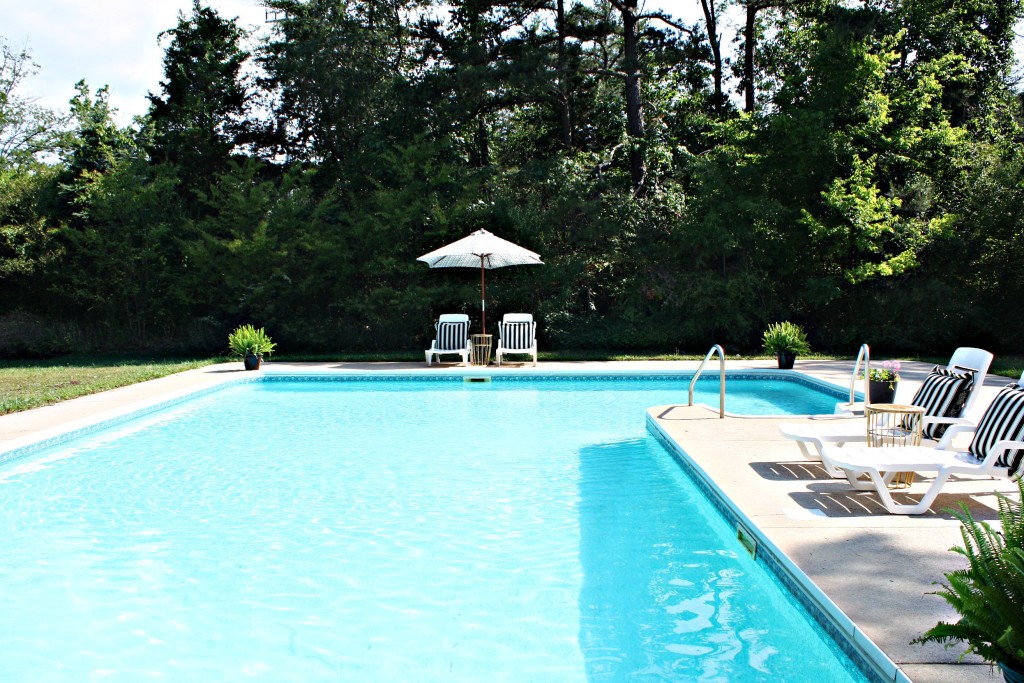 I mean…I can't believe I lived to see the day.
For a before & after shot – here ya go:
We are so proud.
It's amazing what a whole lot of elbow grease can do.
Truth is, we are exhausted.   We've all eaten pb&j more nights for dinner than I care to admit.
But as my kids have said – it was worth it, MOM!

You might also like to read about our other hardest project – ever!!!  My husband would probably say this room & the pool probably "tie" in being the hardest.  LOL – But I think it's the pool.