This Stuffed Chili Bread with Homemade Sausage Chili will be the star of your meal.  It of course is perfect for weekends, watching football around the tv, or even brought to a tailgating party.  It truly is a great Fall & Winter meal.  Bonus points – that most kids love it & it's very filling.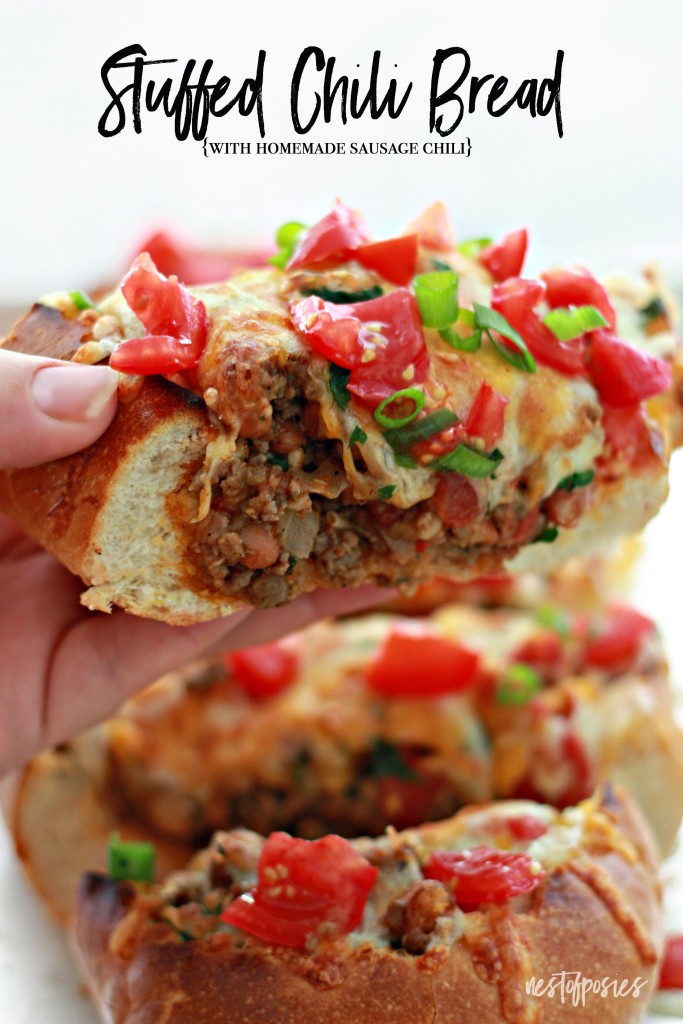 Homemade Chili is a very requested meal in our household during the Fall & Winter months.  It's probably one of my husband's favorite meals, and he also loves to take it to work with him for his lunch.  To be honest, I probably love it when he cooks the chili, because for some reason most men are really good at making chili.  But most of the time, I'm in the kitchen while he's working.
So I had this idea to make my own version of Stuffed Chili Bread with Homemade Sausage Chili.  Y'all it is so delicious and makes you crave Fall, cooler weather, boots & sweaters & of course football all at the same time.
Because you know in the South, we women love our football but we love a quick meal even more so we can really enjoy our football.  😉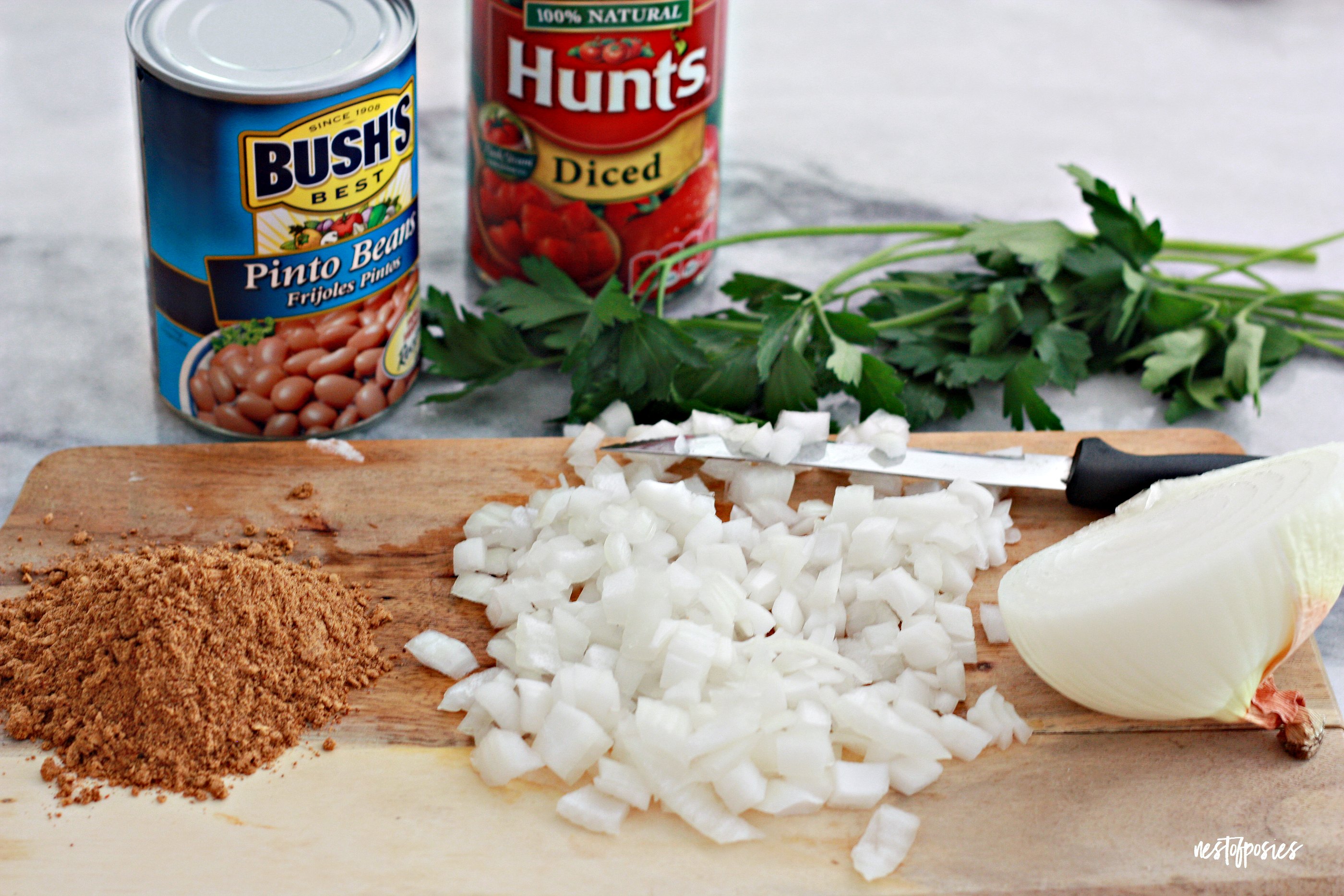 Of course you can use your own favorite chili recipe, because we all have our favorites.  But I have really worked with this recipe to make it just enough for the 2 loaves of sourdough bread that you'll be stuffing, plus it's important to note, that this is a pretty
"dry"
chili recipe.  Because you do not want to have soggy stuffed bread that will fall apart.
Plus, if I do say so myself there's something about the sausage in there that pushes it over the top!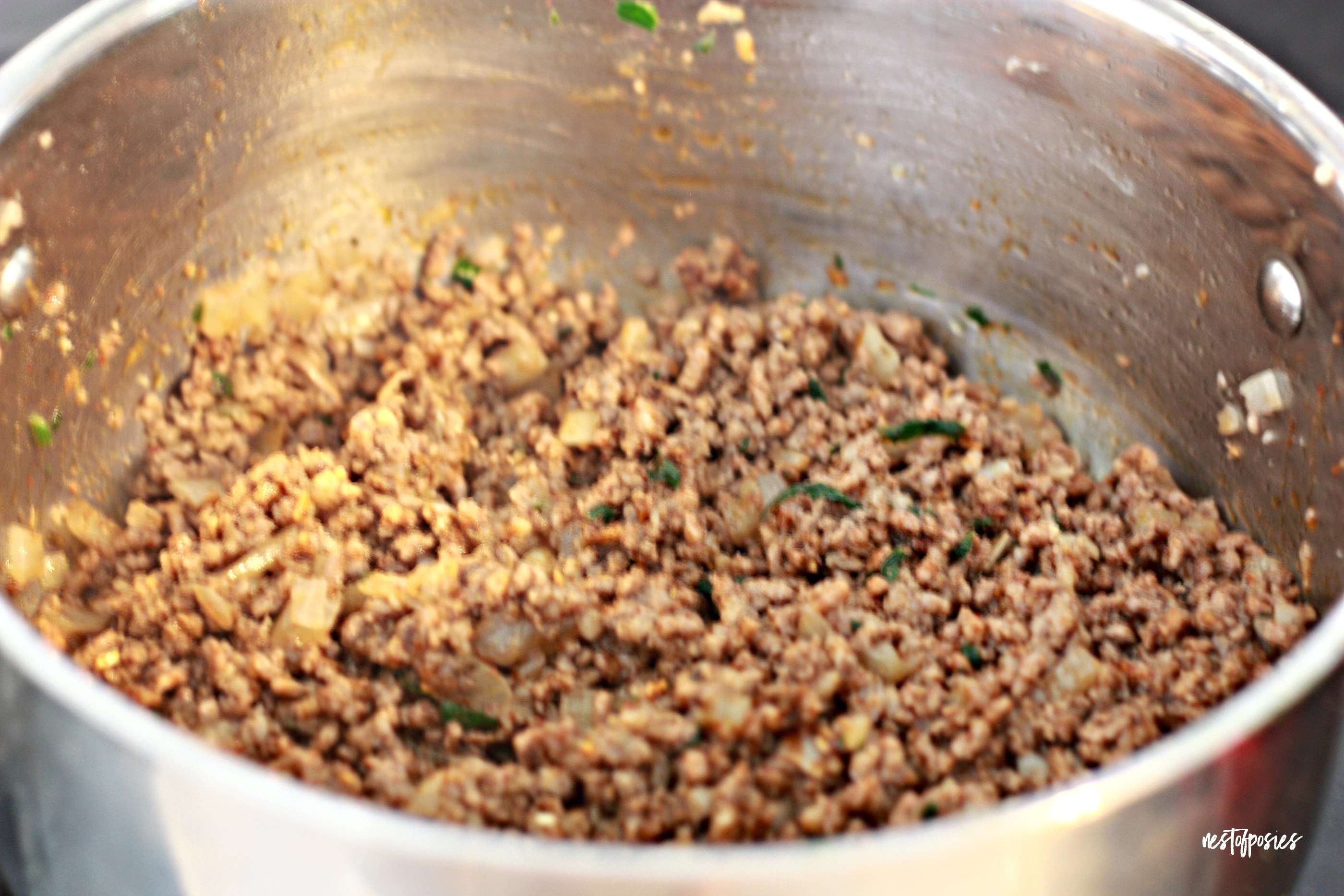 The other part that I think makes it really good is using fresh parsley.  Which of course may sound odd to some of you for a chili recipe, but trust me – it sets it apart in a delicious kind of way.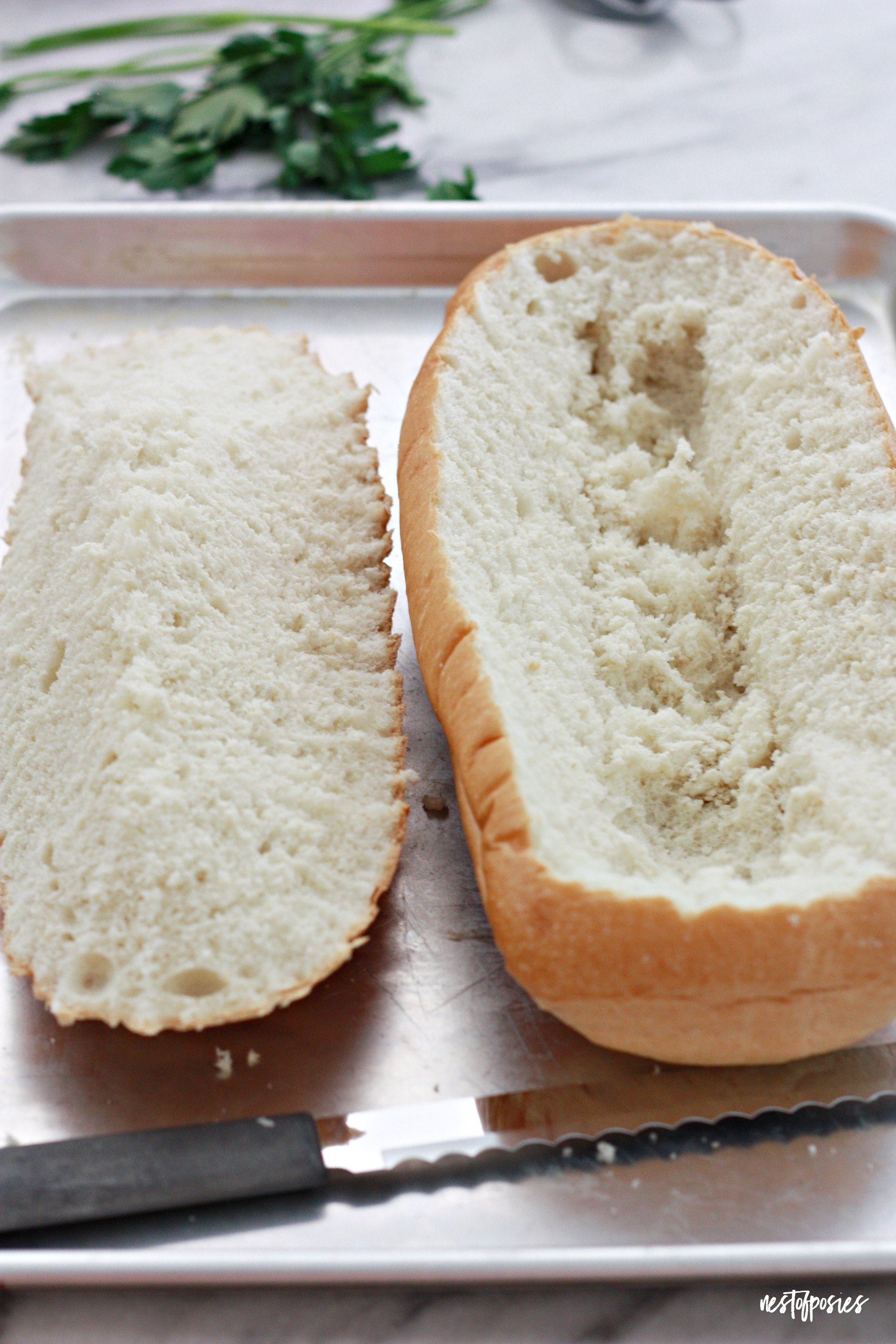 It's honestly a pretty easy meal to put together.  From start to finish in less than 30 minutes to be exact!
I highly recommend to drain everything since you'll be placing this chili inside of bread. Because you don't want your bread to become too soggy. If you drain your tomatoes, beans you should be ok. This recipe works great for leftover if you've drained everything.
Ingredients
1 large onion - chopped
1 tablespoon of EVOO
2 cloves of garlic or 1 1/2 teaspoon of minced garlic
1 pound of lean ground beef or ground turkey
1/2 pound of sausage - I use Jimmy Dean
1 can of diced tomatoes
2 can of pinto beans (or whatever type of beans you prefer)
1 teaspoon of ground cumin
1/2 teaspoon of salt
1 tablespoon of chili powder
1/2 teaspoon of red pepper sauce
2 teaspoons of chopped fresh oregano or 1 teaspoon of dried oregano
2 loaf of Sourdough or French Bread
Approx 3 cups of shredded cheese - I used a combination of cheddar and mozzarella
2 medium size tomatoes chopped
1/3 chopped green onions
Instructions
In a large saucepan add your EVOO over medium heat.
Add your chopped onions & cook for about 4 minutes. Add your chopped or minced garlic.
Add your meats. Cook until nice & brown (approx 8-10 minutes)
Add in all your spices & stir together.
Be sure to drain your tomatoes & beans really well & add to the your saucepan.
Cook & simmer for about 10 more minutes.
Add your parsley.
The chili should be thoroughly cooked & very warm temperature wise.
Turn your oven on BROIL. I used HIGH
Cut the center out of your bread - leaving it hallow down the middle.
Using a spatula to drain any grease - scoop the chili and place it evenly down the loaves of bread.
Sprinkle each loaf with your shredded cheese
BROIL for about 3-5 minutes.

KEEP AN EYE ON YOUR BREAD!

Once your cheese has melted and you see some browning on the cheese & bread remove from oven carefully.
Top with your chopped tomatoes & green onions.
Cut into slices & serve immediately.

this can be stored in an air tight container in the fridge or even in a gallon (or quart size) ziplock bag.

Perfect & delicious for leftovers.
https://www.nestofposies-blog.com/2016/08/stuffed-chili-bread-with-homemade-sausage-chili/
Honestly, it tastes so good!  And it travels really well if you wrap it in aluminum foil and place it on a grill or in an oven to reheat.  The only thing extra you'll need to bring to the party is maybe a few more napkins.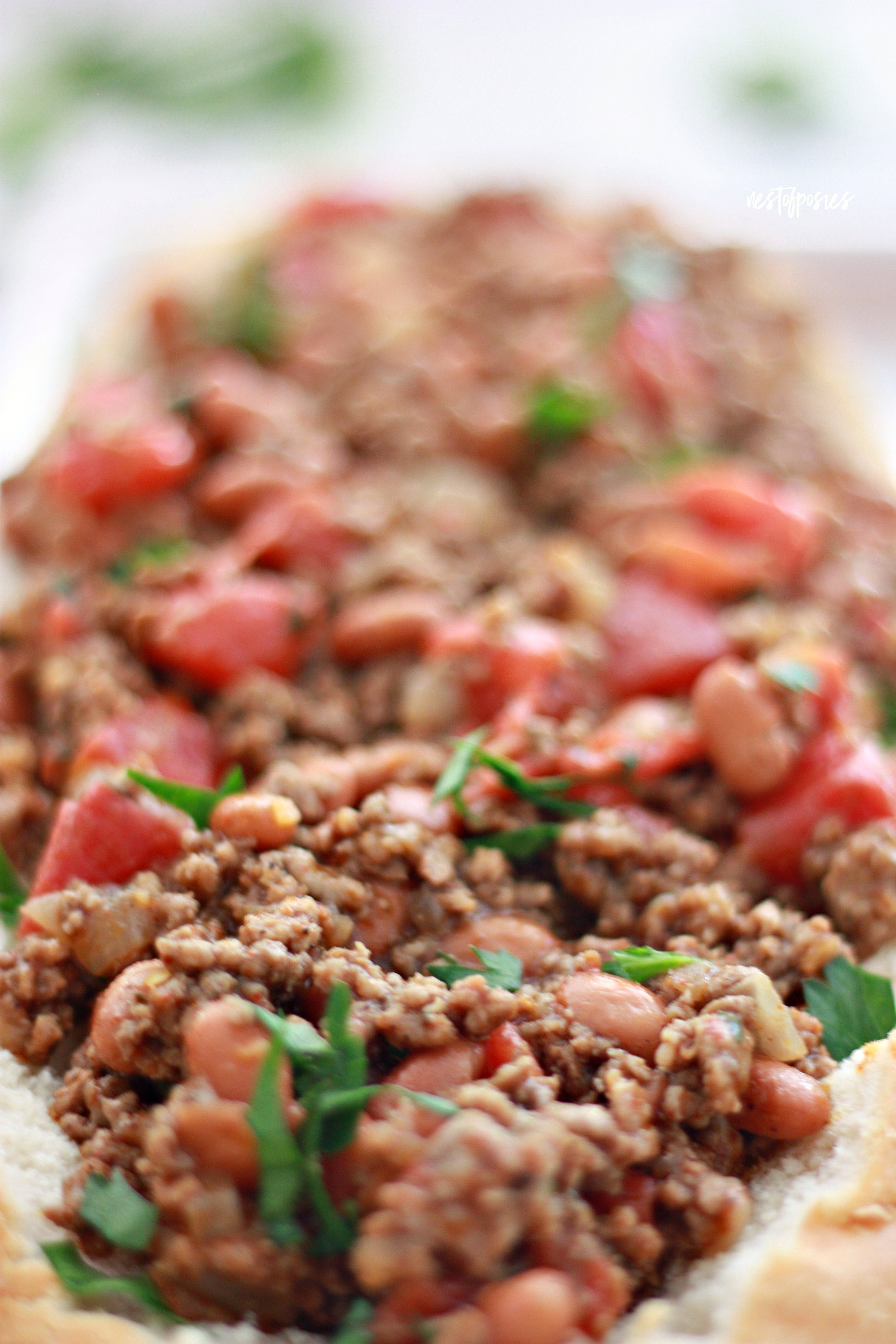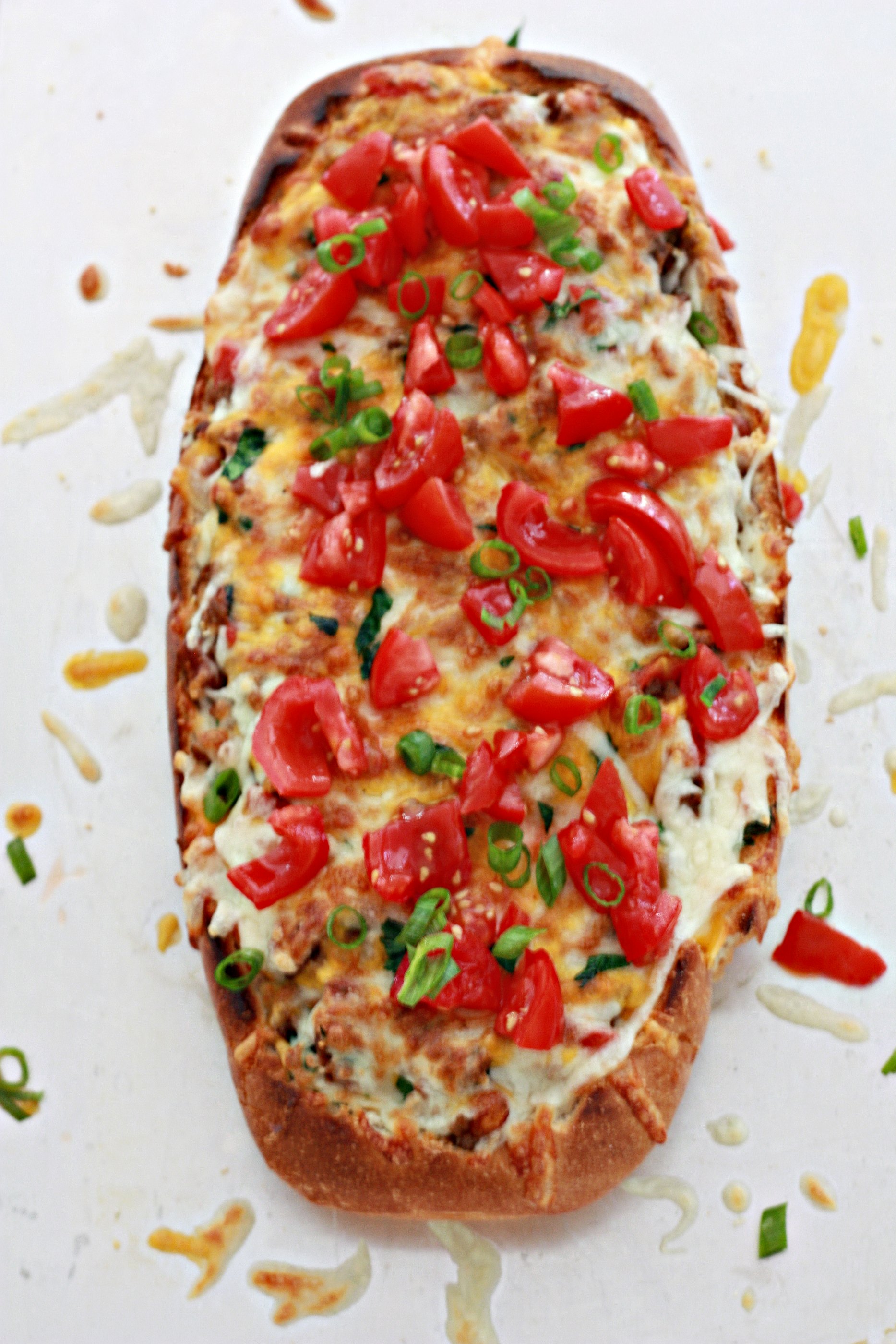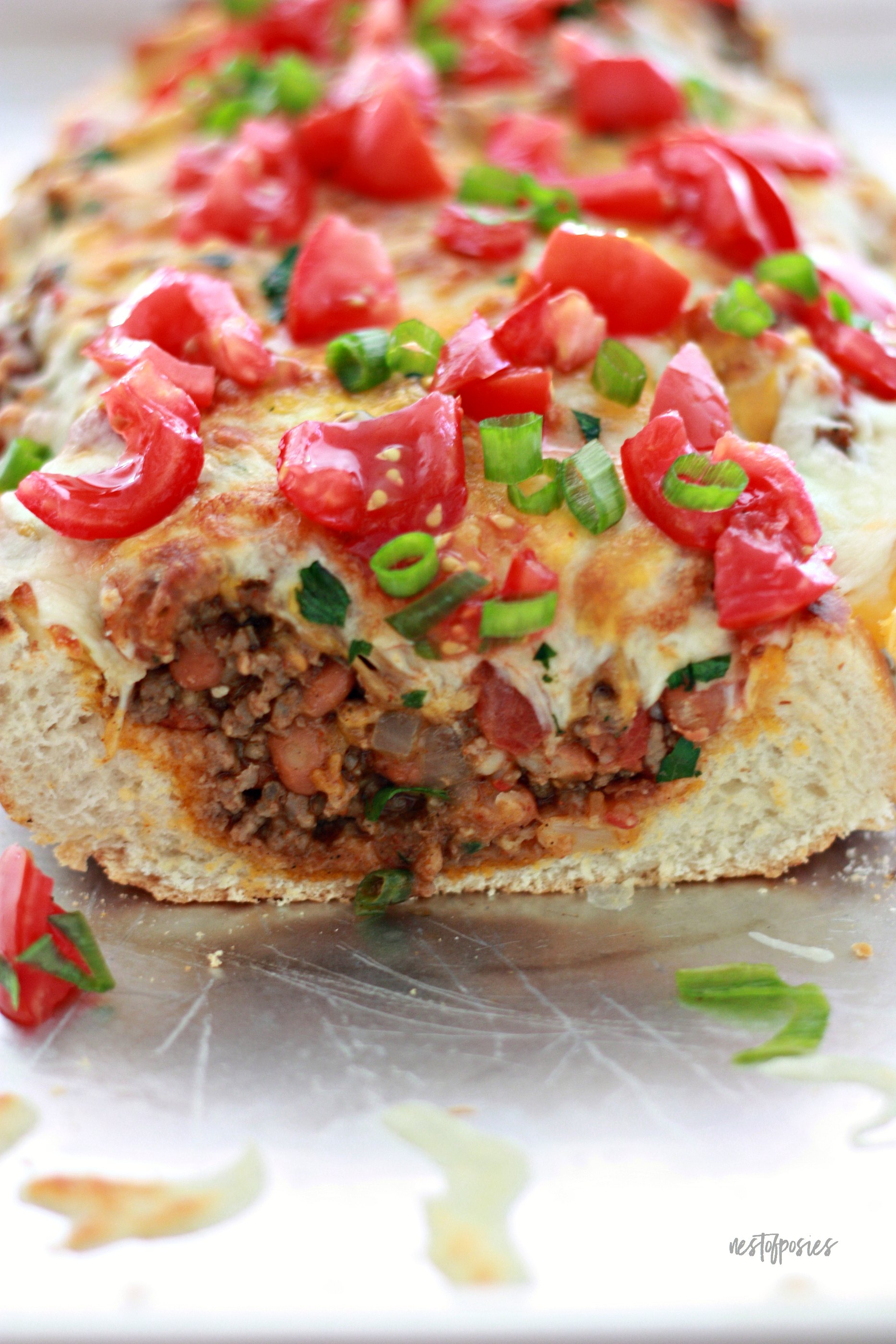 You can always adjust the heat of the chili, cheese or even the spice to your liking.  But stuffing chili in a fresh loaf of sourdough bread is a little piece of heaven, if you ask me.