Because I'm a seasonal junkie, and my kids have definitely inherited that gene as well we just *had* to create a Dollar Store Halloween Terrarium for the boys' room.  The boys share a room (click to see their shared room here) so it's always fun to have them help me create something they both will enjoy.
Everything is from the Dollar Store other than the jar.
This post was originally seen on Bombshell Bling last year, but I thought it would be fun to share it this year on the blog.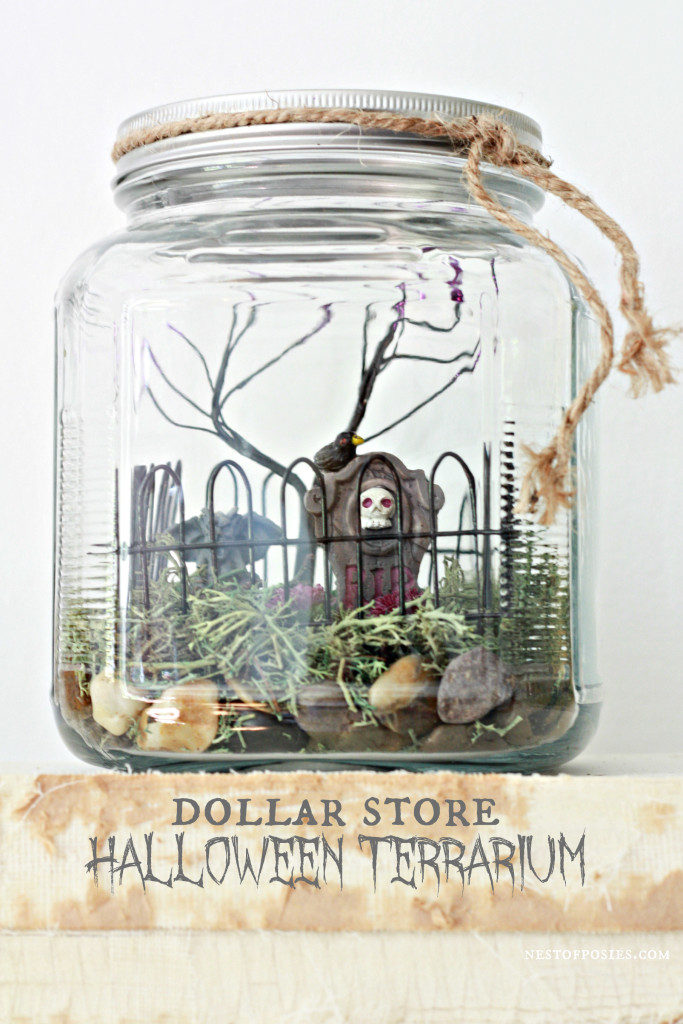 This is quite honestly something your kids can do themselves!  We worked on this together & of course I took the pics, but they were truly
"into it"
and wanted it to look as close as to the Haunted Mansion at Disney as they could possible get.
So I grabbed this jar I've had forever, and we layered rocks & the moss at the bottom of the jar.
It's basically a no-brainer to create a Dollar Store Halloween Terrarium but it's a fun project to get the kids' imagination running wild.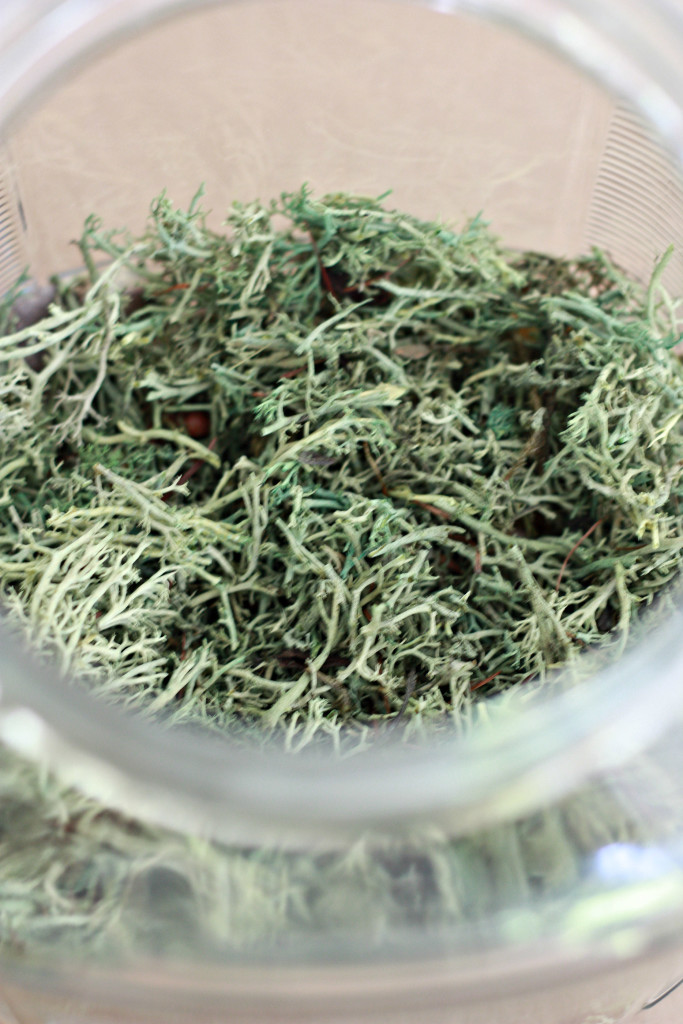 Then we just added a few fun pieces I got while at the Dollar Store.
To be honest I have seen Halloween Terrarium on Etsy before.  So this is not an original idea of mine.  But when I saw these cute little pieces at the Dollar Store, I had a light bulb moment.
I don't get light bulb moments that often, ya know…
But for just a few dollars I was able to create my own version of a Halloween Terrarium decor piece for my boys.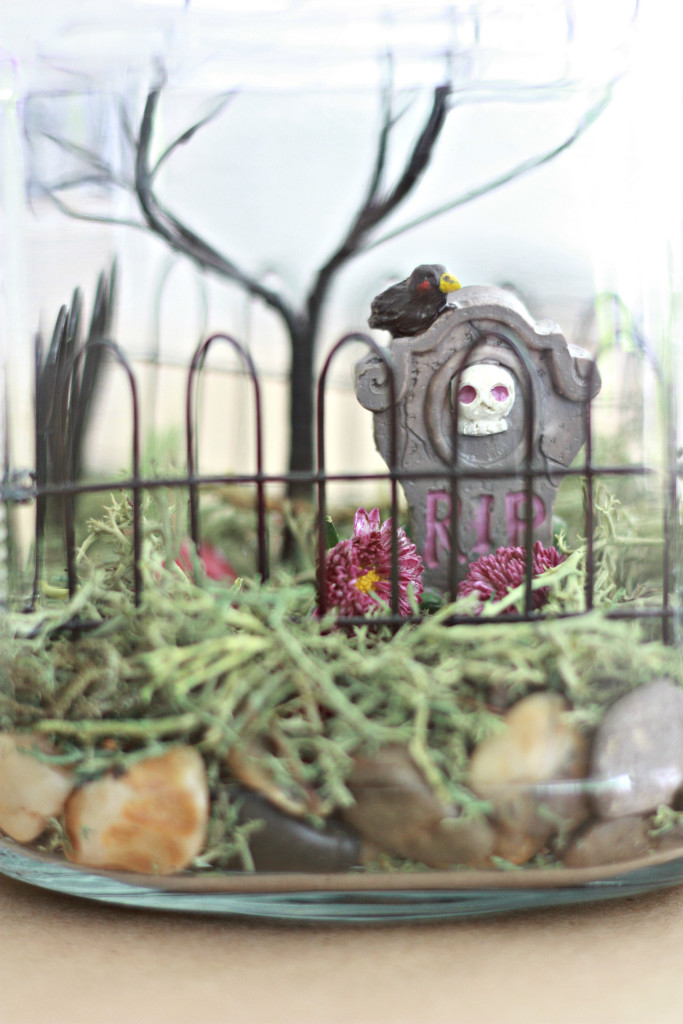 With my kids getting a little older they're starting to like a little bit more spooky things for Halloween.  But of course, I'm putting my foot down to all those fake zombie bodies they have at all those Halloween shops.
Instead I can control the spooky, put it in a jar, and it will still look good in the house. 😉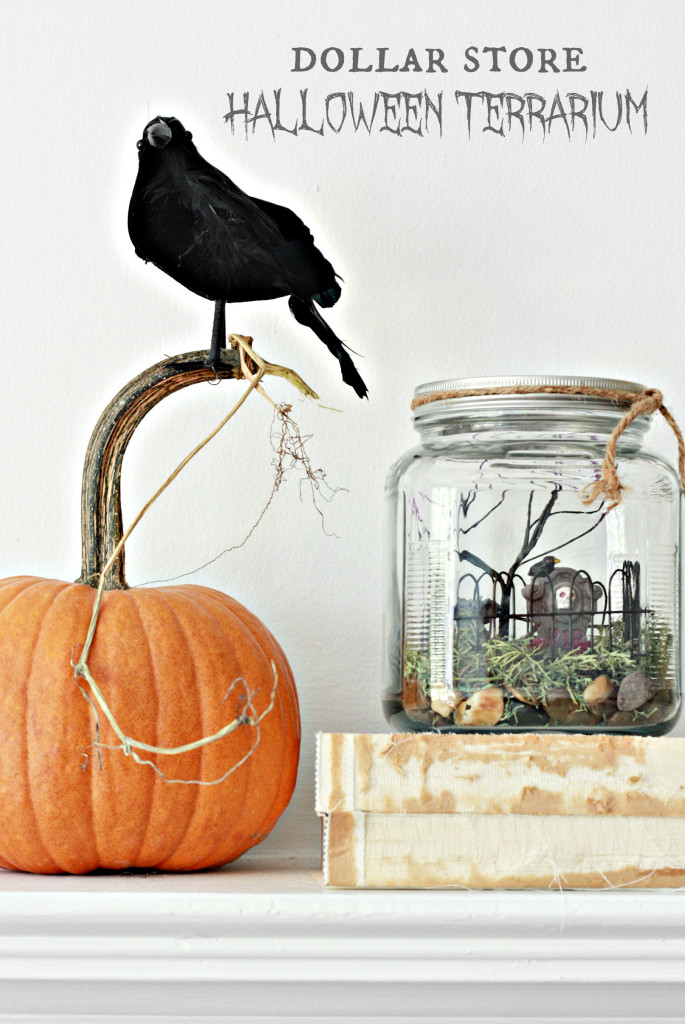 And of course lets not forget the cost.  That always helps as well.  For just a few dollars they have a fun Halloween decor piece, that hopefully their imaginations can run a little wild with.  And they can think of stories to share with each other.
You may also like some other Fall related posts: