You're gonna love this Pumpkin White Chocolate Skillet Dump Cake!  It's so moist but baked to perfection with slightly crispy cake crust from the cast iron.  It's a recipe you'll fall in love with the very first time you bake, smell & eat it!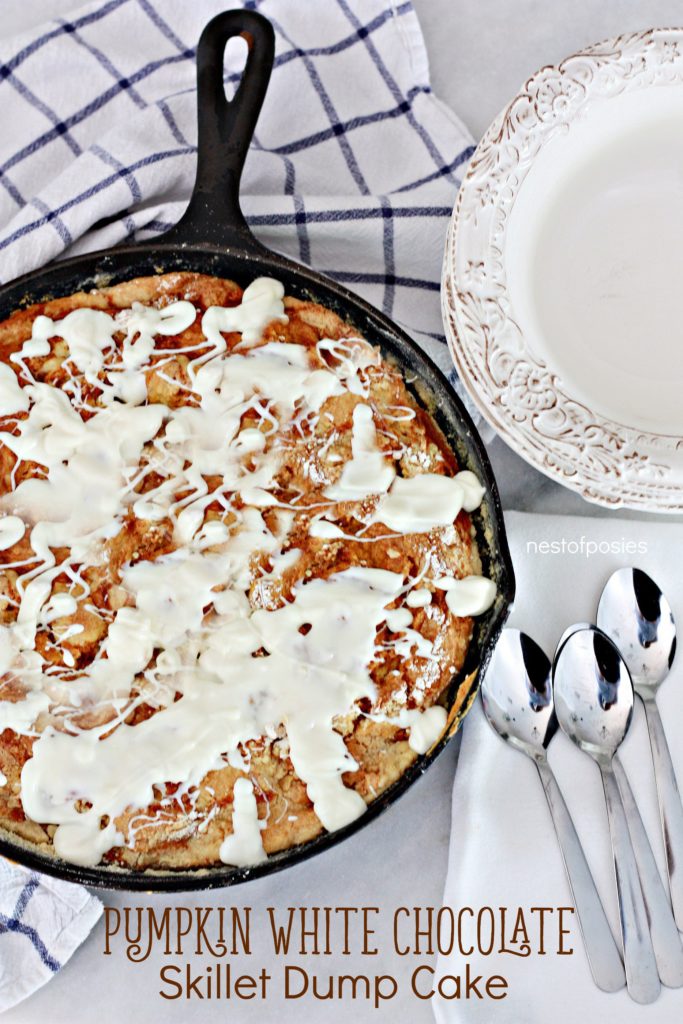 Once upon a time I used to work with a group of women, who I lovingly called "The 50+ club."
I was in my 20s.
Single.
Didn't have a care in the world other than getting to work on time.
The 50+ club & I all worked in the cosmetic department.
You see, Southern women & makeup go hand & hand.
Also, bright lipstick, hair sprayed hair, nails to perfection & for the 50+ club their hair was also done "up" just right or fixed every week at the beauty shop.
My 50+ club girls obviously knew a lot more than I did when it came to well, everything.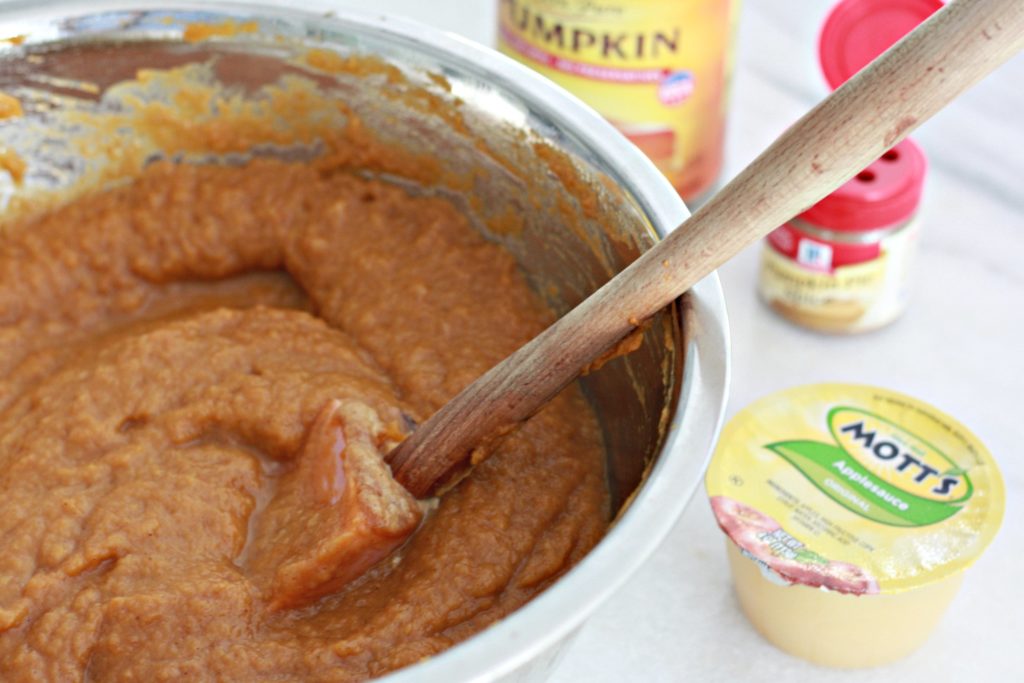 There was one 50+ club lady who often took me under her wing.  She was called "Anna Banana".
She had yellow blonde hair, and she styled it in a semi beehive every day of the week.
I learned many things from Anna Banana, but probably the things I learned the most was her various "dump cake" recipes.  The woman cook bake up a storm.  I think of her every time I bake a dump cake.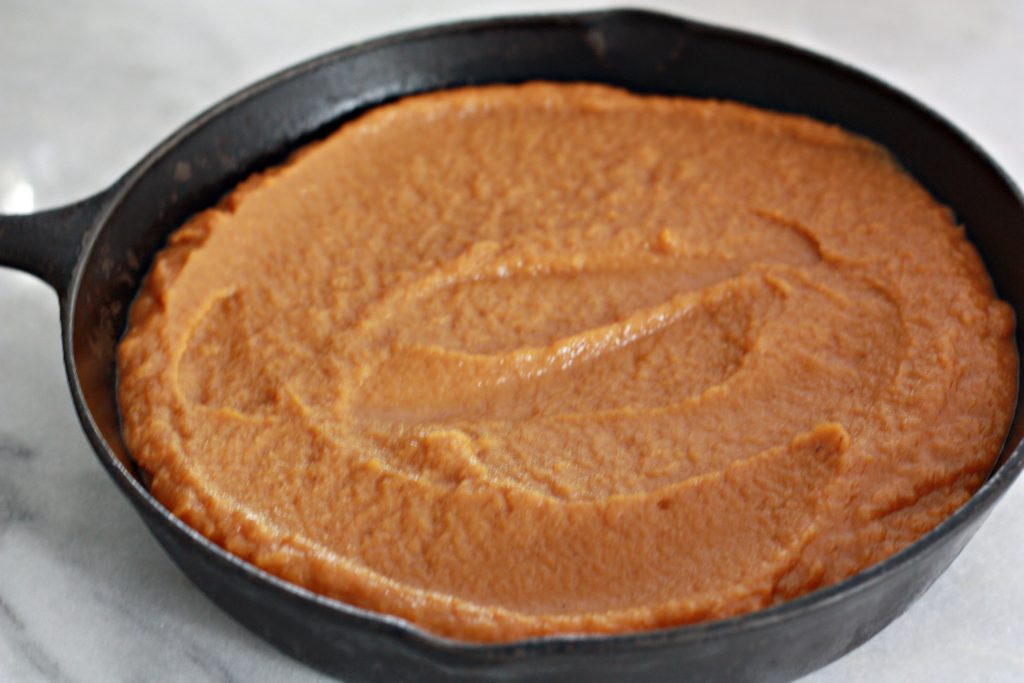 I so wish I could share this Pumpkin White Chocolate Skillet Dump Cake recipe with her.  She would love it as much as she loved wearing her beehive.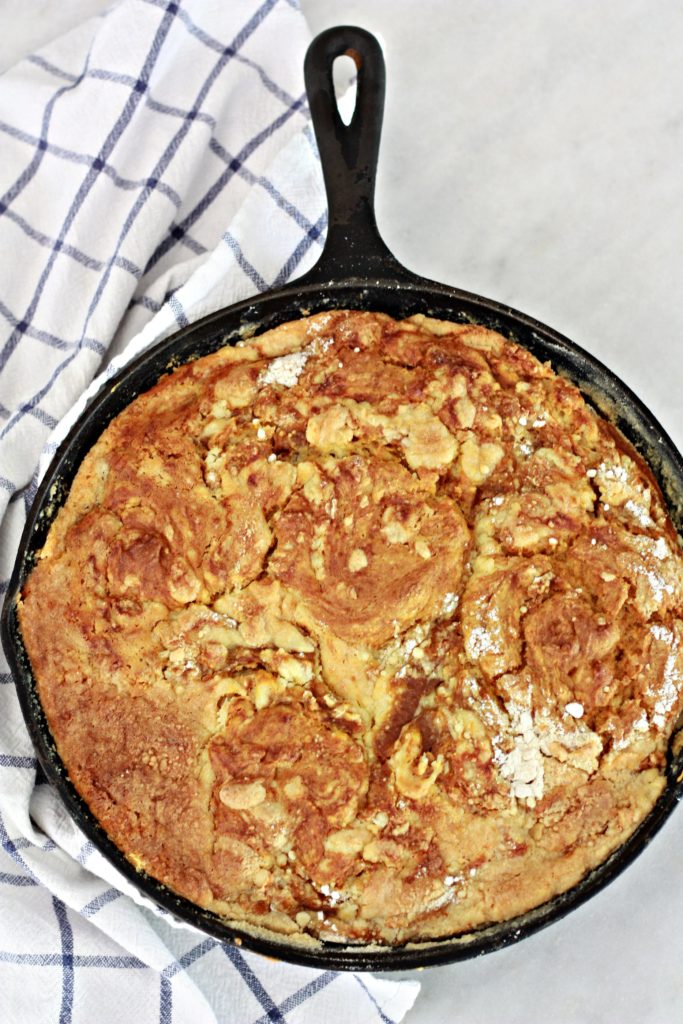 It's one of the easiest recipes you can make.  But there's something about baking it in a cast iron that immediately gets you more in the Fall state of mind.
Plus, the cast iron skillet makes it even more moist but also make the cake crust crisp around the edges.  Mixing the pumpkin with melted white chocolate puts it's over the top, I promise!
Pumpkin White Chocolate Dump Skillet Cake
Ingredients
2 cans of pumpkin puree
1 lunch box size cup of apple sauce (or 1/2 cup if it's from the jar)
1/2 cup of sugar
1/4 cup of brown sugar
1 1/2 teaspoons of vanilla
1/2 teaspoon of salt
2 teaspoons of pumpkin pie spice
1 teaspoon of cinnamon
1 beaten egg
1/4 cup of half & half (or you can use milk or almond milk)
1 yellow or white cake mix
1 stick of melted butter
3/4 cup of melted white chocolate chips.
Instructions
Preheat oven to 350*
Lightly spray your cast iron skillet with Butter Spray
In a large mixing bowl mix everything together, other than the dry cake mix. Your pumpkin, apple sauce, sugars, vanilla, pumpkin pie spice, salt, cinnamon & beaten egg can all be "dumped" in the bowl and mixed together.
Spread the mixture in the cast iron.
Melt your stick of butter in the microwave for about 20-30 seconds.
Spread your cake mix evenly over the pumpkin mixture.
Pour your melted butter over the cake mix.

Using a fork or spoon I gently swirl or mix the butter, dry cake mix with the pumpkin mixture. I do not mix it all together, but I gently swirl it around so that some of the (wet) pumpkin mixture is mixed in with the dry.

But don't over do it.
Bake at 350* for about 50-55 minutes. Oven vary so it may take longer to bake.
Once the Pumpkin Dump Cake is slightly cooled, drizzle your white chocolate over the cake.
Best if served warm with vanilla ice cream.
Trust me.
https://www.nestofposies-blog.com/2016/09/pumpkin-white-chocolate-skillet-dump-cake/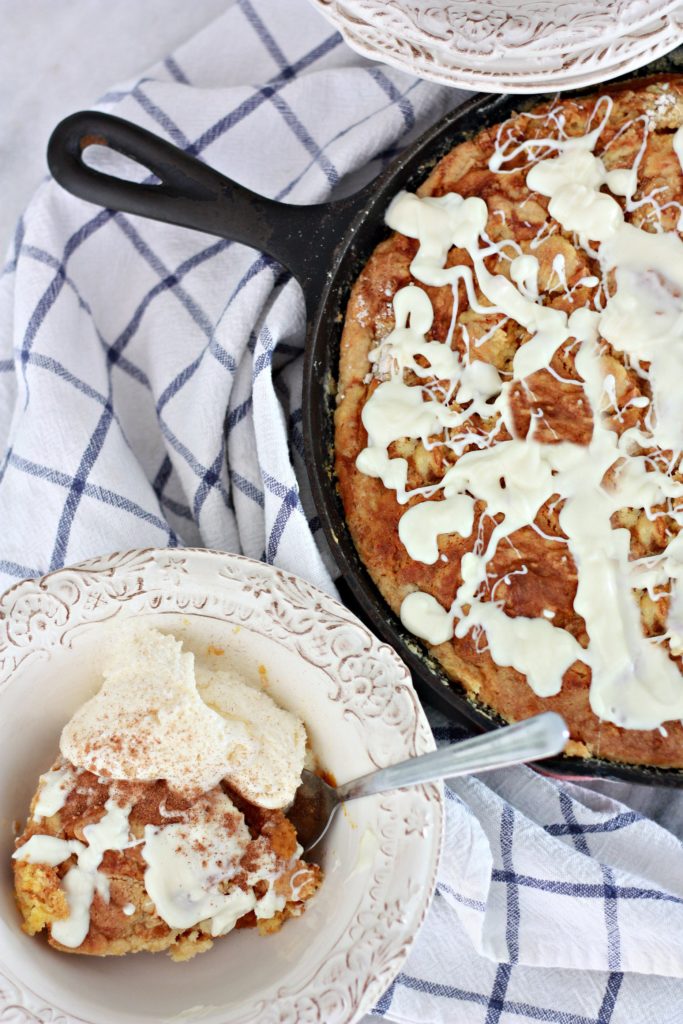 Truth be told, I used to
HATE 
cooking with a cast iron skillet.  But of course that all changed as well, thanks to Anna Banana.  She helped me see the error of my ways & thinking.  This cake is truly effortless to make.  You just mix, pour & spread & bake.  Taking a bite of the moist pumpkin center along with the crusty cake mix topping while drizzled with white chocolate is absolutely amazing.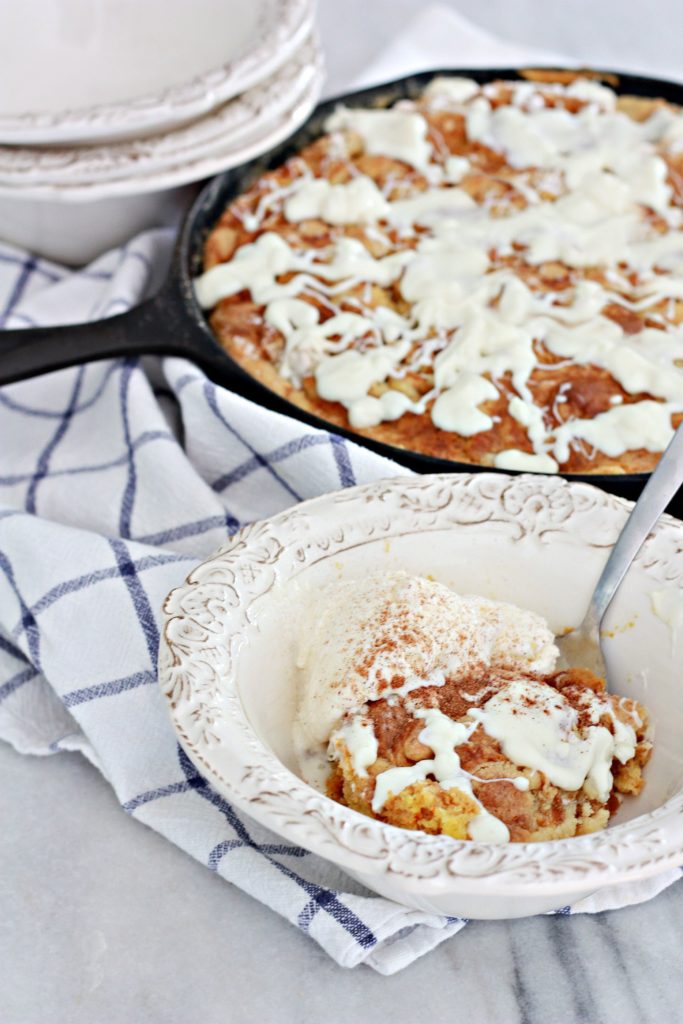 I promise you will not be disappointed.
So so good!

You might also like: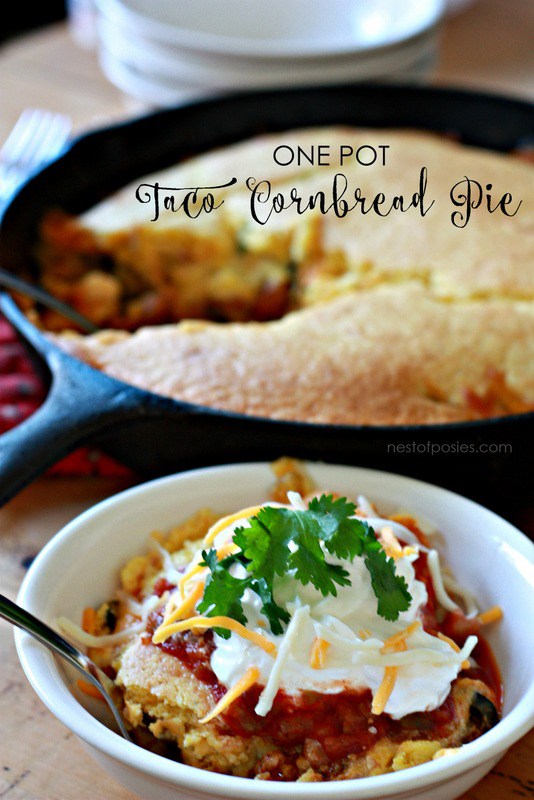 One Pot Taco Cornbread Pie – made in a cast iron!