Recently, I was able to experience all the magical things Disneyland and California Adventure has to offer during the holidays thanks to Get Away Today helping to sponsor our trip.  We were treated to all the holiday foods, special treats and of course with that came all the holiday warm and fuzzy feels.  We were also given "THE" Disneyland's Gingerbread Cake with Orange Sauce recipe to try out at home.  So naturally I had to try it for myself and knew immediately after I tasted it, that I had to share it with all of you!
***Edited to add:  If you're thinking about heading to Disneyland and California Adventure in 2017 Get Away Today has an amazing deal for BLACK FRIDAY through CYBER MONDAY!  Get any adult ticket for the price of a child's ticket and $20 off for booking a package deal and enter the word POSIES!  I mean, you never hear of tickets going on sale for Disneyland.
***Full disclosure:  This is an affiliate link that I'm sharing, but you truly are saving by taking advantage of this amazing offer!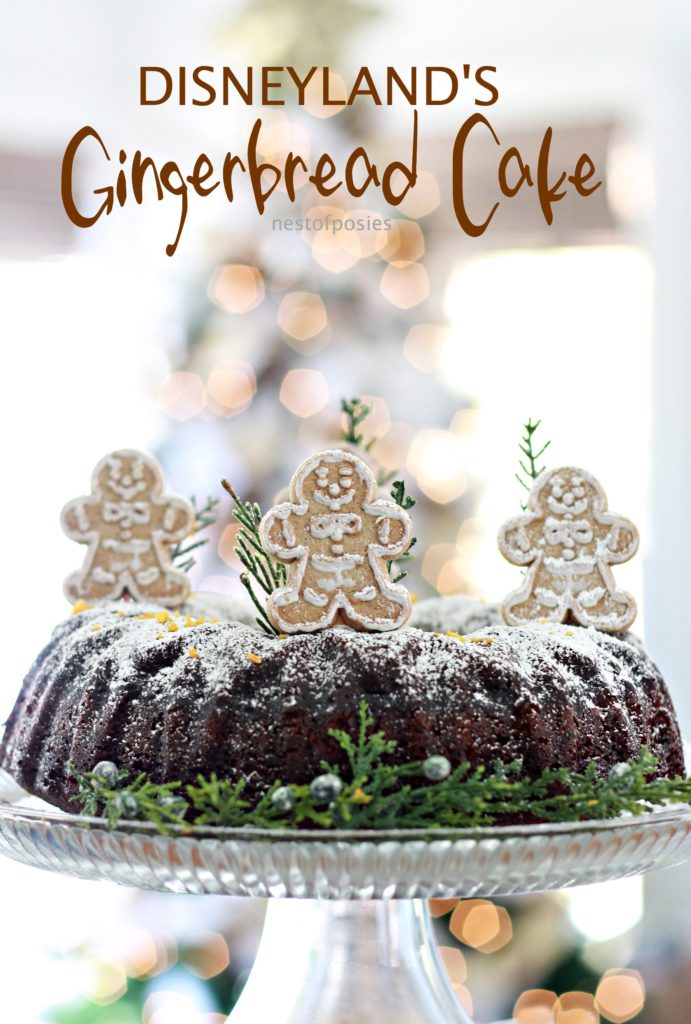 Around Disneyland and California Adventure during the holidays you will find all types of amazing treats to eat.  I mean they're everywhere!  Some may not care for gingerbread as much as I do, but to me it's the signature of Christmas.  I love to have anything Gingerbread with coffee or tea.  I always think a hot beverage brings out the flavors even more.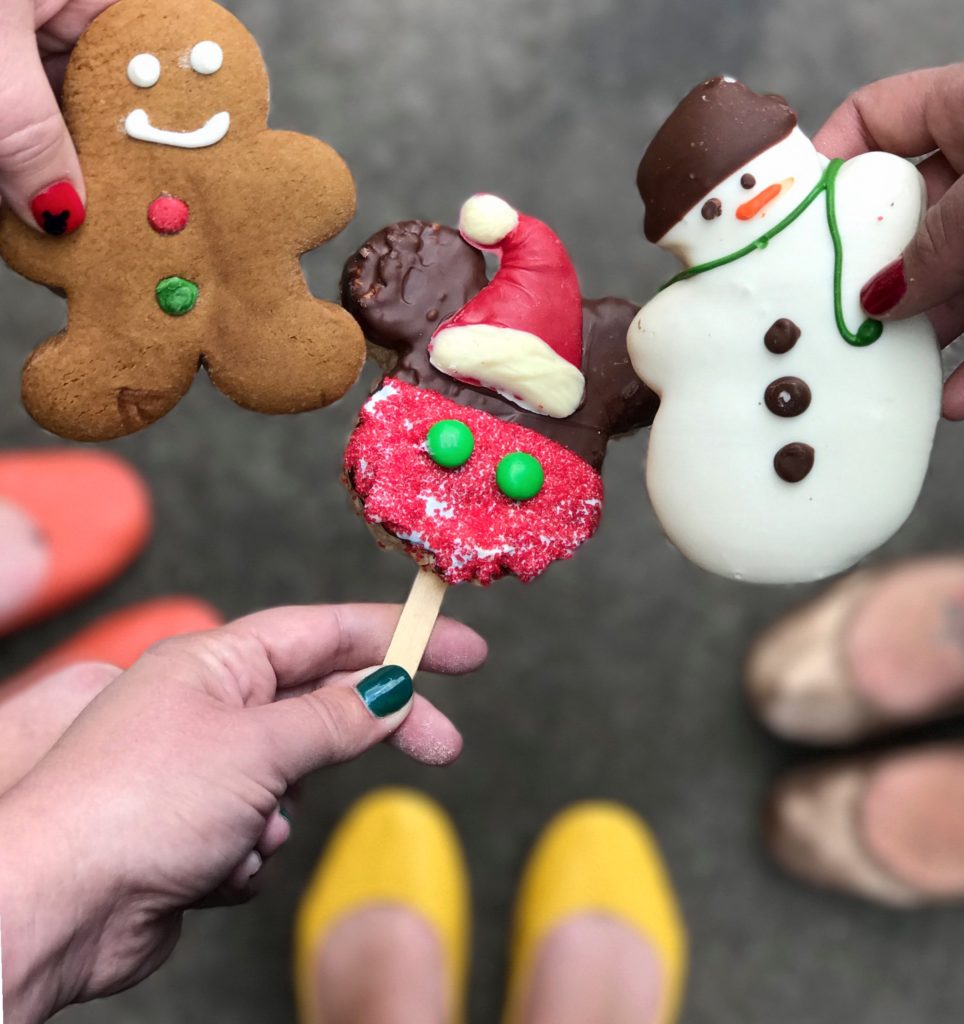 My dear friend
Melissa from No 2 Pencil
and
Crystal from A Pumpkin and Princess were with me in this above photo when we were trying to capture all the amazing & fun treats around the parks.  You see that cute little Gingerbread man???  I loved him.  We truly were eating our way through the parks, taking photos & soaking it all in while wearing our comfy Tieks.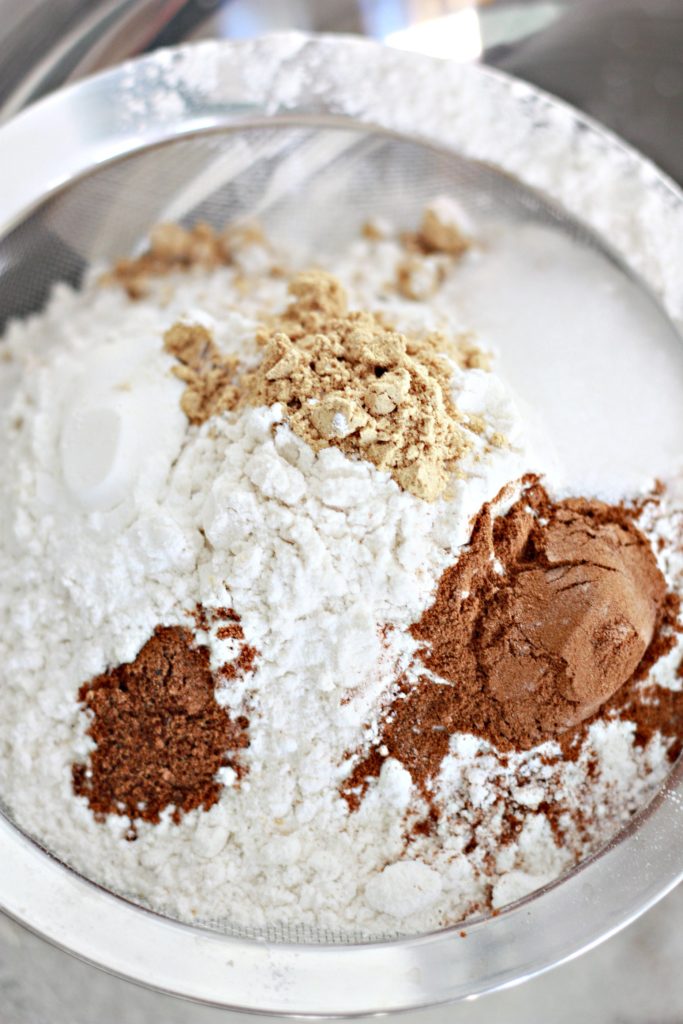 Like most recipes you have to make this cake in steps.  I won't lie, it does have a lot of ingredients in it.  But once you get going, it's not difficult to make.  Truthfully, it's so worth it if you love a good Gingerbread cake!  I mean, it's a true Disneyland recipe, so c'mon!!!!  You know it's going to be good!
Disneyland's Gingerbread Cake
*This recipe has been converted from a larger quantity in the (Parks') restaurant kitchens. The flavor profile may vary from the restaurant's version.
Ingredients
1 - 12oz Amber Lager Beer
2 1/4 cup Dark Molasses
1 Teaspoon Baking Soda
1 1/2 cup Brown Sugar
1 2/3 Cup AP Flour
1 Teaspoon Ground Ginger
1 Teaspoon Ground Baking Powder
1 Teaspoon Salt
1 Teaspoon Ground Cinnamon
1/2 Teaspoon Nutmeg
4 each Large Eggs
3/4 Cup Vegetable Oil
2 1/2 Teaspoon Fresh Ginger - zested

Dusting

1/4 Cup Powdered Sugar

Orange Vanilla Sauce

1 1/4 Cup Milk
1/4 Cup Granulated Sugar
3 Egg Yolks
1/2 Vanilla Bean
1/2 Fresh Orange Zest
1 Teaspoon Orange Oil
Instructions
For Cake:
Add beer to medium size pot and bring to a boil. Remove from the heat and slowly add the Baking Soda.
Once it stops foaming add the molasses and brown sugar - set aside
Sift together the flour, ground finger, baking powder, salt, cinnamon and nutmeg over a bowl.
Add the flour mix in three batches to the molasses mix. Scrape sides of bowl after each section is added.
Whisk together the eggs, oil and fresh ginger - mix together with the flour mix until all is combined.
Mixture will look thin - but that is how this mix is.
Depending on the size of your mold: you will bake the mix at 350* for 18-35 minutes. Tooth Pick will come out of cake clean when ready.
Once cake is cool, untold gently. Cake is moist and may break if handled too roughly.

Orange Vanilla Sauce

Cut Vanilla Pod in half and scrape out seeds - set aside.
Add milk, sugar and vanilla beans to a medium sized pot
In a separate bowl whisk together the egg yolks - add about 1 cup of hot cream to the eggs to bring up the temperate.
Add the egg mixture back into the pot and cook for another minute or until the sauce becomes thick enough to coat the back of a spoon. Take off heat.
Continue to whisk for about 3 minutes after taking off of heat.
Pour mixture into a glass bowl set over ice to cool the sauce.
Once sauce is cool - add the orange zest and orange oil.
Finishing the Bundt Cake(s):
Sift the powdered sugar in a bowl. Slowly start adding your water to the bowl.
Swirl icing on top of cake in pattern
Right before serving Cakes pour Orange Vanilla Sauce into center of Bundt Cake
https://www.nestofposies-blog.com/2016/11/disneylands-gingerbread-cake-with-orange-sauce-recipe/
I, of course added the cute little garnish & the gingerbread men.  I opted to just use powder sugar for a dusting effect.  I will say, unless you're planning on serving it right after hold off on the dusting of powder sugar and putting the Orange sauce in the center until you're ready to serve.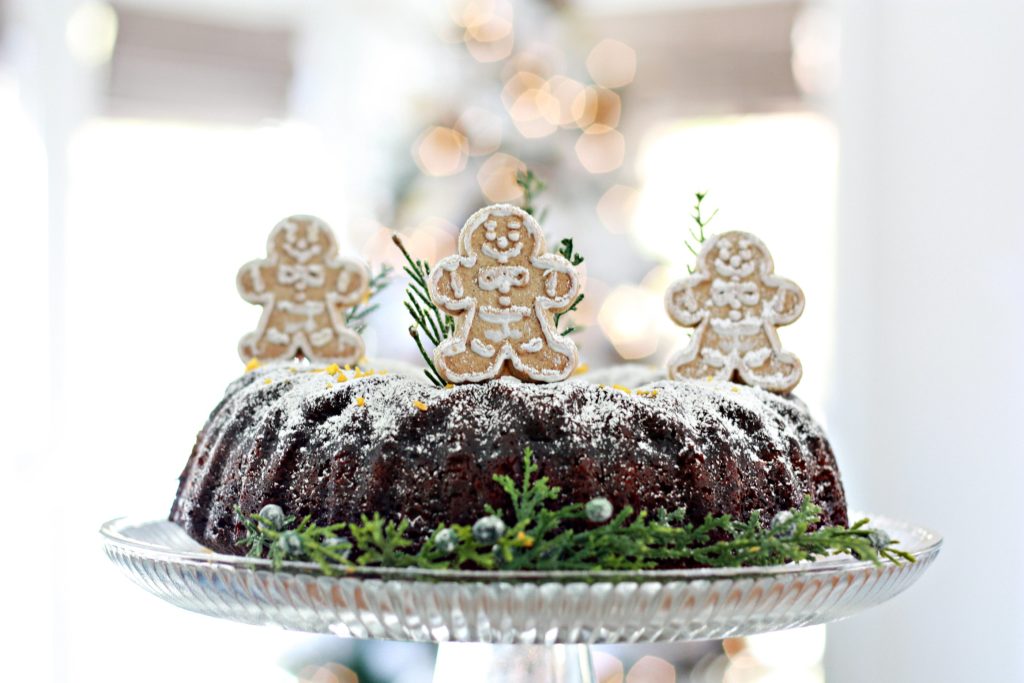 This Disneyland's Gingerbread Cake with Orange Sauce recipe will steal the show at your party or family gathering!  You can also use this recipe and make mini bundt cakes or Gingerbread Whoopie Pies.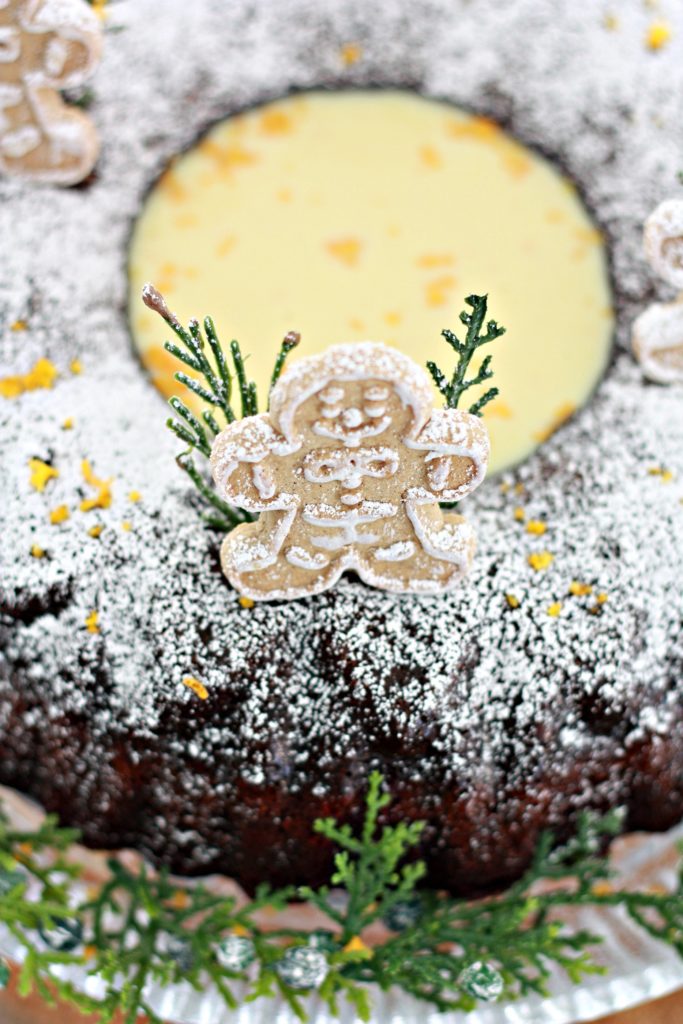 The orange zest and orange sauce are simply the finishing touch for this amazing recipe!  It's the perfect combination if you ask me!

 This post contains affiliate links and is brought to you by
Get Away Today