You know how sometimes you just knock a recipe out-of-the-park???  This is one of those recipes!  This Sweet Potato and Beef Soup is absolutely delicious.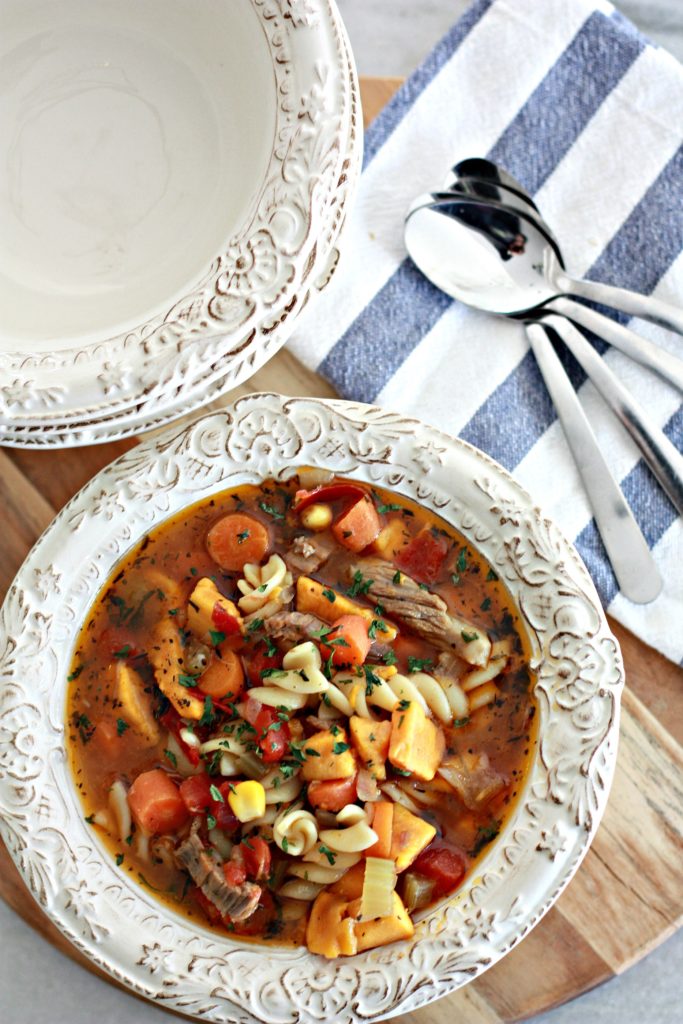 Honestly, I'm not quite sure if there's one particular ingredient that stands out in this soup other than the sweet potatoes, but I think they all work together to make this soup so flavorful!
Yes, the sweet potatoes give this soup just a hint of sweetness, but the tomatoes help build upon that sweetness as well.   And if I may add, the corn…and the beef…and the parsley.
You know that saying, "It takes a village"  well…
the ingredients are the village and the outcome is the best possible village to be in!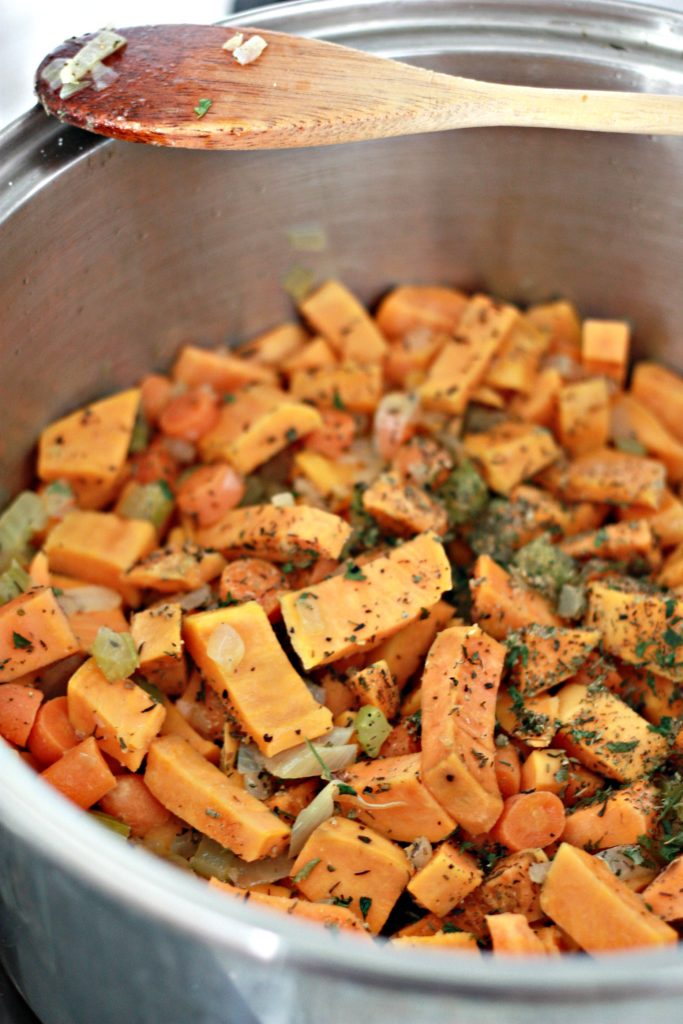 Like with any good homemade soup, you'll need to devote about 10-15 minutes for chopping your veggies.  But trust me, it's so worth it.  For me personally, there's nothing more comforting than a big pot of soup simmering on a cold winter day.  There is also something to be said on how satisfying it is to know that you're feeding your family a wonderful nutritious meal.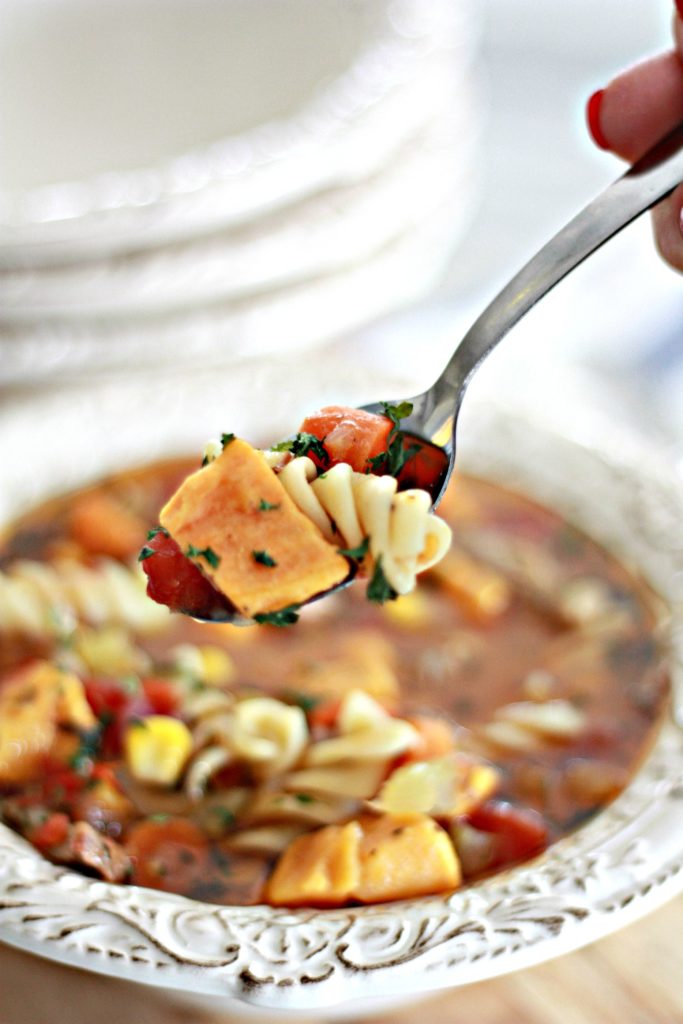 I want to also add that you don't have to use just "beef" – it's also just as delicious with pork or chicken. Only for "title" purposes did I use the words Sweet Potato and Beef Soup.  You can use anything you'd like when it comes to meat, or you can make this to be an all vegetable soup as well.
It's entirely up to you!
Here's what you'll need & how to make it.
Sweet Potato and Beef Soup
Ingredients
2 Tablespoons of EVOO
1 large onion chopped
1 cup of celery chopped (about 3-4 sticks chopped)
2 cups chopped carrots
3-4 chopped Sweet Potatoes
1 teaspoon of dried Rosemary
1 Tablespoon of Italian Spices
1 Tablespoon of Parsley
1 lb of shredded or chopped cooked beef, pork or chicken
2 Quarts of Chicken or Vegetable Stock (whatever you prefer)
2 cups of frozen corn
1 can of diced tomatoes
2-3 cups of dried Fusilli Pasta
parsley for garnish and parmesan cheese *if desired
Instructions
In a large pot over medium heat, pour your EVOO in & heat.
Add your chopped onion and cook for about 3 minutes.
Add your chopped celery and cook for another 3-4 minutes
Add you carrots and sweet potatoes and cook on medium and COVER. Be sure to stir and check on your vegetables.
Once they are slightly tender (after about 7-10 minutes) add all your seasonings and tomatoes.
Next add your Chicken stock and your meat.
Reduce the heat to medium low. Allow to simmer with lid on.
You can simmer for as long as you like, or if you want to serve soon - turn your heat up to medium-high and allow all your vegetables to become tender.
Add your corn and pasta and simmer for about 15-20 minutes.

You may find you need to add 1-2 cups of water - depending on your pasta and how much of the broth it absorbed.

Once your pasta has cooked, serve in bowls and garnish with parley and/or parmesan cheese.
https://www.nestofposies-blog.com/2017/01/sweet-potato-and-beef-soup/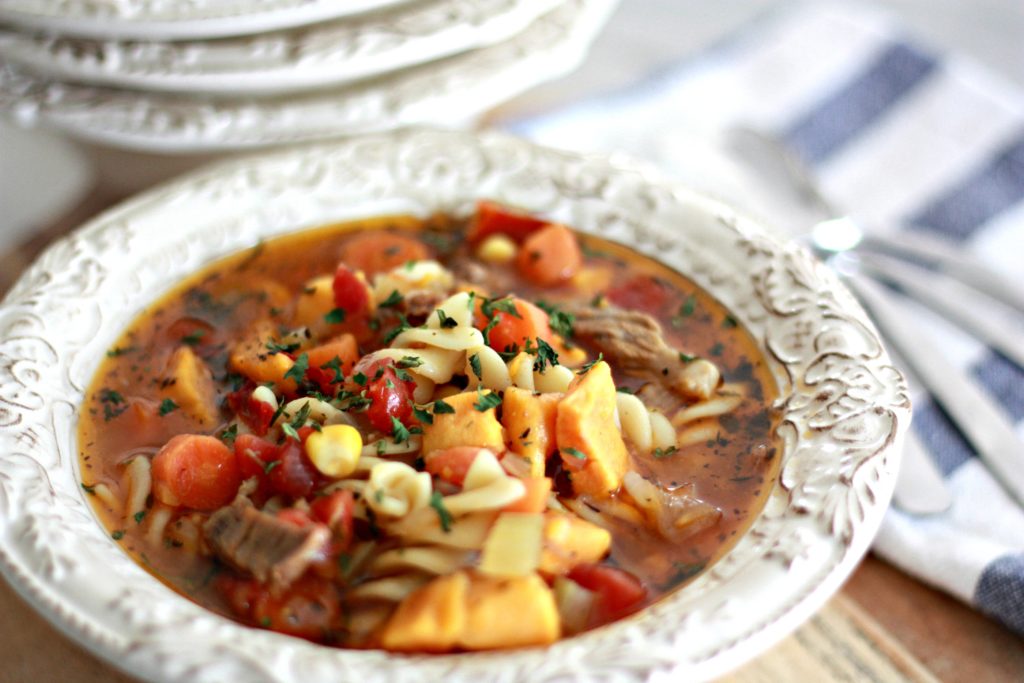 It's like pure comfort in a bowl.
Full of delicious homemade flavors.
And all the wonderful veggies are bodies need after the month-long-fest of pigging out on carbs!
AKA:  Christmas.

Unless you happen to be like me, and HAVE TO HAVE a big piece of crusty bread every time you eat a bowl of soup.
Yet again…full circle…always eating carbs.