You're gonna fall in love with these M&M'S White Chocolate Easter Lemon Gooey Bars!  I've been on a lemon kick lately.  I've made several things with lemon, but this Lemon gooey bar version is by far the kids' favorite.  Hello, obviously because of the white chocolate M&M's!

If you're familiar with the "Gooey Bar or Cake" recipes made popular by Paula Deene, than you know this lemon version is out of the world with flavor.  As in lots of butter, more butter, sugar…and of course the white chocolate M&M'S.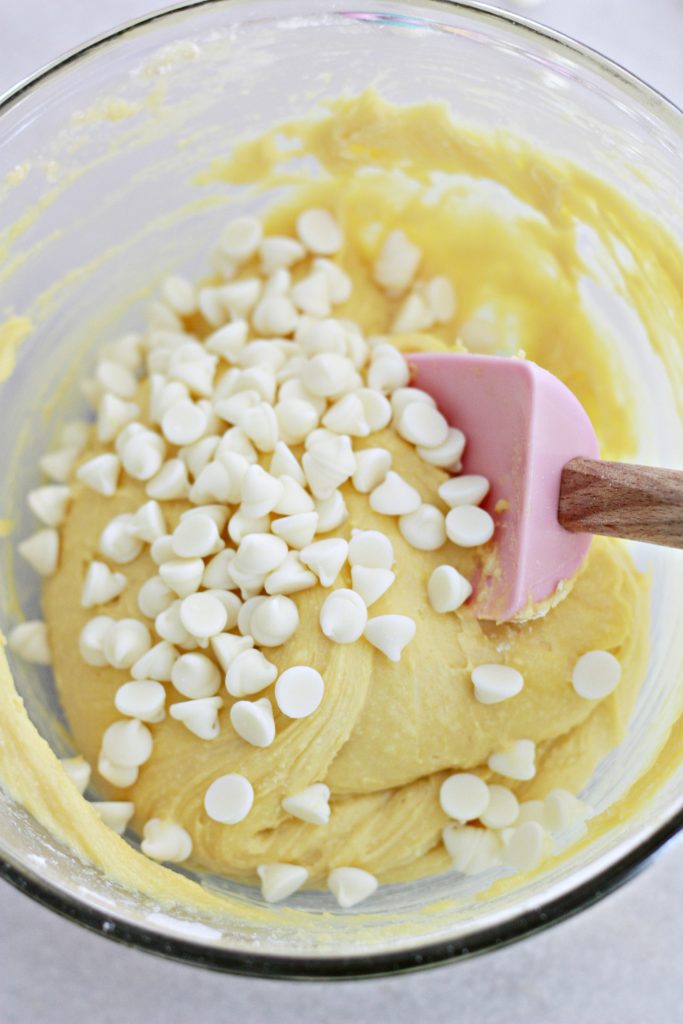 You start off with a cake batter.  For me, I personally like to use a lemon cake batter if I'm going to make "Lemon Gooey Bars" but some like to use a yellow cake mix, and add lemon flavoring.  Which is fine & personally a matter of preference – or let's face it what we have on hand in the pantry,
right???
But for me, I like to use both.  A lemon cake mix and real lemon juice.
The combination of the two really kicks the lemon flavoring up a notch and makes the cake so delicious.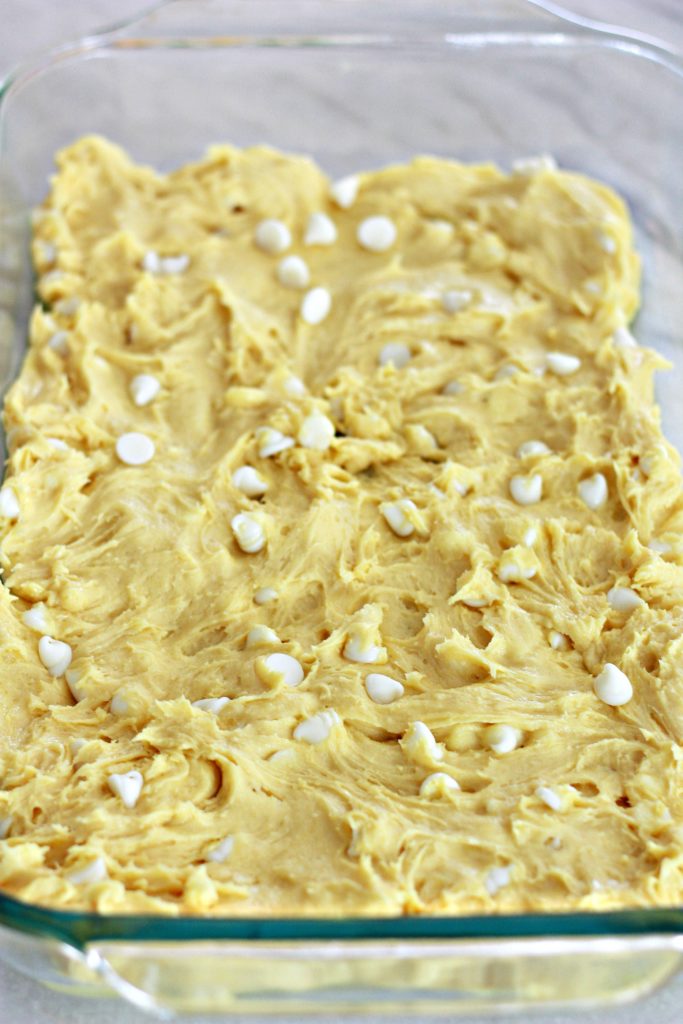 M&M'S White Chocolate Easter Lemon Gooey Bars
Ingredients
1 Box Lemon Cake Mix
1 Stick of Butter; melted
1 Egg
1 Tsp. Vanilla
1/2 cup of white chocolate chips
Filling:
1 8 oz. Cream Cheese; softened
3 Tablespoons Fresh Lemon Juice
3 Eggs
3 C. Confectioner's Sugar
4 Tbsp. Butter; melted
1 C. white chocolate chips
1 bag of White Chocolate M&M'S
Instructions
Preheat Oven to 350 Degrees.
Lightly grease a 13X9" baking pan.
Prepare Crust Mixture:
In a large mixing bowl; beat together lemon cake mix, egg, melted butter and vanilla.
Once your mixture is complete, fold in your white chocolate chips.
Press crust into the bottom of the prepared baking pan.
Prepare the filling:
In a large mixing bowl; beat cream cheese until smooth.
Beat in eggs 1 at a time until mixture is smooth.
Beat in melted butter.
Beat in lemon juice
Slowly add in confectioner's sugar and beat until smooth.
Pour filling over the top of the crust and spread until coated evenly.
Set your timer for about 35 minutes.
Remove from oven, and spread your White Chocolate M&M'S and cup of white chocolate chips over the top.
Place back in the oven and bake for another 5 minutes. Or until the edges are golden brown.
https://www.nestofposies-blog.com/2017/02/mms-white-chocolate-easter-lemon-gooey-bars/
Now with any gooey bar or cake, the trick is:  you've got to let it cool.
That's the hardest part, y'all!!!  I mean, these M&M'S White Chocolate Easter Lemon Gooey Bars will make you want to dive right in!  That warm lemon buttery crust will tempt you to your core. – LOL!
Because you want to cut into it and devour it right away.  Which you can, but they really turn out better if you can wait.  Let them cool and rest.  Trust me, I know it's the hardest thing ever.
My neighbor asked me why I waited to put the M&M's and white chocolate chips in until the end.  Well, when I was testing out this recipe before posting it, I found that the M&M's and chips sunk in the batter. Which is perfectly okay, but doesn't make the presentation near as cute or Easter-ie looking.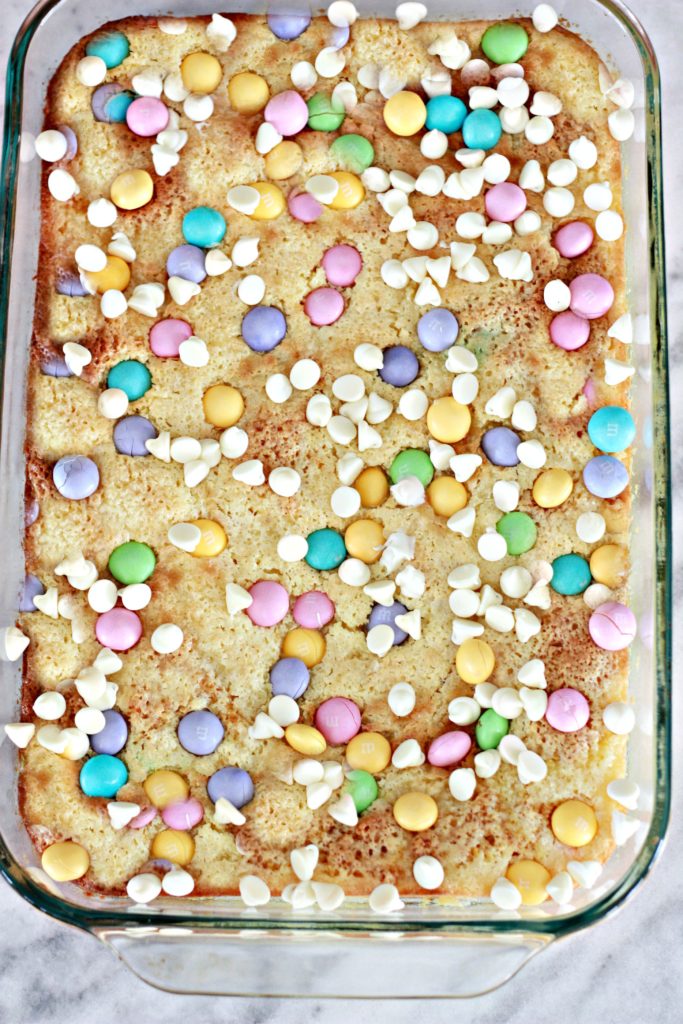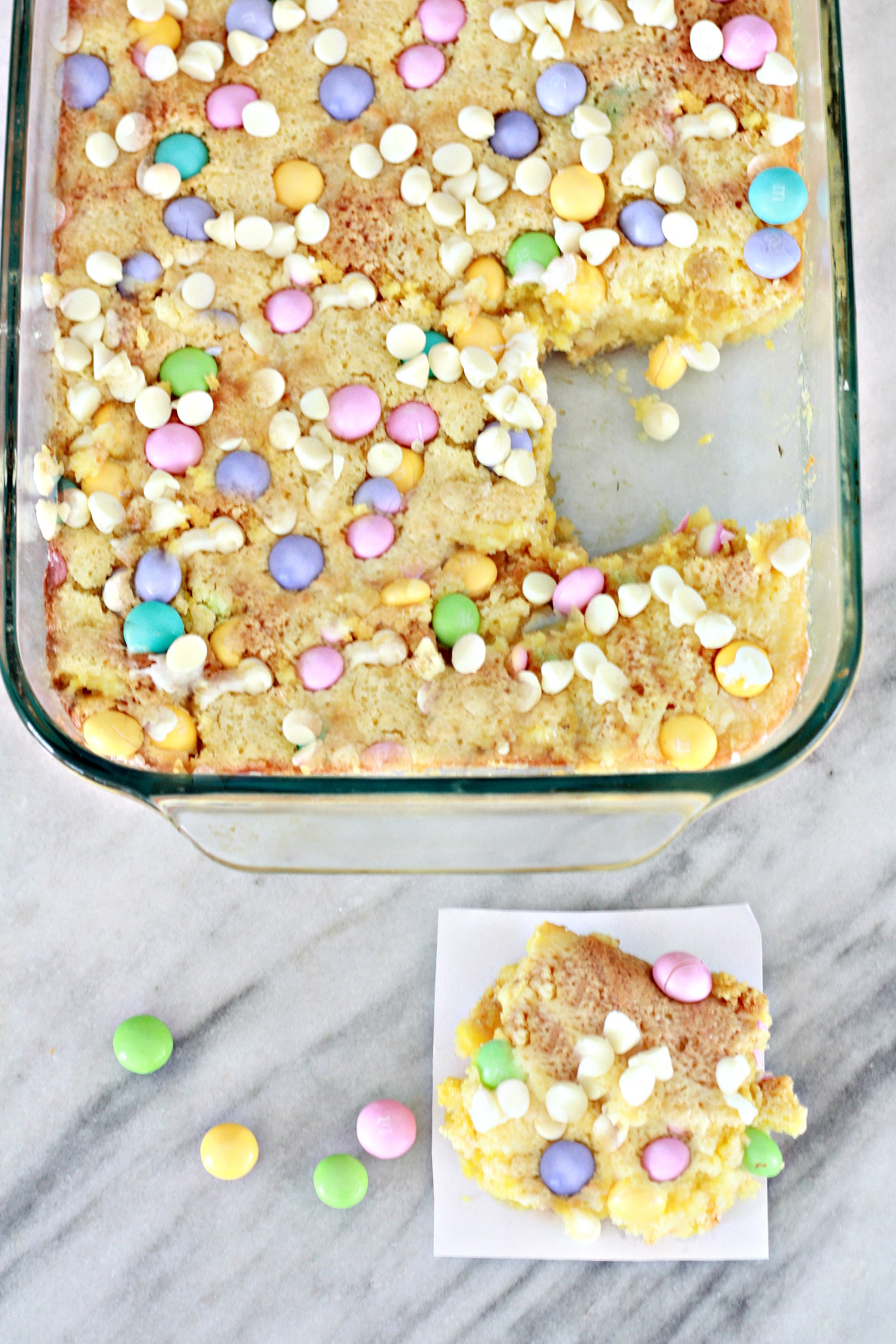 The other thing about gooey bars or cakes – is that they are truly gooey & oh so good!
.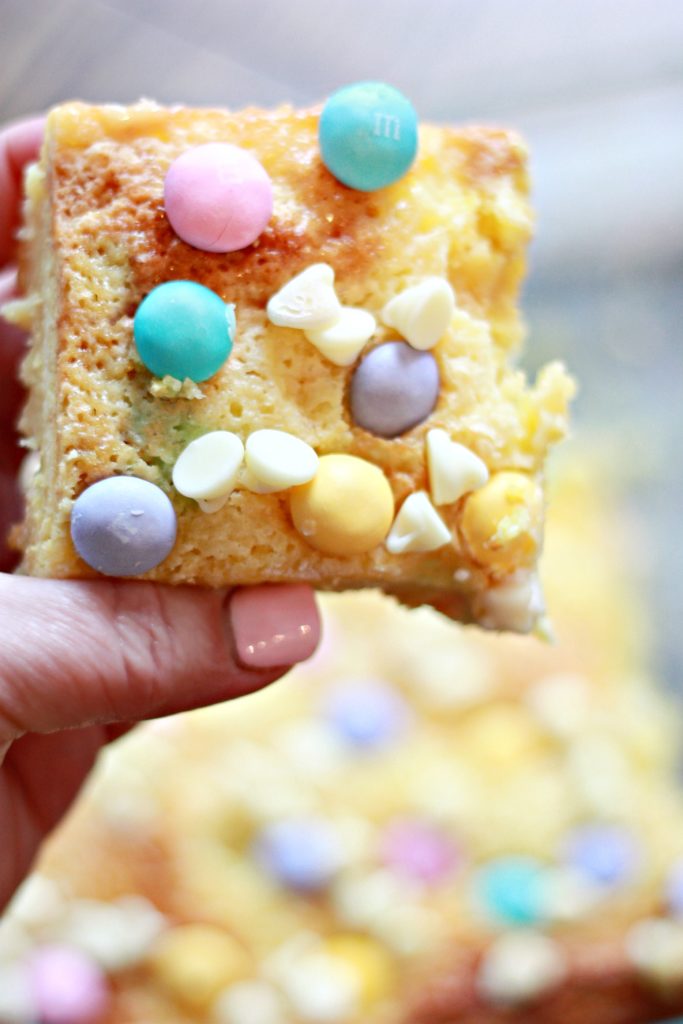 The lemon buttery bars will truly melt in your mouth, add in the sweetness of the white chocolate and you have yourself one delicious dessert!
It's Springtime in a bar!!!!
*this post contains affiliate links*