You're gonna fall in love with these no bake Biscoff Granola Bar Egg Nests!  They're so good and they only take 4 ingredients to make and very little time!
You could definitely classify these as an after school snack, dessert or mid day treat for yourself or for your kids.  We love Biscoff around here – who doesn't, right?  So any chance to make something with the incredible cookie butter, we'll take it.

Remember when I said they are so simple to make?  Well they are.  Like total completion time is less than 10 minutes.  So easy, the kids can make them!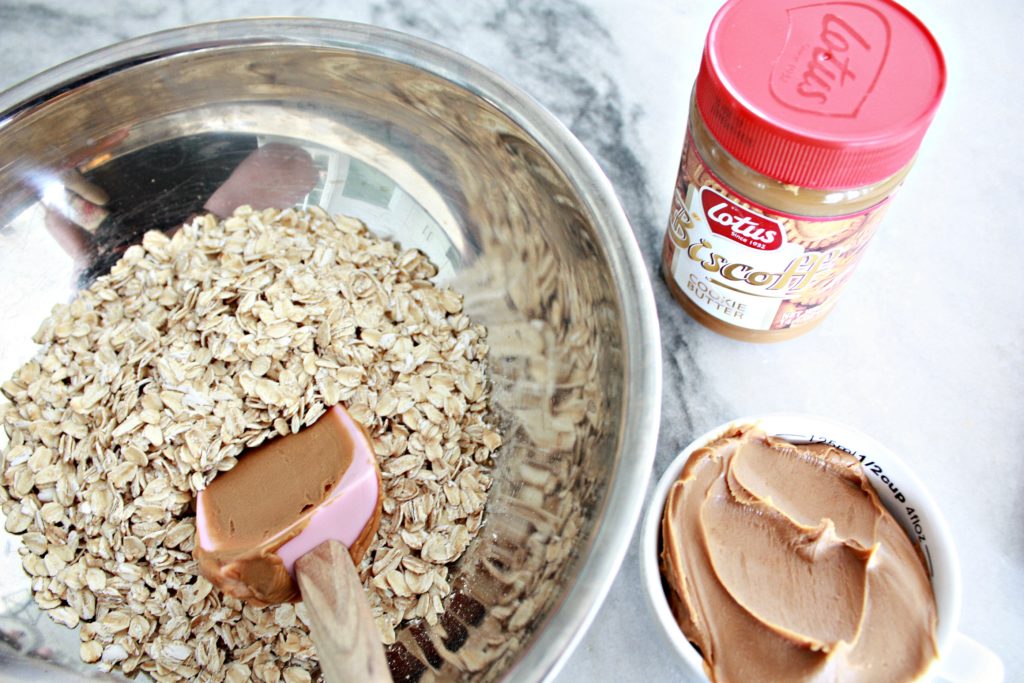 No Bake Biscoff Granola Bar Egg Nests
Ingredients
1¼ cups rolled oats
½ cup Biscoff Cookie Butter
1 tsp coconut oil
12 mini chocolate eggs
Instructions
In a bowl mix together the Biscoff and coconut oil.
Add the rolled oats and stir until well mixed.
Using a fork may help break down the cookie butter to it will mix well.
Using a small cookie scoop, roll the mixture into 12 balls.
Press in 1-2 mini chocolate eggs in the middle of the ball to form a nest.
I personally love to place them on a clear (covered) cake stand.
They'll look so cute on your kitchen counter.
https://www.nestofposies-blog.com/2017/03/no-bake-biscoff-granola-bar-egg-nests/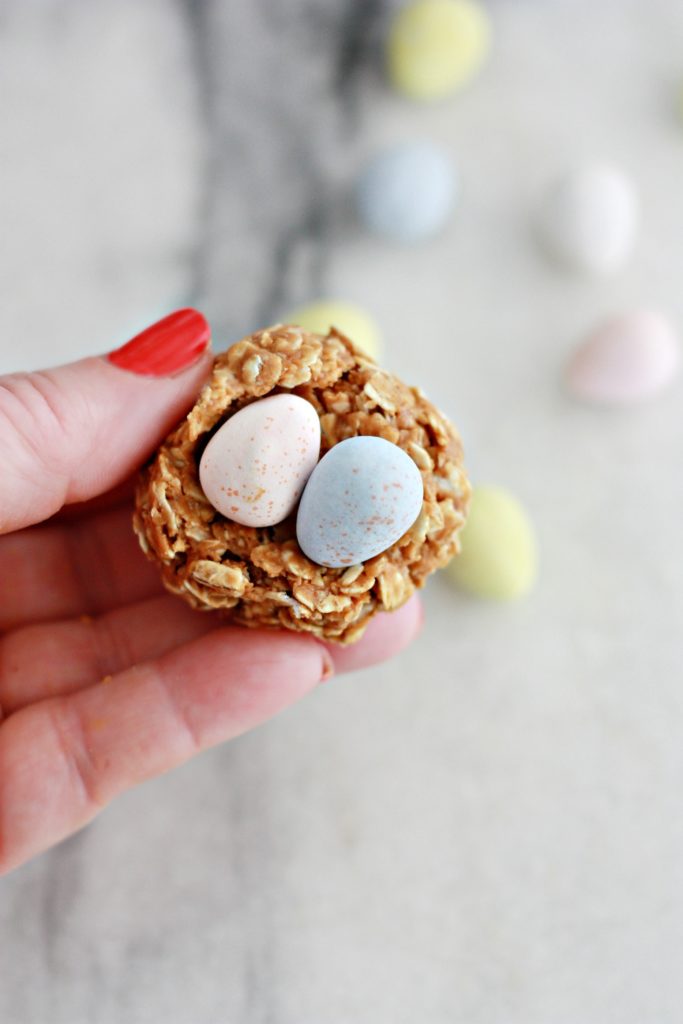 Some people may just like 1 mini egg.  But we are not that kind of family… 😉
The more chocolate and Biscoff the better, in our opinion!
I originally saw Mommy Moment's post last year when she made her mini egg nests with peanut butter.  If you would like something with more protein, head over to her blog to get her recipe!  It's still easy as can be.  But since my kids have a true love affair with Biscoff I switched her recipe around a little last year, and thought I would share it on the blog this year.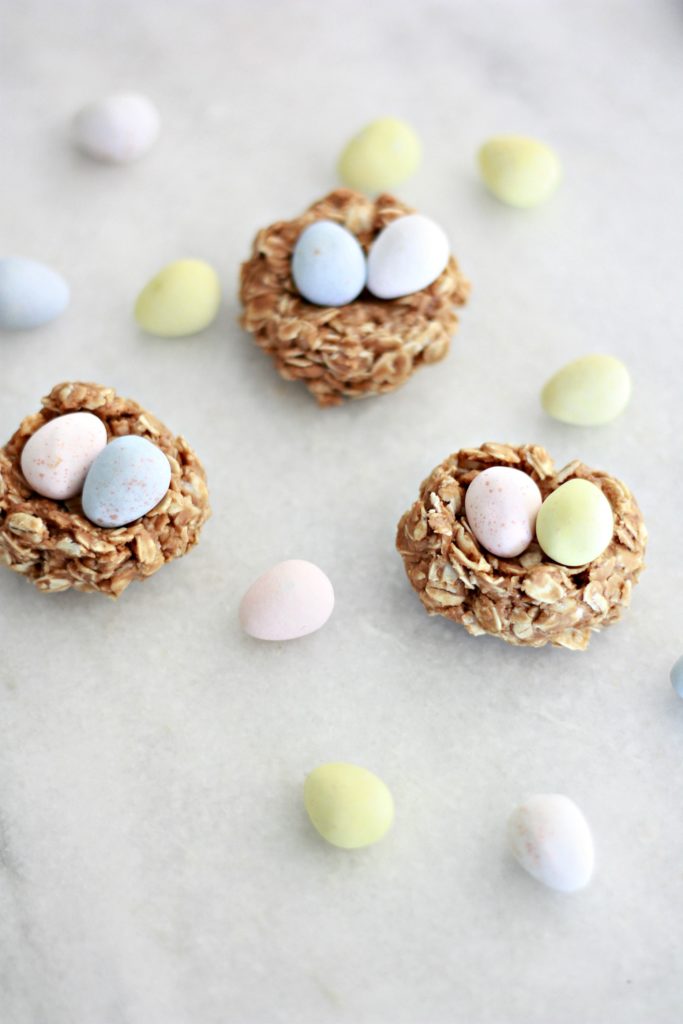 This weekend was our first official weekend experiencing all the beautiful things Spring has to offer.  Our trees are blooming, the sun was shining, and those sweet birds are chirping.  I walked around our yard today looking at all the things popping up from the ground.  I am so happy Spring is finally here.  I love the pastel colors it's brings!  These no bake Biscoff granola bar mini egg nests are all things Spring, pastel and oh so good to eat.
You and your kids will love them!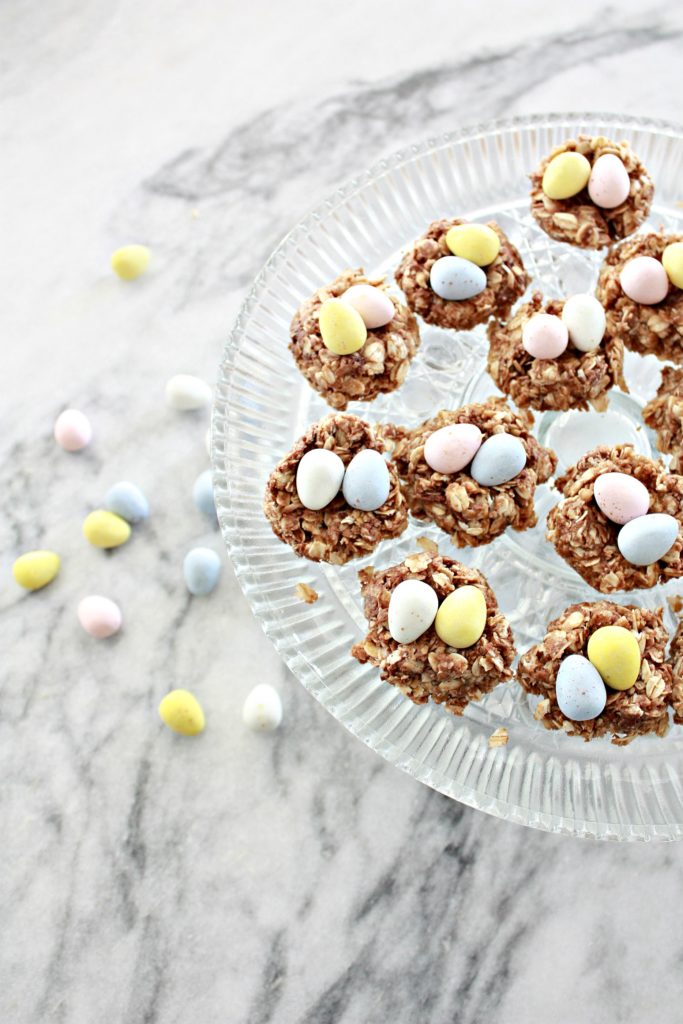 Made with only 4 ingredients, everyone will be singing your praises in a matter of minutes!