This post is sponsored by Silk Plants Direct.  I'm rather excited to share (once again) our living room with all of you.  I have been on a new quest to make our home "easy" not only in the way it feels, but also with decorating.  That's where this post title comes into play, Accessorizing your Living Room for the everyday.  As you all know, decorating is always evolving.  Especially if you're like me, and decorate according to the season or holiday.
But sometimes, I just want to feel settled with decorating for a few months.
Especially since Summer is coming up.  I want that carefree attitude and to be done & settled.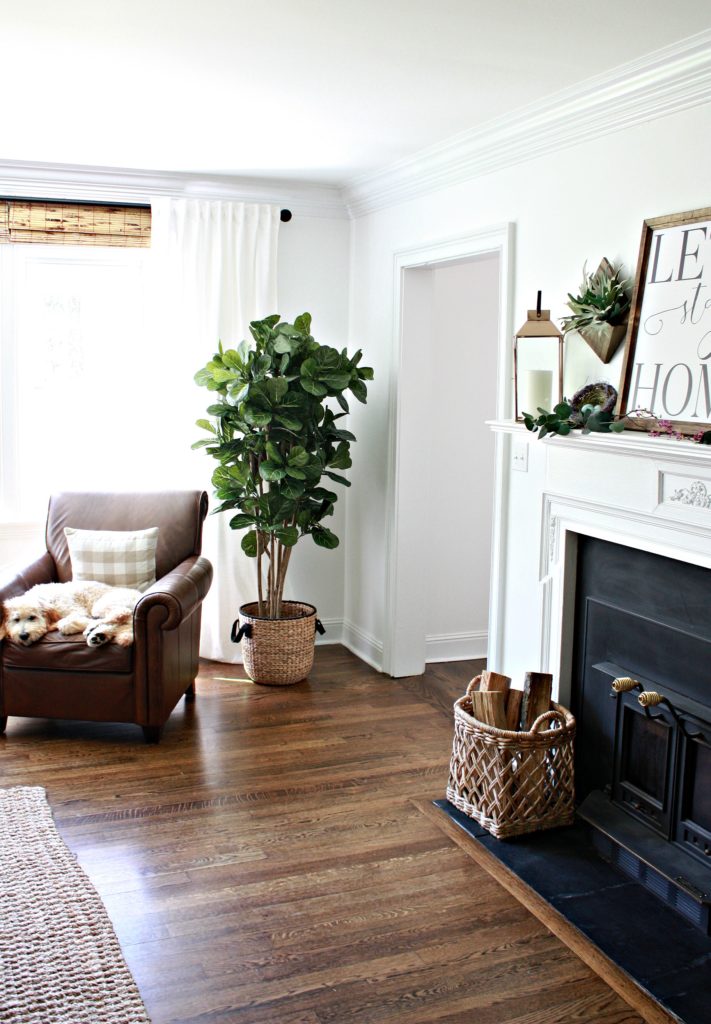 I still want that "WOW" factor but I want an everyday WOW factor, not just something for a certain season or holiday.
That's where Silk Plants Direct enters this story.
You see, like many of you – I love a beautiful Fiddle Leaf Fig Tree.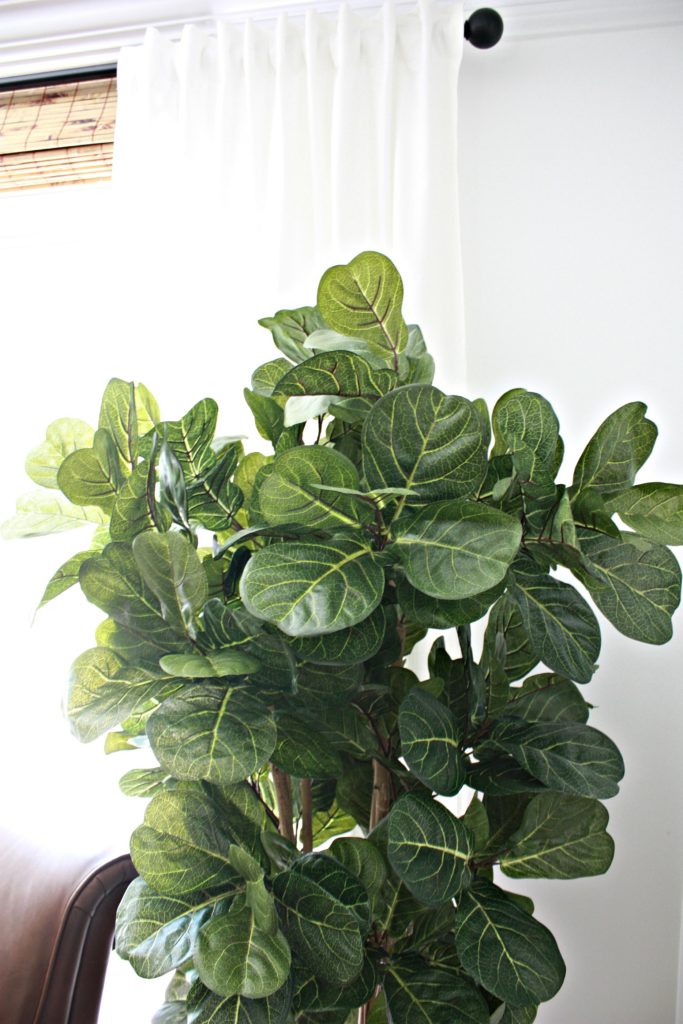 I mean, they always stop me dead in my tracks when I notice one in a photo or when I walk past one in real life.  The thing is, I cannot keep one alive to save my life!  I've tried & tried.  I will even go as far as saying, I do think I have a green thumb!  But not when it comes to Fiddle Leaf Fig Trees.  They are so temperamental!   But finally, I have one that I will not kill!  I am in love with this
Fiddle Leaf Fig
and I honestly think it does wonders for our living room!
I also decided I was going to decorate my mantel for the "everyday" as well.  Our household happens to love Summertime, and my kids are telling me every morning how many more days of school they have left before it's
SUMMER!
  I want to be settled before the Summer approaches!
But I also desire that "WOW" factor for when we have guests over as well.
You know that feeling when you've gone grocery shopping, and you've come back with the mother load from Costco?  You've finally have everything put away & you have all those darn cardboard boxes put in recycle???
That's how I want to feel about my home before Summer begins!!!
Accessorizing your living room for the everyday (and home) so you can enjoy all the other moments that life brings you is what I'm aiming for.  Sure, I'll still decorate for the holidays, but sometimes you've just got to invest in key pieces that you can use over & over that will make a big "WOW" impact for your home.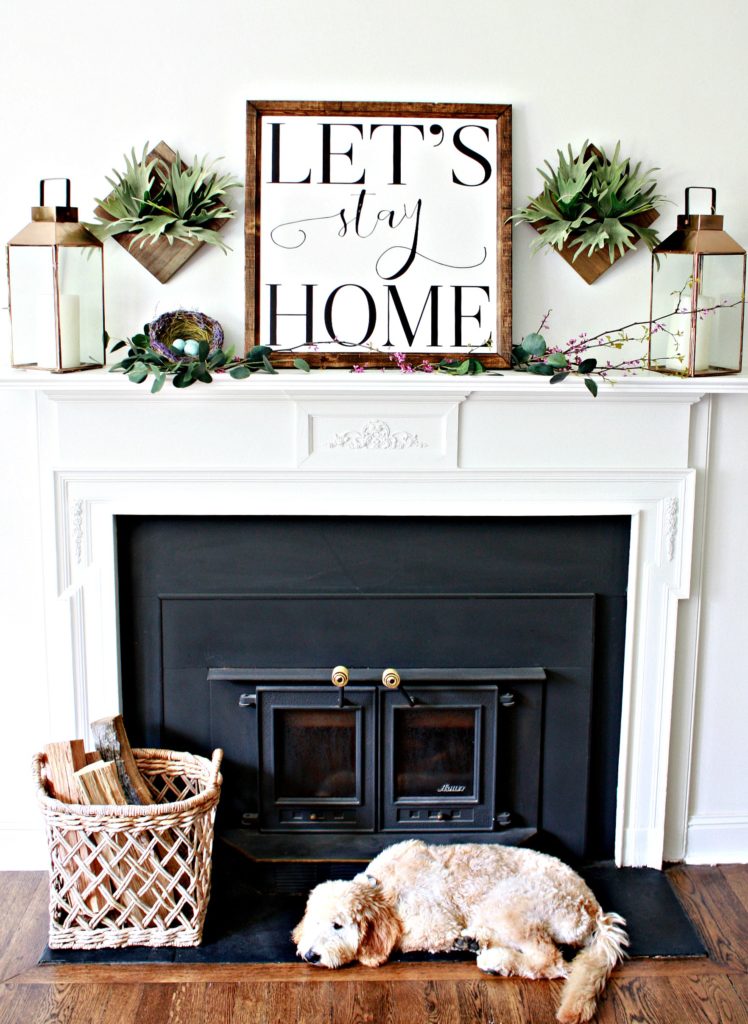 Obviously, I have some Spring branches up there & some Spring eggs, but those can easily be taken down.  What's left is truly
(or at least in my humble opinion)
a WOW factor for our mantel.  I honestly didn't realize how much I would love the sign,
Let's Stay Home
until I opened it up.  The stain on the frame matches our hardwood floors perfectly.  I found the faux stag horn ferns & brass lanterns at Target on sale.  I feel like I've finally achieved a
"Fixer Upper Mantel" like I blogged about here
.
Simple.  Beautiful.  & WOW.
Wanna see something crazy?  This is how our fireplace & living room looked the day we bought the house.  If you want to see how we renovated our fireplace head over to this post.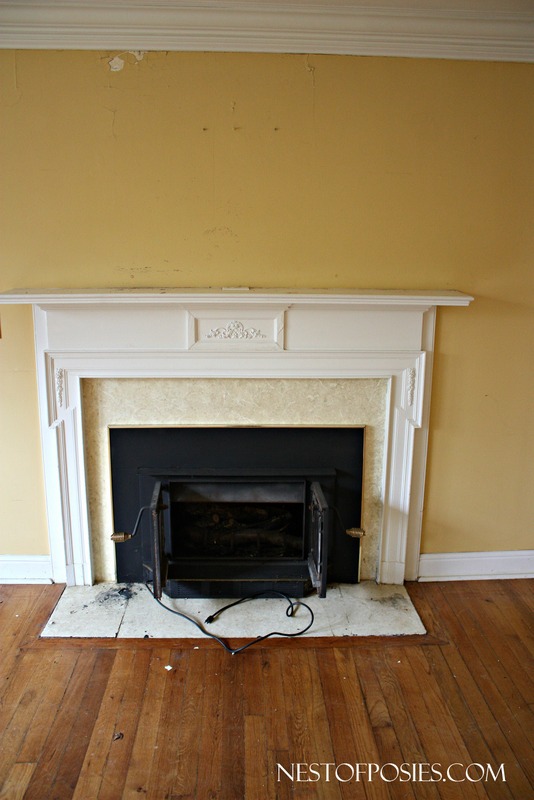 Crazy, right???
And here's how our entryway looked when we bought our foreclosure.  Leaves & all…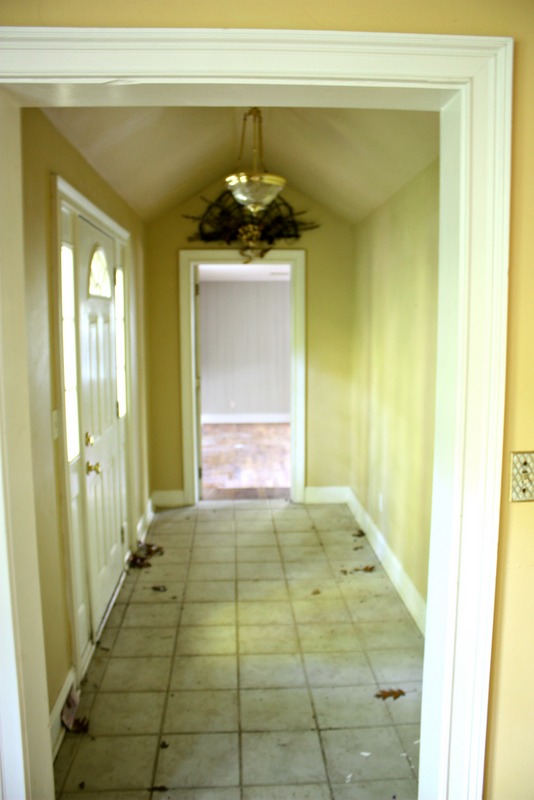 Bye-Bye yellow walls, broken tiles, yellowish stained floors and dirty house.
HELLO, to everything fresh!!!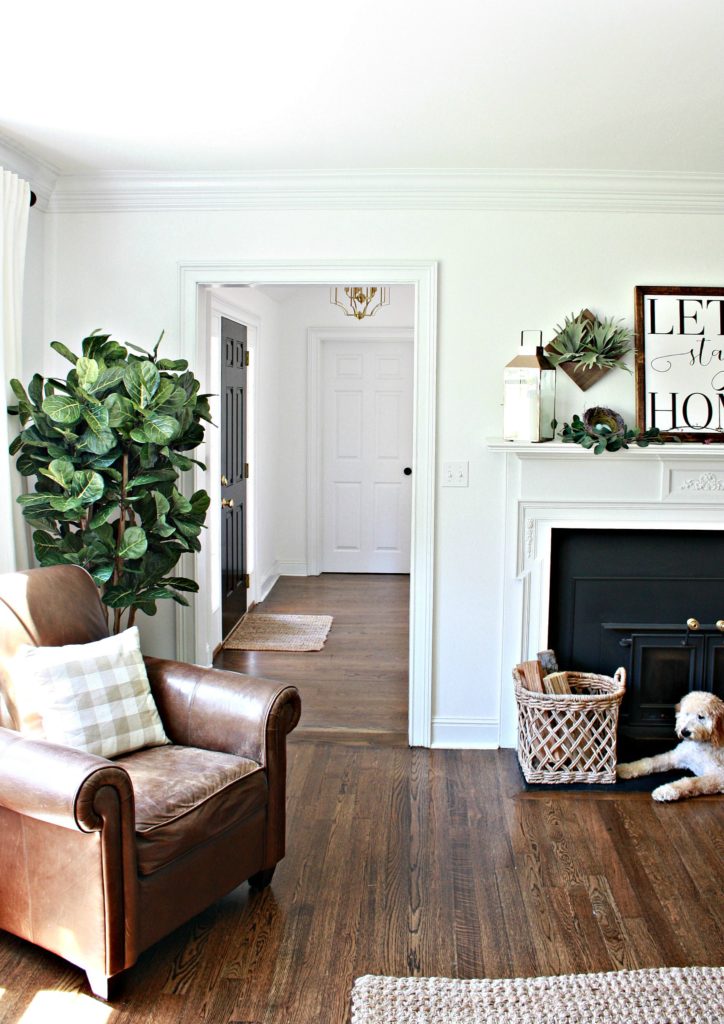 Before all the Farmhouse Style became so popular, I've always been a fan of wood, white, brown leather, touches of gold
(or brass)
with some greenery mixed in for good measure.  That combination is like heaven on earth to me for a home.  I feel like it's always classic style.  Not in a bragging kind of way, but I truly can't believe I have finally achieved this look in our home.It's really called sweat equity!
And we've put plenty of that kind of equity into our home.
Feeling all sorts of thankfulness.
This post is a sponsored post by Silk Plants direct.  All opinions and photographs are 100% my own.
If you'd like to see how we fixed up our pool that had not been touched in 4+ years…
Head over to see how we transformed our Fixer Upper Pool here.