Show your patriotic spirit for the Summer holidays and make this red white and blue stained glass jell-o!  It's cool, refreshing and I believe the obvious part – it's a show stopper!

All it takes is 4 easy ingredients and hardly any prep time.  Just an overnite stay in your fridge.
And that truly may be the hardest part of the prep work!  Finding space in your fridge to store 2 – 9×13 baking dishes or casserole dishes.  (Whatever you have on hand.)  If you've seen my fridge – you understand!  😉  I had all sorts of things stacked on top of each other just to make room in the fridge, but trust me it's worth it.
Red White and Blue Stained Glass Jell-o
Ingredients
2 large boxes of Jell-o (in this case red & blue - but you can use any flavor)
water
2 packs of Gelatin
1 can Sweetened Condensed Milk
Instructions
In 2 separate baking dishes or casserole dishes use 1 box of Jell-o per dish and 1 cup of hot water. Stir and dissolve the Jell-o, just like you normally would.
Store in the fridge overnite.
Cut your Jell-o into small cubes (as shown)
Place in a 9x13 baking dish. Preferable one that has a lid. Such as a Pyrex.
Arrange and mix the cubed Jell-o in your dish.
Using 2 cups of hot boiling water, dissolve the 2 packs of Gelatin in a mixing bowl.
Stir until Gelatin is dissolved.
Add your can of Sweetened Condensed Milk.
Stir and mix well.
Give your mixture time to cool down. (Room temperature)
Pour your mixture over the cubed Jell-o.
Place in fridge for at least 7 hours.
Serve cold & enjoy.
https://www.nestofposies-blog.com/2017/05/red-white-blue-stained-glass-jell-o/
I found that if I used my thinnest spatula (which is my pancake spatula) it picked up the cut Jell-o cubes very easily without tearing them apart.  Arrange your Jell-o cubes however you'd like in your baking dish & pour your COOLED mixture over your Jell-o.
What makes this Red White and Blue Stained Glass Jell-o dish so beautiful is the pops of color against the white.  I typically forget to wait for my mixture to cool, because I'm always thinking 2 steps ahead.  But if you pour it over your Jell-o while it's still warm your Jell-o will melt.
Now you will have some of your color "bleed" – I think it's only natural.  But that's what gives it a true stained glass look.  This dish really will be the talk of your holiday gathering or neighborhood block party!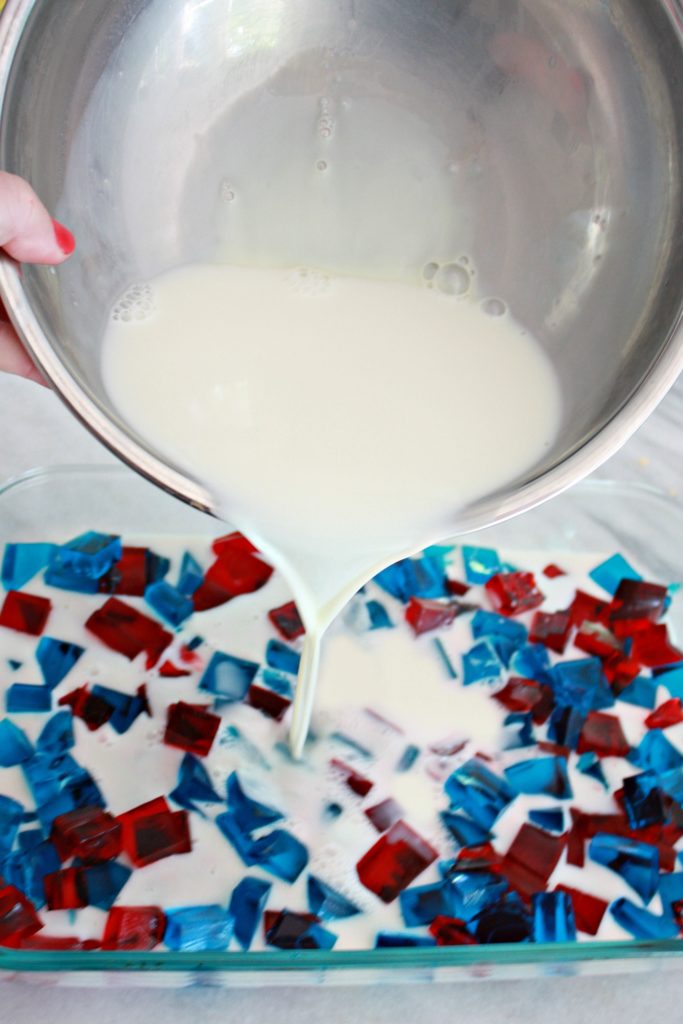 It really is so easy & it turns out so pretty!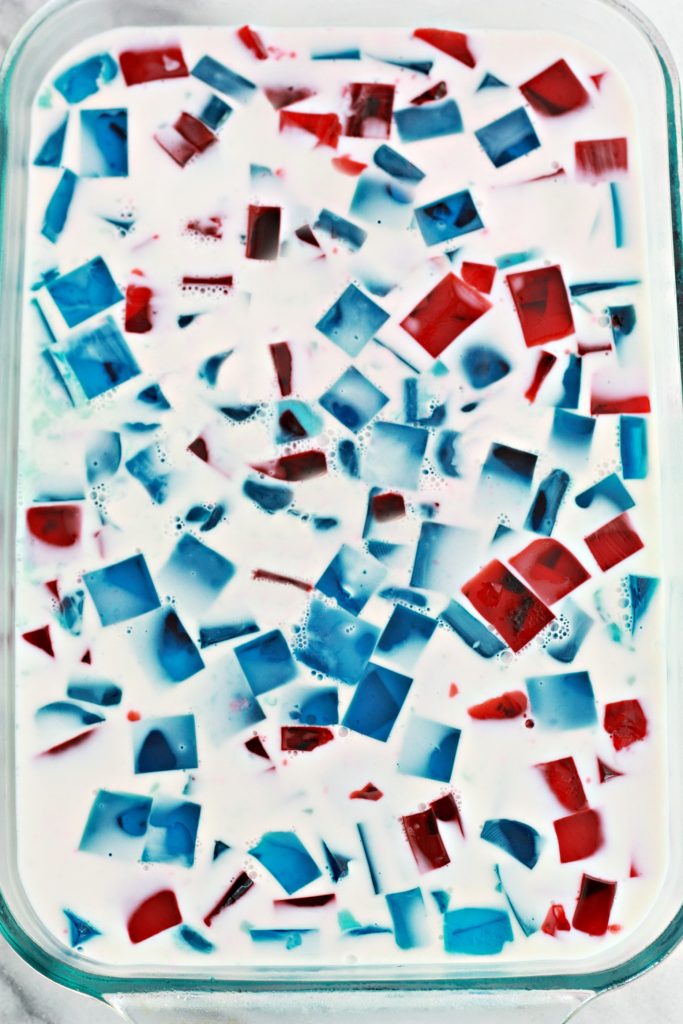 The day I made this, I had been working in the yard – it was such a nice refreshing treat!  It will be perfect on a hot Summer day for sure.
My kids love when I make it!  They think it's the coolest thing – ever.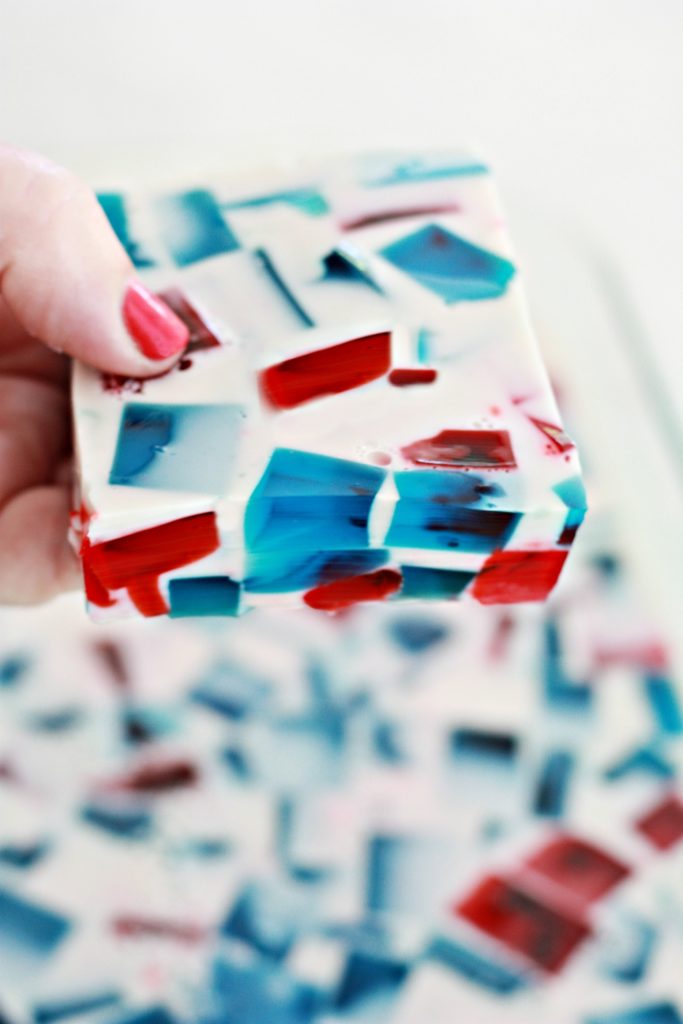 The only other thing I would recommend, is to place it in a casserole dish that has a lid!  Something like this
Pyrex dish
.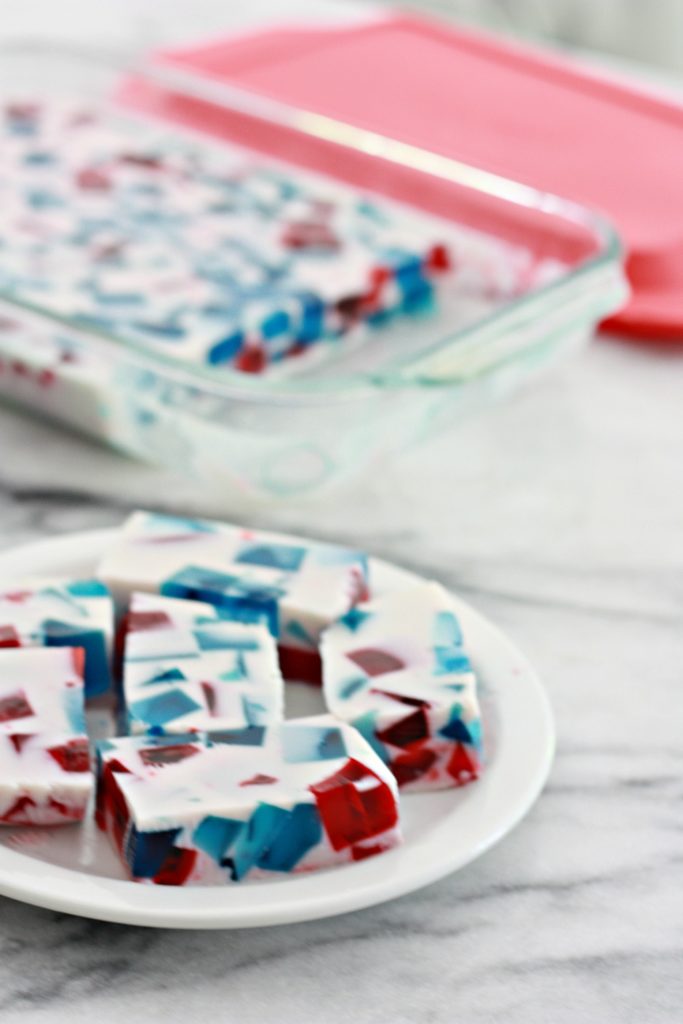 Some people have asked before if it matters what flavors you put together.  The "white" part – the sweetened condensed milk really helps blend everything together.  I mean, how can you mess up Sweetened Condensed Milk, right?  Everything is delicious with that stuff!
*this post contains affiliate links*