This post is brought to you by Leisure Made along with a vision, some dreams + hopes and a whole lotta sweat equity!  I know I say this every time I post about our home that used to be a foreclosure, but y'all!!!!  We've come so far!  I could talk forever & a day about what we had to do, or how long it took us to get this far, but I honestly think pictures are worth a thousand words.  And for this post about our covered area outdoor space, I'll let the pictures do the talking!!!
You can catch up on our pool transformation (that we did last year) in this post.
But moving forward for this post…
Should we start out with some before pictures???
You know, so you can appreciate and SEE what we were dealing with…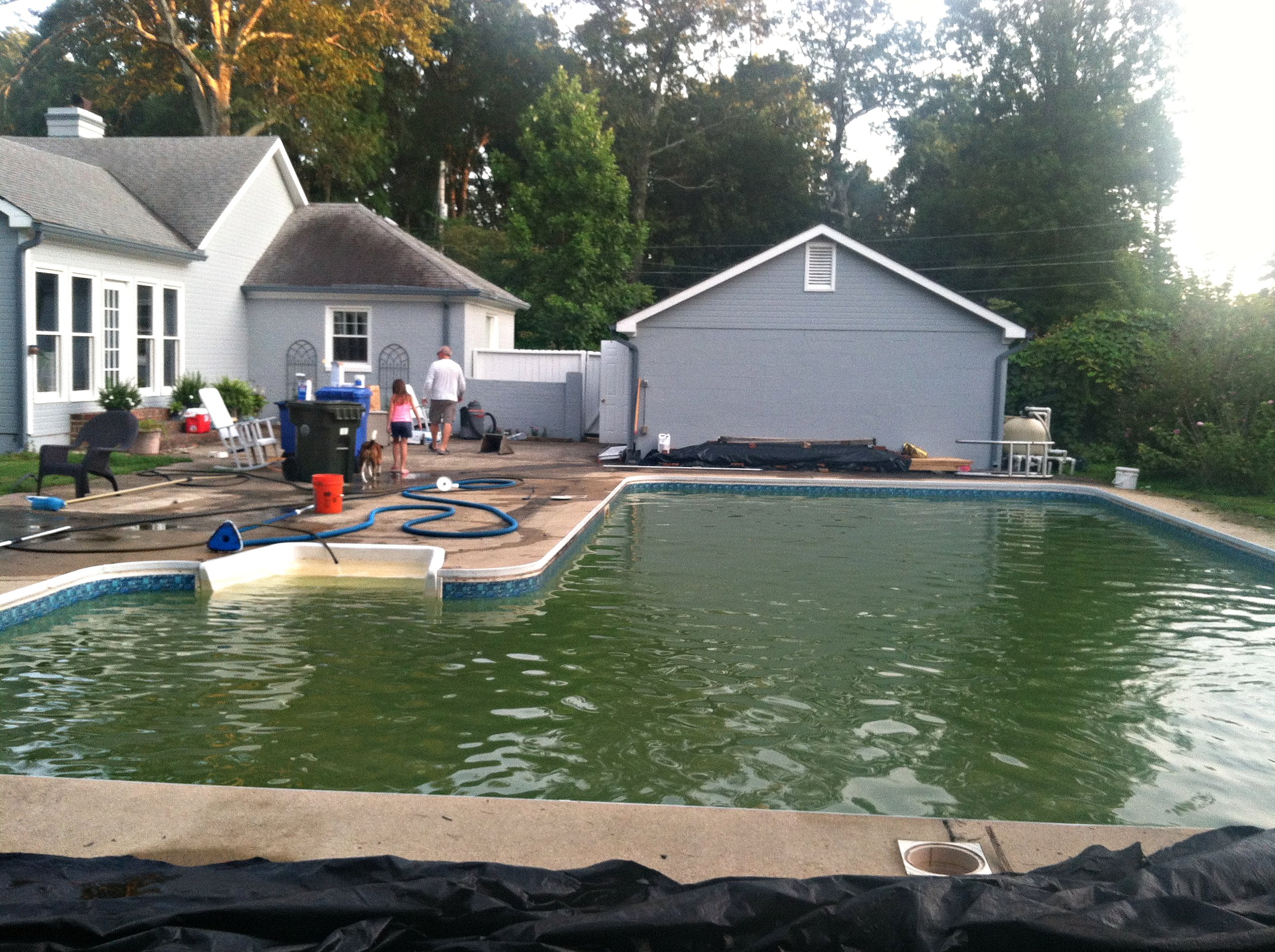 The pool was as black as can be when we bought the house.  It took us forever to get the water crystal clear.  Once we got the pool up & running, I had visions & high hopes to build a covered area outdoor space next to our pool so we could entertain and cool down underneath on a hot day!  Because other than an umbrella, we had zero shade on our large patio area.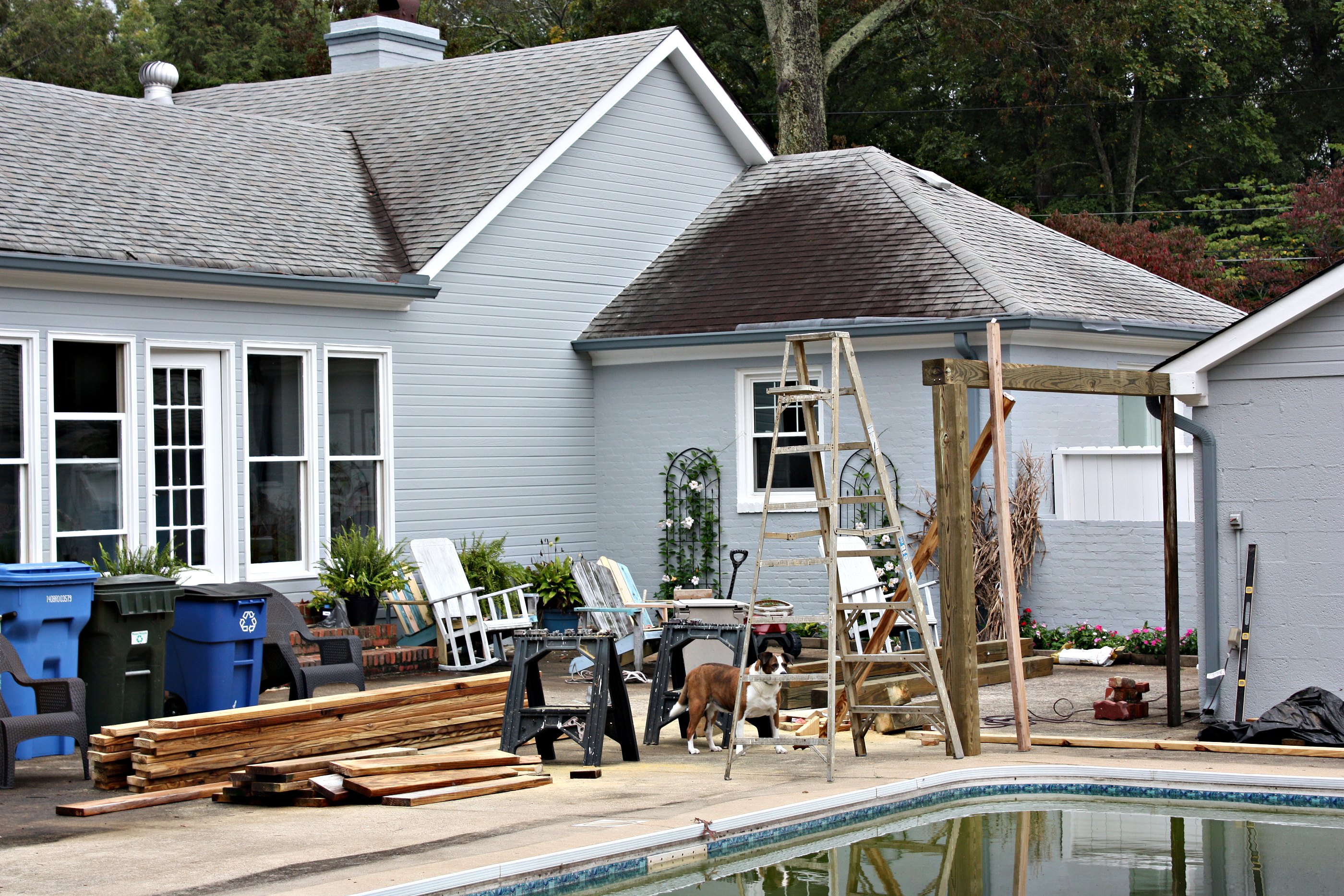 You can see above the beginning of it.  Our backyard was a hot mess for months!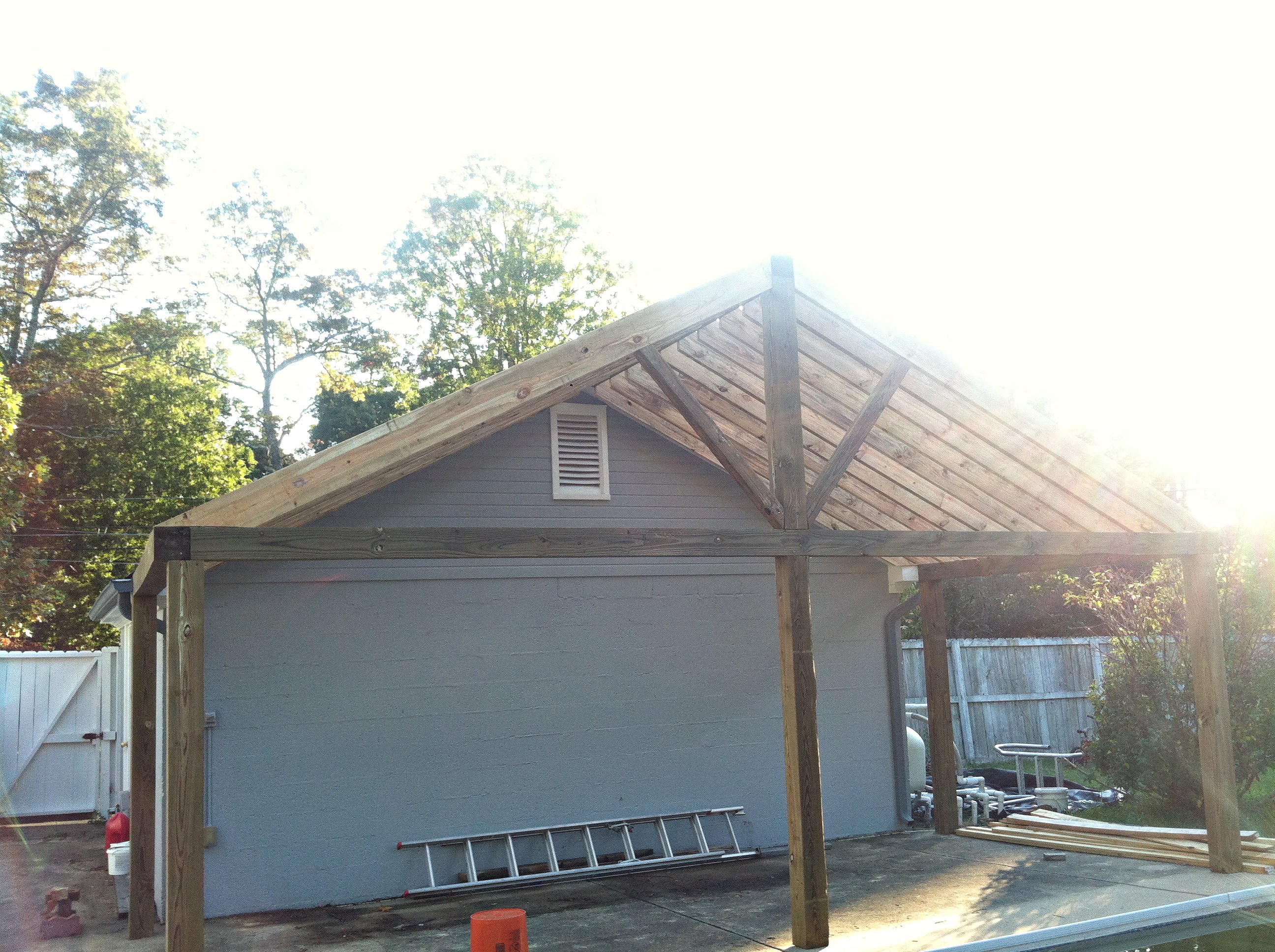 My vision was starting to take shape!  I was so excited to get this far, even though we still needed a new roof, and tons of paint to make it look complete.  The entire surroundings needed a whole bunch of sweat equity.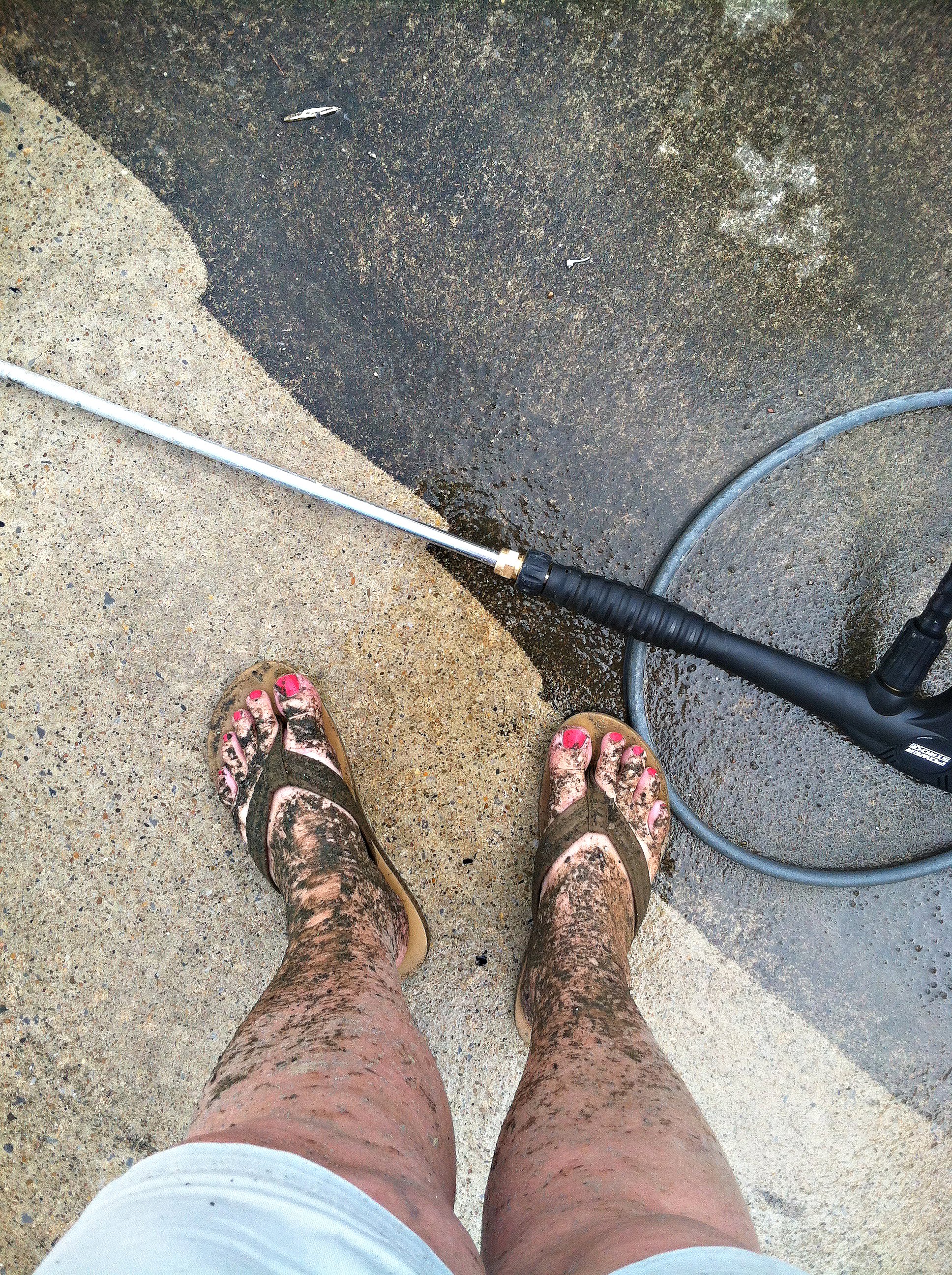 It's amazing what some good old fashioned sweat equity can do!!!
It's also amazing what a beautiful collection of outdoor furniture can do a space.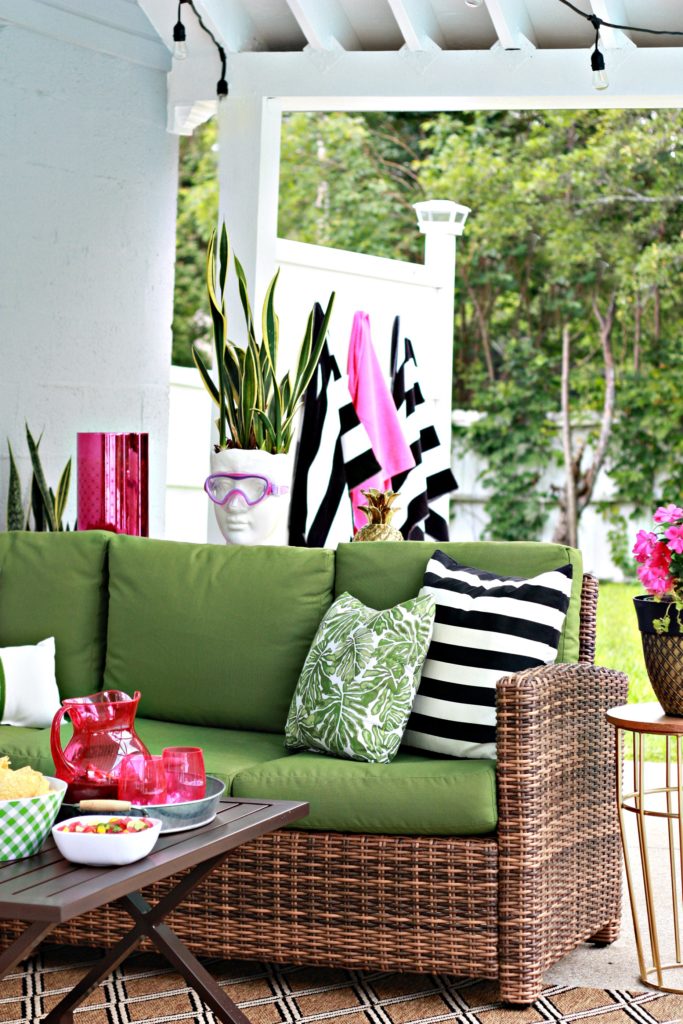 We are fortunate enough to be partnering with
Leisure Made
for this post.  They make beautiful & affordable outdoor furniture.
They say it best on their website:
"You've got choices. You can buy disposable patio furniture every year, or you can spend thousands on beautiful heirloom outdoor furnishings. In between things get a bit blurry – lots of questionable quality claims, lots of bad style, and little factual information to make a good buying decision. We've built Leisure Made to reflect our values – beautiful designs, using better quality materials, priced for real families, and protected with a no hassle two year warranty."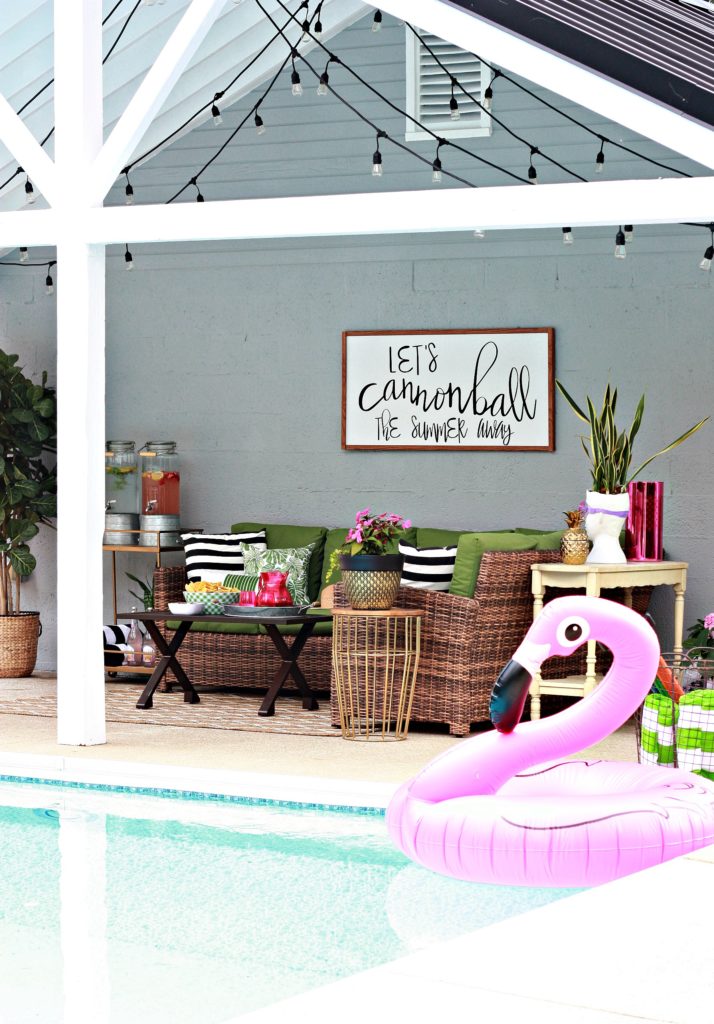 Beautiful designs, colorful options or neutral options.  Leisure Made has you covered along with free shipping, and a no hassle 2 year warranty.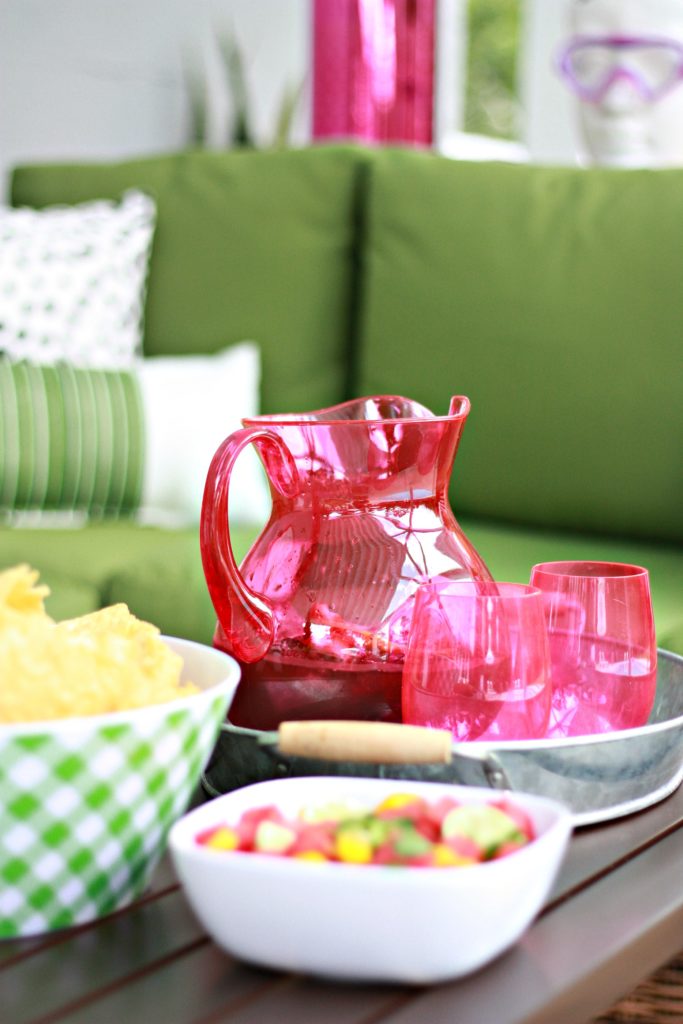 Our outdoor furniture is the
Dalton Collection
.  I love the neutral light and dark tones of the hand woven outdoor wicker, but I like the pop of green for our cushions.  I think it's a beautiful mix of neutral & classic color together.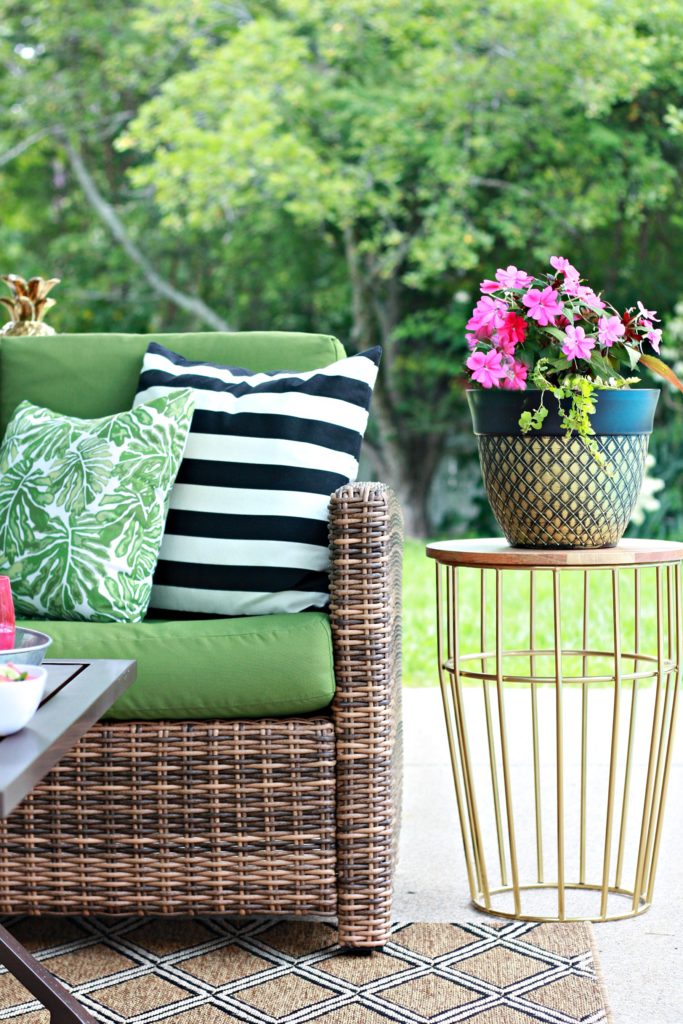 Since our covered area outdoor space is so close to our pool I knew we needed outdoor furniture that could stand up to getting splashed (more like soaked when a cannonball happens ;)) and a table that would be rust free.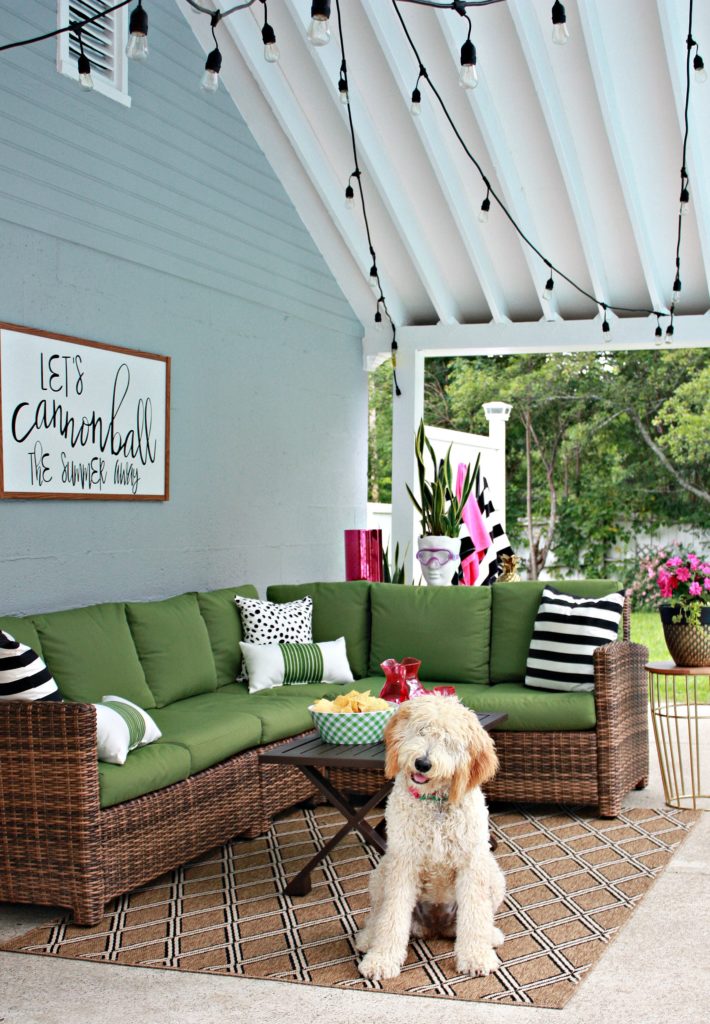 We also didn't want to worry about our outdoor furniture.  Because life happens, spills happen, cannonballs and fluffy puppies are always welcome around here.  They're high quality olefin fabric fit the bill for our busy lifestyle + our kids + our furball.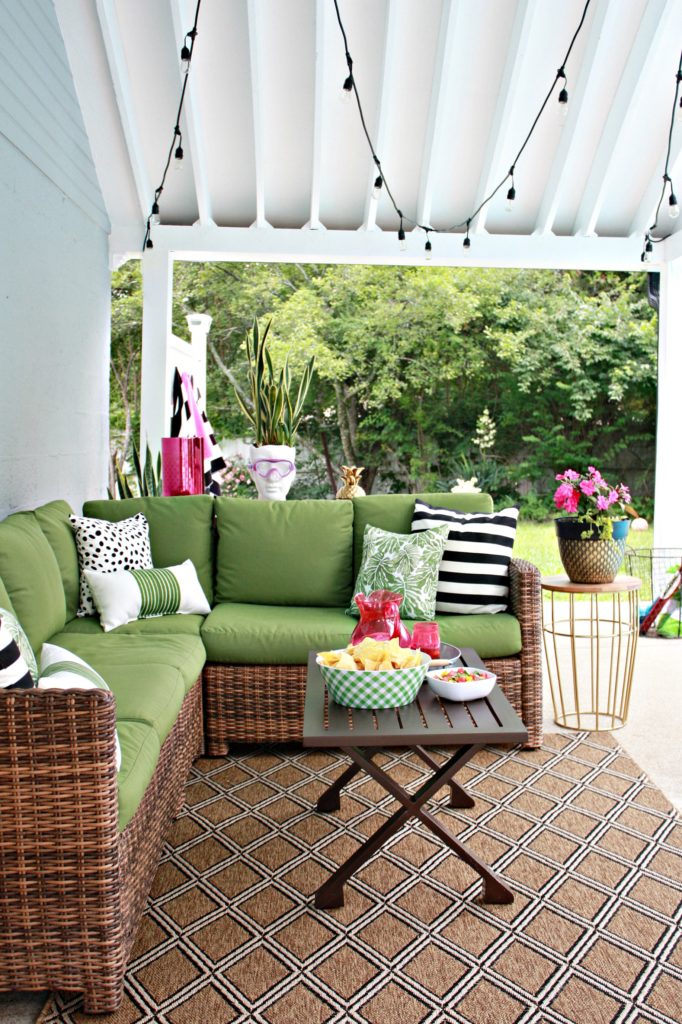 We could not be happier with our new covered area outdoor space and our new fun outdoor furniture.  It truly is a cozy place to sit back and watch life happen and be part of our memories for years to come!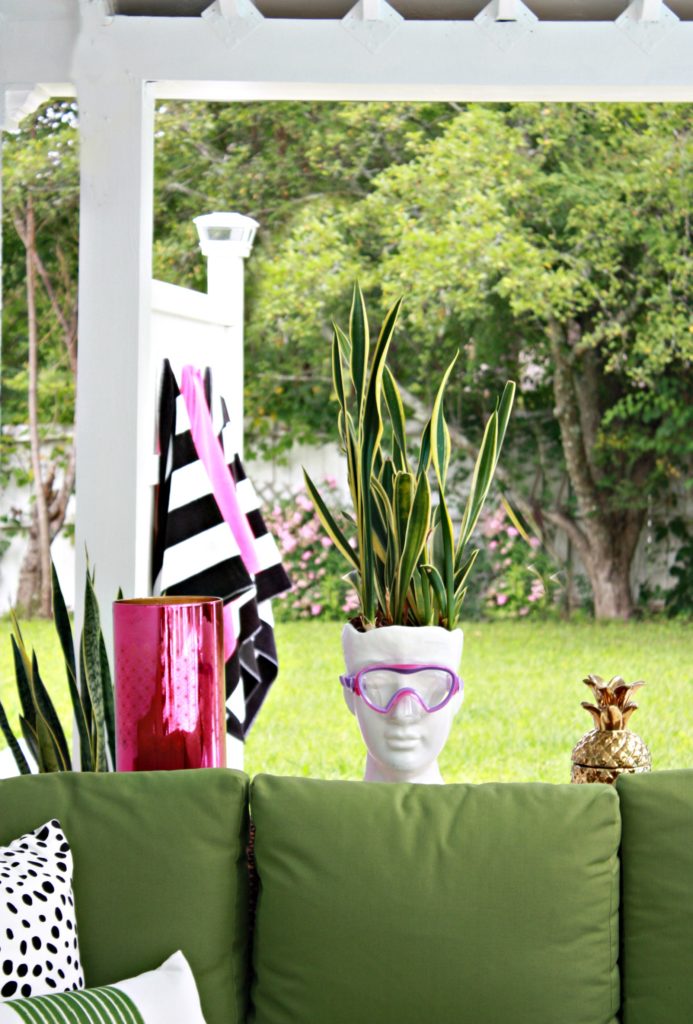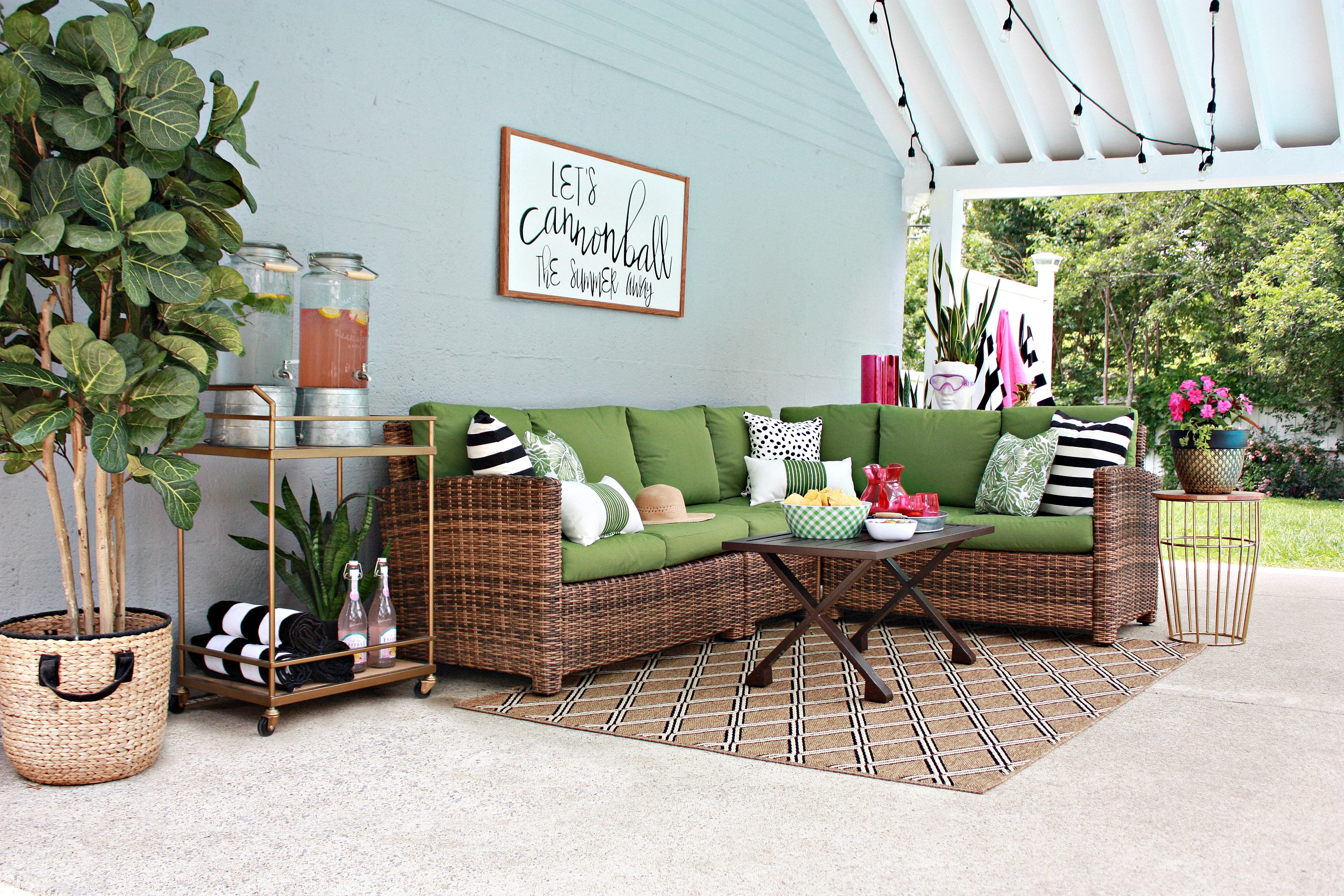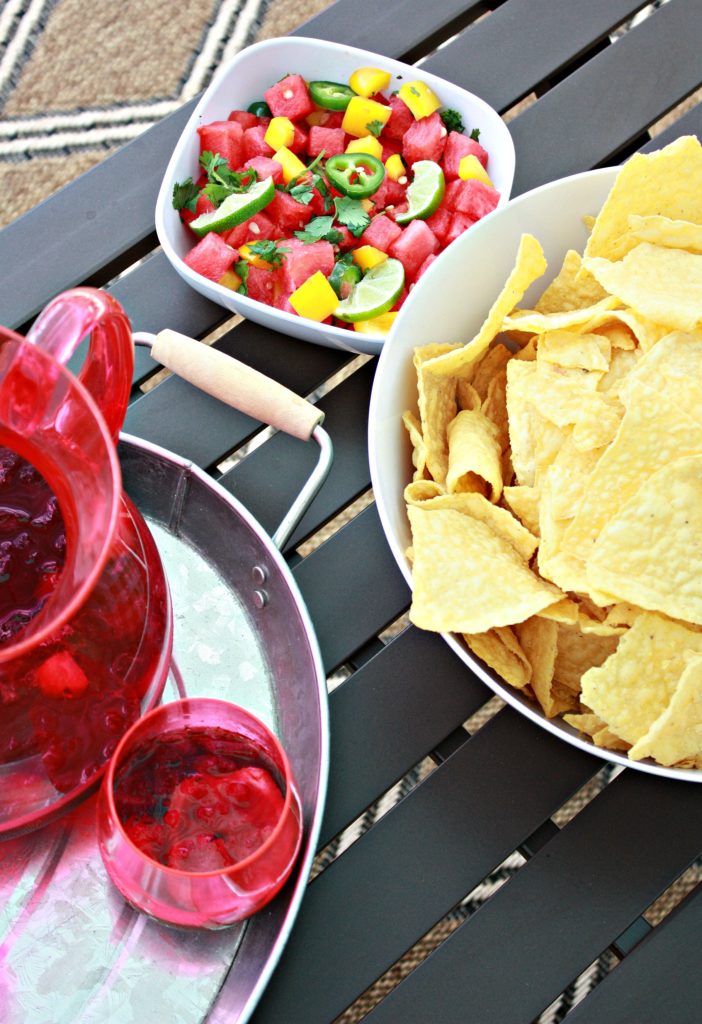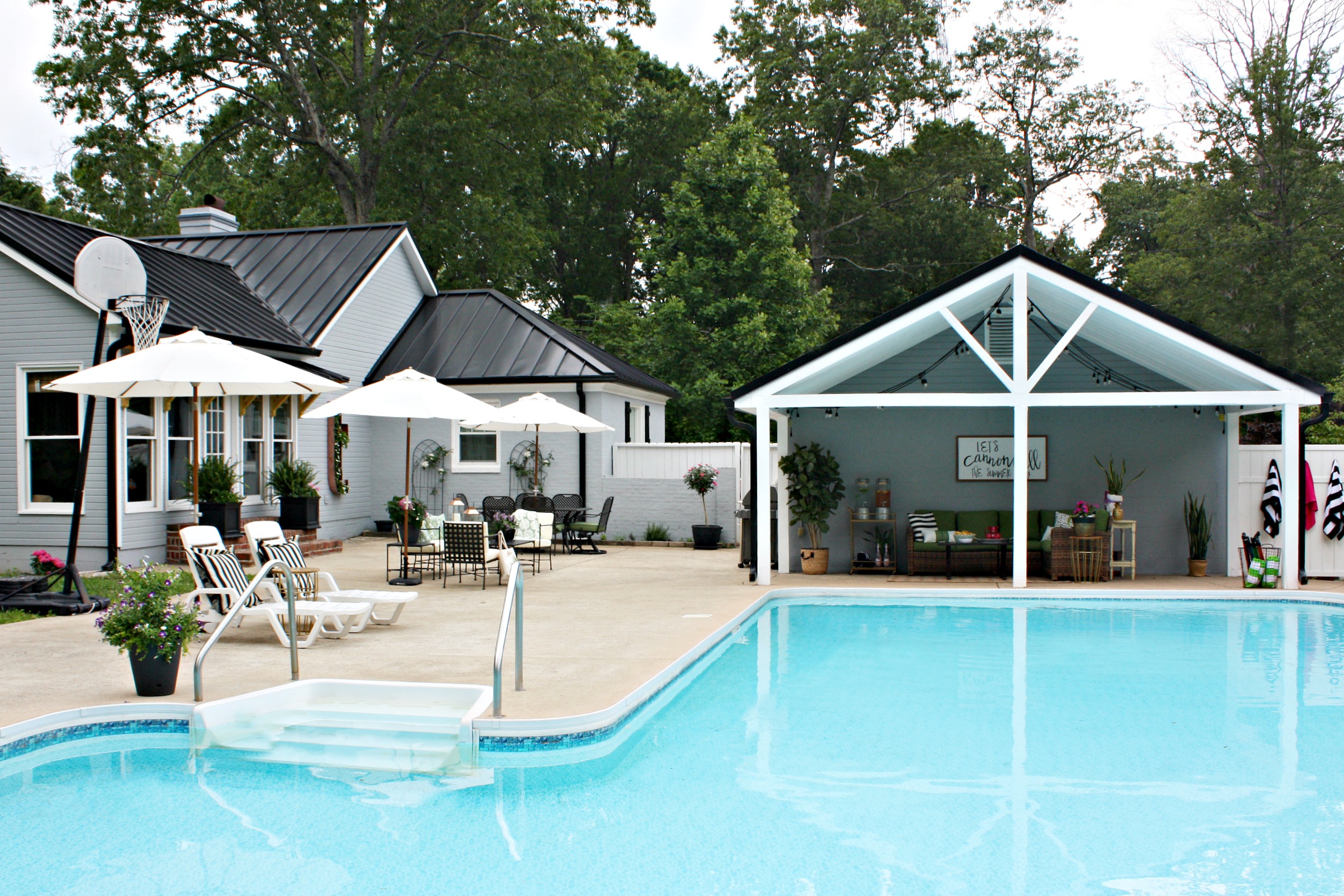 What a difference, right?  I mean, we lived to tell the tale on this one!  We are giving each other high fives all around while relaxing on some chips & dip & soaking up some Vitamin D!
Check out the before – one more time: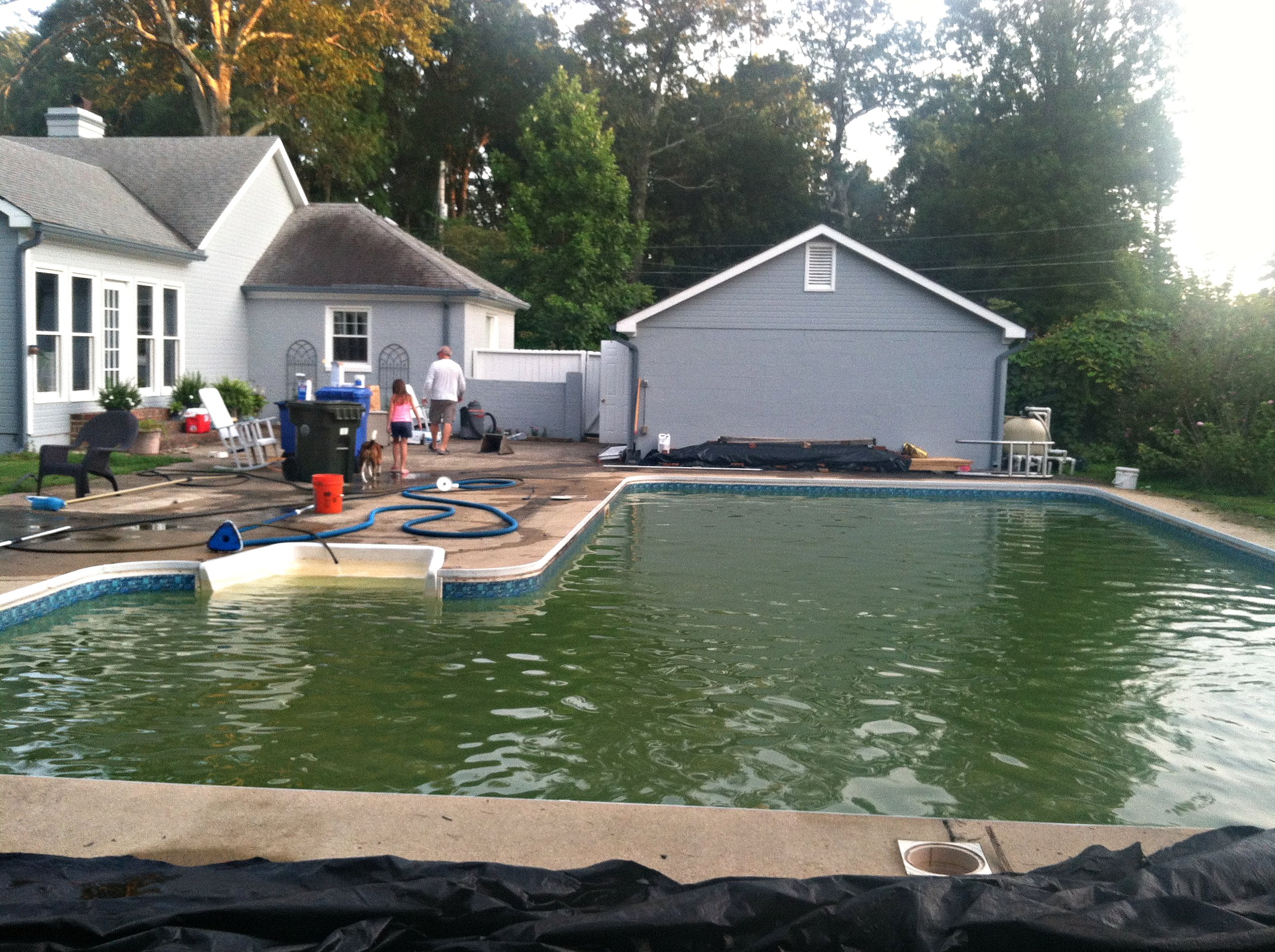 We did it!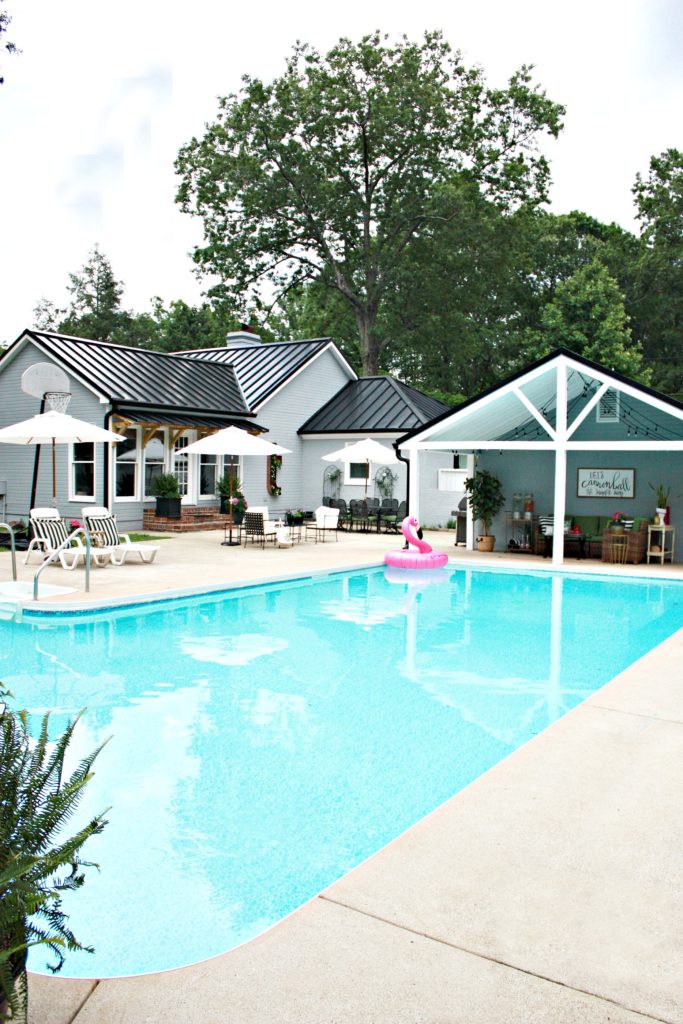 Head over to see all the collections of
Leisure Made's outdoor furniture
line and enjoy 20% off + free shipping!
This is a post sponsored for Leisure Made.  All photos and opinions are 100% my own.