This post is sponsored by Wayfair + a whole lotta work + elbow grease!  Sometimes it's hard for me to believe that this is the same house that we purchased 2 & a half years ago.  Don't get me wrong, one of my greatest gifts is visualizing how a space *could* look.  (At least that's what my husband tells me & it drives him crazy.)  I'm typically the person that always sees the potential or the silver lining, but even for this house, it has been hard at times to visualize the end results.  But I am so pleased and proud to share our patio decorating ideas plus amazing renovation reveal with you all.
If you're like me, and love a good before & after…this post is for you!
Here's a couple of pictures of our patio/courtyard area that I took the day we had our home inspected.  In case you are new here or visiting my blog for the first time, WELCOME!!!  Secondly, our home was a foreclosure that had been vacant for almost 5 years.  We have touched every corner inside this house, but the past few months we've have been focusing on the exterior.
I'll let the "before" photos speak for themselves…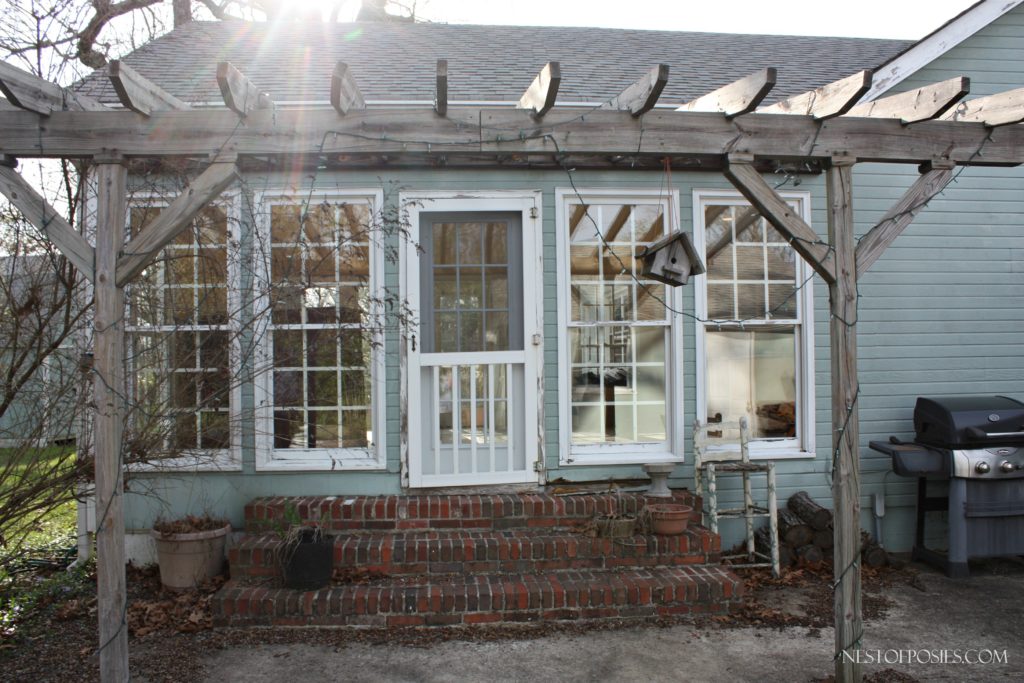 Don't cha just love the birdhouse dandling from the string lights???
I mean, really!!!!  What were we thinking putting an offer on this house?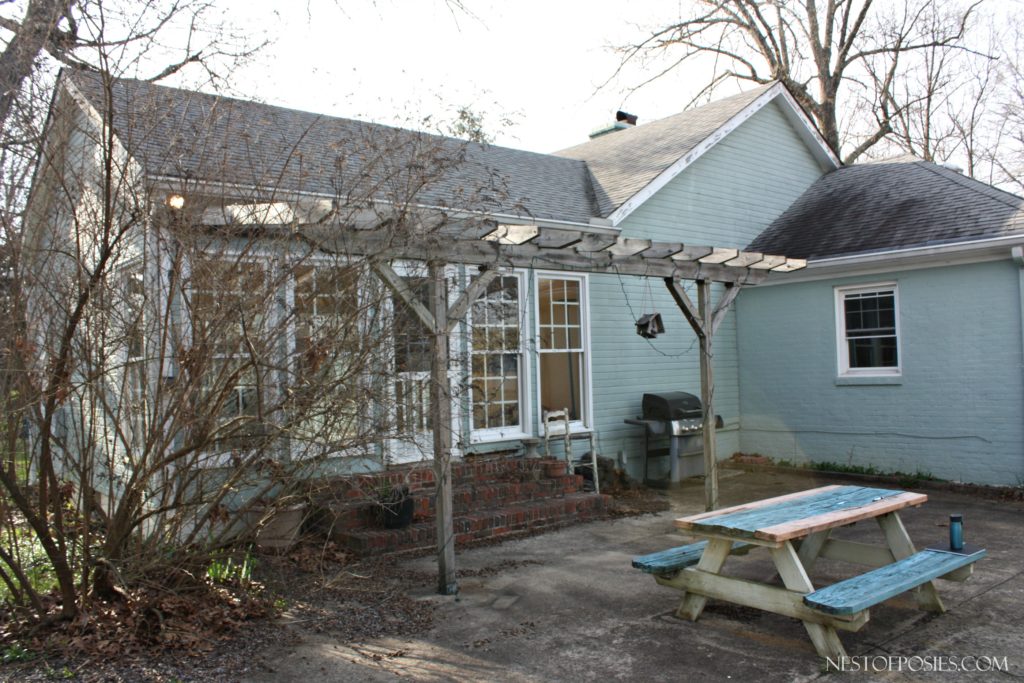 And here's the after…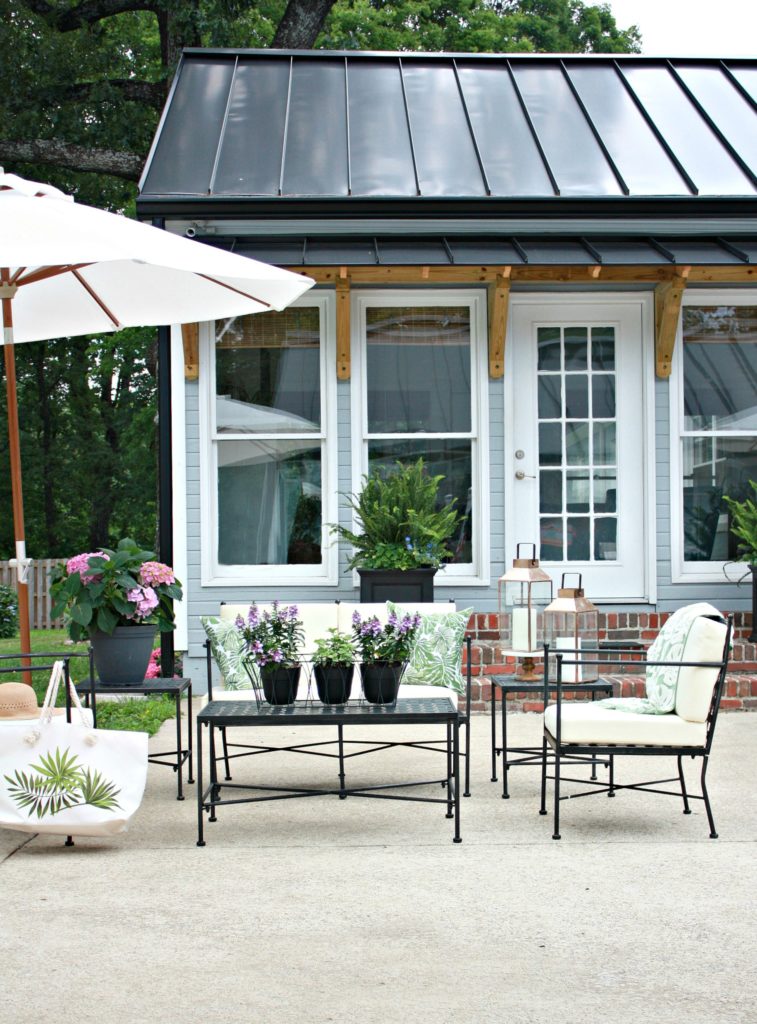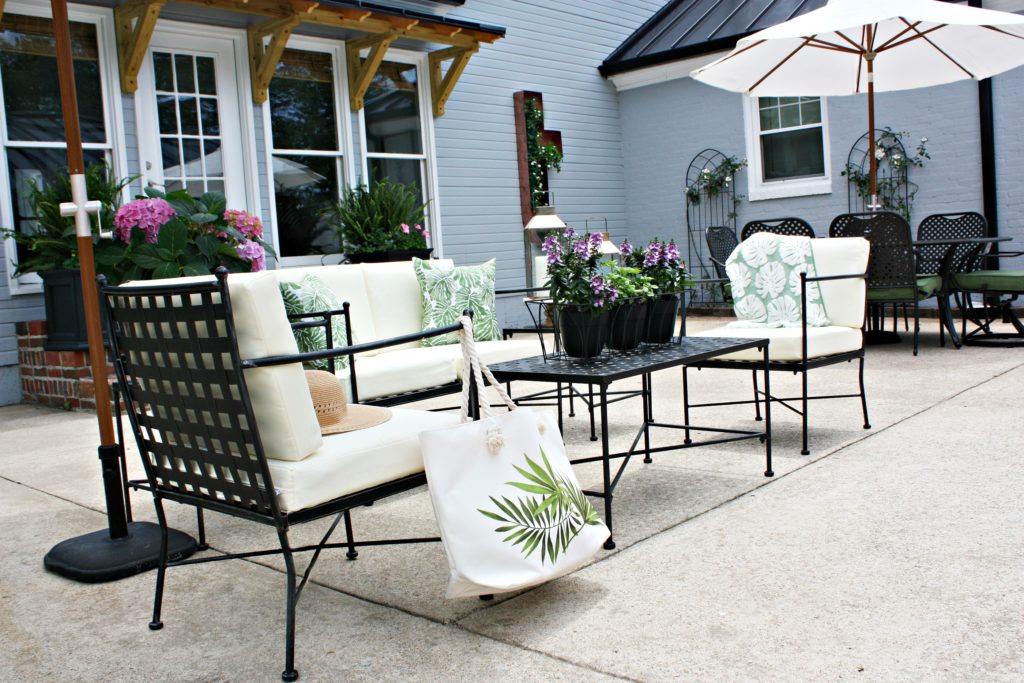 It's rather hard to believe it's the same patio, isn't it?  Trust me, I feel the same way.  As I have said before and I'll say it again we have put a whole lot of sweat equity into this home.  I'm so excited to finally be sharing some of my patio decorating ideas plus amazing renovation reveal, that it's hard to believe this post is finally going to be published.  There's a whole lot of time, money, visions & dreams that have been centered around this area.  Last but not least, we had been saving for our new roof.  Many people have asked, and it's a standing seam metal roof.  It truly makes all the difference in the world for our home.  We absolutely love it.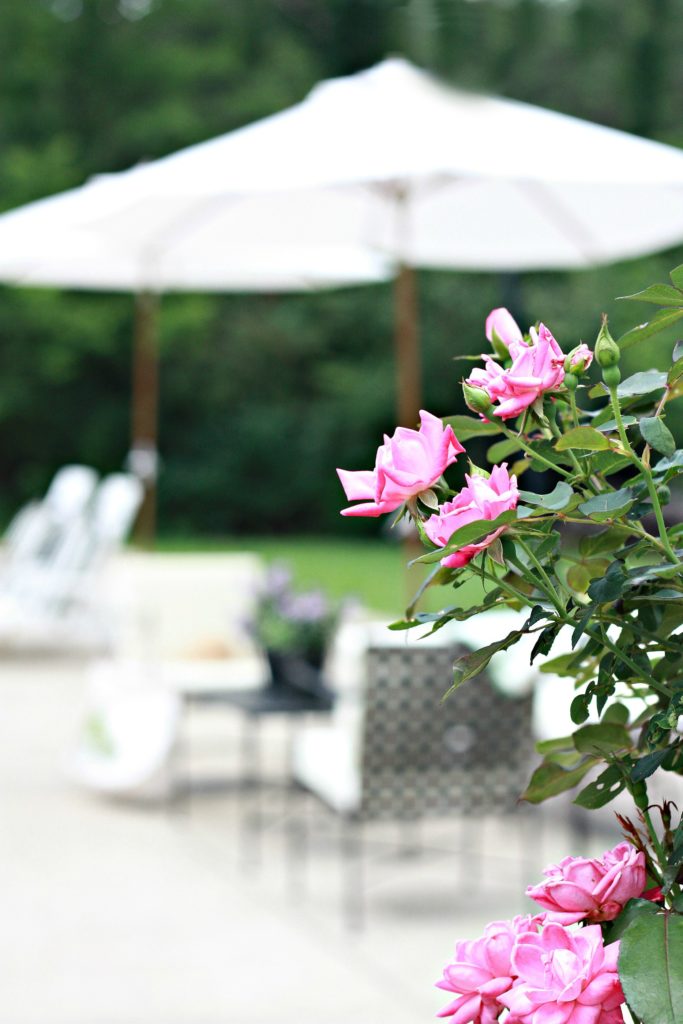 When I was selecting patio furniture from
Wayfair
, I was determined to get patio furniture that would take full sun and the rain.  We live in Tennessee, so we have both rain and sun during Spring, Summer & Fall.  When I saw the
Alcott Hill Collection
I knew that it would be perfect for our weather and be able to sit outside in 3 seasons of the year.  Because we love being out here as much as we can!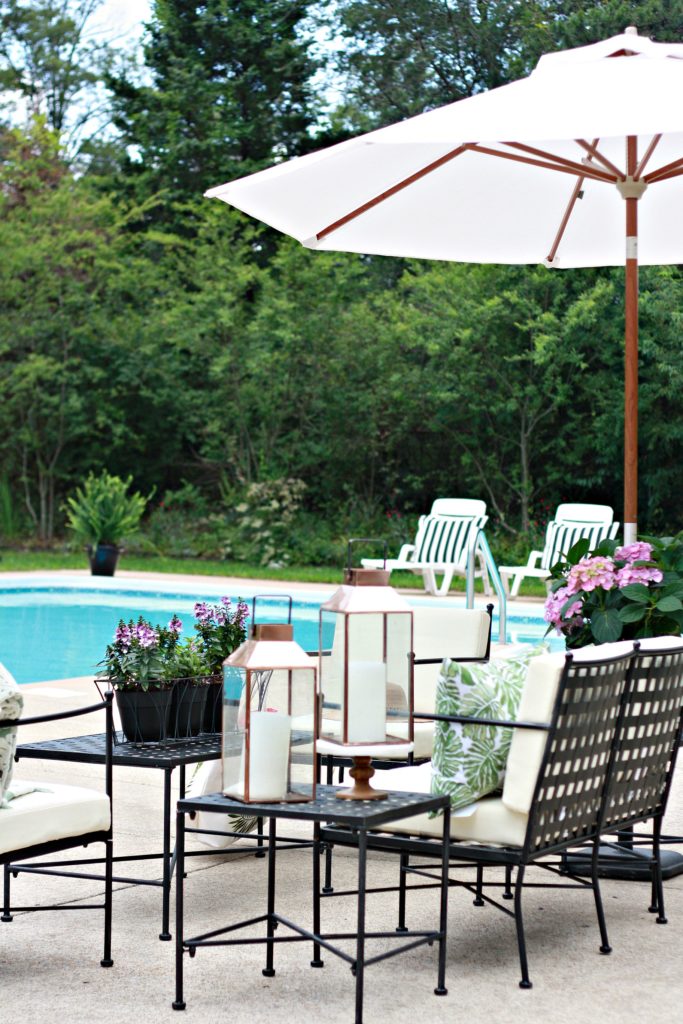 I love the classic basketweave design on top of the tables and on the back of the chairs.  It's such a beautiful simple design in iron construction, but the simplicity of the basketweave allows your outdoor accessories, flowers and yard to also shine and not compete with a busy pattern of furniture.
When thinking about patio decorating ideas, I always will lean towards a "classic" choice because outdoor furniture is:
#1 an investment
#2 an extension of your home's decor
#3 think about how long will it last
#4 is the construction and the material good for your area's weather
#5 can it be cleaned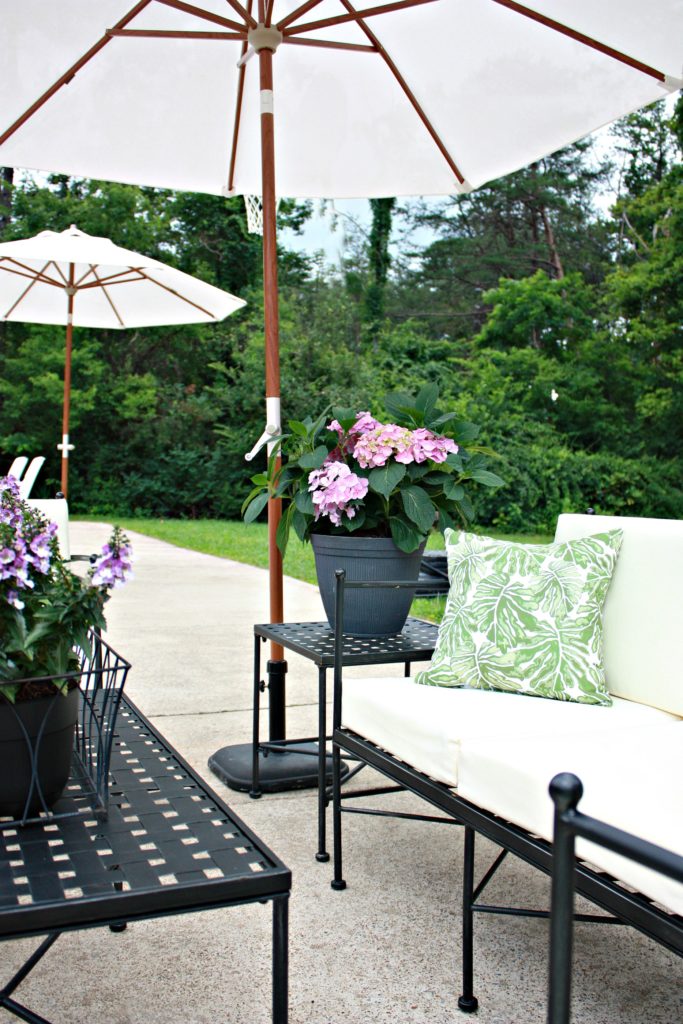 I also fell in love with the
Bay Isle Palm Print Pillows from Wayfair
, and I love how they accent the cushions and our yard.  They are the perfect outdoor pillow to accessorize your space with the trendy palm prints without making a big investment.  Also, their softer green hue was something I was looking for when thinking about a "color" that would go in this space.  I purposely selected the
white market umbrellas
so that all the cushion & pillow colors would work together and not break the eye in our patio area.  Also, each year I can clean the white umbrellas with a bleach & soap mixture, so they'll look new for years to come.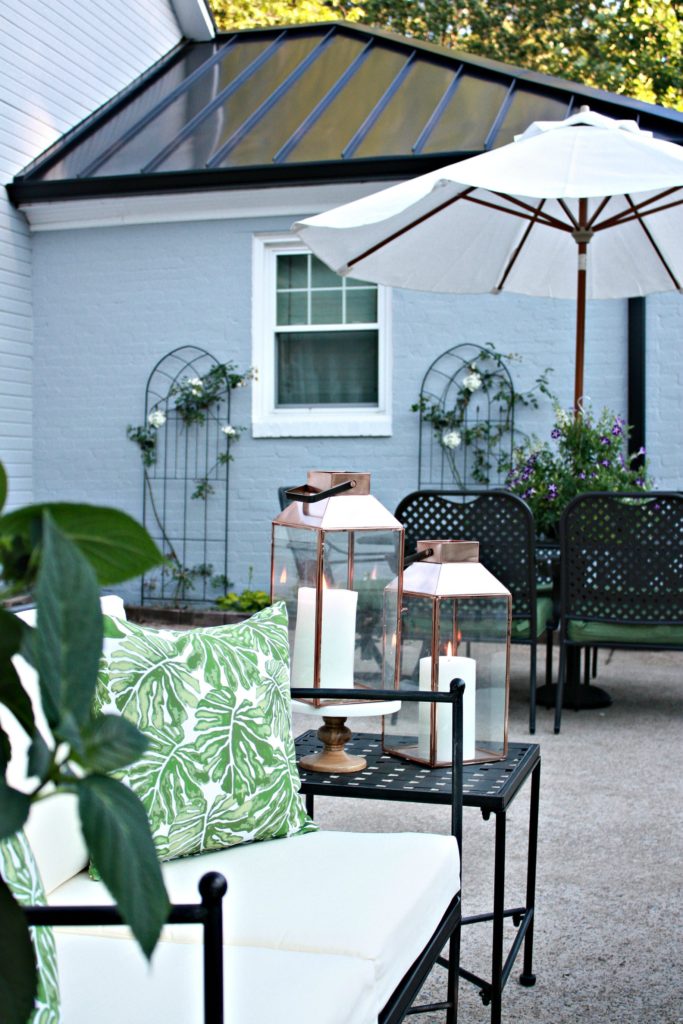 One of the other major perks for me, was that the
6 piece Alcott Hill collection
closely matched our existing outdoor dining table we had for several years.  Our cushions for the table are grass green and the similar basket weave patterns do not compete against each other.  I always feel that's a bonus when you're trying to blend new furnishings with older pieces you already own.
The design style and the greens flow so nicely together.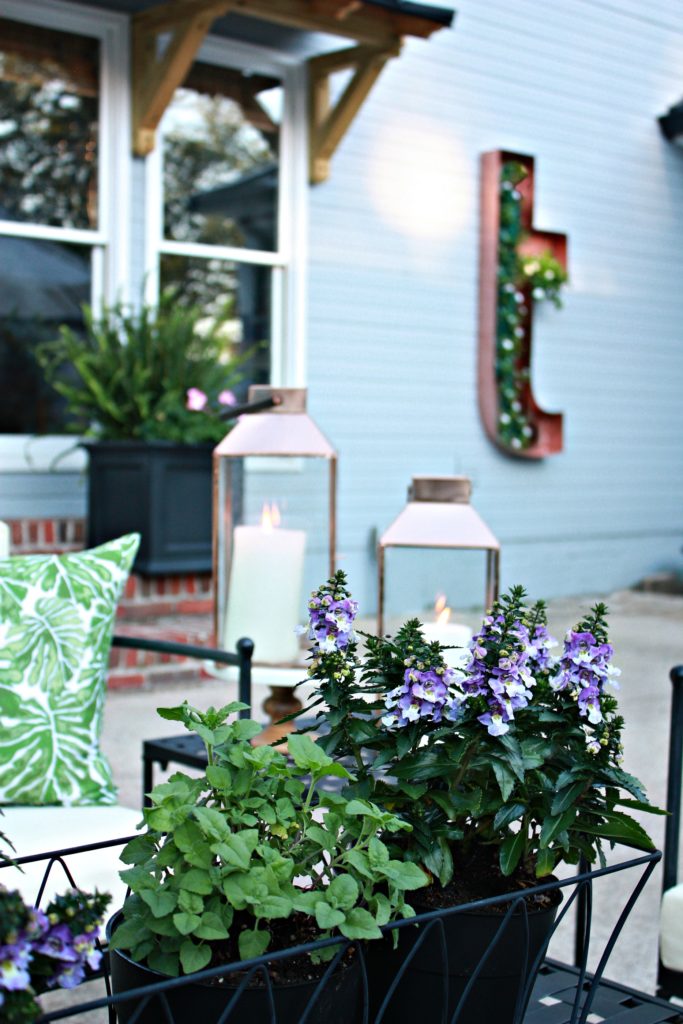 I added some bronze lanterns with candles and of course some flowers to create a pretty place to hang out anytime of day.  We are out here as much as possible, especially during the Summer.  This area is also close to our pool, so I didn't want to worry if it got splashed from a near by cannonball.  Everyone of the cushion covers has a zipper and can be easily removed and washed.  That was another plus in my book when thinking about my patio decorating ideas and reveal for our home.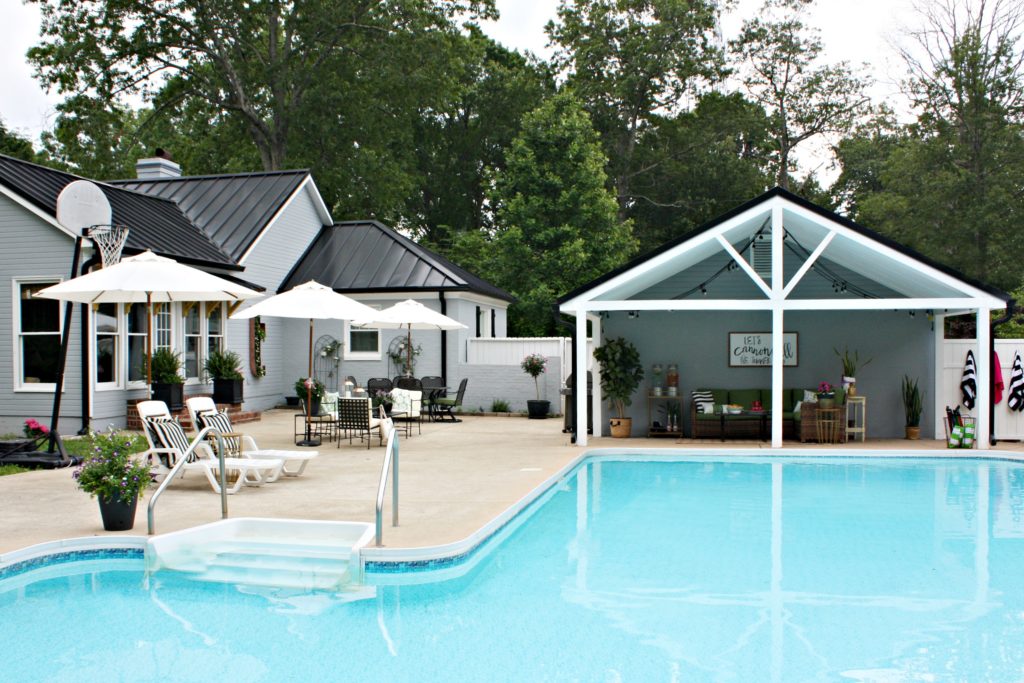 I purposely didn't want to make life stressful by getting something I was going to worry about.  We've worked too hard to worry about the small stuff.  All we want to do is enjoy this space to the fullest and live out here as much as we can.

This post is sponsored by Wayfair.  All opinions and photos are 100% my own.  I'm partnering with Wayfair because of their commitment to quality products and offering one of the best online shopping experiences in home decor I've ever received.