"This post is a sponsored by Neutrogena® as part of an influencer activation for The Motherhood.  For all my life I can remember my mom putting sunscreen on us girls.  Sunscreen and some of my best childhood memories go hand in hand.  It's just something we always did, and now something I always do with my kids.  It's one of the most important products you can buy for yourself and your family.  Neutrogena® is leading a call to action to moms to use sunscreen in front of their kids to demonstrate the importance of daily sunscreen – It's the #MimicMommy challenge giving sunscreen tips for kids and making it a daily practice.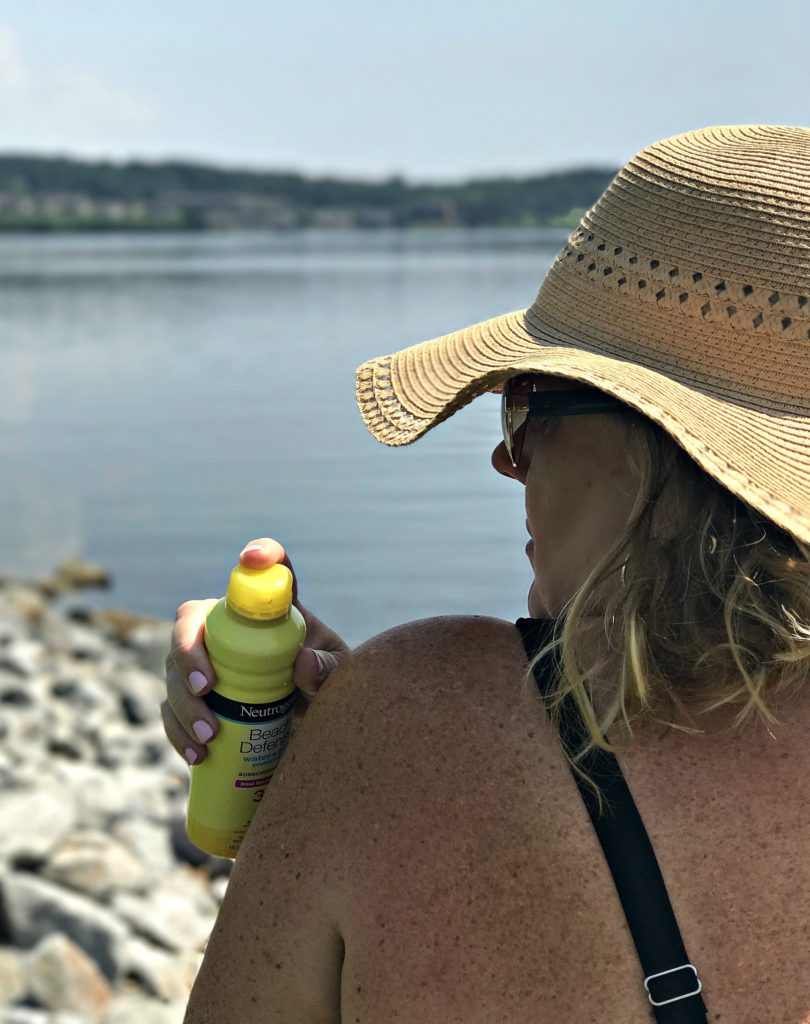 I bathe in sunscreen all year long when I go outdoors.  I even make sure that all my makeup products and moisturizer have sunscreen in it as well.  This practice became even more important to me, as I was diagnosed with Melanomia Skin Cancer two times within 6 months last year.  It was rather a shocker to me, since I feel like I literally bathe in sunscreen, but alas – it was true.  Thankfully, all of it has been removed but it made me even more aware of how I need to protect my skin.
My skin has moles, freckles, and I usually turn red more than a golden color when I'm outside.
Curse those genetics!!!  But years ago, I realized I couldn't do anything about them other than protect myself and embrace the skin I've been given.   I absolutely love to be outdoors in 3 seasons of the year.  Even with my recent removals of skin cancer, I'm not one who will stay indoors.  It's just not me.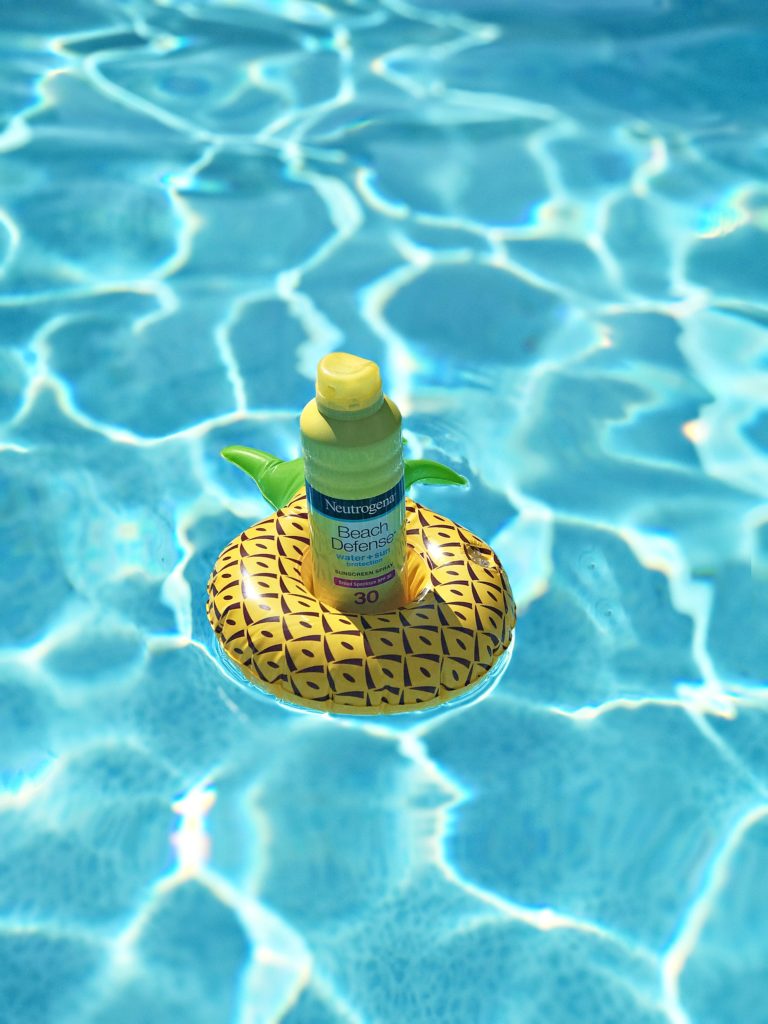 SET THE RIGHT EXAMPLE:
I always try to make sure my kids see me applying sunscreen on myself first and then, have them #MimicMommy.  Since we have a pool, we even have a bottle of Neutrogena floating around to remind us to reapply every 80 minutes.  The sooner & earlier we can start educating our kids the more likely it will be to have sun-safe kiddos! Make daily sunscreen application second nature for your kids by having them see you apply sunscreen on yourself .  Sparking this simple, healthy behavior change early on may help reduce the likelihood of developing skin cancer later in life.  So educating the importance of sunscreen tip for kids should be every mom's goal.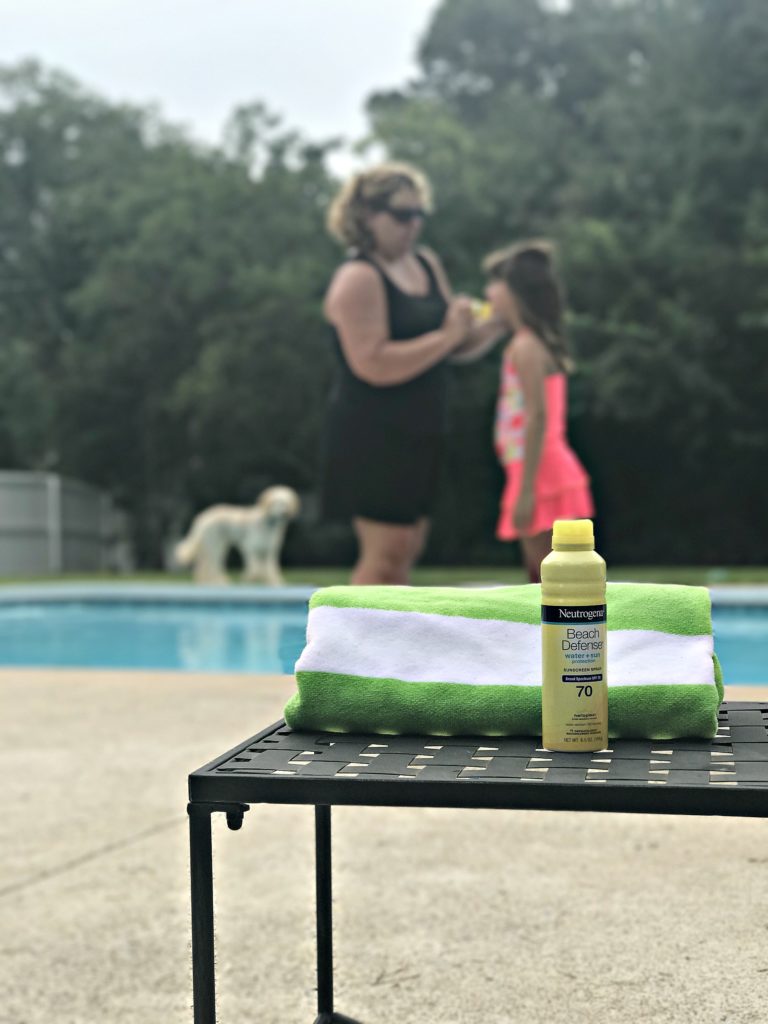 ONE OF THE BEST TIPS FOR REMEMBERING TO APPLY SUNSCREEN:
Make sunscreen part of your routine: keep a tube by your toothpaste – a recent study showed that you are more likely to increase sunscreen usage if you place it next to your toothpaste – something you already use daily.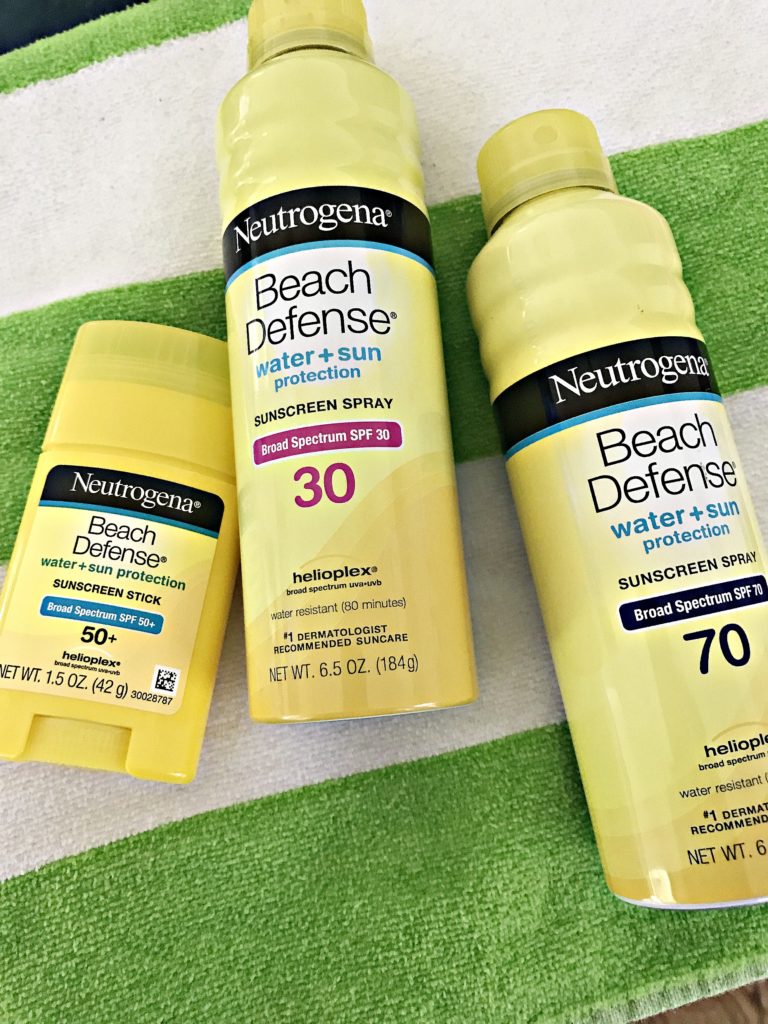 FACTS TO REMEMBER:
On average, more than 350 Americans are diagnosed with skin cancer every hour

Just 1-2 severe and painful sunburns can increase the risk of melanoma by 40 percent


99% of dermatologists recommend that their families and friends use sunscreen

99% of dermatologists agree that using sunscreen helps lower skin cancer risk

Neutrogena is launching the MimicMommy MOVEment, to rally moms to help change skin cancer statistics and raise the first generation of sun-safe children. Neutrogena teamed up YouTube stars the Holderness Family to encourage all to get up and DANCE their way to sun protected skin. Check out how in the new video here: The #MimicMommy Dance. To help support this important cause, Neutrogena will donate $10K to the Children's Melanoma Prevention Foundation.
Have you heard of the Holderness Family?  If not, you're in for a real treat!!!
FIND YOUR FAVORITE SUNSCREEN AND START APPLYING DAILY:
The Beach Defense® happens to be our families' favorite, especially since we have a pool.  We love the SPF 50 stick, and the two different strengths in spray bottles!
Beach Defense® provides superior skin protection from harsh summer elements, clinically proven to help defend the signs of sun damage

Prolonged contact of the skin with water makes the skin more susceptible to UV rays. Formulated with HELIOPLEX® Technology, the sunscreens form a broad-spectrum UVA and UVB protective barrier that is clinically proven to help skin defend against harsh summer elements

Beach Defense® Sunscreen Spray provides beach strength broad spectrum UVA/UVB sun protection in a lightweight, fast absorbing mist, ideal for outdoor skin protection of the active family

Water resistant (80 minutes)

Lightweight, fast absorbing

Oil free, PABA free

Neutrogena® Sheer Zinc™ Sunscreen Lotion is a close favorite.  My kids love how soft their skin feels after applying the Sheer Zinc Sunscreen.

Formula Powered by 100% Zinc Sunscreen Ingredients with the Highest Level of Zinc Oxide* for Superior Broad Spectrum Protection

Mild even on sensitive skin, clinically shown to be as gentle as water

Suitable for use on sensitive skin

Hypoallergenic, non-comedogenic and free of fragrance, parabens, oils, phthalates and dyes

Neutrogena® Pure & Free® Baby Sunscreen SPF 50
Neutrogena® Pure & Free® Baby Sunscreen SPF 50 provides 100% mineral sun protection that is made for baby's delicate skin, featuring our breakthrough Purescreen® naturally-sourced zinc oxide technology. This gentle formula provides superior broad spectrum UVA/UVB baby sun protection by creating a screen between baby's skin and the sun's rays. It's also free of irritating chemicals, fragrance, parabens, phthalates, and dyes, so it's suitable for use on sensitive skin.

Hypoallergenic

Tear free

Water resistant (80 minutes)

Dermatologist tested
We joined the #MimicMommy Challenge and made our own video to help us remember to apply sunscreen daily.
A FUN GIVEAWAY!
Neutrogena is giving 3 lucky readers a sunscreen combo package!  Use the widget box below to enter.  Trust me, it's an easy entry!  Giveaway runs Monday July 24, – Friday July 28.  Winners will be notified by their Facebook email.  So make sure your email is up to date.
a Rafflecopter giveaway
Good luck to all of you!
This post was sponsored by Neutrogena® as part of an influencer activation for The Motherhood. I am disclosing this in accordance with the Federal Trade Commissions (FTC) guidelines concerning the use of endorsements and testimonials in advertising. I received complimentary products to facilitate my review