We've been eating this amazing Watermelon Salsa recipe all Summer long!  It goes great with almost anything grilled or for just a main course as your lunch!  As my regular readers know, I'm all about adding chips & dip to the main food group triangle, because to me there's nothing better!  Especially during the Summertime!

It all comes together rather quickly, but let's face it – chopping is involved.  
I know, I know
, we all want fast easy recipes.  Which I really think this is easy – but it all depends on how fast you are with a chopping knife.
If you're a chopping Ninja – than time will go by super fast.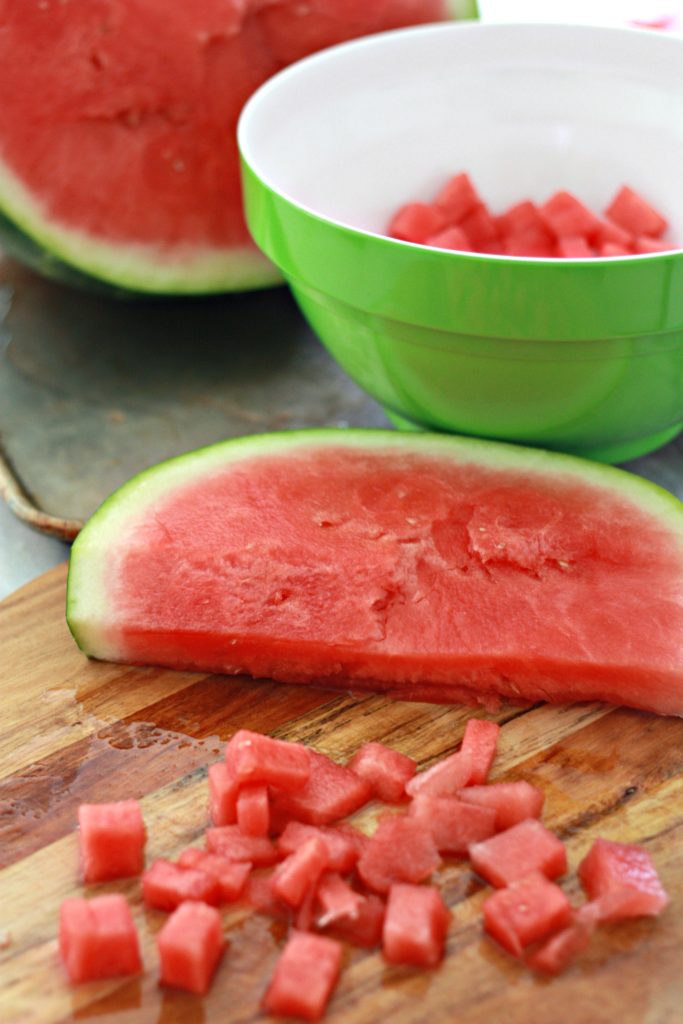 Most of the ingredients used in this recipe are summer staples in your fridge.  So hopefully you won't have to run to the store to make this recipe, because trust me – it's worth the 10-15 minutes of chopping.  You see, our love affair for this amazing watermelon salsa recipe started at the beginning of summer.  We had some friends over to kick off summer, and we grilled this fabulous
 Carne Asada recipe
from my friend Melissa, and I wanted to have some fun & fresh side dishes to offer as well.  So I started to play around and experiment making watermelon salsa.  It was a hit immediately with our friends and our family.
Ever since then – I truly believe I've made it every week this summer.  Because we love it that much!
Ingredients
4-5 cups of chopped seedless* watermelon
juice of 1 lime - reserve a few slices for garnish*
1 finely chopped jalapeno

with seeds or without - your preference

reserve a few slices for garnish
1 medium yellow pepper chopped
cilantro - chopped (about 1/4 cup give or take)
1/2 cup of chopped red onion
1/2 teaspoon of salt or sea salt - if you want a little crunch
your favorite chips
Instructions
In a medium size mixing bowl (preferably one with a lid) mix all your ingredients together.
I use a fork, and gently mix all the ingredients together. I typically add the juice of my lime right after I place the watermelon in the bowl, so that the flavors can start mixing together.
After that add all the remaining ingredients.
If you feel it needs more salt, add more.
Same with the cilantro.
The salsa is typically best when allowed to chill for a couple of hours before serving.
Use the salsa within a day of making.
Serve with your favorite chips!
https://www.nestofposies-blog.com/2017/07/watermelon-salsa-recipe/
The messiest part is of course, cutting the watermelon.  I always use a large baking sheet to sit my watermelon on so that all the juice will stay in the pan.  I swear by these Melamine Mixing Bowls with lids.  I use them all the time, and they're perfect for outdoor entertaining and storage in the fridge.  But they're great for this watermelon salsa to store in the fridge.  Sometimes I place the salsa in a "prettier" bowl when I'm ready to serve it, or sometimes when it's just our family – we eat it out of the mixing bowl.  Because, well you know – that's how my family rolls.  For example…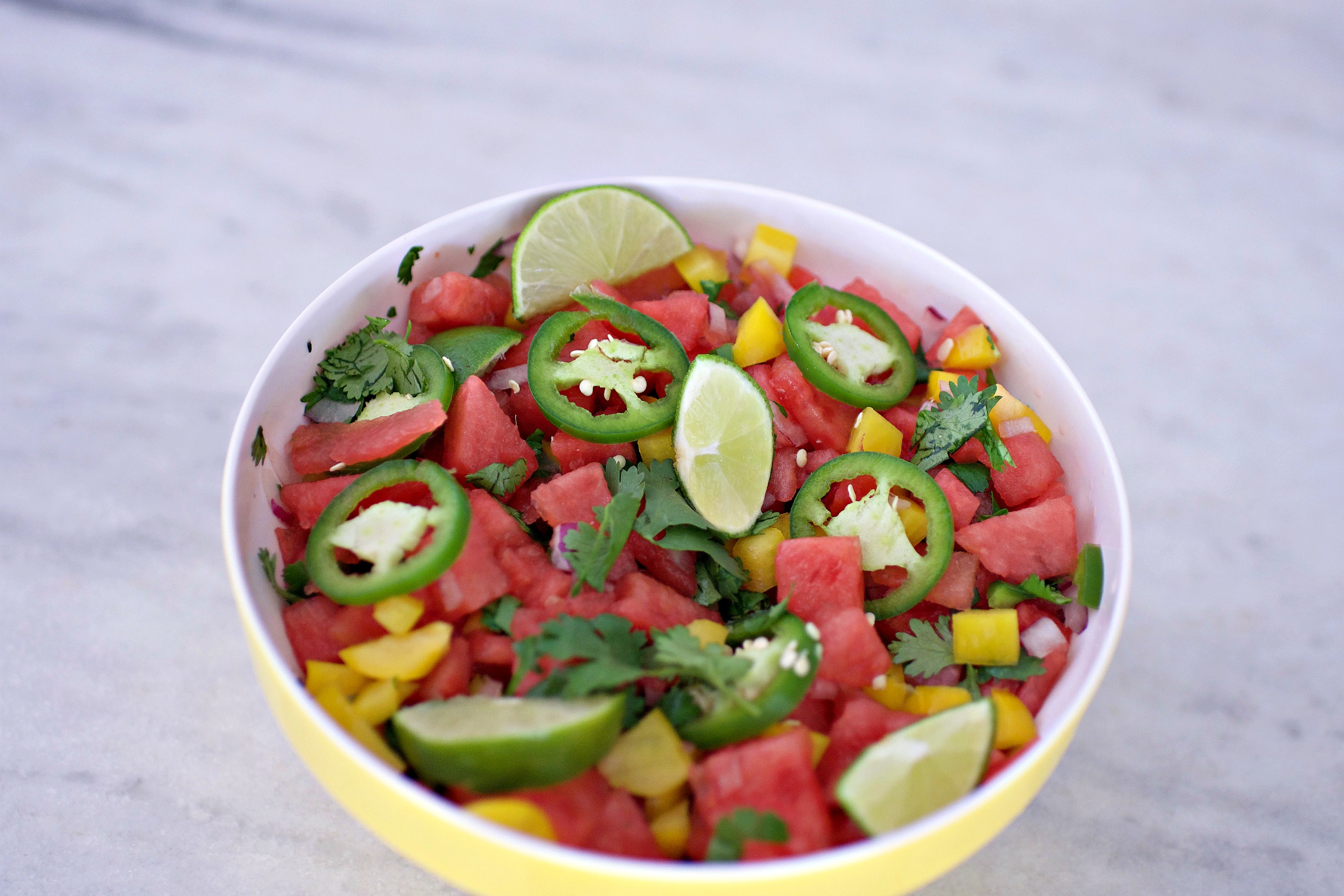 But when company comes over – we try to use some manners around here & refrain from devouring the bowl in a matter of minutes.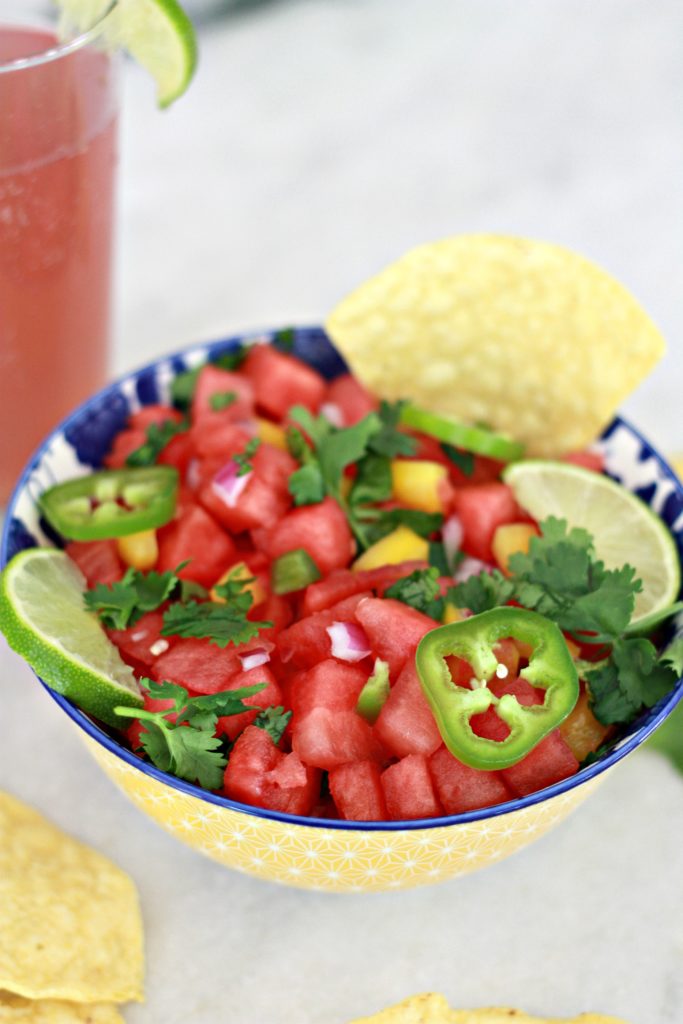 If you like a little heat with your chips, leave some of the seeds from your jalapeño in the watermelon salsa recipe mixture.  If you don't want any heat – just omit them from the recipe altogether.  They aren't overpowering, because the sweetness of the watermelon makes it all harmonize in your mouth. I promise, you and your family will devour the bowl in one meal.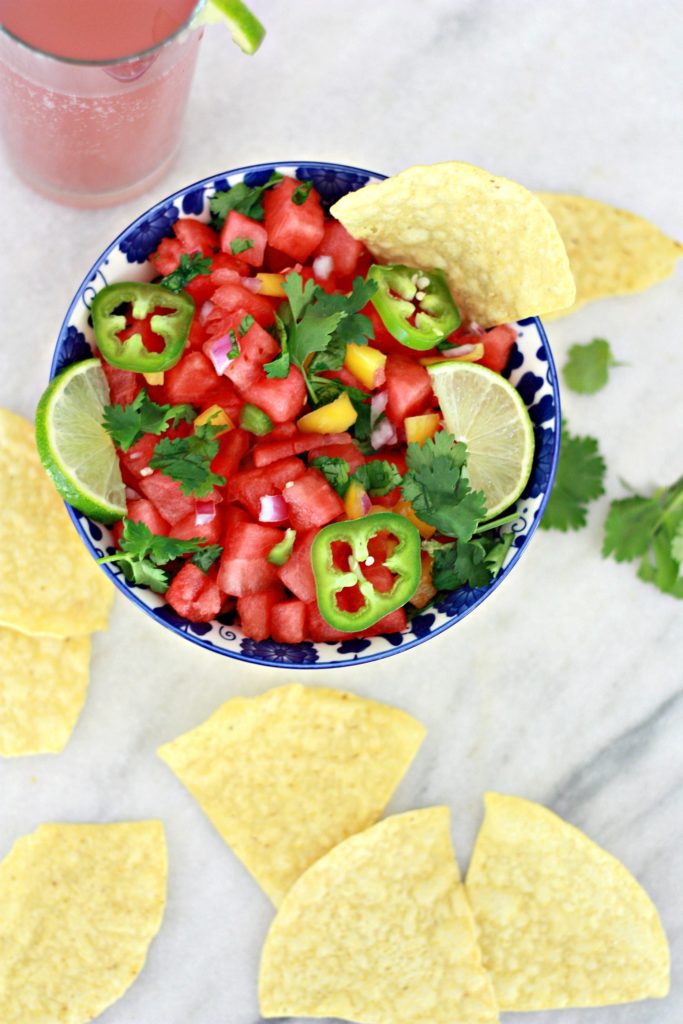 We love it with grilled chicken, steak, pork chops, shrimp, salmon…
You name it!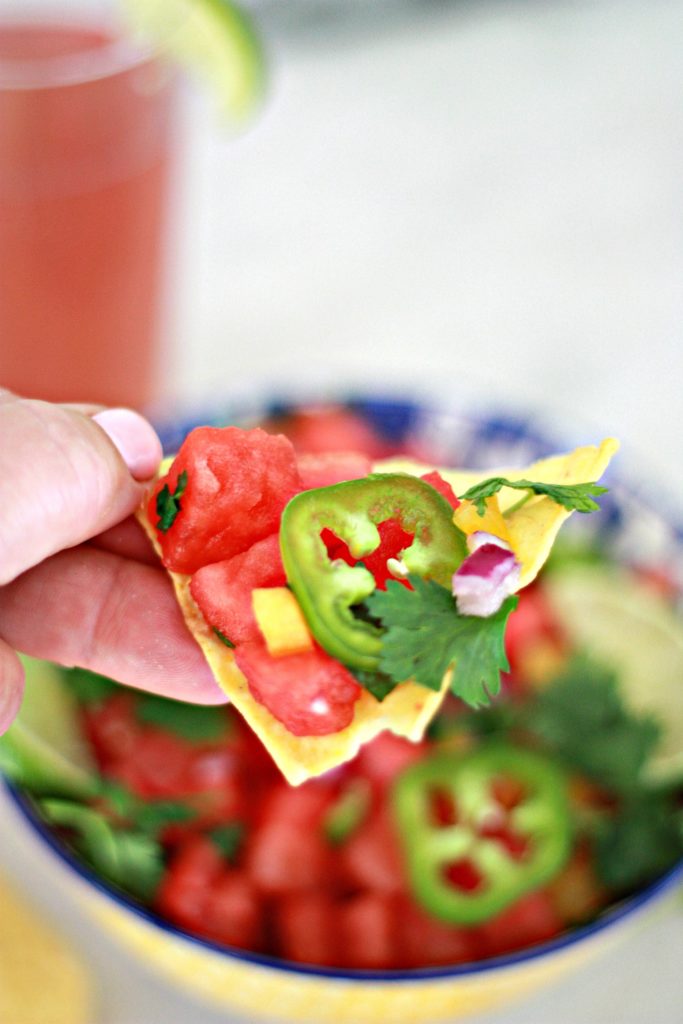 My kids love it, and sometimes we just count the "chips" as our carb for the night and just grill a protein.  It's light, refreshing and so delicious.
*this post contains affiliate links*