Y'all, I'm in love with today's post!  I mean seriously in love with it.  I got our Fall storage bins down, and started decorating this weekend.  I was so tired of what I had up for Spring and Summer and I desperately wanted a change in our kitchen.  So I finally began adding Fall decor to our open shelving in the kitchen.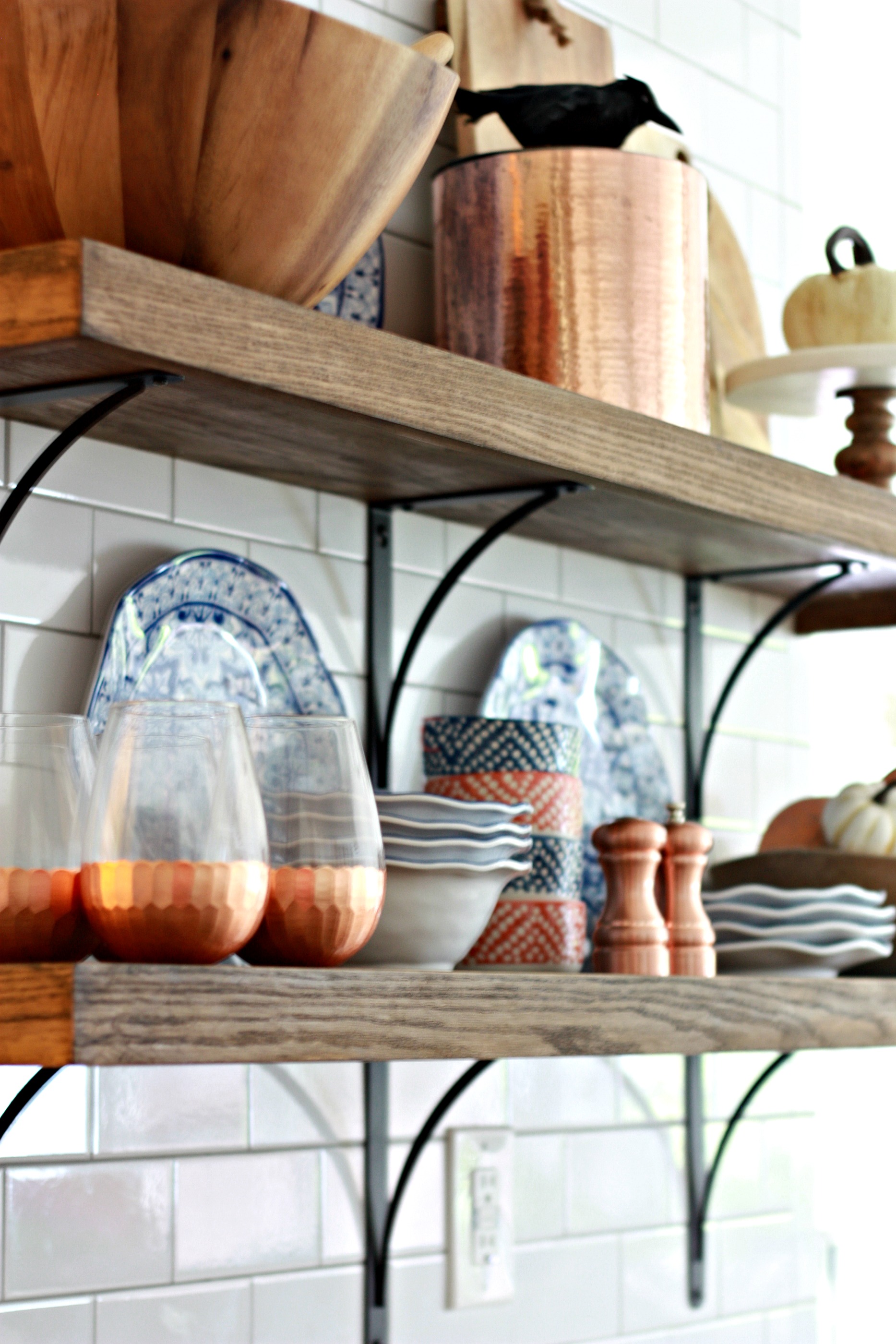 I've always loved the color combination of copper and blue hues together, and this Fall I was determined to use those colors in our home.   I then added some fun wood textures like our butcher block boards, and my favorite
wood salad bowl
to the mix of the shelves.  I also added some fun elements of Fall.  Like my old crow I've had for years, who is perched up on top, and of course some faux pumpkins and gourds.  I think this combination against the white tiles truly makes the colors pop in our kitchen.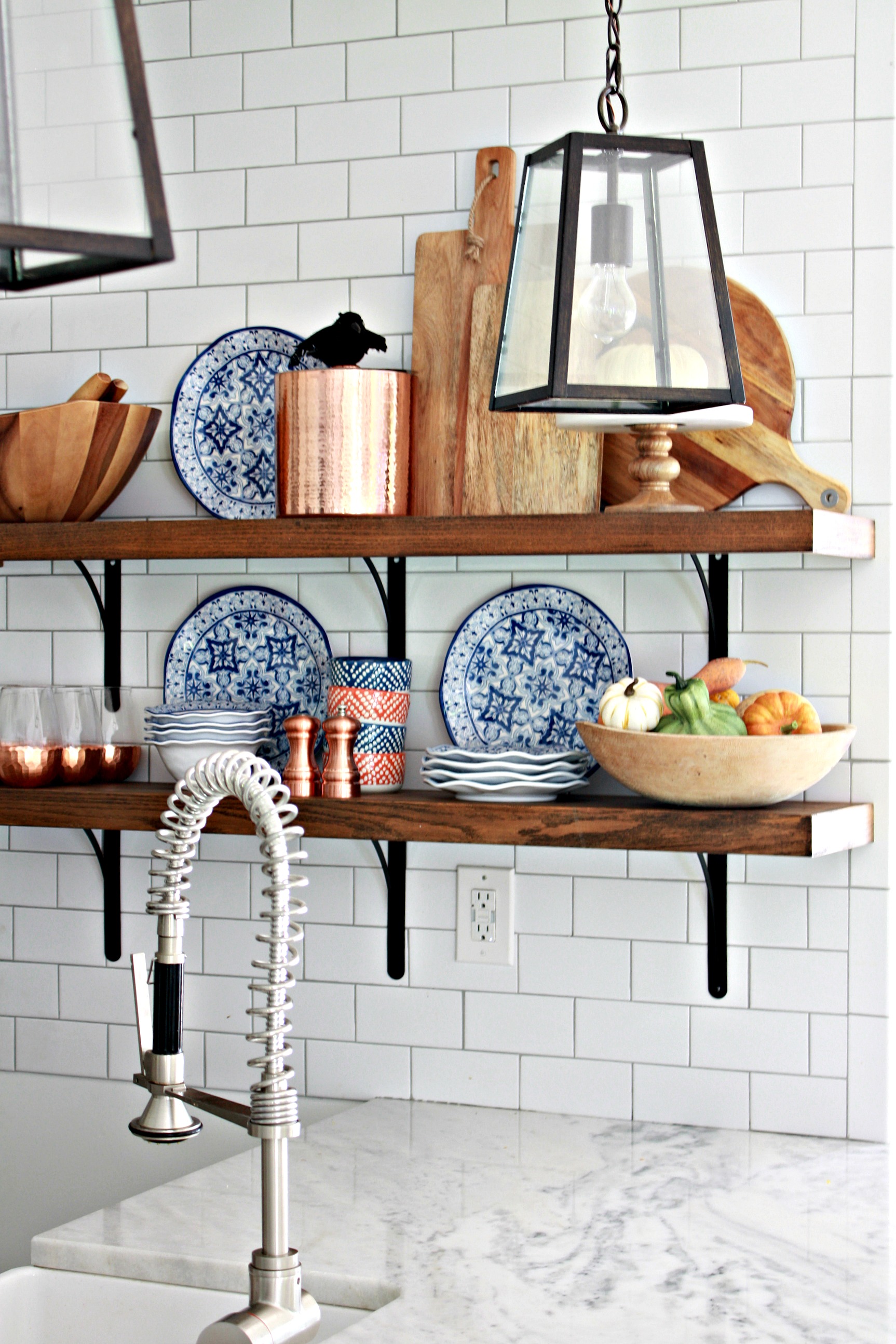 It's a great display of color and neutral in the kitchen, and I think it also says Hello, Fall!   Which I've gotta say, I don't mind one bit.  I keep waiting for our local produce stands or stores to get fresh pumpkins in stock.  I'm always the first one to call to see if they have arrived.  I need a bumper sticker on my car that says. "Will brake for pumpkins, gourds & mums."
Because trust me, I will in a heartbeat.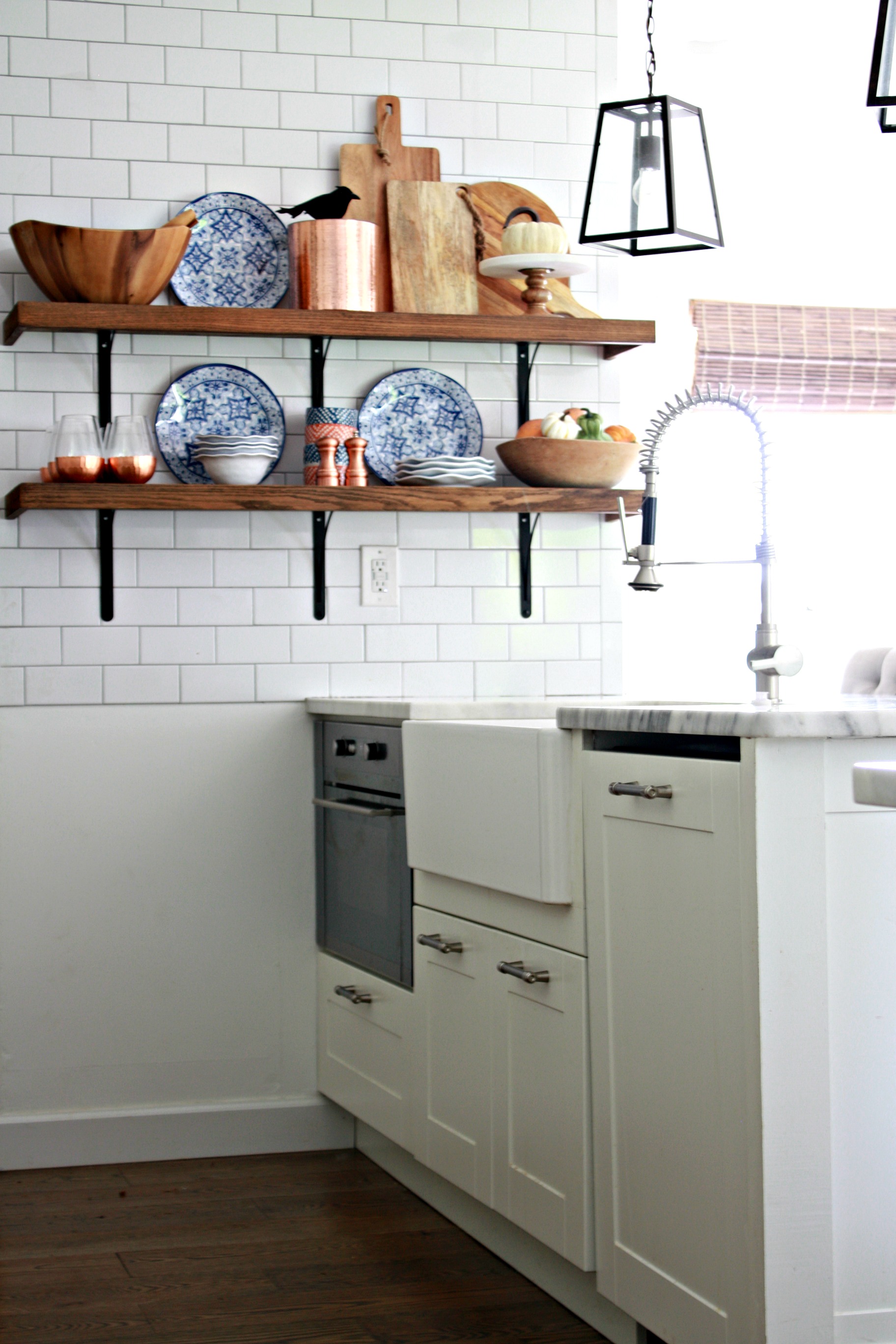 I've been trying to grow my collection of copper at local yard sales or thrift stores.  It's so hard to find!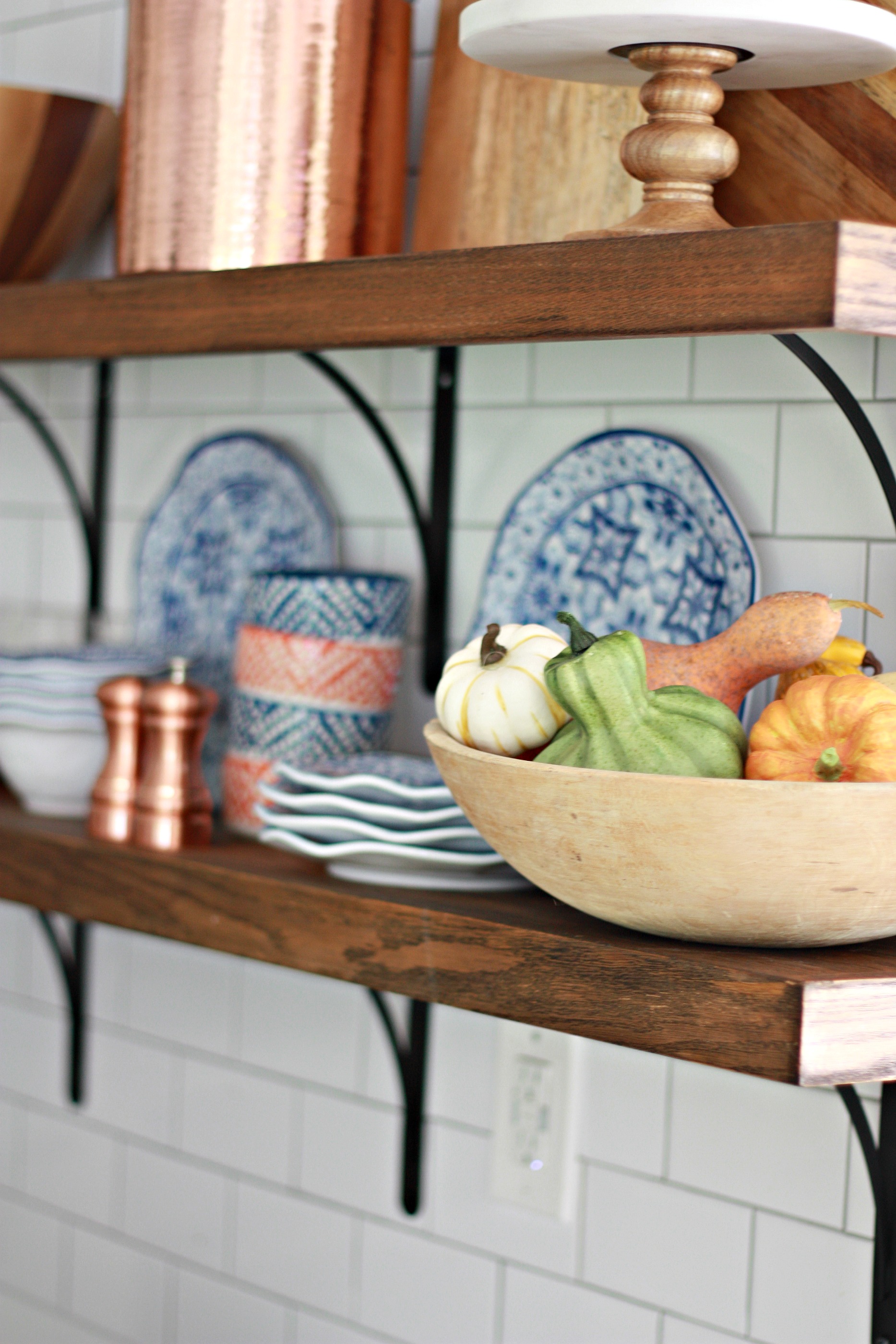 My blue plates, that I personally think resemble a ginger jar pattern are from
here
.  We have truly enjoyed them both inside and outside for our meals.   I love the scalloped edges on the plates!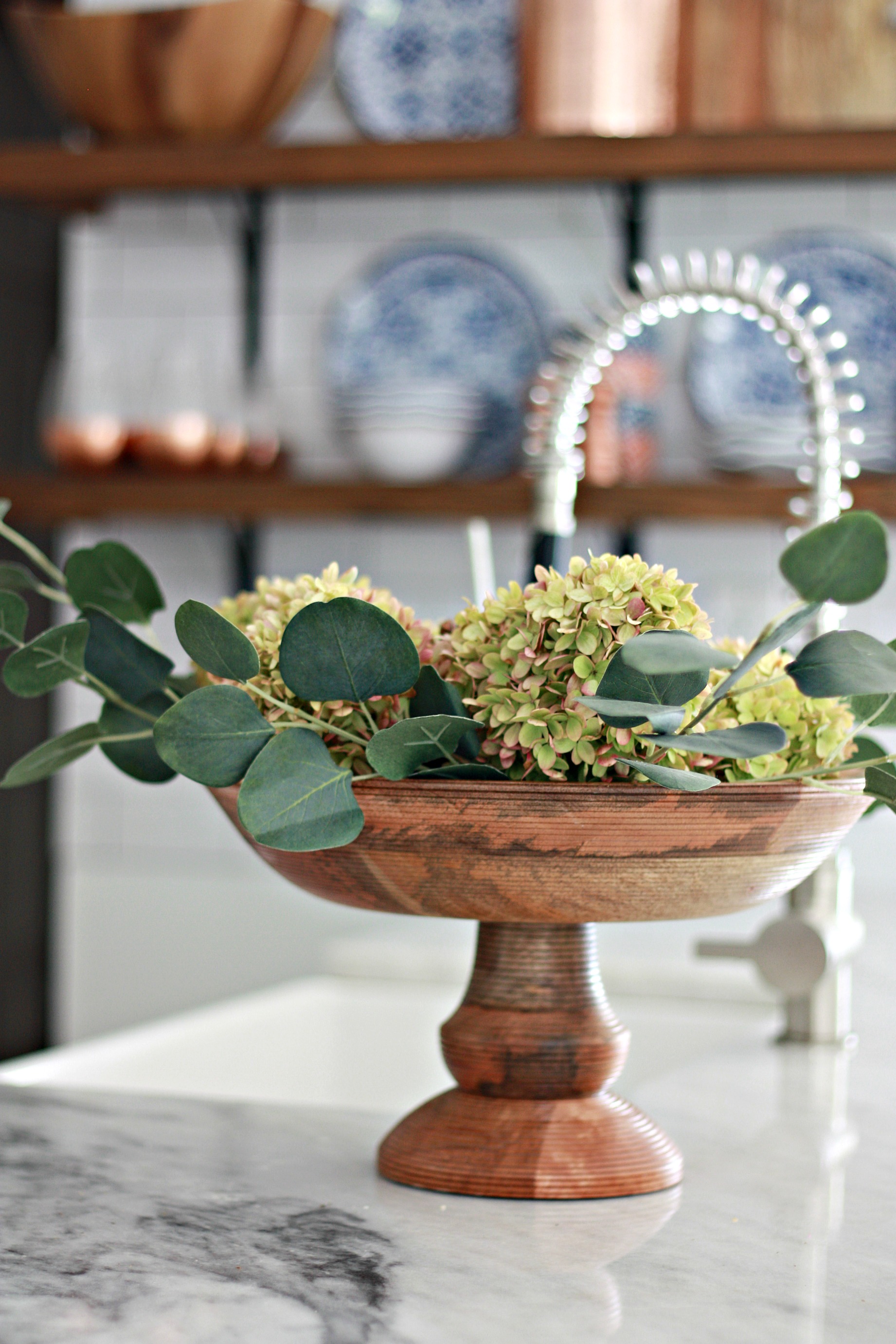 What about you?  Have you started decorating for Fall?  I always find, picking a color theme always helps me.  Of course any collection or combination of styles that you love is always a great place to start when decorating for a new season.

One thing for sure, you can never go wrong with a little pop of color mixed with some good wooden neutrals.  That's my starting point for almost any project or room for our home.