Well, it's that time of year again.  The weather is hot as can be, it's literally 98* degrees outside, and you can cut the humidity with a knife!  The kids have been in school for 1 week, and this is the time I start dreaming about Fall and all it's beautiful decor.  Is that even normal with it being so hot outside?  Well, it is for this not so normal mom.  I always love to kick off the season with a new wreath!  So this time I thought I would mix in as much fresh greenery as I could for this DIY Nature Inspired Fall Wreath.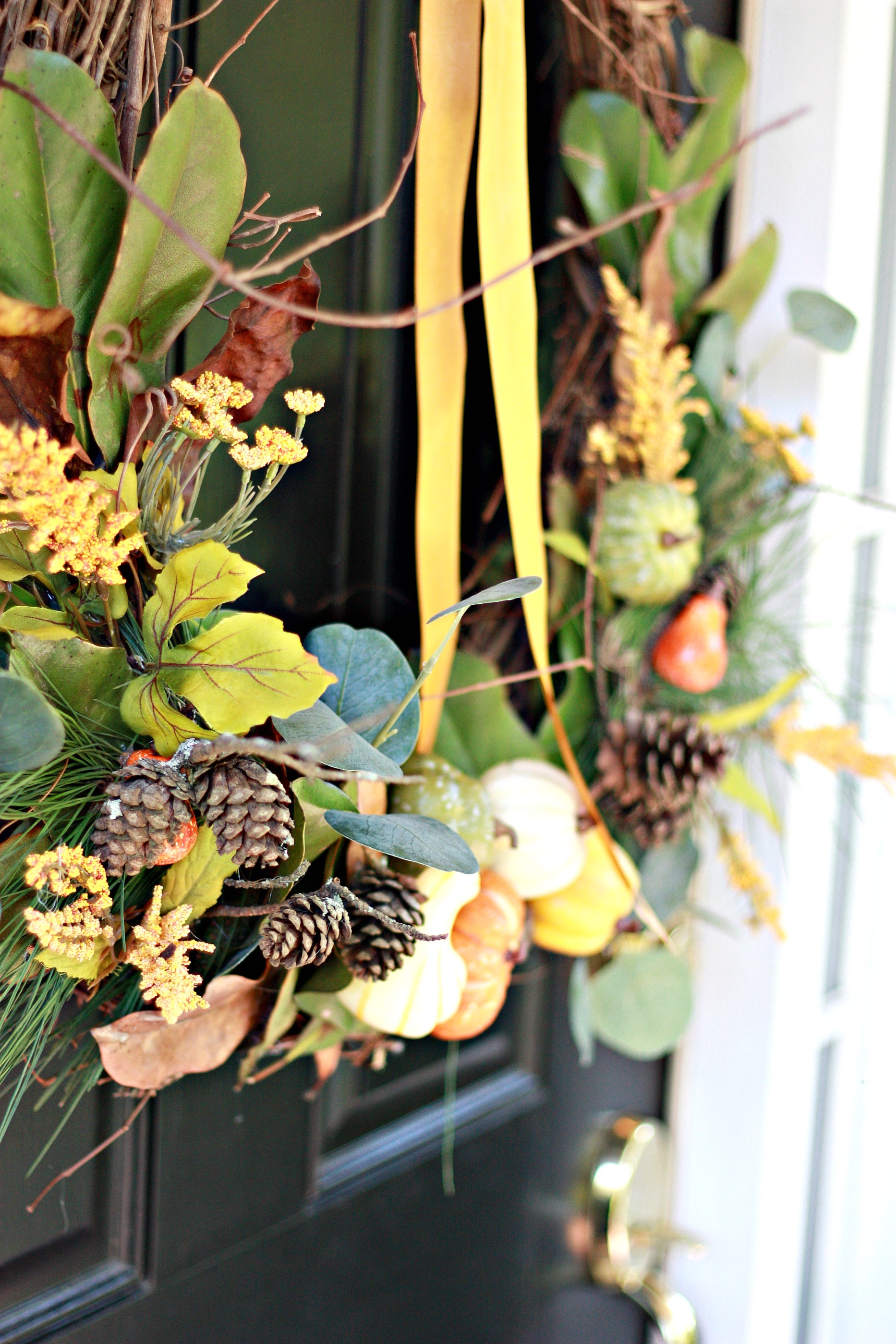 I honestly believe this is one of the cheapest wreaths I've ever made.  And trust me, I've made quite a few wreaths in the past few years!  But I only purchased 3 things for this wreath.
Grapevine wreath after the coupon was: $4.99
A bag of mini pumpkins (40% off):           $3.79
1 faux floral stem (40% off):                       $1.79
Grand Total:                                                  $10.57
Everything else I had on hand or I used clippings from our yard.  Below is a picture of all the supplies I used + a hot glue gun.  I literally just started layering in all the pieces one by one.
I started with all the greenery, first.
And then started adding all the color and texture on top of the greenery.  I did play around with placement before I started gluing, just to be on the safe side.  But this DIY Nature Inspired Fall Wreath came together rather quickly, and I absolutely love it.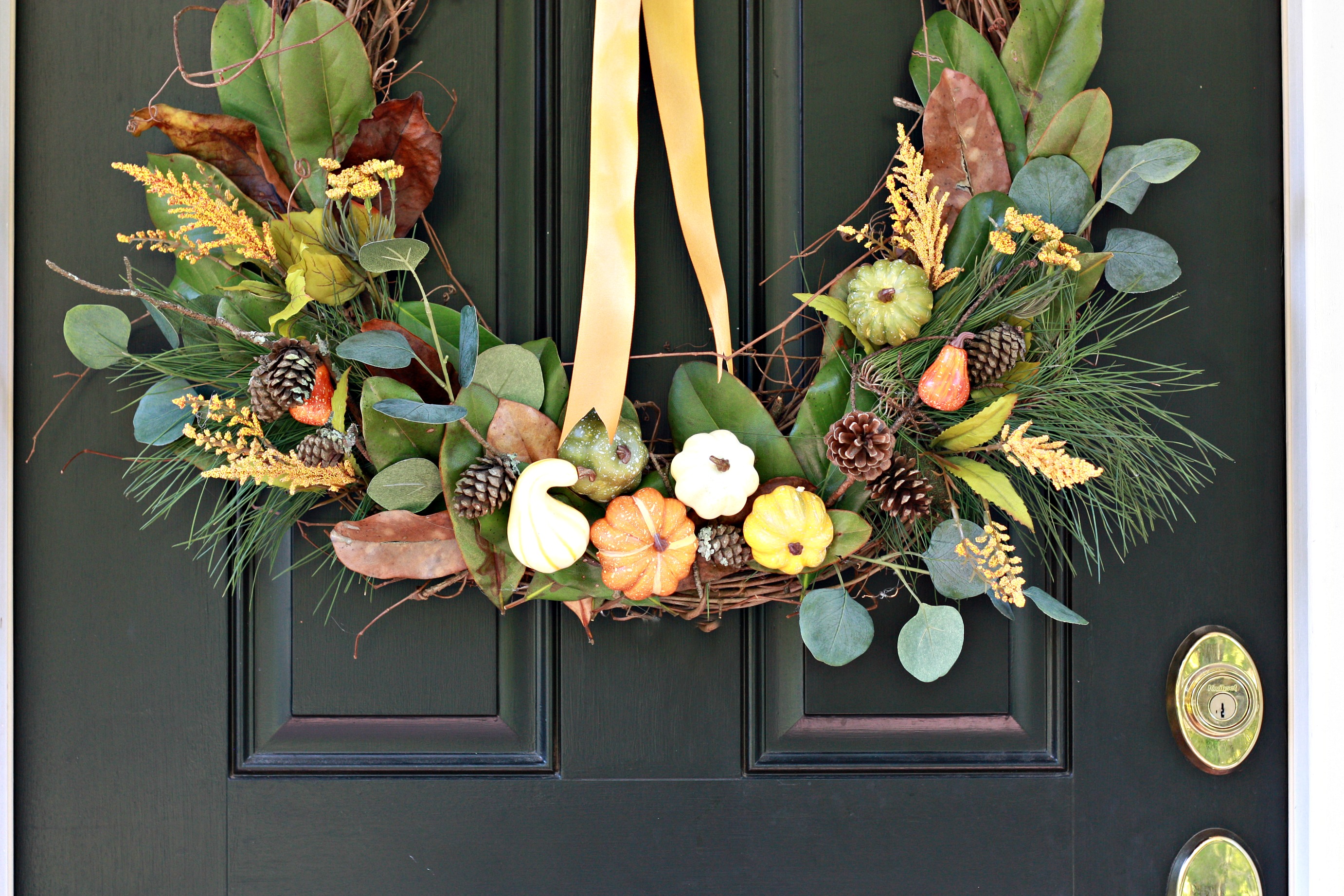 I always love the beauty of the imperfections of a grapevine wreath.  They are perfect for Fall and a beautiful base to almost any kind of wreath you want to make.  Another one of my favorite things this time of year, is that gorgeous orangey gold statin ribbon.  It's so pretty and truly makes the wreath pop, in my opinion.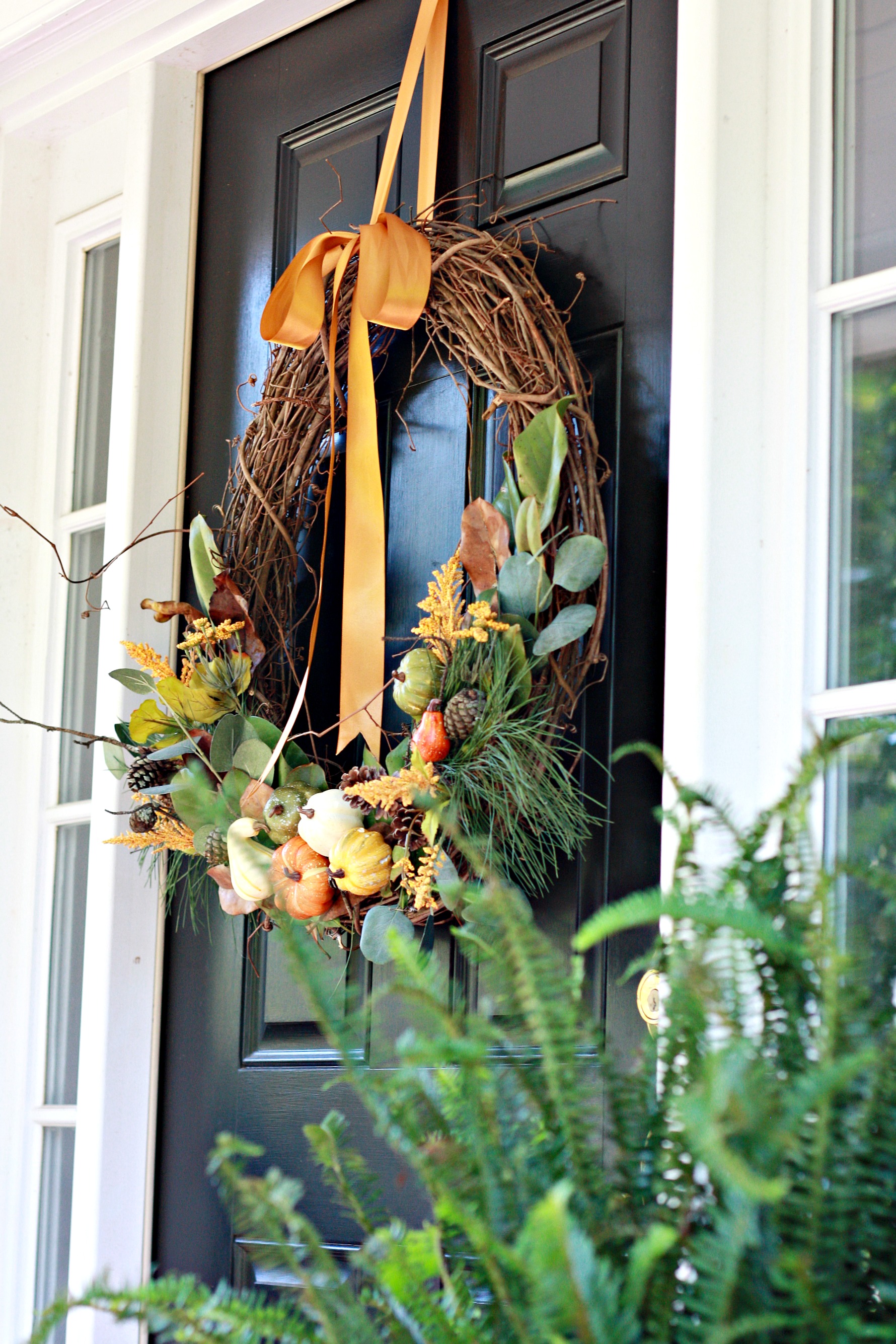 The combination of the real foliage and the Fall inspired faux stems along with the pumpkins are a beautiful display when they're all grouped together.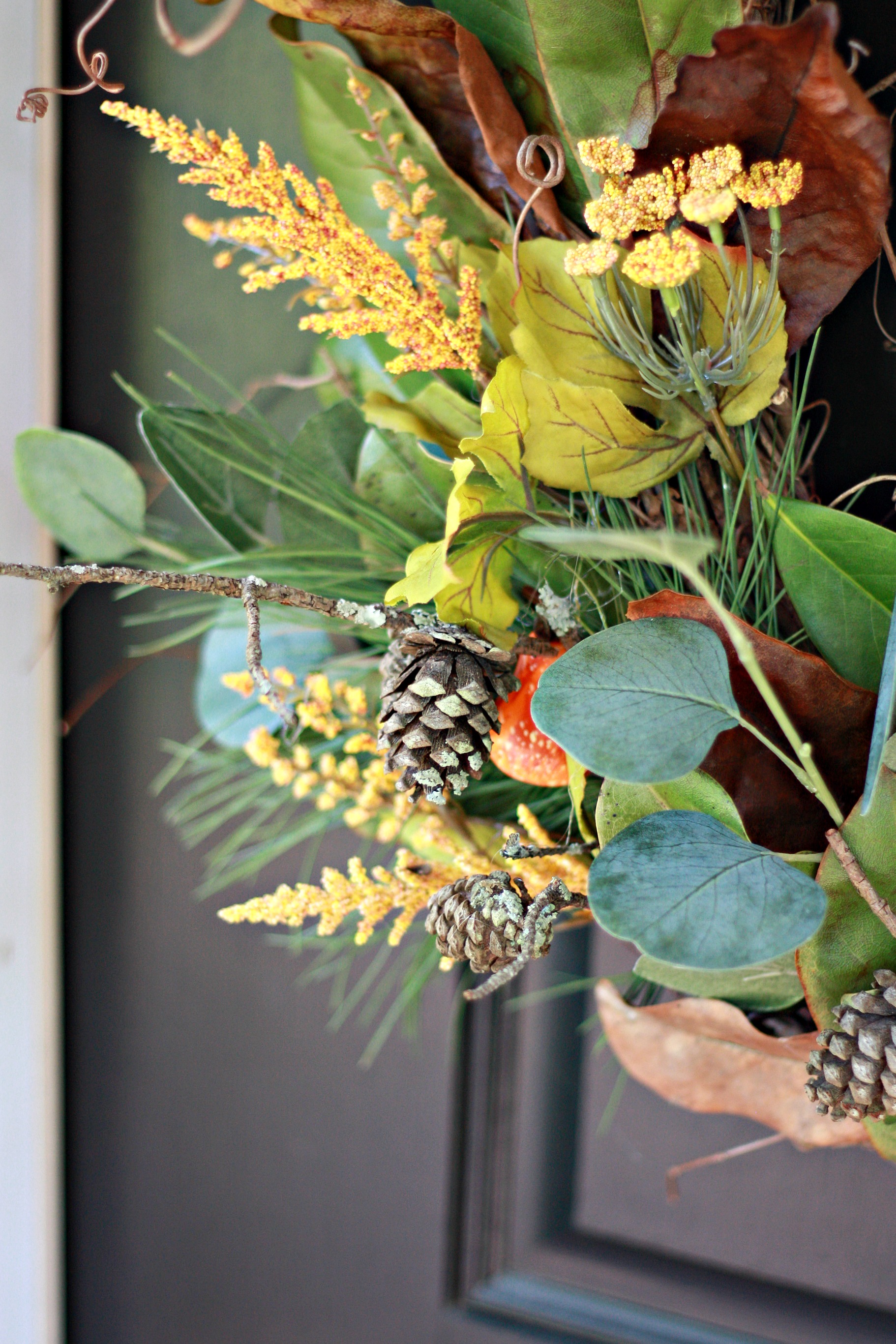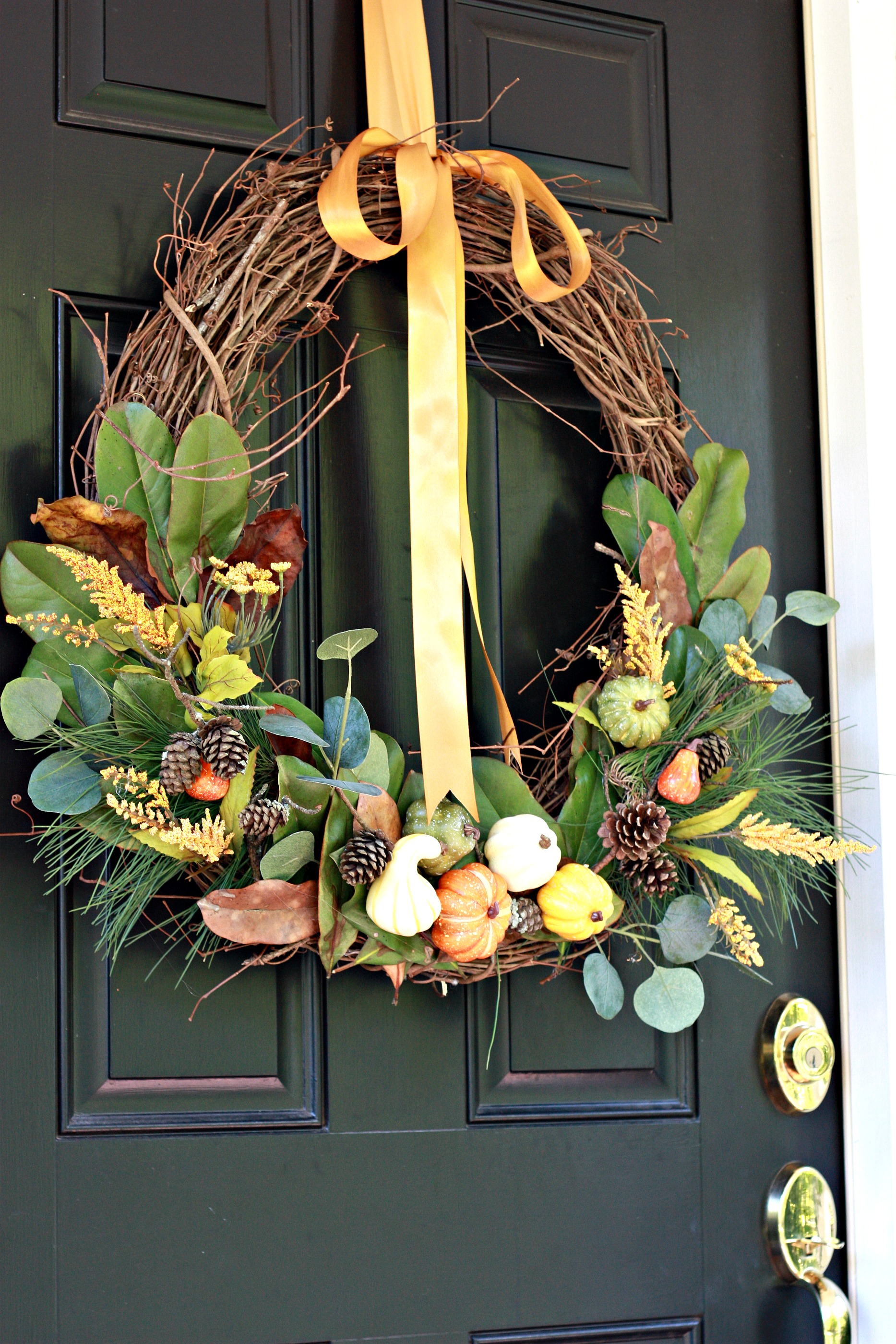 Of course our black door adds a bit of drama to it, wouldn't you say?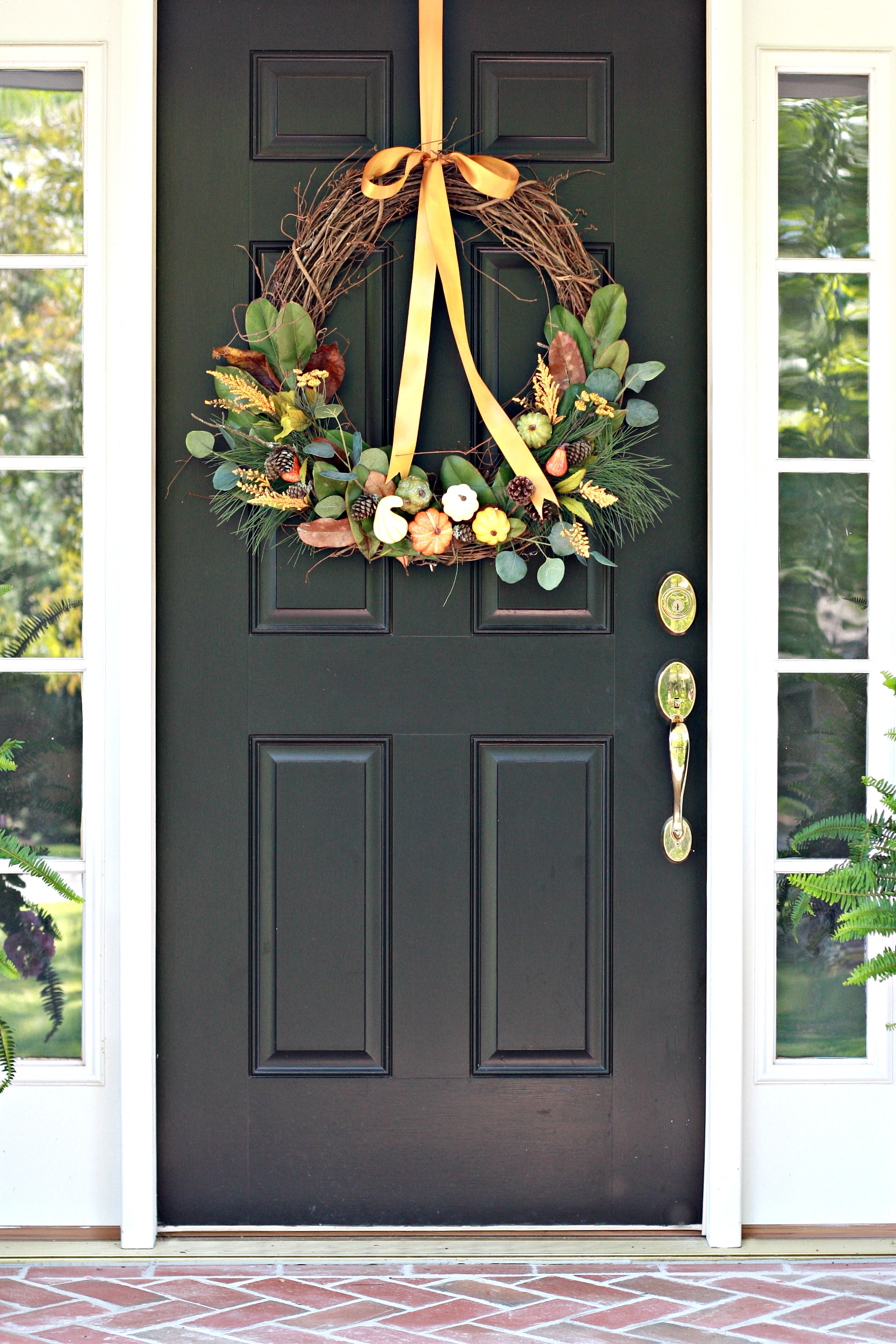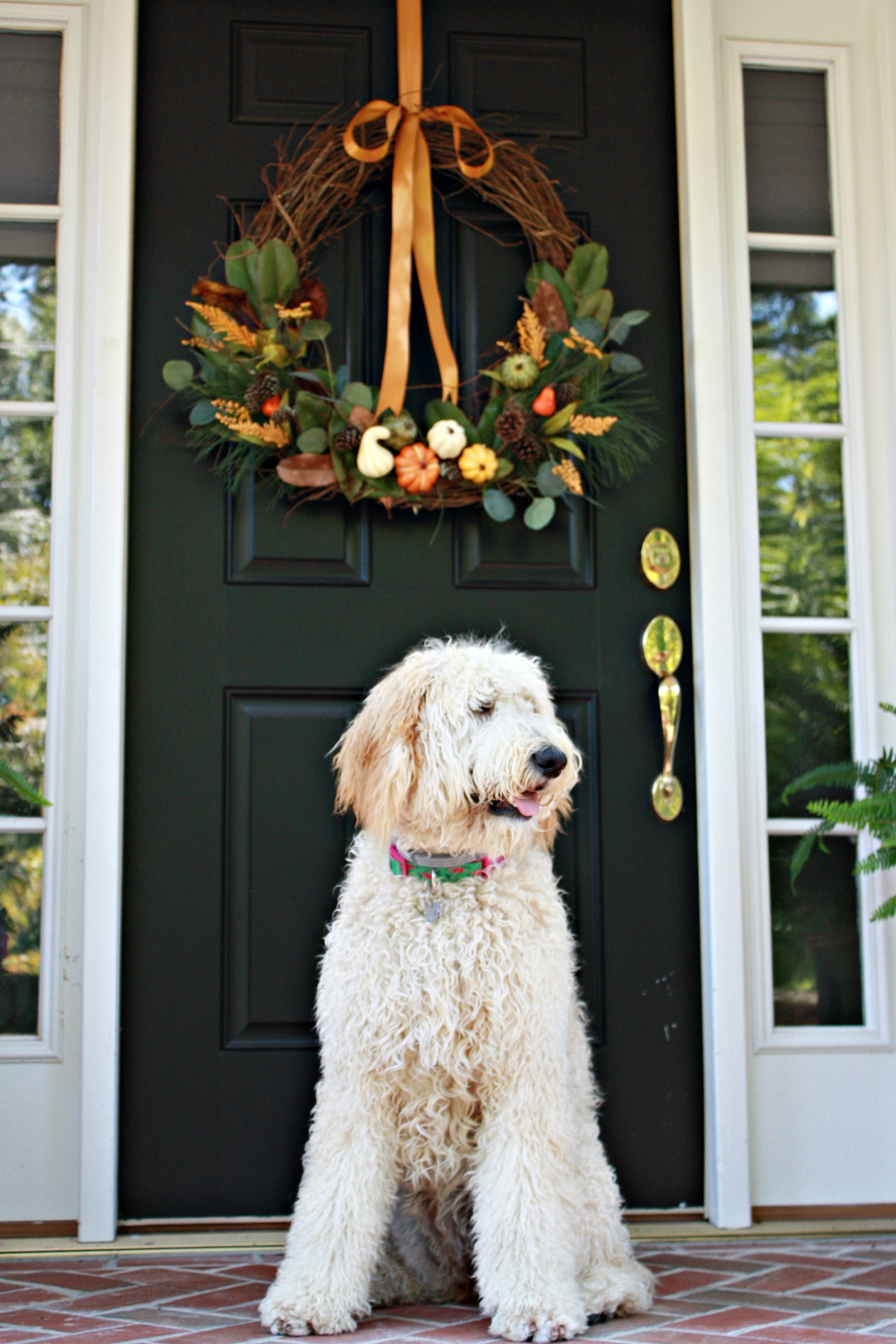 Truth be known, I had a little (ahem…) help in making this wreath.  Many of the pumpkins were accessorized by some bite marks from a certain someone.  This will be her first Fall, and I'm inclined to think she may like Fall as much as I do.  Just for the sake of cooler and less humid days alone.  She & I both have curly hair & this humid weather isn't our best season.  😉
Below is the video that my 9 year old son and I made together.  There's so many talented bloggers out there that make such high quality videos!  I know mine can't compare, because we just used my iPhone, but I will say – I think my 9 year old did a great job!  Hope you enjoy!
What's the first thing you make or decorate for Fall?