Thanks to Bed Bath & Beyond for partnering with me on this post, and allowing me to showcase some of my favorite pieces for outdoor entertaining.  If there's one thing we do really well in our house, it will always be eating!   The second thing we do really well, especially this time of year is dining outside.  We absolutely love it!  Over the last 2 years we've had quite a few people come through our front door or back gate, and I thought it would be fun to share my simple outdoor entertaining ideas for a fun party with all of you.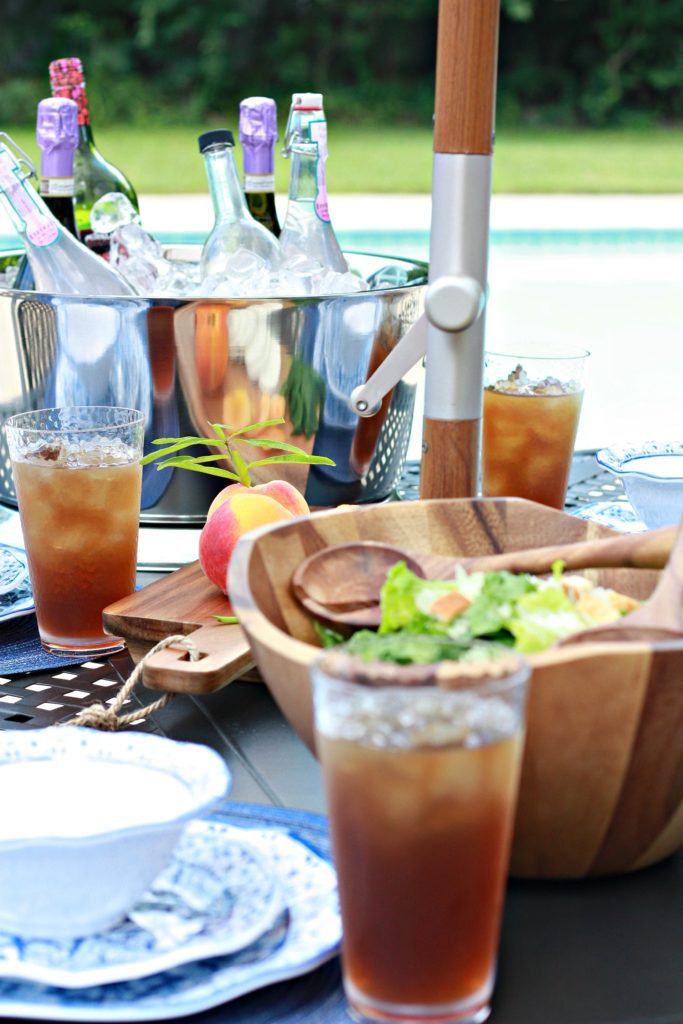 Of course every great party starts off with a fun menu of good food, but after that you want to make sure you have some simple outdoor entertaining ideas for a fun party to be really memorable!
1.  KEEP DRINKS COLD
As I shared on my Instastories last week, I have been dreaming about this 17 inch beverage tub for many months.  It is absolutely fabulous in size, style and functionality.  It's also perfect year round if you host parties or have family over often.  I also think this beverage tub will be my go-to wedding gift to give as a gift.  You can sit it on the kitchen counter, table or outside.  Since it's doubled walled – there is no sweating from the ice inside!  It's such a classic looking piece that is perfect for holding and keeping beverages cold.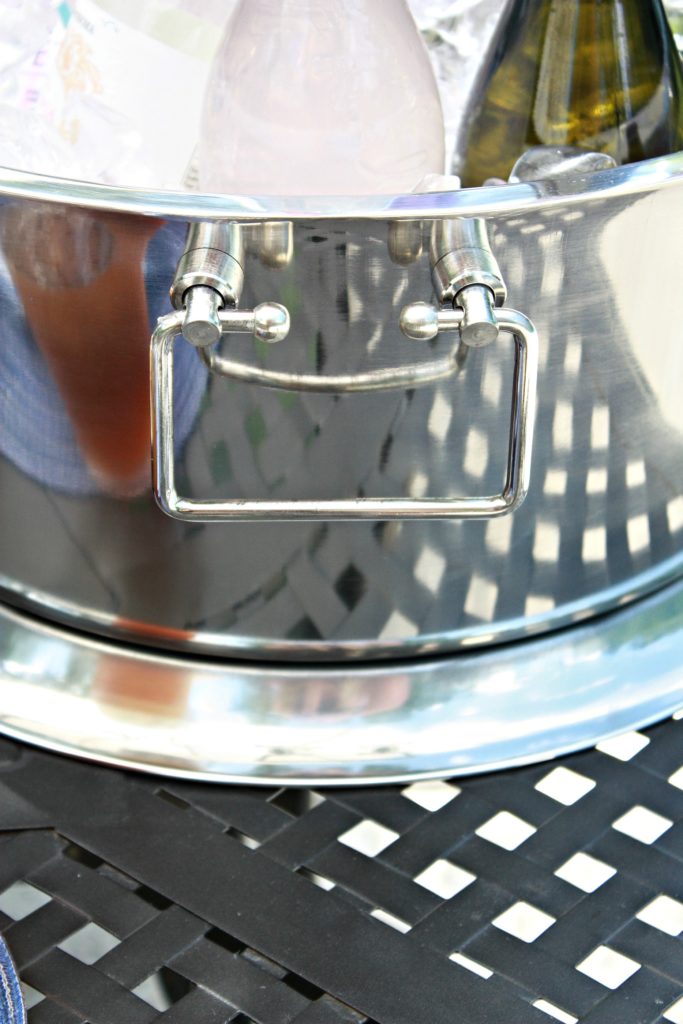 This beverage tub is all one piece, and lifts with ease with these beautiful handles.  I have honestly been wanting one of these after I saw one at a friend's house.  It truly is perfect for any occasion.  
Bed Bath & Beyond is a great destination for outdoor entertaining, grilling and décor.  With their famous 20% coupon you can get anything they offer shipped right to your door.  Plus, they offer free shipping with a $29 purchase or more.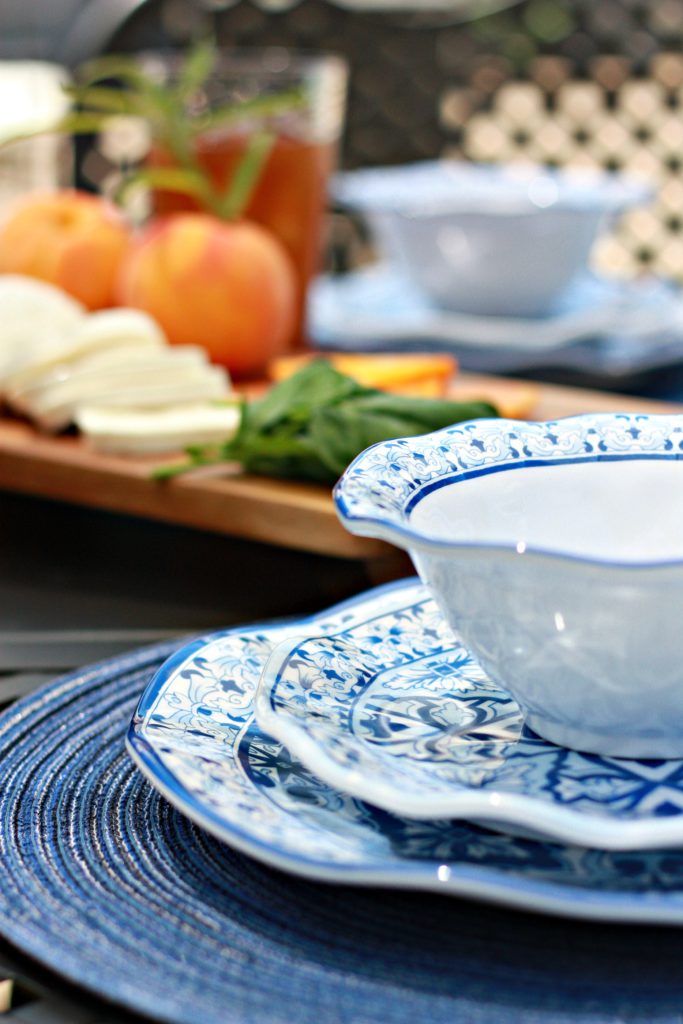 2.  
INVEST IN TIMELESS OUTDOOR PIECES
Another one of my favorite things are these gorgeous blue Q-Squared Talavera 12-piece dishes.  I am in love with the scalloped edges and of course the beautiful blue pattern.  The blue pattern reminds me of ginger jars that are so timeless.  You can use these dishes all year round, and they truly are a show stopper against the blue round placemats that are the perfect compliment to either casual or formal dining.  I can visualize them with yellow accents (think lemons) or they would look beautiful with oranges or pumpkins for a fun Fall tablescape as well!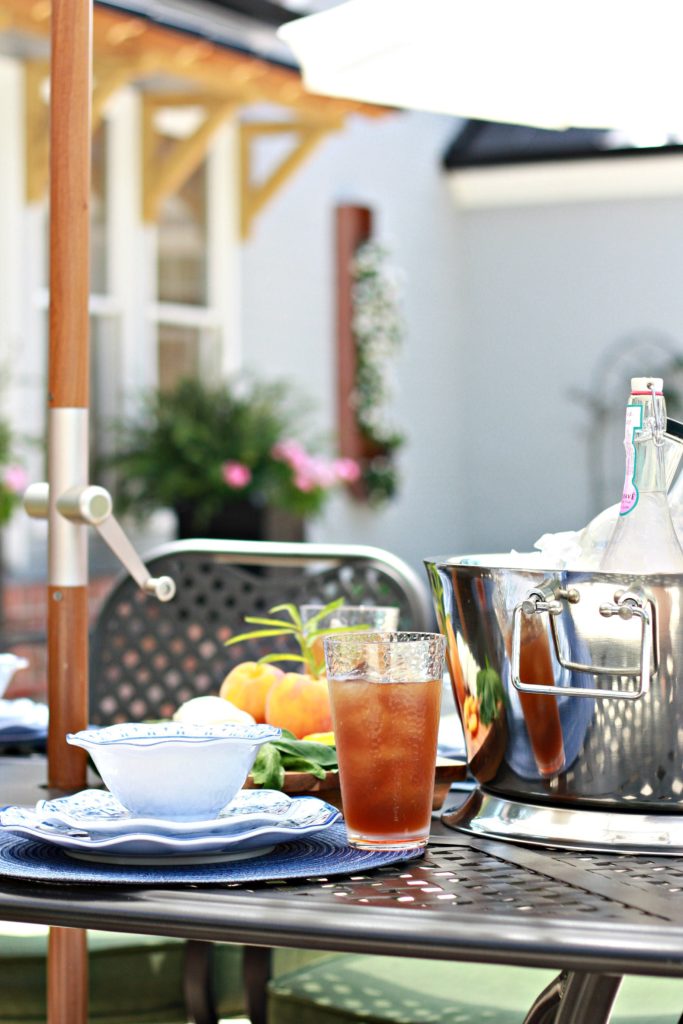 3.  
GET A SET OF ACRYLIC TUMBLER GLASSES – IT'S A MUST!
Probably one of the most important pieces to own when dining outdoors, is to have a set of Acrylic tumblers or glasses.  My husband and I have broke many glasses outside and we have truly learned our lesson after cleaning up and searching for broken glass.   These hammered glasses are perfect to hold your favorite beverage and the best news ever – they won't shattered and break into a million pieces like glass does.  They are the perfect size to hold my favorite peach iced tea!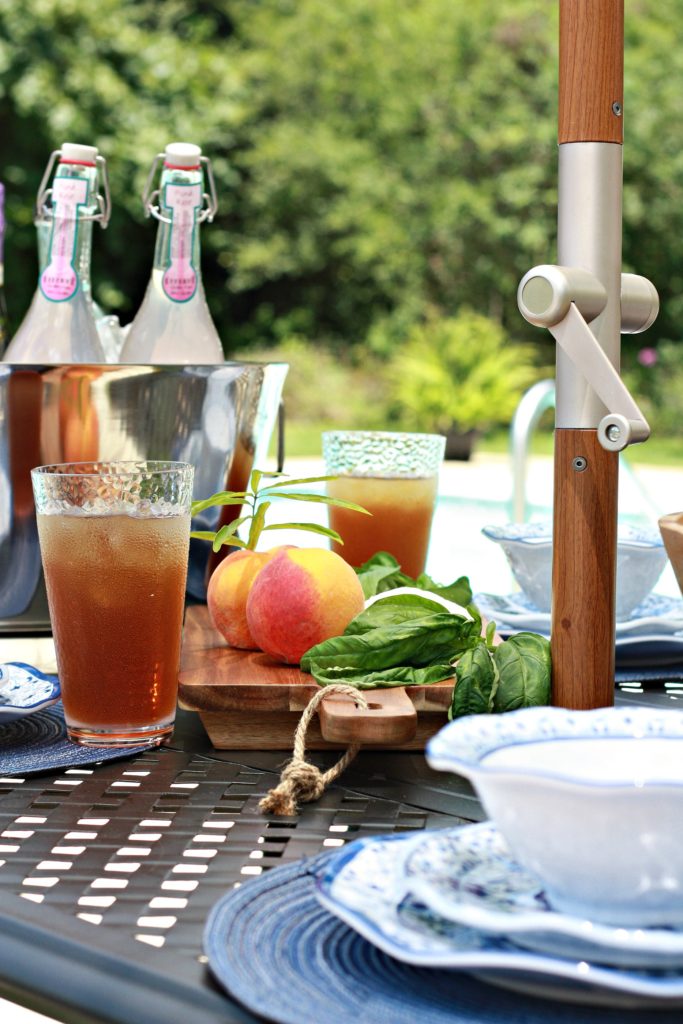 4.  
ADD FUN WOODEN OR TEXTURE PIECES
When I set a table and use colorful dishes, I also love to use neutrals.  I enjoy mixing wooden elements in my table settings whenever possible.  My favorites to use are cutting boards or salad bowls.  They add a fun layer and texture to a casual or formal tablescape.  This footed cutting board is perfect for a mini cheese board, breads, caprese salad or anything you can think of.  It's a fun piece to own.  The in-store and online shopping experience makes Bed Bath & Beyond an unexpected place to find unique, seasonal products and home décor items.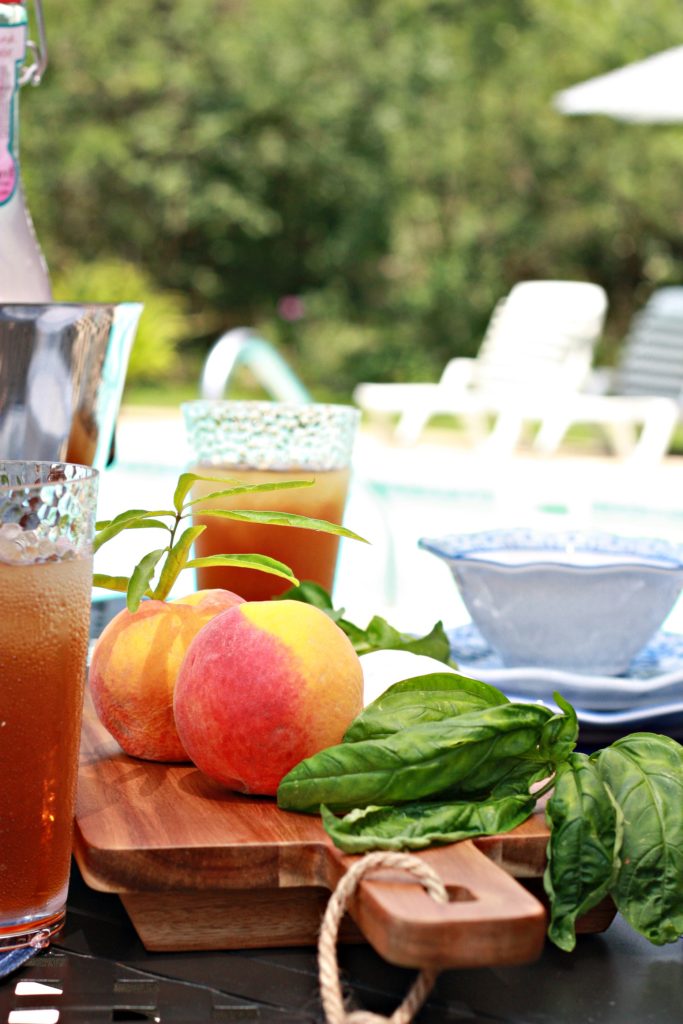 Of course you can never go wrong with serving a large salad at any gathering.  Using a
wooden Salad bowl
give your table character and texture, along with providing something that is great to use outdoors, and will not shatter when dropped.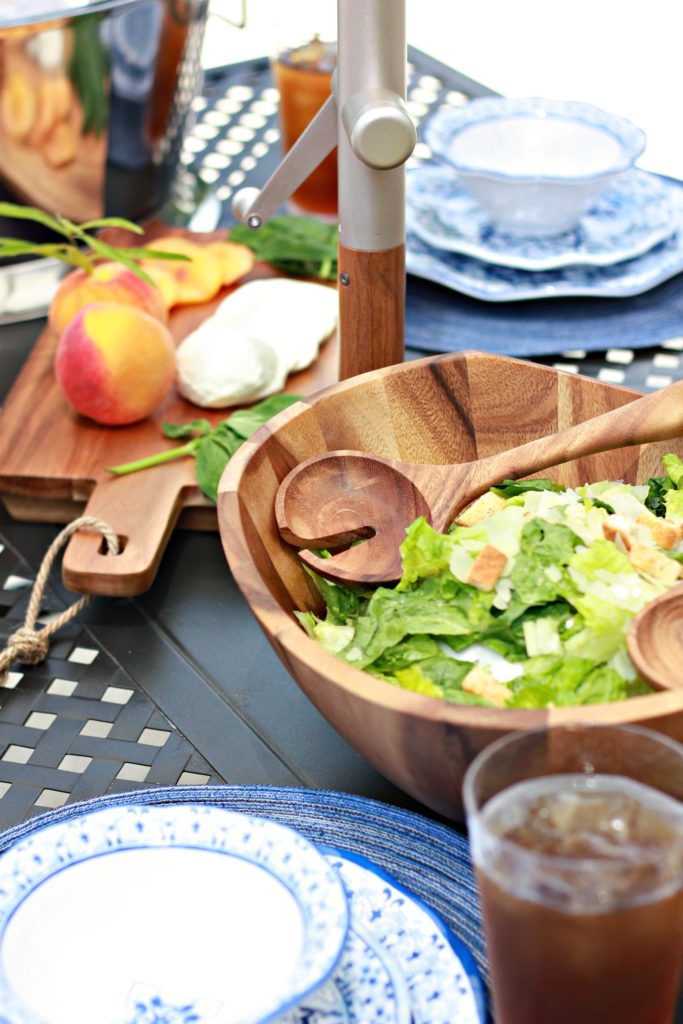 5.  
ADD COMFORT WHENEVER POSSIBLE
We live in the hot humid hazy South!  Tennessee to be exact, and although we have beautiful days we also have days when the air is so still you can cut it with a knife!  That is why adding an outdoor ceiling fan or even a stand up fan is a great idea when you have hot days.  Your guests (and of course your family) will appreciate the breeze on any given day.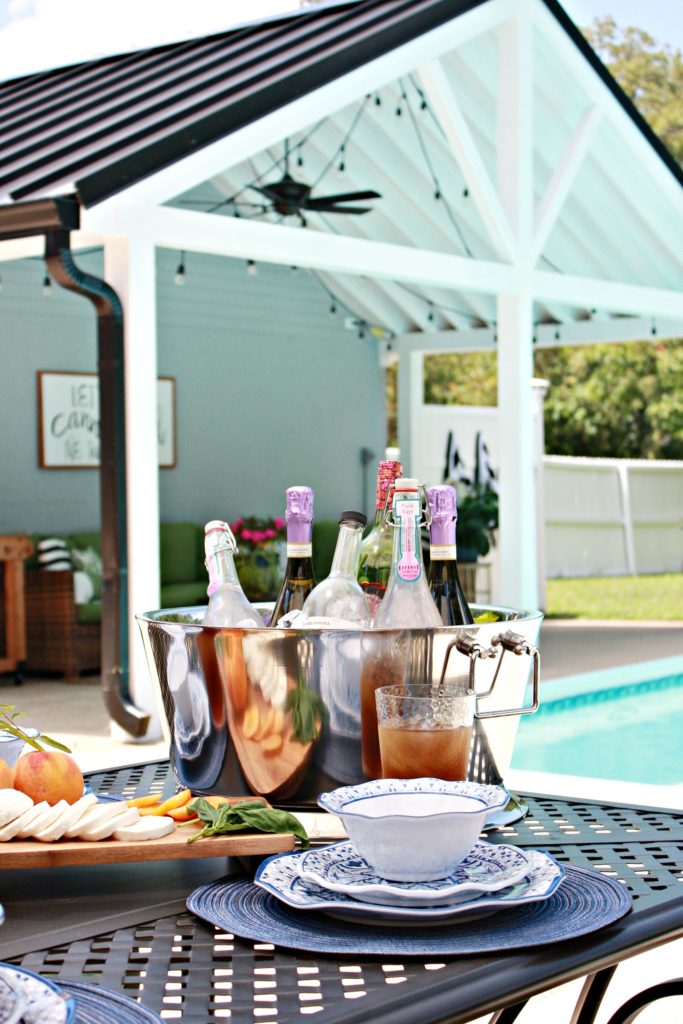 When we were building our pool cabana (you can read about it in
this post here
) we knew eventually we were going to need a fan out here.  When I saw the
Emerson Veranda (OUTDOOR!) Fan
– I knew it would be a great fit for our area, and I love the black fan up against the white rafters in our cabana area.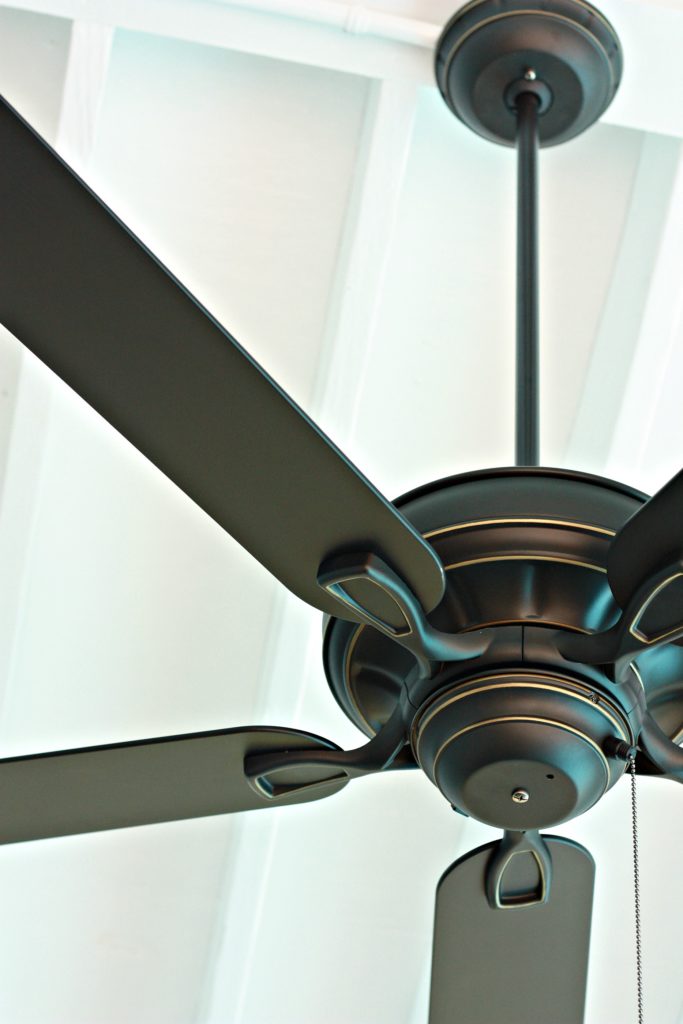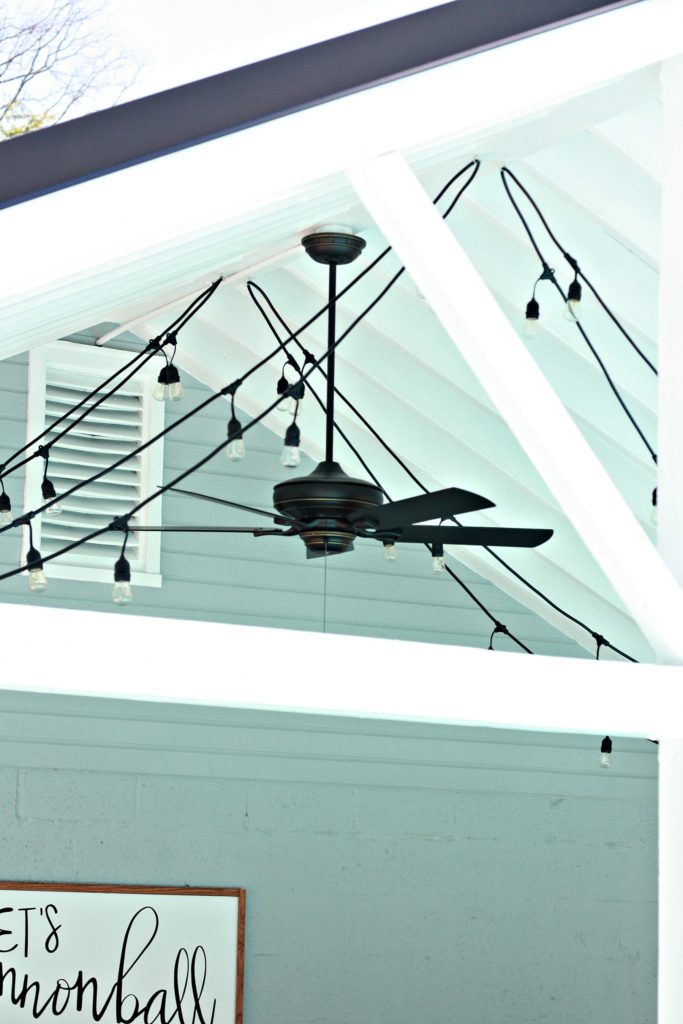 We had to hire an electrician to come, but it has truly made all the difference on our hot days!  We also got the
extension rod
to bring the fan down to add more breeze when we're sitting underneath it.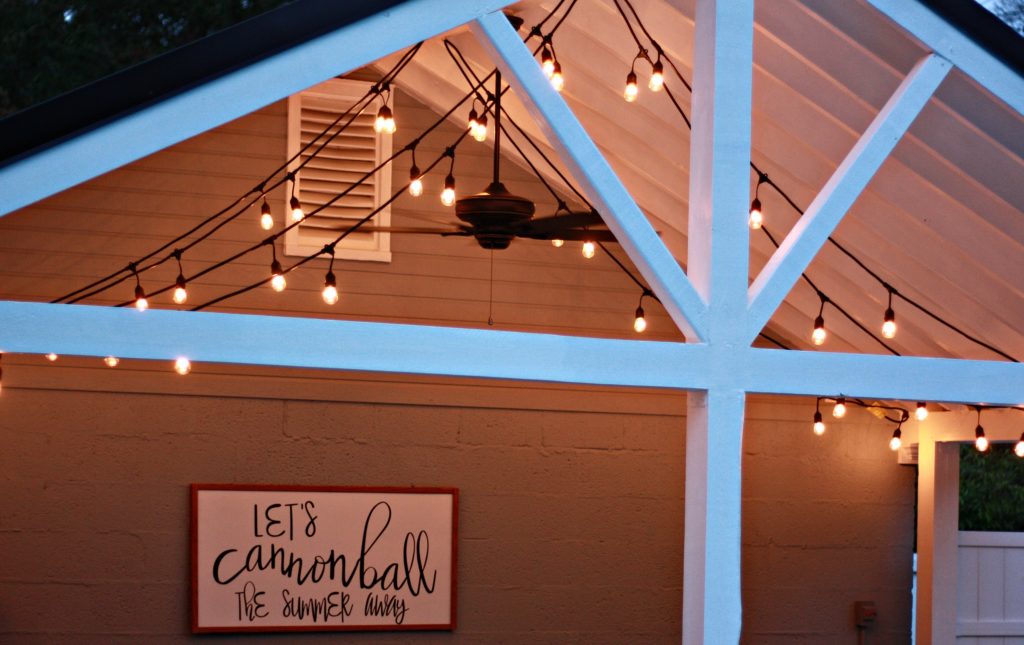 The fan has made such a difference when we're sitting outside!  And trust me, any chance you can add comfort to your home for your family or for your guests is always a good idea.  You and your guests will want to stay longer and enjoy the conversation and food even more!  And that is always a good sign of a great party!

This post is sponsored by Bed Bath and Beyond.  All opinions and photographs are 100% my own.